"Let's go trackside and get it all started here in Texas."
Now that Doug Rice had made the call, it should have been time for racers to start their engines. But instead of beginning Sunday's AAA Texas 500, a crucial race in the NASCAR season, 40 cars sat on pit road under car covers. A brief rain shower had made the track too wet to race, and the Texas humidity made drying it, even with jet dryers, a challenge.
Texas Motor Speedway hosts two races each year, in April and November, in the highest tier of stock car racing, NASCAR's Sprint Cup Series. Drivers once competed in automobiles you could buy at a dealership, though today's high-performance racing vehicles only loosely resemble the Fords, Chevys, or Toyotas a fan might drive to the track. From humble roots in the South, NASCAR has become America's most popular motor sport, with a season running from February's iconic Daytona 500 to the season championship in Homestead, Fla., the weekend after next. In that final race, the National Association for Stock Car Auto Racing will declare the fastest of four pre-determined drivers the overall winner for 2016. In a playoff system called the "Chase for the Sprint Cup," it has culled its highest-ranked drivers down to a final eight, and any of those who win one of the three races immediately preceding the Homestead event, including the one at TMS, would automatically qualify as one of those last four drivers with a chance to win the whole thing. And even for drivers not in the Chase, winning a race is huge.
Thus drivers and their support personnel waited anxiously for the track to dry, as did thousands of fans at TMS. In addition, a crew of 18 headset-wearing NASCAR enthusiasts was preparing to embark on its own marathon of sorts.
*****
They were the men and women of the Performance Racing Network, a company for which Rice has worked since 1988. PRN's president and lead announcer also told me during the stoppage that he has learned to not let the weather bother him, because it's all part of the gig.
PRN understands racing's nuances. The company has been in business since 1981. It's a property of Speedway Motorsports, Inc., the same group that owns Texas Motor Speedway.
The only other major radio network that covers all NASCAR Sprint Cup racing is Motor Racing Network. The Daytona Beach-based International Speedway Corporation owns MRN, as well as racetracks where NASCAR holds 19 of its 36 Sprint Cup races. They cover all the races held at those tracks, plus those at Dover and Pocono. PRN handles lap-by-lap coverage for the dozen races staged at SMI's tracks and partners with the IndyCar Radio Network for the Brickyard 400. The Indianapolis Motor Speedway, site of the Verizon IndyCar Series racing circuit's Indianapolis 500, hosts the Brickyard 400. Individual tracks can choose their radio broadcasters, though NASCAR controls all television rights.
Based in North Carolina at Charlotte Motor Speedway, PRN produces a number of NASCAR-themed radio talk shows as well, though Rice noted, "The main crux of what we do is cover live Sprint Cup and live Xfinity [Series] racing."
Fans can listen to their productions on a number of outlets, including local affiliate radio stations, satellite radio, online, and at the track over a dedicated frequency on the scanners that fans can rent or buy at the race.
*****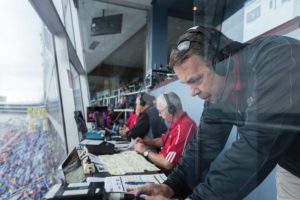 Every time I've listened to a stock car race on the radio, I've come away amazed.
One announcer talks, then another, and then a third and a fourth. Each picks up where the other left off, somehow keeping up with cars traveling close to 200 miles per hour without interrupting a colleague. Then a wreck happens, and suddenly they're narrating that chaos, and minutes later they're talking to the driver whose race has ended. It all sounds so smooth to your ears and mine, but I know, behind the scenes, it can't be.
Having worked in a lot of TV trucks covering sporting events with multiple cameras, I've seen how hectic it can get keeping up with a pair of teams playing with two or three announcers describing the action. So I always wanted to know how a crew could possibly manage a broadcast involving 40 teams on a mile-and-a-half playing surface with a half dozen or more commentators –– and all without the benefit of pictures.
The PRN folks, said NASCAR veteran Jeff Burton, who won 21 top-level races before moving into television, "have a passion for what they do, and they put a lot of work into making sure they bring what's going on on the racetrack to the fan that's not able to see it."
PRN's people spend their lives, and a lot of weekends, away from home, immersed in racing because, as PRN pit reporter Brad Gillie put it, they "live and breathe the sport."
In some ways, they have a dream gig, one that millions of fans who religiously follow drivers like Burton no doubt envy. That doesn't mean it's an easy job. NASCAR's complicated nature makes up part of the circuit's appeal.
"Before the race ever starts," Rice said Friday, "myself and whoever's co-anchoring, we decide who's calling the last lap. That way, there's no scramble."
After the green flag waves to begin the race, fans listening on their preferred device hear a succession of voices describing the action. Listeners might wonder how each broadcaster knows when to talk. It turns out they rely on some standard progressions as they follow the field of cars. Rice calls the action on the track's frontstretch before turn announcer Rob Albright takes over.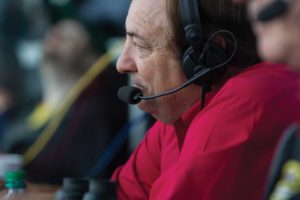 "When I stop, Rob automatically knows to pick them up, and about turn one he will take them into turn two, halfway down the backstretch, and when he stops talking, Pat Patterson knows. He picks up the baton and takes it back to turn four, and [co-anchor] Mark [Garrow] and I alternate laps. That way, while one of us is talking, the other one can be looking up something or attending to other details. So that's like a relay race."
An automobile race never consists of one smooth sequence. Sometimes the focus must change from the cars circling the track to other areas of interest. Rice takes cues from a colleague in the booth.
"The director is the one that's telling us when to go downstairs, which pit reporter to talk to."
Wally Leavitt, who served as Sunday's director, said, "I will keep track of the pit reporters primarily and who has who. If we got green flag or yellow flag pit stops, I will have to make sure that we get the throw down to them."
"Let's go down to Brad Gillie." –– Doug Rice, cueing his pit reporter
"There's four of us on pit road, and we basically divide up pit road into quarters," Gillie explained. "We're down there telling the story behind the curtain. Because in our sport, we're unique in that we do get to be in the huddle. We do get to hear the strategy as it's playing out."
In painting the picture of whether or not those strategies succeed, the broadcasters don't have actual pictures to help them.
"All we have is our voice," Rice said. "It's not like television. There is no 'Ready [camera] one, take one.' It goes off feel."
"Watching up front now, Kevin Harvick starting to close the distance here to the leader." – Pat Patterson, tracking the No. 4 car's progress
In a television truck, a director bears the responsibility for choosing what goes on the air next. While scanning multiple camera monitors does require a great deal of skill, the TV director can use his eyes as well as his ears to select his next source. A radio director or on-air presenter can only listen. Every person on the crew must master the art of mentally processing multiple audio streams simultaneously.
"In my ear, I'm listening to the scanner and listening to their in-car communication," Gillie said of the device he uses to hear what the drivers and pit crews say to one another during a race. "I'm scanning the drivers in my section of pit road that are relevant."
"Kyle Busch wanted to come in much, much sooner." – Brad Gillie, reporting what he had learned about a pit stop
"If I know there might be a developing story, I might lock it on a particular driver or something like that," Gillie said. "If I have the race leader, I might spend more time listening to that channel."
*****
Gillie also has to listen to his director and to what's actually going out over the air, in case one of his on-air colleagues suddenly pitches to him.
Rice has to talk while monitoring three audio feeds, including the official race communication channel.
"In the booth," he said, "I hear the director. I hear 'program' –– what's going on the air –– and I monitor NASCAR. Their channel is in my ear, and I can hear everything the race director is saying. Mainly what I'm listening for are keys to a caution. He'll say, 'Debris, turn two' and put out the yellow [caution] flag. So you kind of condition yourself to not hear all the other chatter, but I hear that, and I hear penalties."
"He made two pit stops as the lucky dog car. That's penalized him and cost him a lap." – Doug Rice, explaining a Kurt Busch mishap
Leavitt, who normally works for the IndyCar Radio Network but filled in with PRN at the races in Charlotte and Fort Worth, listens to all those sources plus the engineers.
"The hardest part is to make sure that you are listening to the person you really need to listen to, because everybody's talking at once, and you need to make sure that you're listening to the one source that you want to know the information from."
Making sure all those sounds get to all those ears means an extensive technical operation under supervision of PRN lead engineer Harrill Hamrick, who mixes the show from a truck near the garages. In Fort Worth on Sunday, no technology could remedy one of a sports broadcaster's most untenable situations.
"Weather always adds a huge unknown X factor to this," Rice said.
"If weather comes in, it's going to finish this race and for Carl Edwards, it could be Christmas come early." –– Mark Garrow, after an exemplary pit stop gave Edwards the lead
*****
During Sunday's delay, Rice and his colleagues stayed on the air long enough to explain the situation to the audience and to speak to a special booth guest: Chuck Norris.
The former Walker, Texas Ranger star had come to the track to announce the names of the eight Chase drivers. He helped PRN fill time by talking about Chuck Norris facts. He likes them and finds them funny.
"Chuck Norris eats bullets for breakfast. Watch out when he burps." – Norris, on the "Chuck Norris fact" that his 10-year old son suggested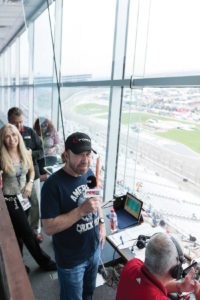 The speedway displayed a variation on the meme on their Big Hoss video board, a mockup of Norris kicking Michael McDowell's car into a wreck. When a real mishap occurs on the track, the normally jocular announcers treat it as nothing to laugh about.
"After he made the pit stop, one of the tires that came off the car blew right after they brought it over the wall, back into the pit. It blew right in the face of tire specialist Mason Jennings. His ears are ringing. The doctors came in and looked at it. They have taken him to the infield care center." –– pit reporter Jim Noble describing an accident involving Paul Menard's crew
"In the event of an accident," Rice said, "we never, never, never speculate about a driver being injured. That's why we have reporters that go to the infield care center, and somebody will be there. If there's a serious injury, somebody's going to come out and talk. I mean, I don't care what the circumstances are. I don't care what our turn announcers or pit reporters can see. You're not a medical doc. Don't speculate on it. Let somebody else do that."
PRN's veteran broadcasters know auto racing's protocols. Still, a reporter like Gillie must often approach a driver during testy times, such as after a mechanical issue has forced his or her ride off the track.
"If the car goes to the garage, and it's a part of the story of the race – because that's our job is to tell the story of the race – then we'll go down there, and it might be, 'Hey, I've got a report from the garage. Here's what happened to the car. They broke this.' It might be I've got a report, and then five minutes later, I've got the driver because they're out of the car, and we interview them."
As official race broadcasters, PRN personnel have clearance to speak to drivers even as the race continues around them. Tone and approach become crucial to turning access into information.
"You've got to get the answer that you're looking for, but the way you present the question might make all the difference in the world," Gillie said. "I don't think you want to go out there and just say, 'You know, man, it looks like what you did was pretty stupid.' "
"Austin, would you call that a racing incident?" –– pit reporter Steve Richards after Austin Dillon's car got knocked out of the race
Drivers understand broadcasters must cover the tough parts as well as the victories.
"They get it," Gillie said. "Most all these drivers are wonderful about doing that."
Burton believes the unique nature of motorsports helps foster collegiality between the contestants and those who cover them regularly.
"I think what makes our sport really, really special is that contact," Burton said. "Think about the NFL. They're with different broadcast people every week. The local [team] has their own radio station, but the network changes, as opposed to NASCAR. You're with the same people pretty much every week. You're either with PRN or MRN, or you're with Fox or NBC [on the TV side]. And so you get to know everybody.
"I always viewed the broadcasters," he continued, "whether it was radio or TV, when you interacted with them, they were coming to talk to you to get information to relay it to the fans, and I always viewed the broadcasters as a conduit to the fans."
*****
By engaging with reporters, a driver does more than reach out to his followers. He or she also advances the business side of the sport. A driver who talks to the media will likely do so wearing clothing bearing corporate logos. He or she will almost invariably find a way to verbally namedrop one or more companies who pay for association with the race team.
"We had a good AAA Fusion capable of winning the race." – driver Joey Logano in a post-race interview with Brad Gillie
Sponsors pay for the costs of running a race team. And like most media ventures, advertisers finance the Performance Racing Network.
"Our sales are done internally," Rice said. "We have a three-person sales staff."
He sees the audience that his salespeople take to market as pretty well defined.
"Speaking of the fans, Doug, we constantly say thank you to the NASCAR fans because they are die-hard." – Mark Garrow, offering love to rain-soaked spectators
"People that are going to take time out of their day to listen to a race broadcast, they're P1s," Rice said, referring to the radio industry term for the most loyal listeners to a given outlet. "They know what they want, and it's not our job to go out and spread the gospel of NASCAR. We're preaching to the converted."
In Fort Worth, the congregation can find PRN's work on 95.9-FM The Ranch, whose bosses signed on this year to carry PRN's Texas race broadcasts and tap into its listener base.
"A couple of Toyotas battling for the lead here at Texas Motor Speedway!" –– Doug Rice, excited about a tight contest
The Ranch also believes racing will appeal to its existing listeners.
"There's synergy with our audience," said Gerry Schlegel, president of LKCM Radio Group, which owns The Ranch. "That is a very Texas-centric audience. We kind of have this wide-open attitude, no-limits kind of attitude, which reflects very well with the spirit of Texas Motor Speedway."
The station also worked a promotional deal with the racetrack that bills itself as "No Limits, Texas."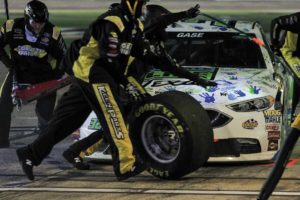 TMS has "put together a great relationship with the Ranch, not just for the broadcast that PRN does but for a lot of the other stuff that Texas [Motor Speedway] does as the official radio station," said Gillie, who graduated from Euless Trinity High School, lives in Fort Worth, and formerly worked for the speedway.
One might interpret NASCAR followers' transfer of loyalty from sport to sponsor as naïve, an example of less-than-sophisticated thinkers being influenced by advertising. More likely, it represents a true understanding by those fans of how such relationships work. Brands want to cultivate those fans' loyalty through their sponsorships. By providing them what they want, fans do their part to ensure the viability of their favorite drivers and their favorite sport.
Such is the NASCAR culture. As sports fans, and racing fans in particular, it perhaps reflects a desire to feel a bond with something beyond the grind of everyday jobs and challenges. We all wear the shirts, caps, and underwear of our favorite sports teams. Sports radio broadcasts, perhaps more than any other mass medium, serve much the same function by allowing us to bring our passions into our spaces, at our desks, on our commutes.
"I had to bring my Thanksgiving pants." –– Doug Rice, during a booth visit by a Miss Sprint Cup spokeswoman, referencing a dinner Sprint had bought them
*****
With the NASCAR season's final pair of races at non-SMI tracks, PRN's AAA Texas 500 broadcast represented its final one of 2016. However, they won't sit idle until February's Daytona races restart NASCAR's calendar.
"We have a big meeting at PRN," Rice said, "basically outlining the calendar for next year. What are we going to do better? What are our new initiatives going to be?"
As much planning as PRN staffers will do in their short offseason, when the time comes to race again, they will once more find themselves dealing with situations at the track that nobody expected. In fact, when it comes to a NASCAR broadcast, the unpredictable parts take top priority.
"One cardinal rule that we have maybe above all else is live action on the track supersedes everything," Rice said, "whether it's a pit report or somebody that's supposed to be interviewed in the booth. If there's live action going on on the racetrack, especially a battle for the lead, that trumps everything else and until that's settled, Brad's pit report, or this person we've got to interview, or this story, or this piece of salesmanship can wait."
"Trouble in turn four!" –– Pat Patterson, interrupting a sponsored segment to report a wreck
To establish proper priorities, and create the workflows to accomplish them, one has to understand the essence of one's business. It's a lesson Rice learned at the first running of the Brickyard 400 in 1994 from a pair of seasoned colleagues at the IndyCar Radio Network.
"They're probably 20, 30 years older than me. And I'd met them the day before, so they knew who I was. So one of them was sitting there having coffee, and he looks at me he goes, 'So what is it you do again?'
"And I said, 'Well, I'm with Performance Racing Network. We broadcast NASCAR races.'
"He goes, 'That's not what you do.'
"And I'm like. 'Yeah, it is.'
"He said, 'No, that's not what you do at all. You're in the transportation business,' and I said, 'What are you talking about?'
"He goes, 'It's your job when you're broadcasting that race to transport the guy driving down the interstate, or working in his garage, or out on his bass boat, from where they are to where you are.' He said, 'If you can get that battle won in their head, and they are mentally at the racetrack with you, that's what you do. You're in the transportation business.'
"I went, 'OK, you're right.' And I think about that every race we do."
*****
At Sunday's event, they never got to transport the listener to the finish line for the waving of the checkered flag. Though the race did eventually start after a six-hour delay, a second downpour ended the contest several laps short of the planned 500-mile run. NASCAR officials informed Carl Edwards he had won as the cars sat idling on pit road. We'll never know which announcer would have called the winner across the finish line.
It's all part of the unpredictability of sport. This sport, and bringing it to those who love it, is what PRN is all about. They have, in fact, found the right business.
"They make magic," Schlegel said. "These guys are incredible. The description, it's very high-energy, super-fast pace. They cut from one person to the next. They're describing exactly what they see in front of them, sparks flying off the fenders. You can hear the engines and the energy is unlike any other kind of broadcast.
"They really pull you in like you're at the race. It's remarkable."
Rush Olson writes the Fort Worth Weekly's sports blog and produces sports content and related endeavors through his companies Rush Olson Creative & Sports and FourNine Productions. Read more of his interview with Jeff Burton in this week's Sports Rush blog post, found in the Blotch section at fwweekly.com.