With the NASCAR circuit visiting Texas Motor Speedway this past weekend, the Fort Worth Weekly took a look at the broadcasters who bring the action to those who can't make it to the track. We did a story on the Performance Racing Network (PRN), who create the radio broadcasts, which you can read here. We also interviewed former driver Jeff Burton, who now works on NBC's television coverage as a race analyst. He won the first Cup race of his career at Texas in 1997, among 21 total wins at the highest level of stock car racing. What follows are excerpts from that interview.
The radio guys at PRN actually got Burton his first broadcasting gig. It came in Indianapolis while he was still an active driver, working on the network's coverage of NASCAR's second-level racing series.
"We just asked him if he would come and work in the booth for the Xfinity (Series) race," PRN President Doug Rice said. "I've known Jeff for a long time and he was very anxious to come up and do it. He was excellent. I mean, you just knew it. He's got a good vocabulary, He's got a good speaking voice. He's got great knowledge. You knew he was going to be good."
Those traits helped Burton move from that one-time radio gig into his current NBC position. It may have also seemed a natural move because he grew up finding ways to watch races.
"We made watching the races a big part of our weekend. I can remember dragging a TV out into the backyard with a lot of extension cords plugged into each other so we could play basketball and watch a race. All of the three boys of the Burtons, we all liked racing. We all liked watching it."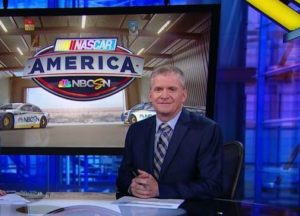 When he drove, Burton decided it was in his best interest to pay attention to the media accounts of his sport.
"My experience has been that drivers always want to watch the replays of the races they won. The talk show thing, there's been some times when I didn't want to listen. But there were times I didn't want to listen and I did, like when Jeff Gordon and I had our incident in Texas many years ago. I got up early that next morning, was going to the gym and I'm, like, 'Do I want to turn this on?' And I made myself. And then I made myself sit in the car in front of the gym for, like, 30 minutes listening to it. and because it was – I don't want to listen to it, but I just felt like I needed to. And then, I listen to it because I enjoyed it. I just enjoy it. I don't listen to it all the time by any means, but when I was a driver, it helped me to see a different perspective. When you're in the forest, you can't see the trees. And I always liked it when fans would call in and even though I would disagree with a fan or I would agree with a fan, either way it made me see things in a different light and I thought that was healthy to understand that the sport is more than just about me."
As a former driver, Burton uses his connections to help him prepare for a broadcast. He knows how to time his communications with drivers.
"My job is different from a pit road reporter. I'm more of an analyst, so I have a luxury those guys don't have that when someone needs to cool off, I don't have to talk to them right then. I can wait until a Tuesday or a Thursday. What I try to do is to catch people when I think it's good for them or I try to give them enough time to get back to me. So there's times I text people on Sunday mornings. And that's what I try to do with the drivers on Sunday mornings is just send them texts, because they're busy and it's, in many cases for those guys, easier to just text me back. Because I don't need a paragraph. I just have a simple question. So I just try to put the driver in a situation where they have time to get back to me, that time to respond to me. They don't have to do it immediately. When I say they don't have to, they're all so good about working with us. The drivers are phenomenal at spending time with us and giving us answers, trying to help us understand what they're dealing with."
Knowledge of how drivers approach their craft informs Burton's commentary as well.
"I have opinions about all sorts of things based on my experience with those things and that goes for drivers as well. And then my opinion is also shaped based on how I see them interact with others and what the situation is. To be honest, my personality is such that I always try to give someone the benefit of the doubt. When I drove and I got wrecked, rarely did I just come out and say 'Hey, the dude just wrecked me on purpose,' because typically, I didn't feel like they did. Whereas, opposed to some other drivers, if you just bump into them, they think you did it on purpose every single time. Not everybody, but that's just different personalities. So I'm more apt to give someone the benefit of the doubt than I am to say, 'Hey, you just wrecked him on purpose.'
"But I have to call it like I see it. Matt Kenseth and I, for example, were great teammates. When he won his championship, I celebrated with him just like I won the championship because I was truly happy for him. But when he does something like when he wrecked [Joey] Logano last year in Martinsville, I said, 'You know, NASCAR's going to have to step in. They can't allow that.' But on the same token, I disagreed with the severity of the punishment. But not because it was Matt Kenseth, just because it was different than they had ever done before."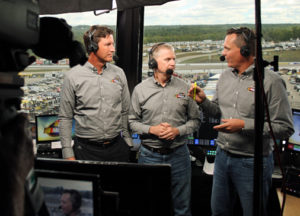 Burton's prep work also involves making sure he keeps abreast of the latest big-picture developments in the sport. He also believes it's important to keep his immediate focus on what's going on in the current race.
"Calling a race, in my role, is very much about understanding what has been going on in the sport prior to this race. What are they dealing with? What improvements have they made? Where have gone backwards? Where are their struggles? Where are their strengths? What's going on in this sport? What's the tire for this weekend? For my role, it's more about staying current in understanding the sport than it is about stats and about those kind of things.
"Steve (Letarte, Burton's booth colleague) and I are analysts. We don't have to know that Jimmie Johnson – I'm making this up – that Jimmie Johnson going into this week had not won a Martinsville race in the last six races. We don't specifically have to know that. We just have to know that he won a bunch there, but lately hadn't had the same success. We're not stat guys, but we need to understand the flow of each race team, what they're struggling with, what they're doing well, what is their situation, and then let the race happen. Because the race is the story, and what happened in Martinsville last week matters for this week, but only because the Gibbs guys had a little conflict during the race. Jimmie Johnson won the race, which means he's locked in [to a chance to race for the season championship]. Kevin Harvick had problems with speed. Carl Edwards has a huge hole to dig out of. So that's why last week's race matters. But what happens this week is what matters the most this week. This week's the most important race ever in the history of NASCAR."
Incidentally, Burton did actually remember the stats correctly. Johnson had, in fact, not won a race in Martinsville since April of 2013, exactly six races prior to his triumph there on October 30th.
When he decided to move into the broadcast booth, Burton wanted to make sure his network would share his vision for covering his sport.
"NBC approached me with a plan about how they wanted to be involved in the sport and I liked what they wanted to do. I liked the game plan. I liked how they wanted to bring the race to the fans, how they wanted to be involved in the sport. I can't say to you that I was getting ready to retire and said I want to be a broadcaster. What happened with me was that a lot of people within the sport for several years had said that maybe I should look into that. Maybe because I wasn't winning any more, they were looking at something else for me to do [laughs]. People within the sport were saying maybe that I would be good at that and I really hadn't thought about it. Some people were thinking about it for me, I think, which was flattering.
"So when NBC approached me, my question wasn't, 'What is my job?' My question, my first question, was, 'Explain to me how you want to do it? What happens when I have to criticize NASCAR? Or what happens when I have to criticize the driver or what happens when we have a difficult situation that I have to say something to make someone mad, or what happens when . . .' I just had all this list of questions, because if I was going to do it, it was because I wanted to bring the sport to the fans and be able to inform the fans, be educational. Help the fans understand the sport in greater detail. Not that our fans are ignorant, but it's hard to know more about racing than it is other sports because they don't teach you in PE how to play racing. You learn as a kid how to dribble the basketball. You learn the rules of basketball. You learn baseball. You learn soccer, all the things, but nobody teaches racing. A lot of people's kids play sports, so it's easier to know more about the other sports. It's harder to know more about NASCAR and I have always felt that the fans wanted to know as much as they possibly could know, but they were disadvantaged. So my question was, 'Are we going to be able to do a broadcast that's informative, that's more centered around information and the race than it is considered entertainment.
"I want racing to be fun, because racing is fun and the race has got to be fun. The race has got to be exciting. The race has got to be all these things. It can't be me.
"The show is on the track, it's not in the booth. And so I just wanted to make sure NBC fit what I thought it should be and it all lined up."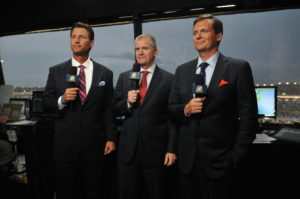 Once a part of NBC's team, Burton found himself matched with veteran broadcaster Rick Allen and Steve Letarte, the former crew chief for Dale Earnhardt, Jr.
"We all come from different backgrounds, so Steve has taught me a lot about things that I thought already knew about in regards to what his role was and what does being a crew chief, what does that really mean. He's taught me a lot and I'd like to think I've taught him a lot about being a driver. I think the main thing that I think we've done a really good job of it, that we truly, we all three committed to each other that we were going to hold each other accountable. We were all lucky to be in this position we have to worked our ass off, because the fans deserve our commitment and the teams deserve our commitment and the sport deserves our commitment. It's not a part-time job."
They also added another voice to the booth when Earnhardt, Jr. found himself unable to race after suffering a concussion.
"Steve and Dale know each other really well obviously and they know each other better than I know Dale. I've known Junior forever but I hadn't spent the time with Junior that Steve has. But we've done enough socially as well as racing against each other a lot, we have a lot of respect for each other. We spent 10-15 minutes talking, you know, 'Hey, look, why don't we do this,' basically it was, 'We're just talking racing.' Don't make it complicated. We're just talking racing. It doesn't have to be complicated. Let Rick get us in and out of commercials. Let Rick lead us to things. Let Rick do all the things that he's so damn good at and then it's just the three of us talking about what we're watching. 'The goal is, Dale, like at Talladega, we want you to explain to the fans, why do you do what you do? There's a reason that you make a move when you make it. Like, let's put you in whatever car we're following and say, ok, I would do this or I would do that and why.' It's just that simple. Let's don't make it complicated. And I think he's so comfortable with Steve, and he's been around me enough to know that I'm pretty easy to get along with that he just got in there and was comfortable and just sat in there and rolled along time and had a good time. We have a good time. We laugh and carry on and cut up. We have a good time. We wanted him to come in and have a good time."
Another current driver much on Burton's mind just completed his first race on the NASCAR Craftsman Truck Series a week ago in Martinsville. Burton's 16-year old son Harrison could someday advance to the levels his father covers, presenting a potential dilemma for his dad.
"I will do my best not to do that. It would be difficult to do that. We're a ways away from having to worry about it and so I'm not going to worry about it until I have to. We're a minimum of two years away from that having to happen. We'd have to really think about that. I believe in my heart that you have to be impartial. I can't be pulling for a guy. I can feel good for somebody.
I can feel bad for somebody.
"But we had that wonderful, wonderful moment with Dale Jarrett and Ned Jarrett when Dale won the Daytona 500 [when CBS had Ned call the last seconds of a race won by his son in 1993]. But what people don't know is that Ned Jarrett felt bad about it. He felt like in some way that wasn't fair to other people. And he was uncomfortable about it. Because that's Ned. He wanted everybody to understand that he was trying to do his job the best he could and I think that that was a great moment, but it can only be a moment. It can't be a weekly thing. Ned couldn't pull for Dale every single week. He could do it that one time because it was the Daytona 500. It was a special moment. They had the camera on him. It was awesome. It was great, but it was because it was a huge event. It was a singular moment. It wasn't every single week.
"So if we got to that point, I would really have to take a step back, make sure that I was representing the sport and all the drivers in the way that it needed to be, because I'll tell you that everybody deserves from the media impartiality. They deserve facts. They deserve honest information. That's what the fans deserve."
One thing Burton made clear. When he left driving, it wasn't to retire.
"We didn't retire. We took another position. That, in a nutshell, is it. People ask me how retirement's going. I'm like, 'Who retired? I changed my position, but I didn't retire.' Retired means I'm going fishing Tuesday, Wednesday, Thursday, Friday, Saturday. I haven't retired."