Second annual Fort Worth Weekly Homebrew Throwdown
Our judge panel lineup includes the head brewers of HopFusion Ale Works, Rabbit Hole, Revolver, Rahr & Sons, and Wild Acre. For our big beer bash on the 20th (12 to 6pm at Panther Island Pavilion's Shack), we have another great lineup of brewery owners and beer personalities for our Q&A panel: Tony Drewry (beer consultant), Macy Moore (HopFusion Ale Works), Fritz Rahr (Rahr & Sons), and others.
The $20 cover ($15 in advance) gives you a tasting card for our lineup of brewery vendors (Community Beer, Deep Ellum, Grapevine Craft, Rabbit Hole, Revolver, Rahr & Sons, Shannon, and Wild Acre), Dallas Cowboys on the Big Screen, and beer-themed games (giant Jenga, corn hole, beer pong). World of Beer will be selling beer and grub and hosting our after-party. Tickets are available here.
Lone Star Taps and Caps
From humble roots as a Carrollton-based bottle shop (Lone Star Beverages), the family owned venture entered the growler fill station business via Lone Star Taps and Caps. With its newest location just west of Bryant Irvin Road and off Camp Bowie Boulevard (near Snappy Salads), Fort Worthians now have an upfront seat at this trendy one-stop shop for all things craft beer.
The new location was only a few days old when I visited. The official opening party starts this Saturday at 4:30pm.
"All the local breweries are coming out," regional manager Steven Roman said. "We will have Billy's Oak Acres serving up barbecue. It's a block party theme. We have three parking spaces blocked for visitors so they can drink out front."
Large beer fridges, stocked with around 300 cans, line one side of the room. Long high-top tables give a communal feel to the seating area. Flat-screen televisions, replete with bright beer descriptions and realtime updates on keg levels above the tapwall, lend a hightech feel.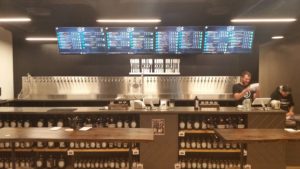 As Roman explained, everything about the setup is geared toward craft beer culture. Tap space is a concern for new independent breweries fighting to get into the market, so Taps and Caps regularly rotates its offerings to give new brews a chance. Popular beers make frequent comebacks, but with 50 taps, there's always room for something new.
Noticeably missing from the bar is the plethora of sports games and blaring music commonly found in bars. The smoke-free environs are also intended to make the space family friendly. Taps and Caps doesn't serve food, but you're free to bring your own.
"We set ourselves up to be a welcoming space to try beer," Roman said.
If you find something your friends or significant other might like, the growler fill station offers several ways to take your new favorite brew to-go.
Don't forget to follow On Tap in Fort Worth's Facebook page.
On Tap this Week:
Wild Acre Brewing Company's Luau Release Party of Soul 'O CoCo
This Saturday (2-6pm) you can be one of the first to imbibe Wild Acre Brewing Company's newest creation, Soul 'O CoCo. From Wild Acre head brewer Mike Kraft: "Soul O'CoCo is our Soul Pleasure Southern Stout with a generous addition of toasted coconut added to the aging tank. The result is a rich and smooth dark brew with coffee and chocolate flavors layered with delicious coconut overtones."
North Texas Beer Week
Do yourself a favor. Have some good stories when you go back to work Monday. Check out one the remaining events of North Texas Beer Week.