My first lesson about Shannon Brewing Company came from a can. Each aluminum poptop packaged at the Keller-based brewery (technically licensed as a brewpub) is labeled "Fire Brewed."
The process of using fire (as opposed to electricity or steam) to heat the mash tun and kettle plays into the Old World charm of the two-year-old brewery and taphouse. But it's only one part of the brewing philosophy developed by Shannon Carter, Shannon Brewing's founder and president.
That philosophy became evident during a recent tour. As Carter described his brewing process, he frequently used words like "whole flower hops, Old World yeast strains, non-GMO, naturally unfiltered, and naturally carbonated." The brewery's location atop Samantha Springs was chosen to provide a natural source of water.
The goal, Carter said, is to "bring the market the most natural beer possible."
Carter moved from Austin to North Texas a few year ago. He was an avid homebrewer with experience working in professional breweries. His Irish ancestry led to regular trips to the Emerald Isle where he met and learned from brewers.
"There's a nice thriving craft beer scene there," Carter said. "One commonality among the brewers is that they are using grain they grow themselves or they get it from nearby. One brewer decided she wanted rosehips in her porter, so she grabbed some from her garden. I wanted to have the freedom to have natural ingredients like they do."
Carter sought but failed to find a spring or well to pull water from while living in Austin. After moving to Southlake, Carter was told about nearby Samantha Springs. At first, the springs' owner Joe McCombs was skeptical about the idea of using water from the underground stream for brewing. Carter convinced McCombs to let him brew a test batch. After tasting the results, McCombs was sold, and Shannon Brewing opened in September 2014.
Shannon Brewing's core portfolio includes the All American Blonde, Irish Red, IPA, and Chocolate Stout. All the brews have a malt-forward profile that highlights the caramelized sugars from the fire brewing process. Carter likes to experiment. On tap that afternoon was the Honey Porter, Wee Heavy, and Hazelnut Stout.
The roasted hazelnuts added a welcome aroma and highlighted the natural sweetness of the stout. Carter jokingly calls his creation "Nutella in a glass." The Honey Porter pours a beautiful golden brown with a subtle honey scent and flavor. The nectar is sourced from Burleson. The Wee Heavy is a Scottish Ale. Carter described it best: "A malt-forward ale with a hint of smokiness and sweet, dark caramel notes."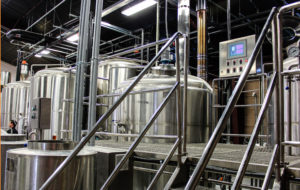 Shannon Brewing now has a nascent barrel-aging program. Next month, the brewery is releasing the first fruits of that labor, a limited run of bourbon barrel-aged chocolate stout. Not long after, the Keller brewery will host its annual St. Patrick's Day 5K run. The event drew more than 1,000 runners and revelers last year.
So, with all the Irish themes, do a lot of Irish people make it out to Shannon Brewing?
"Oh yes," Carter said. "Lots of Irish nationals come here and Irish expats. And, or course, people who just want to be Irish for a day."
Don't forget to follow On Tap in Fort Worth's Facebook Page.
On Tap this Week:
Shannon Brewing Company Taproom Tours
The Keller-based brewery (818 N Main St, Keller, TX, 817-337-9892) has seasonal suds on tap (including two on nitro), a spacious patio, and sixers of rare beer that are only available at the brewhouse. For specific taproom hours (Thur-Sun), click here.