Wild Salsa
300 Throckmorton St, Ste 180, FW. 682-316-3230.
Back in the late aughts, I lived in the northwest sector of downtown Fort Worth, and seeing all the recent growth in that area gives me an attack of nostalgia. Back then, my loft's windows faced the original Pour House and provided a bird's eye view of the rarefied world of pop-collared and trashed TCU students, like the guy who stumbled into parking cones under my window and spent 20 minutes thrashing around on his back like a turtle. Eventually, conscience won out, and I called the Bass property concierge to save the poor schmuck, who is probably now a junior partner at a local law firm. But aside from that single bar, anything west of Throckmorton Street was a dead zone after 10pm, especially in the area now known as City Center.
Since the Tandy Center shuttered many years ago, developers have been trying to revitalize that area of downtown. There was once an outlet mall and ice skating rink in the twin buildings spanning 2nd Street, but both spots became little more than a place to loiter for people waiting on a buddy to be sprung from the clink. Finally, it appears there are places worth visiting. To wit: Wild Salsa serves up killer margaritas and solid happy hour specials, no bail bondsman required.
Wild Salsa's décor is themed around Day of the Dead, and the effect is visually arresting and not kitschy. Inside, rich peacock velvet banquettes sit beneath massive hand-painted murals of calaveras and other major motifs of Mexican folk art. In the evening, candles flicker on an altar in the middle of the second dining room and give off a perfect date-night vibe.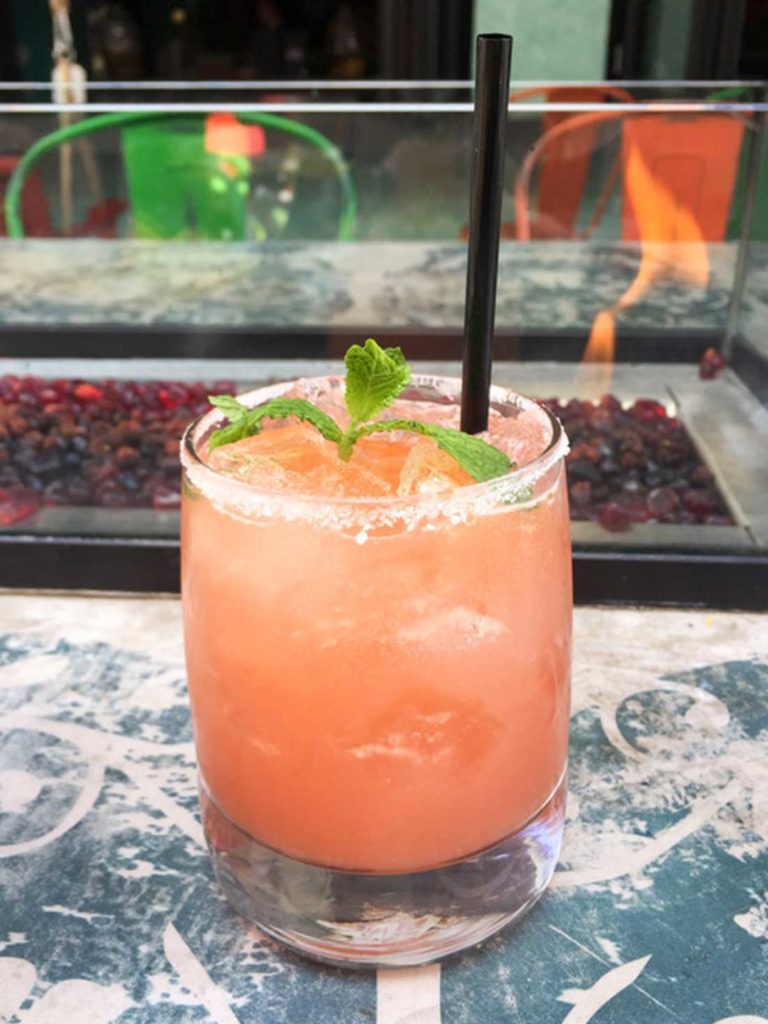 By incorporating that classic dangerous duo of tequila and open flame, Wild Salsa's patio is a show-stopper. Two stone bar tables feature gas-powered fire pits in the center, giving off additional heat and fuel for anyone's pyromaniac tendencies. A Saturday afternoon visit started at a patio fire table, but when the rain rolled in, my guest and I shifted to the bar, which sports porch swing-style chairs under a large concrete awning. It's pretty hard to not feel chipper drinking a blood orange margarita while sitting in a swing during a double-rainbow day in Fort Worth.
It was the weekend, so I expected to pay plenty for my plethora of margaritas (not piñatas). Luckily, our attentive, enthusiastic server, David Bagby, covered the specials and made recommendations. Grab a seat in the bar area, and the happy hour menu is available daily from 3 to 7pm and also Friday and Saturday nights from 10pm to close. The excellent Rijas De Casa house margarita, La Buracha (cucumber vodka, St. Germain, muddled cucumbers, lemon juice) and Burro De Jalisco (tequila, lime juice, ginger syrup, ginger beer) from the happy hour menu will set you back only $5 a pop.
Behind the bar, vats of roasted pineapple and jalapeños swim in tequila, waiting to be shaken with lime and agave nectar to complete the sweet-heat of a Wild-Rita. This concoction is nicely balanced, and even my spice-adverse boyfriend didn't feel overpowered. For fans of micheladas, Wild Salsa's housemade sangrita with draft lager was far better than the beer and tomato juice version found in similar establishments.
DRG Concepts owns all three Wild Salsa locations, along with Chop House Burger, Dallas Chop House, and Dallas Fish Market. If another chain is going to set up shop in Fort Worth, I'm happy to have a North Texas-based one breathe some life back into the dead zone that was northwest downtown Fort Worth.