The magnetic effect of a marketplace mural has become the preferred approach to urban renewal in the last two decades, and the artistic intention of these pieces is usually unambiguous, centering on subjects of local history, commerce, or cultural expression. For the most obvious example of this trend, look no further than Richard Haas' 1985 Chisholm Trail Mural in Sundance Square.
Street murals, on the other hand, crop up along the periphery of downtown centers or in defunct warehouse neighborhoods. When commissioned, these works tend to carry contemporary social messages, as seen in "Inspiration Alley," a breezeway of new mural art commissioned by M2G Ventures, a commercial real estate company leading revitalization efforts in the Foundry District, in the West 7th Street corridor.
For Spring Gallery Night last weekend, the property investors pulled some flashy stops, throwing a party to acquaint Fort Worth with the creation of the art in this alley while still a work in progress. Seven muralists came armed with hundreds of cans of spray paint and a few sketches to color an otherwise unsightly industrial park.
Hanging off the edge of an unoccupied warehouse is the floating head of a well-bearded man sinking into a fleecy-warm smile, turning toward motorists headed south on Carroll Street. Behind what would be his right shoulder is the face of woman whose wavy brown locks hang like curtains around her smiling eyes. Both characters could be spotted around Fort Worth considering that they happen to be friends of the artist who painted them, Jay Wilkinson, and landscape-painting specialist Jeremy Joel.
When I caught up with Joel, he was preparing to mask the uneven space where wall meets ruddy red rock at the foot of the mural, an idiosyncratic ground covering choice for a promising new cultural spot. He had already finished a half a dozen clouds in varying caricatures and colors and punctuated by geometric shapes, giving a sense of bouncing levity to Wilkinson's characters' lips. Unstructured blots of gold are hemorrhaged by glinting drips of paint, one of the few accents foreshadowing the increased tensions between living and life-like figures progressing down the alley walls.
A few feet over, Monica Wright and John Worley collaborate on three contrasting portraits. Wright is touching up a stylized waist shot of a friend named Sarah, who dons an Edwardian-style lace-front dress that Wright has revamped in shades of pink and who sneers away from Carroll Street toward a close-up shot of another woman's lips and a hand grabbing for a breastbone.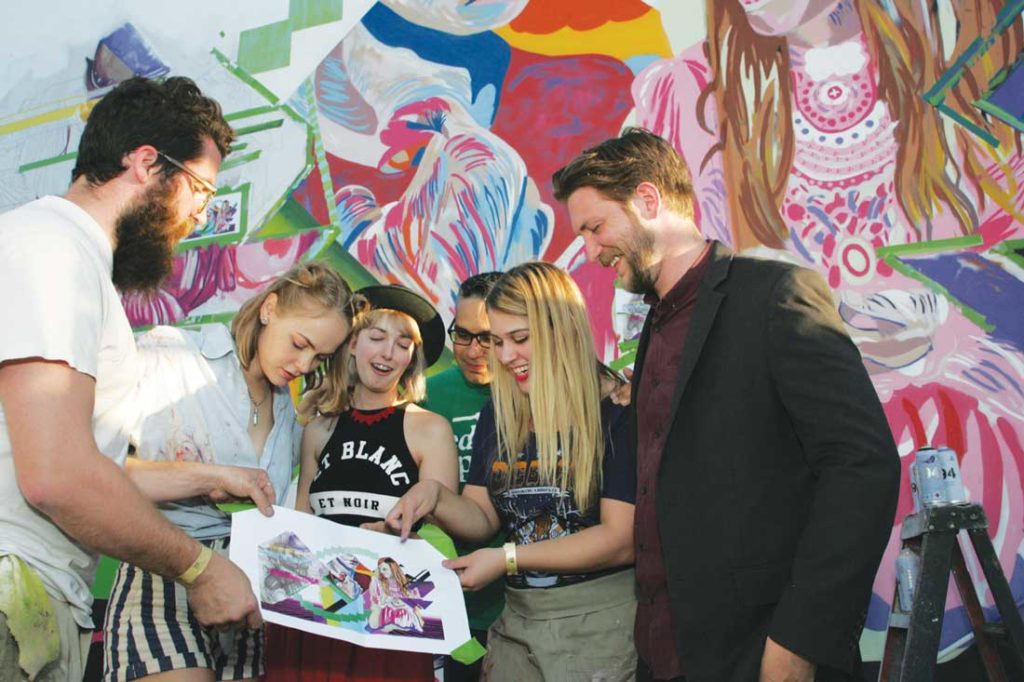 "I always draw from photos I take of people I know," Wright said. "I usually do ink drawings and marker drawings, so for me the struggle [with the mural] is controlling the can of spray paint. With marker drawings, the pare shows through, and here I can't do that. You constantly have to go back over it with your spray paint and fix it. It's just wildly different, and I didn't think it would be this complicated."
Wright's struggle was hardly evident from below the scissor lift that hoisted her a dozen or so feet in the air. Lower to the ground and on her left, Worley's work as a glitch artist begins to ensconce Wright's figurative focus on hard-edge lines and color.
"I like a lot of references to digital art and imagery," he said. "And that's why everything tends to look really flat, and there's a focus on magenta, cyan, and bright yellow. All those intense colors, every little pixel dot makes up what you see."
His intention in adding touches from the digital age positions the viewer to deconstruct the third figure in his and Wright's series: a more realistic depiction of a Spanish soldier from the colonial period he hopes onlookers will contemplate as a long-forgotten figure that should remain culturally significant to Texans.
Of the many muralists I playfully cross-examined during the creation of "Inspiration Alley," Worley seemed to be the most aware of the cultural implications of mural art.
"Honestly, I hope it becomes a landmark that people come to enjoy because every major city — and some minor cities — are doing these huge murals by famous artists from around the world." Worley said. "Honestly, Fort Worth feels a little left out."
Other faces and figures line the alleyway, but at the very end on the left there's a rosy-colored headshot of a heavy-hearted lad. The artist, Nathan Madrid, said he'd likely title the piece "Irwin," the name of the youth he's chosen to paint. Madrid was reticent to analyze his deeper meaning for the piece, but he did share how this mural connects to his larger body of work called Portraits of Others.
"He's a transgender teen, and he identifies as an Other in society." Madrid said. "I paint these grand-scale portraits to raise their status."
Although the artists, whose ranks also included including Hillary Dohoney, Jana Renee, and Eric Rodriguez, were assigned sections to paint in the mural before sharing their design intentions, people passing by will take to the socio-emotional passage through the alley. From big smiling faces to the intimate recognition of sometimes ostracized others, look closely to notice the way people from all over Fort Worth are represented, not just the ones shown shopping without a care on convention and visitors bureaus' pamphlets, and the way in which seven painters may be hinting at larger social issues without revolving on any one issue for too long.