44Bootlegger, a cozy, newish craft beer and wine bar on West Magnolia Avenue, has gotten plenty of ink lately. So I'll skip their backstory, interesting as it is. The bar is one of the few Near Southside spots that has a carefully crafted beer selection and ample vino offerings in equal proportions.
Tommy Brown, the business' co-owner, told me the split offerings are what sets 44Bootlegger apart.
"There wasn't anyone that was really offering an equal selection of" beer and wine, he said, referring to when his bar opened a year ago. "We try to stay consistent with certain breweries as much as possible."
Big Bend, Deep Ellum, Firestone Walker, Karbach, and Lagunitas are just a few of the breweries that have proven popular. One beer with a cult following, Yellow Rose, is Brown's favorite and a top seller on draught. Alpine-based Big Bend Brewing has quickly became a favorite retail to-go offering.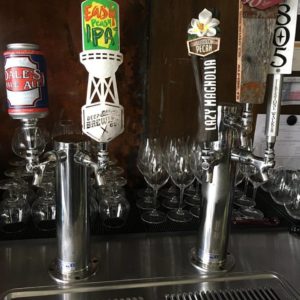 Brown said around 20 percent of his beer sales are to-go. Soon, 44Bootlegger will offer a to-go window to sell retail craft suds and wine. Many people still don't know that Magnolia Avenue doesn't have open container laws restricting alcholohic consumption outdoors.
"People will sometimes adamently disagree" with me about the lax city laws governing where you can drink along West Magnolia Avenue, Brown said.
"I promise I wouldn't have a beer opener on the side of my building if you couldn't use it," he continued with a chuckle. "Many people don't know they can actually sit on a park bench, drink a beer, and people watch here."
Last year, Brown organized several bottle shares and pint nights. Theme nights are a big part of the craft beer scene, and he plans to improve and expand events like those. He said patrons can expect food offerings at his business in the coming months. He's keeping the details under wraps for now, but it's all part of an evolving business model that is driven by growing consumer demand.
Don't forget to follow On Tap in Fort Worth's Facebook page.
On Tap this Week:
Rahr & Sons Celebrates Cinco de Mayo
Time to plan ahead. Rahr's May 3 event includes a limited-edition Cinco de Mayo pint glass, three Rahr & Sons beer samples, music from Tejano band Latin Express, and food available for purchase by Taco Heads.
Shannon Brewing Beer Sale
From Shannon: Starting this Sunday the 23rd, we will be holding a sale every week. On Sundays between 2-4pm, we will be selling our Red, IPA, Chocolate Stout, and Blonde for $4 a pint. This is our way to say thank you to y'all for allowing us to do what we love.