Barrel-aging craft beer isn't a fad. Annual releases like Rahr's Bourbon Barrel Aged Winter Warmer and Lakewood's Bourbon Barrel Temptress are highly prized and sought after brews that double down on complexity by melding the time-tested tradition of aging bourbon with the rich brewing process of stouts. You might guess that local brewers import barrels from Kentucky or elsewhere, but you need look to farther than Witherspoon Distillery in Lewisville for the source of many of the white oak casks.
I recently chated with the distillery's founder, Quentin Witherspoon, on an unseasonably cool afternoon. The rainy weather had curtailed his morning run, he joked, but it also gave him a few extra hours of sleep, something of a rarity for the busy proprietor.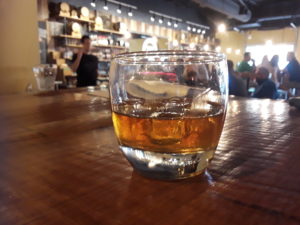 "We started putting whiskey away in 2011 and 2012," he said, referring to Witherspoon's early years. "We knew from the outset that it would be a few years [before the whiskey could be sold], so we entered the market and opened our doors with our first product, rum."
The Lone Star State isn't big on rum, Witherspoon discovered. As the lighter fare spirits hit shelves, Witherspoon and head distiller Chris Leurig kept watch over their slowly aging whiskey and bourbon spirits. In 2015, Witherspoon's Single Malt Whiskey won a silver medal at the San Francisco World Spirits Competition. And the accolades have kept coming.
Texas, Witherspoon said, offers an "optimal climate" for aging spirits. Temperature fluctuations of 20 degrees or more within a day are not uncommon here, he added, meaning all the complex flavors of charred white oak barrels are imbued into the distillery's liquor at a faster clip than possibly anywhere else in the world.
"That predisposes Texas to becoming the next whiskey empire," the whiskey master said.
Fans of bourbon or whiskey barrel-aged beers will appreciate the founder's explanation of why that bomber of Rahr Winter Warmer aged in Witherspoon barrels is so deliciously complex.
"American White Oak is a one of a kind," he said. "It can taste like seven types of vanilla. No other plant in the flora kingdom contains that amount of vanilla. It contains a sugar called tylose. When you char the inside of the barrel, you heat up those compounds and create a third compound. That's caramel. That's what's locked in the pores of the wood."
Nearby Cobra Brewing Company was an early customer, purchasing rum barrels. As bourbon barrels became available, Dallas-based Lakewood Brewing Company and Fort Worth's Rahr & Sons Brewing Company began snagging the boozy casks. Over time, Four Corners, Texas Ale Project, Rabbit Hole, Saint Arnold's, and others, joined the lineup.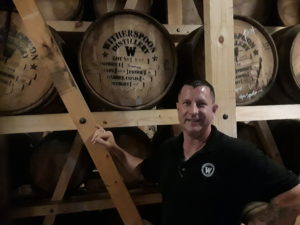 The best feedback on his barrels' impact on the craft beer market is the fact that microbreweries are always eager to buy more. Witherspoon projects his brewery will release around 600 barrels into the beer market by the end of the year. Last year, it was half that amount. And the collaborations work both ways. Lakewood and other breweries are collaborating with Witherspoon Distillery to release American Whiskey varietals that are distilled from craft beer. The limited releases will be on shelves at the Lewisville distillery in the coming months.
"There is a lot of synergy between these industries," Witherspoon said. "It's healthy for the industry."
Witherspoon Distillery, 225 S Charles St, Lewisville, Texas, TX 75057

Don't forget to follow On Tap in Fort Worth's Facebook page.
On Tap this Week:
Wild Acre Expands Taproom Hours
Wild Acre now has expanded taproom hours: Monday (5-8 pm), Thursday (5-8 pm), and Saturday (2-6 pm). Be on the lookout for two new Wild Acre brews, Fort Worth Pils and Superhawk Double IPA.
Dallas Brew Scene Brew Bus
From Dallas Brew Scene: You're invited to a very special Dallas Brew Bus tour! Well, they're all special, but this is the first time we've ever started from Fort Worth and headed east. We'll be visiting three breweries: Peticolas, Community Beer Co, and HopFusion Ale Works.
You'll get to sample several brews at each place and learn how they are made. Between stops, our guides will educate you on the growing craft brew scene in North Texas and answer any questions you have. You'll also have the opportunity to enjoy grub from some of the area's best food trucks parked at some of the breweries (not included in ticket price). Arrive at HopFusion Ale Works (200 E Broadway Ave, Fort Worth) no later than 12:15pm. $55 gets you a seat on the bus, complimentary samples at each brewery, a snack from the culinary wizards at LUCK, and a commemorative snifter style glass.
Email: Info@DallasBrewBus.com with any questions.
Rahr & Sons donates $5,594 for the USS Fort Worth Support Committee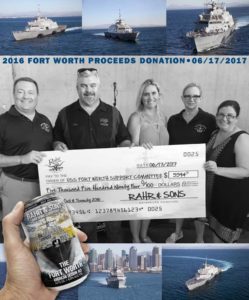 From Rhar: The USS Fort Worth Support Committee provides the men and women who serve aboard the ship with opportunities and support that shows the spirit of Fort Worth while recognizing outstanding service. One dollar from each case of the Fort Worth American Session Ales is donated to the USS Fort Worth Support Committee. Thanks to you, we are able to serve our city and community! Prost Y'all #grit&tenacity