The Collective Brewing Project's Cup O' Beer is overflowing with press and social media exposure. The gose, brewed with 55 pounds of prepackaged ramen noodles, was posted on DRAFT Magazine's Instagram page last week, garnering 731 likes. Over the following two days, the ramen beer was picked up by VinePair, Tasting Table, Eater, austin360, and Food & Wine Magazine.
"It was kinda wild," said Dave Riddile, Collective Brewing's taproom and social media manager. "Out of nowhere, we had several articles."
The beer is only available in Texas, so Riddile is waiting to see how well the national exposure translates to sales. There are no plans to ramp up production of Cup O' Beer at the moment. The Collective Brewing crew remains focused on Belgian-inspired beers that pair well with food, Riddile said.
"We have a tight brand," Riddile said. "We are keeping our focus there, but the media exposure has been a cool experience."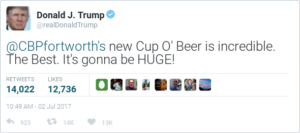 OK, internet. We get it. Ramen beer makes for a fun tagline, but this Near Southside brewery has been churning out superlative brews for years. The Petite Golden Sour alone has introduced thousands of converts to the power of the "tart side." Bad jokes aside, this boutique-minded brewpub has garnered a loyal following who crave brews that are a little quirky and funky. I'm a fan and so is a big chunk of North Texas.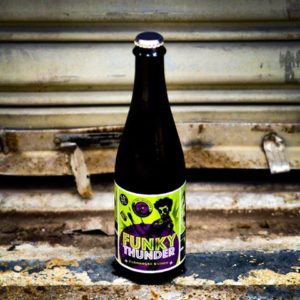 So congrats, Collective Brewing. It's nice to see that the country is starting to take notice of what has blossomed here in Fort Worth. It's about time. There are plenty of potential beer celebrities in the waiting (HopFusion Ale Works' Feisty Blonde, Martin House's Imperial Salty Lady, Rahr's Dadgum IPA, Panther Island Brewing's Summageez). Anyone want to take wagers on which Fort Worth brew will break the internet next?
Don't forget to follow On Tap in Fort Worth's Facebook page.
On Tap this Week:
Collective Brewing's Cup O' Beer
This internet sensation is still available in bottles ($7) and on draught at Collect Brewing. The gose will be brewed through August. With limited distribution, the 1,100 bottles are sure to be snagged soon.
The Collective Brewing Project, 112 St Louis Ave, Fort Worth, Texas, TX 76104
Martin House's Big Hoppa Launch and Trivia
From Martin House: Last year, we released this special Triple IPA Big Hoppa. On July 13 (6pm), it makes its return. The lush, juicy, high-gravity brew clocks in at 12 percent ABV and is a hop lover's dream. We will also have trivia by Ice Cole. Our food truck is Funky Town Food Truck Texas.

Dallas Brew Scene Brew Bus

From Dallas Brew Scene: You're invited to a very special Dallas Brew Bus tour. This is the first time we've ever started from Fort Worth and headed east. We'll be visiting three breweries: Peticolas, Community Beer Co, and HopFusion Ale Works. Arrive at HopFusion Ale Works (200 E Broadway Ave, Fort Worth) no later than 12:15pm. $55 gets you a seat on the bus, complimentary samples at each brewery, a snack from the culinary wizards at LUCK, and a commemorative snifter style glass.

Email: Info@DallasBrewBus.com with any questions.
Wild Acre Expands Taproom Hours
Wild Acre now has expanded taproom hours: Monday (5-8 pm), Thursday (5-8 pm), and Saturday (2-6 pm). Be on the lookout for two new Wild Acre brews, Fort Worth Pils and Superhawk Double IPA.