Real estate agent Becky Foley-Richards is quick to say that the only ghost she believes in is the Holy Ghost. There is still one residence among her listings where she always says a prayer before entering and another upon leaving.
It is the Haunted Hill House at 501 NE First St. in Mineral Wells, 50 miles west of Fort Worth. Sitting in a French subdivision just a block from White's Funeral Home, the house lies in the shadow of the historic, and allegedly ghost-ridden, Baker Hotel. 501 NE First St. was recently put on the market by owner and paleontologist Phil Kirchhoff, who contacted Foley-Richards to help him sell it. Other agents likely were relieved that it was Foley-Richards' phone that rang, not theirs. She said that some Realtors are afraid to show Haunted Hill.
"I had prayed that morning and thanked God for my upcoming seller," Foley-Richards said. "And Phil's the one that called me. Phil's wife had been praying that he would sell it."
The Haunted Hill House – a favorite among paranormal groups, ghost hunters, and thrill-seekers – will require a special buyer. It is allegedly inhabited by nine ghosts, plus several occasional strays that drift over from the Baker or other haunted spots nearby. Some of the spirits are not always on their best behavior, Kirchhoff said. At least 39 people have been scratched on the property. Some have also been bitten or tripped, though no one has been seriously injured.
The house's market value is about $26,000, but Kirchhoff's asking price is $125,000 because of its money-making potential. He has been renting it out on Friday and Saturday nights to people who want to commune with the dead. It's booked through September.
I had never heard of the Haunted Hill House until I spotted a friend's Facebook post not too long ago. She took the Houston Chronicle to task for referring to the "Baker Motel" instead of the Baker Hotel in an online story about the sale. I figure the writer likely conflated the historic Mineral Wells landmark with the Bates Motel of Psycho fame, but I didn't care about that. The post gave me an idea for a fun story – and hope that I might have a paranormal experience.
I wasn't disappointed.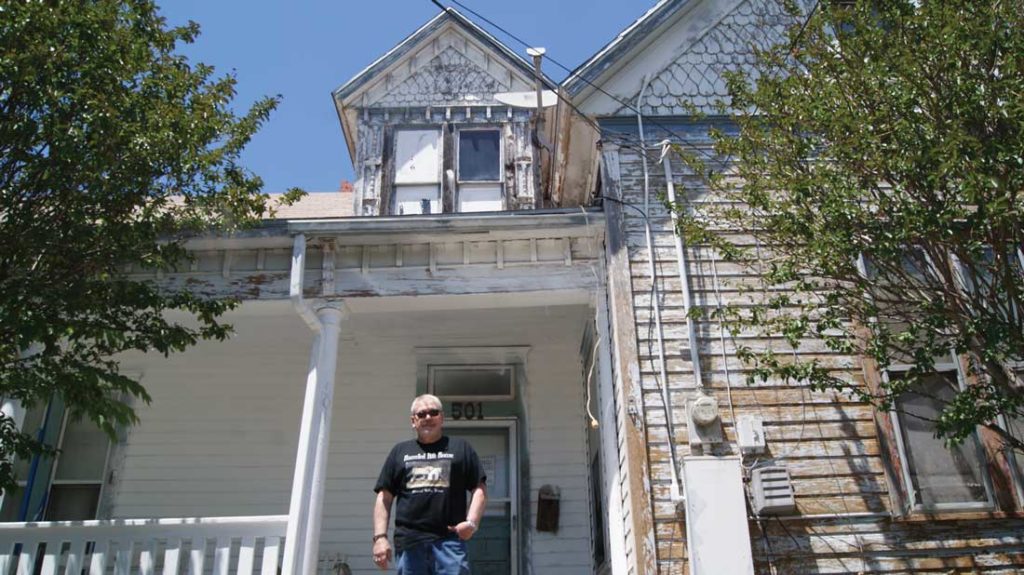 On the Market
Mineral Wells, which sits in Parker and Palo Pinto counties, is named for the area's mineral springs. It has been home to Walmart heiress Alice Walton, but it is best known for the 14-story Baker. Opened in the late 1920s, the 450-guest room Spanish Colonial Revival structure became a premier spa destination in the 1930s. Financial hard times hit before that decade ended, but a military base that opened nearby in 1940 filled the hotel's guest rooms.
Over the decades, it was visited by many famous people, including Lyndon B. Johnson, Judy Garland, Roy Rogers, and Dale Evans. Ballroom dances were held during the Big Band Era, and, in 1954, the Texas Democratic Party held its convention there. Deaths that reportedly occurred there include a little boy in an elevator accident and a woman who jumped from a balcony after a manager broke off their affair.
The Baker ultimately went into decline and was closed in 1972. Plans to restore and reopen the former showplace have stalled.
Two blocks away sits the Haunted Hill House. Built in 1890 by a woman named Fanny Yeager Kyle, who died in 1924, it is two stories, 2,840 square feet and has tandem windows and hardwood floors. It sits on 1.4 acres that butt up against a hill.
Kirchhoff, who lives in Hurst and passes through Mineral Wells on the way to his lake house at Possum Kingdom, bought it in 2013 with the intention of restoring and selling it.
"It could be gorgeous," he said. "It could really be something to behold."
Kirchhoff said he did not know about the alleged hauntings until he had already purchased the house and held an estate sale to clear it of furnishings and other items that had been left behind by the previous owners. He said that locals who came to the sale told him the house is haunted.
Kirchhoff, 66, never followed through with the restoration. Instead, he began renting the place out to curiosity seekers. At first, he charged $150 per night for groups of up to eight. Then he raised the price to $250. He figured the higher cost would probably cause bookings to plummet, but he wanted to weed out anyone tempted to break his rules against drugs and alcohol. To his surprise, the bookings kept coming, and the clientele improved.
The house is in significant disrepair, though, and city officials have requested that Kirchhoff do something about it.
"They're working with him to make sure it stays safe and secure because it does bring tourism," Foley-Richards said. "He's working hand in hand with the city to make sure he's in compliance."
The repairs and upgrades, which are underway, will deplete the modest cash reserve that Kirchhoff built up through rentals after paying off the house, he said. That's one of the reasons he decided to sell, especially since he has to pay taxes and monthly bills for electricity and internet. He also wants to spend more time with his wife, Kim, who has never been a fan of Haunted Hill. It didn't help that the first time she went inside, a black cat walked onto the property, and when she looked out of an upstairs window, a casket was being unloaded at White's.
"It's not really something we can do together," said Kirchhoff of his sideline business, which he recently cut back to every other weekend.
On the Saturday afternoon I was scheduled to meet with Kirchhoff, I was pulling up to the house when he called to say he was running a few minutes late. He had been at the house the night before to supervise a booking but had to drive to the office that morning to take care of a problem. He works for Conduent, a spin-off of Xerox.
The house is elevated quite a bit above street-level, due to two retaining walls and a dozen steps leading up to the front porch. As I stood on the sidewalk looking the house over while waiting for Kerchhoff, a red pickup slowly approached, then stopped. Its young driver rolled down the window.
"Is this the haunted house?" he asked.
"Yep," I said.
"Cool," he said before slowly driving away.
I suspect that happens a lot, especially among those who are young and impressionable. I sadly no longer fit into the first category, and I intended to avoid falling blindly into the latter – no matter how much I wanted to experience proof that there is life after death.
Kirchhoff arrived a few minutes later, sporting a pair of glasses and a black Haunted Hill House t-shirt. He has a goatee and a friendly, laidback manner. We spent a few minutes talking in the driveway before heading in through the back door.
Kirchhoff said he doesn't know much about the home's previous owners, but was told that they may have fled in the middle of the night. I ask why, since they had evidently lived there a number of years. He said the family supposedly had known that the house contained spirits, but for some reason the hauntings took a malevolent turn.
"They claimed they were being harassed by spirits," Kirchoff said, but "that's a story that I can't really put together."
Because of a computer conversion that occurred in 2010, only the family who owned the house immediately prior to Kirchhoff is listed with the Palo Pinto Appraisal District. An employee there told me that tracking down previous owners would require searching through volumes of records at the county clerk's office.
Kirchhoff said the house was allegedly a brothel during the 1940s, largely servicing clients from the Baker and from Fort Wolters military base. He said that one of the ghosts is a young boy named Joshua, who had Down syndrome and was the son of one of the prostitutes. Kirchhoff doesn't know how the boy died. There is another child, a 9-year-old girl named Madeleine, who supposedly died on the front porch after being hit by a car, he said.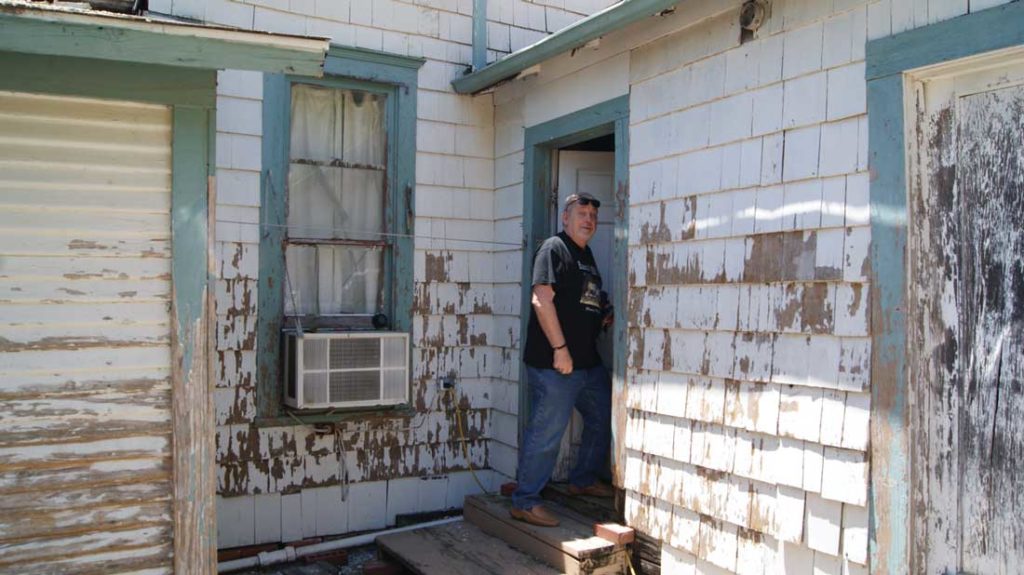 Other ghosts are Maddie, who was a prostitute at the brothel, a bootlegger named Willy, someone named Tim, and another spirit named Timmy. Kirchhoff isn't sure about the other three. He said that the Spirit Box always indicates that there are nine spirits at the house. A Spirit Box is a gadget "that's an FM radio, basically," he said. "It runs through the FM band super fast to create white noise." It is through that white noise, which sounds like loud static, that the voices of the departed allegedly come through.
"You'll hear, 'I'm Joshua' just as clear as can be," Kirchhoff said.
Sometimes, he said, a voice will tell those present to leave.
The Haunted Hill House has a couple of strange add-ons, such as a room at the back where there are burglar bars on the inside of the windows, rather than the outside, as if to keep someone in rather than to keep someone out. No other windows at the house have bars.
Perhaps the most bizarre architectural aspect is a bathroom – complete with a claw-footed tub, sink, and toilet – that was completely enclosed with drywall, with another full bathroom built in front of it. Kirchhoff said the bathroom was always visible through a window, but since there is another bathroom on that side of the house, it took him about a year to notice it. He discovered the oddity when repairing frozen pipes.
He said that two mediums who have visited the house said they sense a woman crying over a baby.
"Now, is that related [to the bathroom]? I don't know," he said. "But they both wrote down the same thing. Some people claim to have seen a lady looking at them out of the window."
In the kitchen, there is a flat-screen television showing images from 16 cameras that are positioned throughout the house (except for the bathrooms) for the purpose of detecting any paranormal activities. Orbs at times have appeared on the TV, Kirchhoff said.
Kirchhoff demonstrated several instruments used in paranormal research which had been sitting on the kitchen table. His favorite is the K2 meter, a device about the size of a smartphone that measures electronic magnetic fields and flashes lights of green, yellow, and red. Paranormal researchers entice spirits to make certain colors flash in response to questions.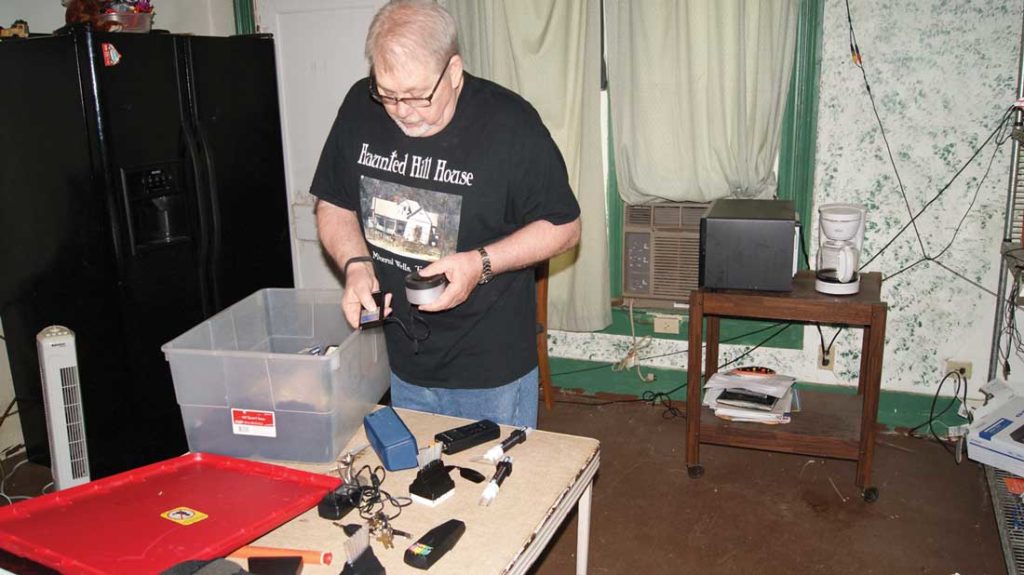 Using the Spirit Box, Kirchoff repeatedly tried to entice a spirit to say my name. When his efforts failed, he picked up a set of L-shaped dowsing, or divining, rods. The instruments date back centuries and were used to locate water or buried metals and other objects. They are also used in paranormal experiments.
Kirchhoff stood at the head of the table, the long end of the dowsing rods jutting straight ahead.
"Kathy's here," he said. "Can you point to Kathy?"
The dowsing rod in Kirchhoff's right hand swung to the right until it was pointing directly at me. Kirchhoff's right hand did not appear to move.
"It can be really fun when [the spirit] isn't malevolent," Kirchhoff said. "It's almost like they want to interact with you. It's like, 'Oh, good, there are people here. Let's talk.' They'll touch you. You can feel them tugging at you."
Despite the dowsing rod's movement and an indistinguishable voice that came through the Spirit Box, Kirchhoff said he was sensing little paranormal activity. He attributed this to the full moon that would be rising hours later. Though some might assume that a full moon stirs restless spirits, Kirchhoff said the greatest amount of paranormal activity seems to occur when there is only a sliver of moon.
After a couple hours talking and touring the house, Fort Worth Weekly photographer Patrick Holden Jr. said he had to make another appointment and asked Kirchhoff to pose for a photo in front of the house. I decided to wait inside.
Sitting alone at the kitchen table, I noticed that directly in front of me was a small toy airplane made of polystyrene foam. I watched as the ceiling fan caused occasional gentle movements to its tail or wings.
"Are you here?" I asked, addressing any random spirit that might be hanging around.
"If you're here, would you make the airplane move?" I asked.
Immediately, the airplane slowly and methodically began to move. It stopped after it had rotated one complete half circle.
I asked that the airplane be moved a second time. Once again, it moved one half circle. Rather than scared, I was excited. I felt certain that the movements had not been caused by the ceiling fan or any other natural source, and, with Kirchhoff outside, it seemed unlikely that it was a hoax.
When Kirchhoff came back into the house, I told him about the airplane. We tried the experiment together, and, once again, the airplane moved one half circle.
In a low voice, Kirchhoff said, "I think it's feeling different in here now. Let's go into the other room."
We moved to the front room, where he said a good deal of paranormal activity tends to occur. He took the K2 meter and the Spirit Box. The room was empty except for a small, square plastic table. We knelt on either side of it, and Kirchhoff began to speak.
"Are you a man?" he asked.
The K2 meter showed a single green light but didn't flash.
"Are you a woman?" he asked.
The colored lights flashed.
Again, he tried to entice the spirit to say my name. Eventually, I heard what sounded like a female voice coming through the Spirit Box but couldn't distinguish whether it said my name.
"See if it will say your name," I suggested to Kirchhoff.
"Can you say my name?" he asked.
This time the answer was immediate and clear.
"Phillip."
Kerchhoff picked up a playing card that was lying facedown with other cards on the table. Without looking at it or showing it to me, he held it behind his head.
"Let's play a little game," he said to the spirit. "Can you tell me what card I am holding?"
"Seven."
Kirchhoff looked at the card, then showed it to me. Seven.
I wondered if Kirchhoff had already known that the card he picked up was a seven, but, after the experience with the airplane, I took it at face value. And I was glad to have finally heard clear words from the Spirit Box.
Satisfied that communication had occurred, we wrapped up our meeting so that Kirchhoff could take a nap in the trailer behind the house before the night's group arrived. It was 4:30 p.m., and I had been there since noon.
With the Baker Hotel in my rear view mirror, I felt relieved that I had managed to make it out of the Haunted Hill House unscathed.
Six days later, I would question that.
A Mountain of Science
Angela Morgan had arrived early for our interview at a Mexican restaurant off I-20 in Weatherford on a stormy Friday afternoon in June. She was already seated in a booth sipping iced tea when I walked in, having parked two spaces from her white Jaguar, which has black license plates that say "GHOSTS" in white letters.
Morgan was wearing a black off-the-shoulder top and dramatically large earrings in the shape of crucifixes. At her throat was a silver chain from which hung a ghost figure. An oversized ring on a finger of her right hand had a green stone the color of Ghostbusters slime that sparkled in the restaurant's subdued light as thunder crackled outside. Her hair is the kind of blonde that is, for lack of a more subtle term, ghost white.
By day, Morgan is a wife, a mother of three (with a fourth on the way), and a resident of the small town of Millsap, where her kitchen is decorated in "antique Halloween," she said. She has a full-time job as a loan officer for a Weatherford bank. But a couple of Saturday nights a month, she is the tour guide for the Baker Hotel Ghost Walk, a sideline venture she created seven years ago, three years before Kirchhoff bought the Haunted Hill House and began renting it out.
Morgan said that her now 19-year-old son came up with the idea of starting a ghost walk business in Mineral Wells after the family participated in a similar activity during a visit to the northeastern Texas town of Jefferson. She said she conducted the first Baker Hotel Ghost Walk on Sept. 8, 2012, and, even though her only advertising had been through Facebook, 197 people showed up. The largest turnout was Halloween weekend of that first year, when Morgan struggled to herd 282 participants along the 10-block route. The average turnout for the tours, she said, is 55.
Morgan said she conducted 122 interviews over a period of about four months to create spooky stories about spots along the walk where there reportedly is "weird energy" and where orbs, apparitions, and mysterious mists appear. She said that sometimes these things appear in photos taken by walk participants. The walk starts at the Baker and ends at the Famous Water Co., mineral water seller, but the tour is mostly about areas as opposed to specific houses or buildings.
Sometimes Morgan and Kirchhoff coordinate their business ventures. She will schedule walks on weekends when he has the Haunted Hill House booked. The house isn't on the tour, but that's because it would involve diverting from the route. It is not unusual for those who book a night at Haunted Hill to participate in the ghost walk.
Morgan said that shortly after Kirchhoff bought the house, he called her on a Friday night while he was working on the property. She was at one of her sons' games, and it was so noisy that they had difficulty carrying on a conversation. After the game, she drove to the Haunted Hill House, and she and Kirchhoff talked while standing in the entryway.
"I had been there probably 45 minutes, and all of a sudden it felt like I was standing in a fire ant bed," Morgan said. "I said, 'Oh, my God! I'm in fire ants!' It was just that sensation of getting burned like crazy by fire ants. But there was not a single ant on me. My legs throbbed for an hour. It freaked me out because I've never experienced something of that magnitude. I've been pinched, I've had my hair pulled, or I've felt something brush past me. I've had sick feelings and stuff like that, but never, ever, has something burned me – until then."
Morgan feels that her ghost walk and Kirchhoff's Haunted Hill House have created a tourism industry in Mineral Wells that benefits the local economy. Visitors eat in local restaurants, fill their gas tanks at local stops, and stay in local hotels.
"At some hotels, you can ask for the Ghost Walk Special, and they'll upgrade your room," she said.
City officials, though, don't seem anxious to talk about the town's haunted tourism. Although Morgan said that City Manager Lance Howerton gave his blessing to her tours and has been "nothing but good" to her, he did not respond to my request for an interview and neither did a couple of councilmembers to whom I reached out. Mayor Mike Allen responded to my Facebook message but said that he couldn't help me "on the ghost matters."
"I just never got into that," he posted.
Morgan said some residents aren't happy about the attention brought to Mineral Wells through haunted tourism. Regarding the historic Baker, she believes it may be haunted in part because of sad energy trapped there.
"For whatever reason, some people don't want to talk about the truth, about the history," she said as rain fell. "I personally have found three people who said they were sold as a child at the Baker. That's because it was during the Depression. Their parents couldn't afford them. It upsets people to think that something could have been going on like that. It was not that there was anything bad or wrong with the town – it was the times."
Of Kirchhoff and Haunted Hill, Morgan said, "He really is sitting on a mountain of science. Why? What has made this house what it is?"
Matters of the Spirit
Charles W. Patrick Jr., vice president for Strategic Initiatives and Communications at Southwestern Baptist Theological Seminary in Fort Worth, was rushing to catch a flight for the annual Southern Baptist Convention when he received my email about the Haunted Hill House. I asked for his thoughts about whether demons sometimes deceive humans by disguising themselves as ghosts or spirits. Not having time for an interview, he offered to respond by email between flights.
Patrick wrote that the popular meaning of ghost is "the spirit of humans who have died," which he said is not supported by the Bible.
"Nowhere does Scripture support the notion that the spirits of the dead are free to return to the physical realm," he wrote. "The souls of the dead are either in the presence of God in Heaven or eternally separated from Him in Hell. Hence, ghosts, the spirits of the departed, do not roam among us or haunt us. Thus, there are no hauntings from the former prostitutes who lived in the house or from residents from the nearby Baker Hotel."
Patrick went on to write that scripture says there are spirit beings that can "connect and appear in the physical world," and those spirit beings are angels and demons.
"Demons can masquerade as angels," he wrote. "Their goal is to deceive and lead people away from following God."
I thought back to that afternoon at the Haunted Hill House when I felt no fear because I sensed that whatever was moving the toy airplane was probably the spirit of an innocent child. Now I wonder whether I had been sitting alone in the presence of a demon.
Hokey? Maybe. But now I'm not sure what to believe. I feel certain of only two things where Haunted Hill is concerned: The airplane moved several times after I specifically asked that it be moved, and I wasn't drunk.
The Fourth Hypothesis
Dr. Timothy Barth, a psychology professor at TCU, feels that the best way to teach critical thinking is through a topic that will grab students' interest. That's why, since 2000 or so, he has taught a course called Parapsychology: Science or Pseudoscience? He teaches it as both an undergraduate psychology elective and as a master's-level course.
Students examine paranormal experiences through both a believer's and skeptic's point-s- of view and construct cohesive arguments for conclusions they reach based on existing evidence. They are required to keep a daily journal and choose among several field trips, such as visiting a psychic, a magic store, a member of the clergy, or a location that is reportedly haunted.
Barth teaches a method of reasoning called "the fourth hypothesis." Before reaching the conclusion that something that occurred was paranormal, students consider three other categories of possibilities: perception or memory distortions; hoax, accident, or chance; or natural phenomena.
"We begin to get an idea of how we construct our own belief systems and how we maintain them and how they are very resistant to change," Barth said. "I tell students that what I hope is that if you have a strong opinion, by the end of the course you are absolutely confused. It may be the only course that, if you leave confused, I have probably done my job."
Barth said he is frequently asked by students about his own beliefs but is intentionally cryptic.
"I really do believe you can make arguments on either side that are very valid," he said of the paranormal. "I've had very strange things happen to me."
One example: About 15 years ago, he said, graduate students wanted to hire a medium to conduct a séance. The students felt that to judge certain types of activities, they should experience them. Barth said he does not engage in séances or other controversial activities with undergrads due to the "blow back" he would likely receive from parents.
Barth said he hired a medium with a good reputation and hosted the séance at his home. He and his wife took their young son Dylan to his grandparents' house. The medium requested that all phones be turned off or unplugged. Barth said he unplugged his landline.
As the séance was underway, Barth said, "Strangely enough, the phone rings."
It was the landline, the unplugged landline. His wife checked the phone, then returned but said nothing.
"The medium says, 'I'm getting this very strong message from Dylan,' " Barth said. " 'Does anyone know a Dylan?' "
Barth's wife then told everyone that when she checked the landline there was a voicemail from her son, Dylan. He was crying because he wanted to come home.
"So what does that make me believe?" Barth said. "I don't know."
The professor said that doubters would pose that the medium likely had done research on him, knew he had a son named Dylan, and then, since the boy was not present, accurately guessed that it was him calling.
"But then, I still come back to the same problem," Barth said. "How did the phone ring?"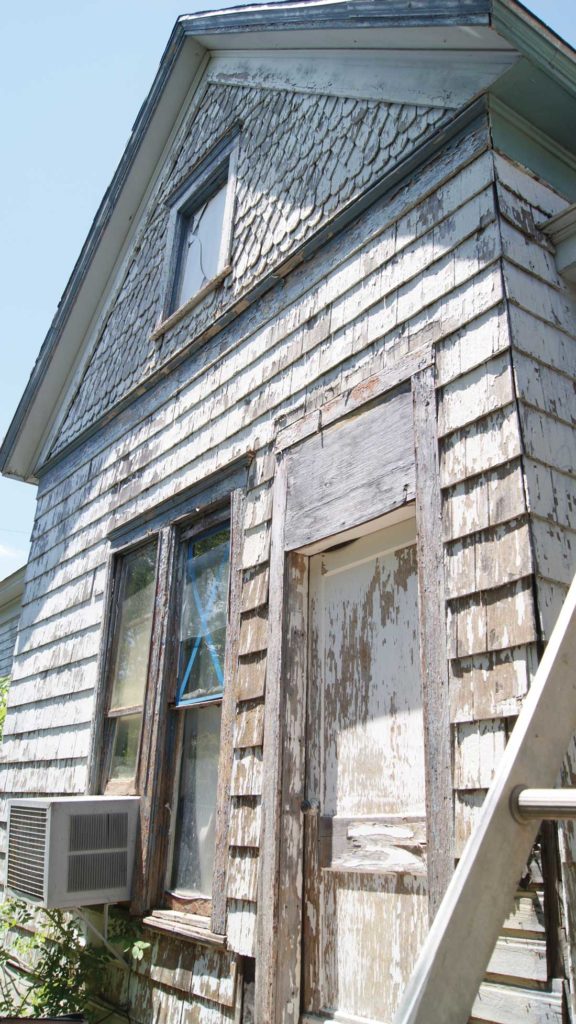 Sage Advice
Paranormal researcher Robbie Prince, a stainless steel finisher and Arlington resident who founded the paranormal research group Ripcrew, said the Haunted Hill House is "truly haunted." He said he has visited 15 to 20 times because he can count on something happening every time.
"You want to go where you know there's going to be some activity," he said.
Prince said he has brought skeptics to the house.
"I have changed so many people over, you wouldn't believe," he said. "It changes their whole outlook."
But Michelle DePaul of Keller, a medium and founder of Mystic Ghosts paranormal researchers, is becoming concerned about the Haunted Hill House because the malevolence there seems to be increasing. She suspects that some who visit the house are experimenting, unbeknownst to Kerchhoff, with Ouija boards.
Created as a parlor game the same year the Haunted Hill House was built, the board has since been used by those who believe it is a way to communicate with the dead. The board is marked with letters, numbers, and words such as "yes" or "no." Users place their fingers on a small piece of wood or plastic called a "planchette," and messages are received by spirits that allegedly move the piece.
Kerchhoff told me that he prohibits Ouija boards. But while he typically spends time in the house with groups after they first arrive, he usually doesn't stay there all night. He sleeps in his trailer. He said that one of his rules is that, if guests leave during the night, they must knock at the trailer door to let him know so that he can leave, too. He doesn't want to stay on the property overnight by himself.
"Hundreds of groups have been out there, and this has been going on for, like, four years now, just stirring up that energy," DePaul said. "There are so many kids out there investigating. If folks who are messing with Ouija boards don't know what they're doing, it can open up a portal."
DePaul said that she and her group have had paranormal experiences every time they have been to the house, which has been "four or five times." She said they have received "a ton" of EVPs – Electronic Voice Phenomena – including communications from Timmy and Madeleine. On their first visit, which was in pouring rain on Halloween weekend in 2015, the back door immediately slammed shut when they opened it to enter the house. The group found no open windows or any natural reason for that to have happened.
On another visit, DePaul was scratched.
"The minute I got out of my car and went to the house, I got scratched – and it was right next to my eye," she said.
DePaul said that one of her crew was also scratched, although he didn't feel it at the time and didn't discover it until the next day.
DePaul believes in the power of sage to cleanse negative energies and feels that saging the house could rid Haunted Hill of its dark forces.
The real estate agent, Foley-Richards, said that several potential buyers have visited. She requires proof of funds or a letter of pre-qualification from a lender before she will show it. One woman who was eager to see the home and had no qualms about its reputation fled within minutes, she said.
"The minute I opened [the door to] that little bedroom on the left, called the Shadow Room, she made a sound," Foley-Richards said. "I turned around, and she was just waving her hands in front of her face and going, 'I can't breathe. I can't do this.' And she ran out. I go outside, and she keeps backing away from the house. She goes, 'The minute you opened that door, I felt nauseous and faint. I had to get out of there.' "
DePaul recommends that anyone who wants to buy the house do "a major cleansing" with the burning of sage.
"If the scratching continues," she said, "it may need an exorcism."
Scratching the Surface
On the Friday following my visit to the Haunted Hill House, I had an appointment for a haircut. I was making the usual small talk with Misha when she suddenly stopped what she was doing and asked, "What did you do to your head?"
I had no idea what she meant.
"You have a cut on the back of your head," she said. "It's healing. It's scabbed over."
She parted my hair and held up a mirror. There was a red, jagged, angry-looking cut spanning several inches. I had no idea how I could have sustained such an injury without having felt it – especially since there has never been a time when I have not been sober. I am always clear-headed, even if I'm not the most fun party guest ever.
The cut's possible connection to the Haunted Hill House didn't occur to me until late that night. If it was healing, as Misha said, then the cut would have been inflicted several days earlier. It had been six days since my trip to Haunted Hill.
Of course, skeptics may say, "For anyone who believes that a spirit caused that scratch, I have a bridge you might want to buy."
But for those who are into such things, Kirchhoff has a house he'd like to sell you.