"Where my brew at / Where my dudes at / Where my chicks at," J/O/E raps on his recent EP Craft Brew. The Fort Worth native has gone where few, if any, hip-hop artists have delved, performing at local breweries like Panther Island and Noble Rey Brewing Company. He's a natural fit.
"Three years ago, I was drinking beer but wasn't familiar with craft beer," he said. "My friend was like, 'Yo, we're going to hit a brewery.' The first one was Rahr. It was a Saturday, so we did Martin House too."
From then on, J/O/E visited local breweries "religiously," even volunteering at taproom tours. His music already had beer references, so the incorporation of lyrics like "shotgunning" and "craft brews" came easily. His first professional brewery gig came in 2015 with the help of Kristi Wilson, who worked at Panther Island Brewing Company at the time.
"Kristi Wilson was a good buddy of mine," he recalled.
The event, Turnup, was Fort Worth's first craft beer-themed hip-hop show and featured several local rappers. There have been three of the popular shows to date.
Another friendship, this time with Rahr creative director Jeff Wood, further entrenched J/O/E in the local craft brew scene. Rahr was a few months from launching Dadgum IPA, the brewery's much-anticipated replacement for Stormcloud IPA. Wood featured J/O/E in several promotional photos.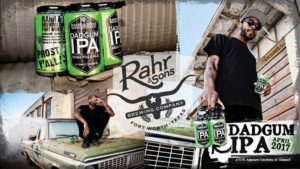 Wood "kept mentioning the Dadgum project," J/O/E recalled. "He knew I was a hip-hop artist and loved craft beer. We [reach] unique audiences."
When the Fort Worth wordsmith isn't performing or recording, he's visiting local breweries. His favorite beers at the moment are Dadgum IPA and Cellarman's Reserve IPA. And he's always looking for his next craft beer fix.
"The audiences at breweries are super friendly," he said. "I'd like to see other music artists in general get into this. Maybe we can all team up and put something together."
Don't forget to follow On Tap in Fort Worth's Facebook page.
On Tap this Week:
Martin House's Big Hoppa Launch and Trivia
From Martin House: Last year, we released this special Triple IPA Big Hoppa. On July 13 (6pm), it makes its return. The lush, juicy, high-gravity brew clocks in at 12 percent ABV and is a hop lover's dream. We will also have trivia by Ice Cole. Our food truck is Funky Town Food Truck Texas.
Dallas Brew Scene Brew Bus
From Dallas Brew Scene: You're invited to a very special Dallas Brew Bus tour. This is the first time we've ever started from Fort Worth and headed east. We'll be visiting three breweries: Peticolas, Community Beer Co, and HopFusion Ale Works. Arrive at HopFusion Ale Works (200 E Broadway Ave, Fort Worth) no later than 12:15pm. $55 gets you a seat on the bus, complimentary samples at each brewery, a snack from the culinary wizards at LUCK, and a commemorative snifter style glass.

Email: Info@DallasBrewBus.com with any questions.
Saucer and Stone Wing Eating Contest
From Flying Saucer: Join us this Saturday, July 15th for the annual Flying Saucer Wing Eating Contest! We will be teaming up with Stone Brewing to host this year's trials of speed and heat!
It costs $20 to sign up, and you can compete in both the speed wing eating contest and the heat wing eating contest, featuring scorching Arrogant Bastard Hot Sauce. If you prove yourself as the Champion of All Wing Eaters, you could win a $100 gift card! Show the world that you are the true Hot Wing Champion. Ask your server or bartender to sign you up today!