It's pop quiz time! A co-worker who is new to Fort Worth suggested I try this great "new" restaurant that just opened in the Montgomery Plaza area of West 7th called Blue Mesa. Did I …
A.) Smugly explain to her that Blue Mesa is hardly new and that I've already written a column about the place (thanks for reading).
B.) Nod until she stopped talking so I could go back to looking at Golden Girls-related fan art on Etsy, or …
C.) Abruptly leave the conversation and hurriedly drive to Bread Winners Café & Bakery (1612 University Dr, 817-948-8710), the resto that now occupies the University Park Village space where Blue Mesa reigned for almost two decades before relocating.
The answer is C, but it maybe should have been D, all of the above –– lord knows I don't need another pair of Blanche Devereaux socks.
Despite the ever-changing scenery in this town, all of this so-called progress can still occasionally drop my jaw. It was only a year or so ago that the University Park Village was home to a Barnes & Noble, Chili's Bar & Grill, and the aforementioned Blue Mesa –– all three were staples of my college years.
My recent visit to Bread Winners was a little like going back to your college dorm only to find out the land was sold to a developer and the building razed and replaced with cookie-cutter-looking luxury condos. So … pretty much the story of Fort Worth over the past decade.
Bread Winners is laid out just like Blue Mesa, but there's now a deli case filled with sweet treats where the bar once stood. The biggest difference is that the décor is way more upscale and modern looking, as if Blue Mesa's girlfriend moved in and cleaned up the place.
The lunch menu at the Dallas-based chain is a solid mix of mostly ladies-who-lunch fare but with enough burgers and bacon to satisfy even the most masculine appetite. The kitchen serves breakfast until 4pm, and if you go on Mondays, mimosas are just $5.
I was tempted by the chef's special Hot Brown ($13), an open-faced sandwich of turkey, bacon, mornay sauce (like a béchamel), globs of melted Swiss cheese, and dull-looking tomatoes piled onto a crunchy piece of sourdough, all accompanied by a fresh-tasting, if under-seasoned, cup of scalding-hot tomato soup. It was the kind of cool-weather lunch that my nana would have enjoyed, though she would have had to heap on the salt, just as I did.
I was a little jealous of my guest's green chile jalapeño burger ($14) slathered in pepper jack cheese. The brioche bun arrived at the table pierced by a wooden stake with a whole grilled jalapeño spiked on top, as though that vegetable had offended the crown. The akaushi beef was juicy and cooked a perfect medium. The veggies and mayo between the buns cooled the piquant peppers. Again, my only complaint was the lack of salt and pepper in the meat, so, despite the spice of the peppers, the kitchen erred on the side of bland.
You can't go to Bread Winners without experiencing the desserts. My coconut cream pie ($6) was divinely rich and decadent, and the cream was just the perfect amount of sweet without being cloying.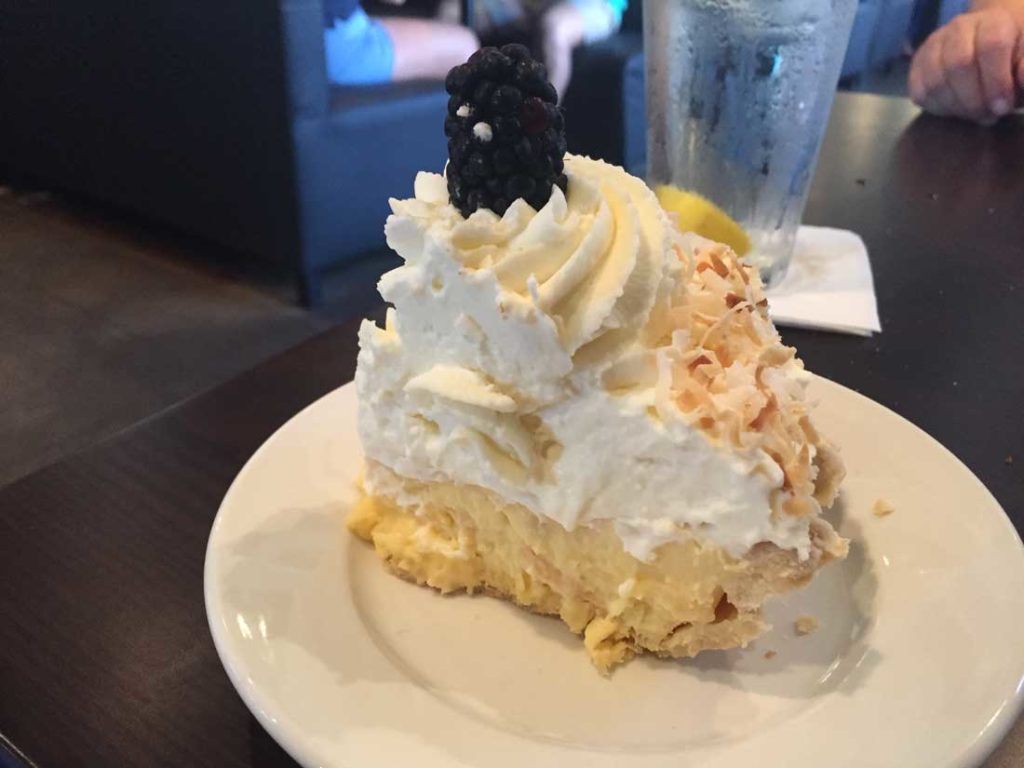 Service was a little slow at times and a lot slow at others. In the staff's defense, it was a bit busy. My guest and I also made the mistake of asking for "a minute" to look over the menu after our server initially asked us if we were ready to order. She gave us plenty of time.
Despite its forgivable flaws, Bread Winners is a welcome addition to the area – especially now that I'm out of college and can afford it.