Leaving a legacy is a thing most of us rarely consider. It's a realm reserved for the creators of timeless artistic masterworks, scientists whose contributions further the breadth of human knowledge, and heads of state. That doesn't keep Lorenzo Zenteno from thinking about his.
"I always tell people that when I die, I simply want people to know that I died," he said. "I want the legacy to be undeniable."
At age 32, the Fort Worth native better known in the hip-hop community as rapper Smoothvega has already solidified himself as one of the most celebrated local MCs of the last decade. His albums, Exclamation Point and Cutting Room Floor, are highly acclaimed and boast features from major-label giants like Houston's Lil' Flip and Paul Wall. He's also been recognized by this media outlet for winning the Fort Worth Weekly Music Award for Best Rap/R&B three times. In some way, Zenteno has already made a considerable dent in the legacy he's striving for. But as is his nature, he wants more.
"My goal isn't just to win another Fort Worth Weekly Award," he said. "I want the Weekly Lifetime Achievement Award. I want to go into the Weekly Hall of Fame!"
As Smoothvega, Zenteno has just released a new single, appropriately titled "Want it All." The track is a banger with a hooky, eastern-sounding loop and features renowned New York rapper Emilio Rojas offering a verse. It's the first of several singles Zenteno plans to drop in the near future. Recognizing that fewer and fewer people are willing to spend $10 for a full album, he's pacing out the release of individual songs instead. The next track, "Let Me Love You," is due out later this month on various online platforms.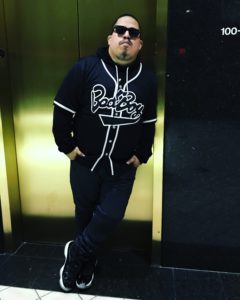 Rapping has been far from his main focus, however. Lately, all of his energy has been poured into his talent-buying/promotions company. Officially launched in February 2016, Premier Live Experience has seen Zenteno's tour-routing and concert promotion services recently expand from local artists to bringing national acts to North Texas. The next major artist to play under the Premier Live brand is Kap G, who takes the stage at the Rail Club on Friday. In addition to tackling larger artists, Zenteno has recently teamed up with local PR and brand management specialist Sarah Badran, who's brought a multimedia vision to the company along with her considerable experience. The two plan to launch a podcast and a YouTube channel surrounding Premier Live and its showcases over the next year.
Zenteno earned a reputation as the "Godfather of Fort Worth Hip-Hop" by sharing his connections and experience with younger, up-and-coming artists and doing all he can to help them get their footing in the highly competitive music business. Four times a year, he holds a local artist showcase and puts up $1,000 for the performers to claim. He will soon host his 10th annual toy drive to benefit disadvantaged kids. Last month, he helped pull off a benefit show in San Antonio featuring Immortal Technique which raised more than $18,000 for Hurricane Harvey relief. He also sponsors a wish-granting charity called Premier Wishes that arranges for sick or disabled children to meet some of their hip-hop idols.
"I don't do this stuff for the photo-op," Zenteno said. "I do it because it's in my heart. It's based on the values that were instilled in me as a youngster by my mother. And I want to inspire other people to do the same."