His 90th birthday party attracted a rather interesting crowd. The people milling around in a backyard on an October afternoon exhibited telltale signs of moving to their own distinctive beats. Sunglasses. Vampire tans. Cowboy hats. Gold chains. Pearl snaps. Raspy voices earned from living smoky lifetimes in honkytonks and dance halls scattered across Texas and beyond.
"There is a shitload of Fort Worth music history here," said local music fan Roger Muckey.
He and I were sitting at a table underneath a car shed in the Ridglea neighborhood. Willie Nelson drummer Billy English yukked it up with Robert Gallagher, the former entertainment director at Billy Bob's Texas. Steel guitarist Tommy Spurlock, who has recorded studio sessions with the likes of Roseanne Cash and The Band, bantered with guitarist James Faver, who played for years with Hank Thompson and Jerry Max Lane. Other musicians hanging out included fiddler Brady Bowen, pianist Johnny Case, drummer Danny Cochran, guitarist Larry Funchess, pianist Wayne Glasson, steel guitarist Buddie Hrabal, guitarist Freddie McDonald, and bassist Jim Pack.
"A lot of these people played with big names –– Delbert McClinton, George Jones," Muckey said. "And they're all here to celebrate Leon Rausch."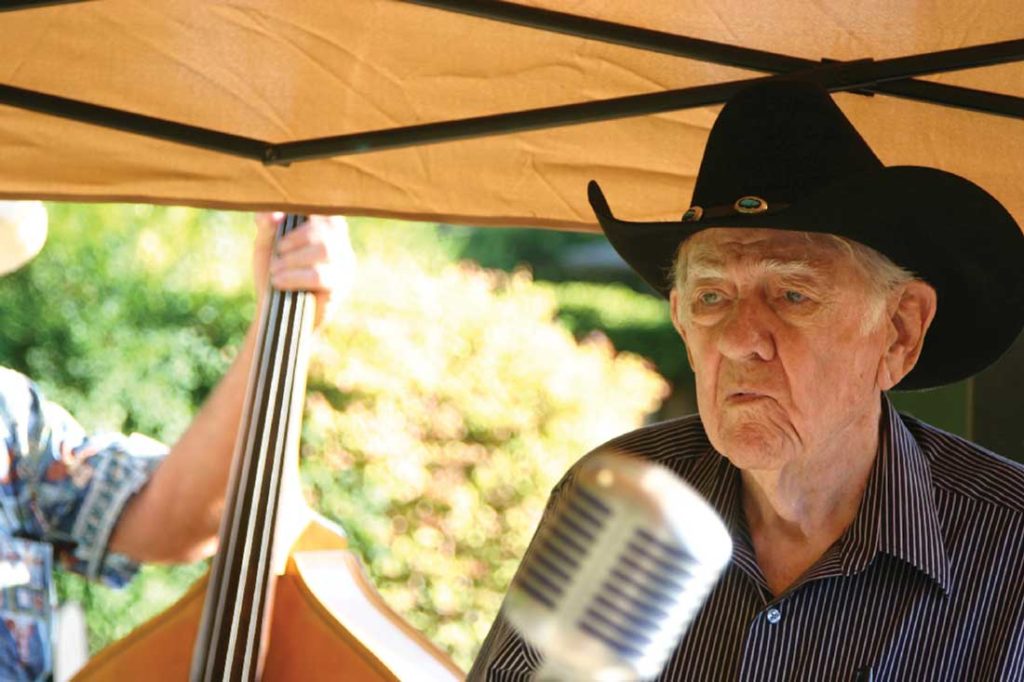 The official "state music of Texas" is Western swing, and Rausch was the voice of the greatest Western swing band ever –– Bob Wills and the Texas Playboys. Rausch was the group's primary vocalist during the latter part of Wills' career and carried on the Texas Playboys' tradition for years after Wills died. Rausch continues to sing with bands such as Austin's extremely popular Asleep at the Wheel as he enters his ninth decade. He recently completed his first solo album in many years. The guests at Rauch's party were among the first to hear the finished result of Time Changes Everything, which will be released soon.
A desire to open his mouth and belt out songs came to Rausch early. The only child of musical couple Fred and Ida Jane, Rausch was born in 1927. A few years later, the family trio performed around their hometown of Billings, Missouri, with little Leon at the mic.
"I was eat up with it," Rausch said. "I thought I was going to be Gene Autry."
Rausch never reached Autry's level of fame and fortune, but he forged a long career, successful marriage, and a happy life that he looks back on with way more pride than regret.
Sitting at the birthday/CD-release party table with Muckey and me was Bill Hearne, who owns Texas Starway Song Publishers and operates Cowtown Studio in northwestern Fort Worth. Hearne is a longtime songwriter but not a professional picker.
Hearne "plays the radio," McDonald said. "Sometimes he gets static on it."
Good-natured ribbing was applied in thick and frequent coats among these old timers, along with plenty of "that's what she said" and "this ain't rocket surgery" kind of dad humor.
Fashionably late but sharply dressed, the man of the hour arrived with wife Vonda standing beside him just as she has done physically and spiritually for 67 years. Friends wished Rausch well and sang him "Happy Birthday." English handed him a drumhead with "Happy Birthday, We Love You!" written on it and signed by English, his drummer brother Paul "The Devil" English, and ol' Willie himself. (Rausch and Nelson performed a duet, "Truck Driver's Blues," on the Asleep at the Wheel's It's a Good Day album in 2010).
Music was being piped into the backyard over speakers, and the Floyd Rose-penned classic "Rose of Old Pawnee" began playing. Not the original version recorded in 1946 by Bob Wills and the Texas Playboys. And not the 1957 remake by Marty Robbins. This was a new version.
"Who is that old guy singing?" Rausch asked with a smile.
"Eddy Arnold?" someone suggested.
"No, he's dead," Rausch replied.
The old guy singing, as everyone knew, was Rausch.
"I had to beg him to do this album for 15 years," said Spurlock, who produced it and played steel guitar on it.
Add in the three years Spurlock spent recording and mixing Time Changes Everything in between other gigs, and this project was almost 20 years in the making –– and worth the wait. Rausch has appeared on Asleep at the Wheel albums over the years but hadn't done a solo project since his Cindy Walker tribute Close to You (1998).
Asleep at the Wheel frontman Ray Benson met Rausch in 1973 at a Dallas recording studio and became friends with him. Rausch has been sitting in with the Wheel off-and-on ever since.
Rausch would "come and play with us at the Armadillo [World Headquarters in Austin] and hang out," Benson said. "We hung out a lot back then. He was drinking, too, so we were having a real good time." (Rausch gave up tobacco and alcohol at 55.)
Benson wanted Rausch in the band because "he had one of those classic Western swing voices … somewhere in between Hank Williams and Frank Sinatra. You got to have the chops to sing that kind of music."
And it wasn't just the vocal talent that drew Benson to Rausch.
"Leon has always got a smile on his face unless you cross him, which I never have," Benson said. "He's got an incredible appreciation for great music, not just Bob Wills music. And he has many talents. Back in the day he played guitar and bass or whatever was needed. "
Spurlock's goal in producing Time Changes Everything was to earn Rausch a Grammy Award
"I want him to get his due," Spurlock said. "I've been working with him for 40-plus years, and I know what he can do."
A week after the birthday party, Rausch settled into an easy chair in his living room in southern Fort Worth and recalled his long and storied music career. Vonda was out running errands. Perched in the corner was an oxygen machine –– a bad sign for a singer. During the birthday party, Rausch had performed with a live band and sang four songs. He handled the vocals well but became winded toward the end of "Milk Cow Blues" and asked the band to play an instrumental while he caught his breath.
"My old body's beginning to shut down," he said. "It's not anything real serious as far as everyday living, but singing really takes it out of you."
Later, we would walk down a hallway to his office to look at mementos from his long career. He quickly lost his breath. Old fans remember Rausch as being a tall, big-bellied guy with a wide-faced smile. He is still tall and smiling but slender and slightly stooped now.
We looked at an old Texas Playboys concert poster hanging on the wall.
"I used to stand up and sing three hours straight with that big band," he said.
Bob Wills and the Texas Playboys helped pioneer Western swing music in the 1930s. Wills served as bandleader and fiddler, steering his improvisational members through a hybrid form of blues, pop, country, and New Orleans jazz. Wills peppered the songs with "Aaa-ha" and "play it, boys" and other half-spoken, half-sung asides. The band's goal was to get listeners off their butts and onto the dance floor.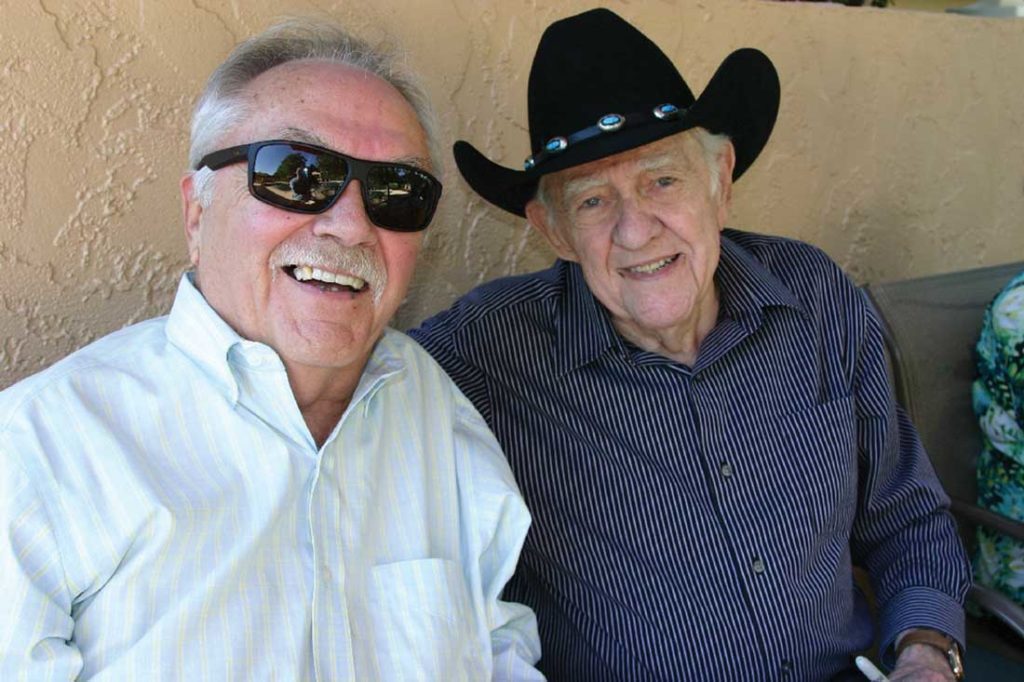 Wills was born in Kosse, about two hours south of Fort Worth. He moved to Cowtown in 1929, formed a band that would eventually be called the Light Crust Doughboys, and performed on local radio station KFJZ. Wills founded the Texas Playboys a few years later and made Tulsa, Oklahoma, his home base. The band gained acclaim in 1940 with the million-selling "New San Antonio Rose." Wills' music appeared in many films during the 1940s, making him a national draw. The band included more than 20 members at its peak, including twin fiddles and horns.
Rausch was busy growing up in Billings back then. After graduating from high school, he served in the U.S. Navy before returning home to marry his first love, Vonda. In the 1950s, they moved to Tulsa, where Rausch sang with club bands and appeared on a radio show with a band led by John Lee Wills –– Bob's younger brother.
Bob Wills hired Rausch as a Texas Playboy in 1958. The vocalist was thrilled –– he revered Wills' music.
Wills liked to introduce Rausch on stage by saying he'd found him working barefooted in a field when he stepped on a grass burr and let out a yell. "When I heard Leon holler," Wills would tell audiences, "I said, 'That boy's got a good voice. We ought to put him to work.' "
The good times didn't last long. Rock 'n' roll was beginning to shake the record and radio industry.
"My timing couldn't have been worse," Rausch said. "We couldn't make a dance band work in that period. The money kept going down."
They went from playing coliseums and large dance halls for several thousand people to playing clubs for a few hundred. Wills dissolved the band in 1962. Rausch had quit the year before and returned to Tulsa to spend more time with Vonda and their two children, working day jobs and singing in clubs at night.
By 1965, Wills, who had moved back to Fort Worth, was in poor health. An investor in the band recruited Rausch to move to Cowtown and serve as manager and singer for a new version of the Texas Playboys. Wills would sit in on performances when his health allowed.
"Counting Bob, we had seven pieces," Rausch said.
But 1950s three-chord rock was evolving into 1960s flower power and experimental music. Western swing, while brilliant, sounded old-fashioned to a new generation.
"We shut down in 1968 because we didn't have enough work with or without Bob," Rausch said.
Rausch was asked to keep his musicians together and serve as the house band at Panther Hall, a large club that had opened in 1963 at an old bowling alley near East Lancaster Avenue. The Texas Playboys had played many shows there over the years. The biggest stars of that era –– both country and rock –– performed there. Rausch's band was renamed the Texas Panthers, and they played their own sets as well as backing other musicians.
"We backed up some of the stars that came through without bands, which is an awful tough job," Rausch said. "These guys expected everything to sound just like the records. We weren't fixed like that. We were a dance band. A fiddle band. We played the old-time way. We played waltzes and polkas. It wasn't a good fit."
Rausch recalled the band struggling one night to recreate the sophisticated arrangements that Glen Campbell used on his records.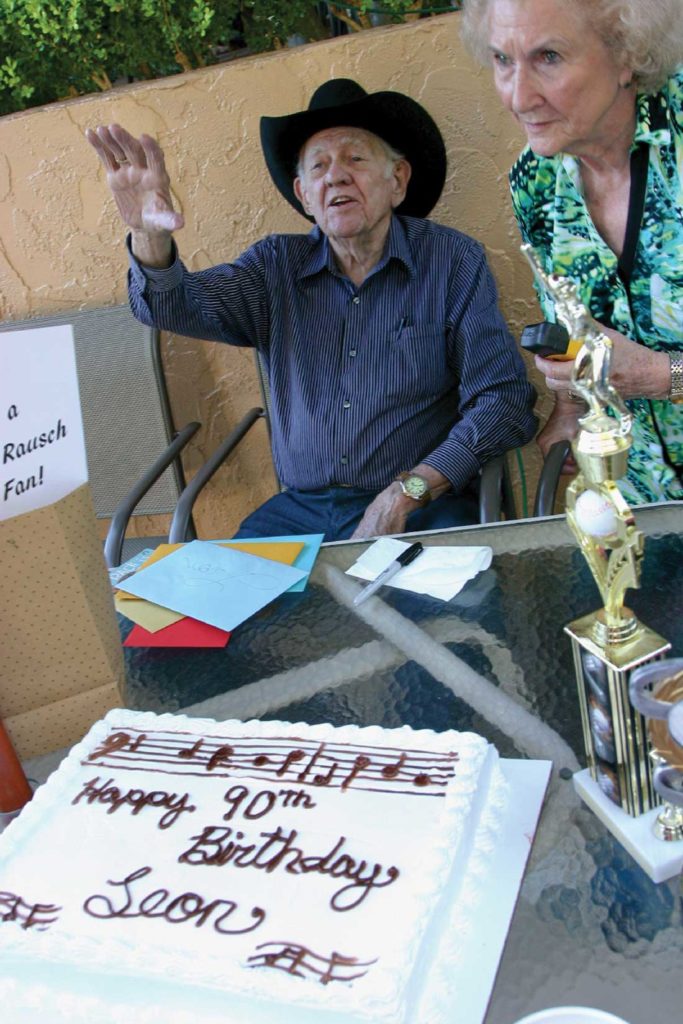 Rausch became a singer for hire again, performing with a variety of bands locally and on tours. He recorded an album –– Doing it Bob's Way –– at Delta Studios in Fort Worth and several singles and another album, She's the Trip that I've Been On, at various studios in Dallas and Nashville. Mostly, though, Rausch was doing the beer joint shuffle six nights a week.
Despite his Missouri upbringing, Rausch would eventually be considered a Cowtown homeboy over the years. Former Fort Worth Mayor Kay Granger issued a proclamation declaring it Leon Rausch Day on Oct. 5, 1993.
Rausch loved to make records but never helmed a huge seller.
"People in Nashville liked me and had some recordings they wanted me to do," he said. "I tried that, but I guess I'm not that unique. All these guys had a little gimmick of some kind. I was more or less vanilla. I was just a band singer and a pretty fair dance band singer."
Rausch doesn't like to brag, but his "pretty fair" voice carried him to a wide assortment of venues over the years, including the Smithsonian Institute, the John F. Kennedy Center for the Performing Arts, Knotts Berry Farm theme park, and the Golden Nugget casino for extended bookings.
In 1973, an ailing Wills called together some of his best musician buddies and recorded For the Last Time, produced by Merle Haggard and made in Dallas. Wills returned to Fort Worth after a long session one evening, went into a coma, and never woke up. He died in 1975.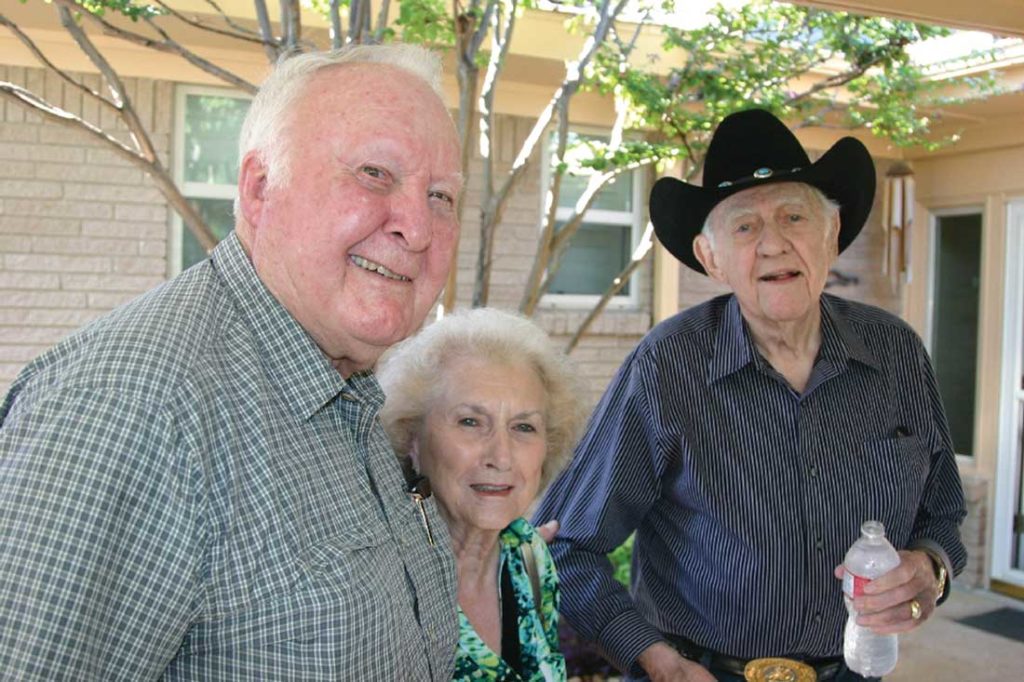 The album sparked fresh interest in Wills and Western swing. Waylon Jennings' hit song "Bob Wills Is Still the King" revived the interest further in 1975 during the burgeoning Outlaw movement. A new version of the band, The Original Texas Playboys, was formed with Leon McAuliffe as director and Rausch on vocals. They played Austin City Limits in 1976, earned a couple of Academy of County Music awards in the late 1970s, toured throughout the country for 11 years, and recorded several albums with Delta and Capitol Records.
A picture of that band hangs in Rausch's office. He is the only member still living.
"Man, that spooks me," he said.
I ask him if he worries about mortality.
"It bothers me sometimes, but the good Lord makes that decision," he said. "Who knows? I might be around a long time. I still enjoy the music, and when I'm able to do that stuff, I still like to try it."
While Rausch told me about the old days, Vonda walked into the house from her errands, looking lovely. She stopped in front of Rausch's chair, leaned over, and gave him a quick kiss on the lips.
Rausch smiled at her.
"How ya doing, sweetie?" he said. "You all right?"
I asked Vonda what she thought about those years when her husband was off touring the country with Wills for months at a time.
"I didn't like it," she said. "But I knew he wanted to do music, and he wouldn't be happy until he got it out of his system."
It's still in his system. A couple of days after we spoke, Rausch sang with the Jason Roberts Band at the Tommy Alverson Family Gathering and the following weekend at a fiddle festival in Greenville.
"Them boys play good," Rausch said of the Roberts band. "To think they want me to play with them, that's really good for me."
Rausch sings a handful of gigs a month, sometimes fewer, he said.
"I used to do every weekend, but I had to slow down a little," he said. "My age took care of that."
For the new album, Spurlock envisioned Rausch singing classic cover tunes such as "Bubbles in My Beer" and "Ida Red." Also included are clips of Wills speaking from stages at live performances from yesteryear. A handful of singers had worked with Wills during his reign with the Texas Playboys. Spurlock considers Rausch the best of the bunch.
"These are the songs that would immediately fill up the dance floors," he said.
The songs were recorded at Hearne's studio in Fort Worth in addition to studios in Austin and Nashville. Spurlock is still deciding on an album release date, although these days a "release" doesn't always mean much. Rausch said he is too old to do what he once did when he released an album –– play gigs and drive across Texas, stopping at every radio station to promote his product.
"I used to do it on my own, but now I need Vonda's help to get around, and she doesn't like to travel," he said.
Spurlock would love for Rausch to get radio play. Mostly, though, the producer wants Rausch to win a little piece of gold-colored hardware. Spurlock has played on three Grammy-winning projects with other artists over the years, including Emmylou Harris and longtime Fort Worth bluesman Delbert McClinton.
"My goal is to get several Grammys" for the Rausch album, Spurlock said. "We're going to throw it in as many categories as we can. If anyone deserves one, it is Leon Rausch."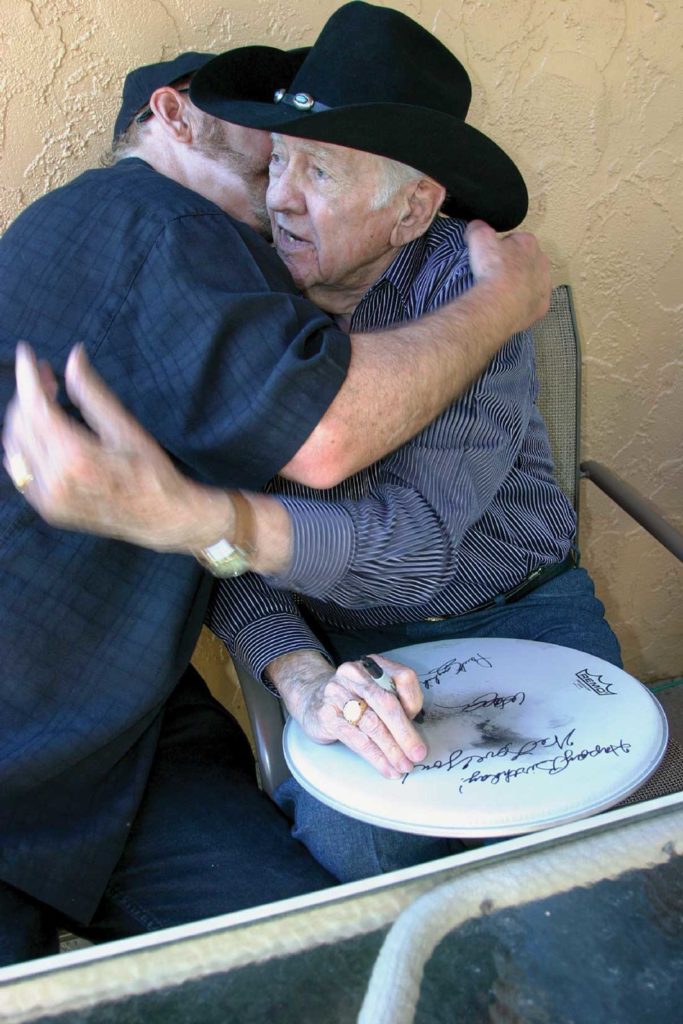 Rausch bragged on all the musicians involved and downplayed his contribution to the album, although he clearly loves the result and hopes fans enjoy the songs. Rausch's voice has grown deeper and rougher over the years, giving him an almost Louis Armstrong sound at times. That warm tone sounds just right draped around the stylish arrangements, traditional instrumentation, and upbeat renditions of these classic songs. Listening to the album makes it abundantly clear that some of the state's best musicians were excited to be included.
"The boys played so good," Rausch said. "That type of a record takes a lot of good playing to go with it. You have to have something that sounds exciting to people nowadays because they are just entertained to death."
Will the album sell or find airplay? Rausch hopes so but won't lose sleep regardless. He's happy with how the songs turned out and hopes others feel the same.
"If they accept it, fine," he said. "I guess that's what you do, throw out a line and see what comes in."l