Wild Acre Brewing Company's tapwall runneth over with new offerings. One year ago, Fort Worthians were content to peruse Wild Acre's four core brews: Soul Pleasure, Billy Jenkins, Moonlight Shine, and Tarantula Hawk. The Wild Acre portfolio now boasts several newcomers like a Double IPA, spiced strong ale, and lager. Head brewer Mike Kraft said developing new recipes is a team effort.
"It's mainly me, John Pritchett, and John Healey," Kraft said, referring respectively to Wild Acre's CEO and director of sales. "They're really in touch with what's out there in the market and what the market is calling for."
One popular newcomer, Snap'd, attracted several hundred curious hopheads during a recent release party, Kraft said. The gingerbread-flavored strong ale comes to life thanks to a hearty infusion of ginger, cinnamon, allspice, and clove. As I sipped the spiced-up brew, I got a welcome wave of ginger followed by clove. Cinnamon was present too. There's not a lot to dislike about this tasty beer. Rounding out my impromptu taproom tour were samplings of a bold double IPA (Super Hawk), a crisp lager (Ft. Worth Pils), and a roasty, toasty coconut stout (Soul Pleasure Stout). The next stout variant will be of the chocolate variety, Kraft said.
Billy Jenkins (session bock) sells best on taps outside the brewery and Tarantula Hawk (IPA) is the most popular in cans, he added. In the brewery, Snap'd has been the birra célèbre.
As for what's coming down the Wild Acre pipeline, Kraft only hinted at the possibility of a trending beer style and an oaked ale of some type. The recipes need to be brewed on a pilot system and possibly tested on patrons at one of Wild Acre's taproom tours. Kraft and his team have some special barrel-aged releases coming out soon too.
Wild Acre's space has really come into its own. The location just off East Lancaster Avenue has ample room to bring in new brewing equipment, Kraft said. The Fort Worth business' growth has been fast enough to keep Kraft and his brewing team on their toes. Beer sales have reached nearly every part of North Texas, including nearly 500 accounts.
The growth has been nice, Kraft said. The longtime brewer said Wild Acre has given him the best balance of what a brewing experience can offer. After working in both small and massive breweries, he sees his current home with perspective. While noting the he doesn't have to worry about brewing 24 hours a day, there's still plenty of potential for Wild Acre to be a "major player in the area."
"I think we have a great facility," he said. "The building has a lot of space. We can increase capacity with more tanks. We'll be here for the foreseeable future."
Don't forget to follow On Tap in Fort Worth's Facebook page.
On Tap this Week:
Star Wars Pre-Release Party. December 14.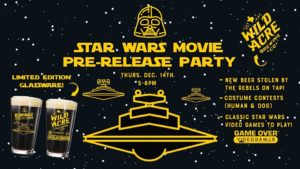 From Wild Acre: We're throwing a Star Wars movie pre-release party before we find out what Luke Skywalker has been up to in The Last Jedi! Come by and grab a limited edition Star Wars-themed pint glass and try a new beer that many rebels have died to get on tap. Our good friends at Holocron Toy Store will be throwing a costume contest for both dogs and humans. Winners of both contests will receive a gift card to the store. We also will have Game Over Videogames in the taproom with some classic Star Wars video games to play on the flat-screen TVs. Come out, have a beer, and let the force be with you! #fantheflame