High-profile athletes can help deserving causes in more ways than one. They can use their celebrity status and the platform sports provides to bring attention to a need or to generate revenue for charities. They can also get involved on a personal level contributing time, personal funds, or expertise.
Since his playing days ended, Emmitt Smith and his wife, Pat, have used their Pat and Emmitt Smith Charities organization to assist children in all the above ways. Tuesday night at Dallas' House of Blues, the Heart of Dallas Fast Pitch event, presented by Lagardère Plus, recognized the Smiths for their work with a Community Excellence Award.
In this video interview, conducted red-carpet style at the event, Pat explains a bit about what their family's charity does, and Emmitt provides a football player's perspective. The latter seemed especially relevant since the $15,000 Pat and Emmitt Smith Charities received, as well as monies distributed to half dozen other nonprofits, come in large part from the Zaxby's Heart of Dallas Bowl. That college football game, to be contested December 26 at the Cotton Bowl stadium between representatives of the Big 12 and Big Ten conferences, designates money for local causes and the Heart of Dallas Young Professionals organization disburses it annually at this event.
You noticed Emmitt at the beginning and end of the interview pantomiming his own "pitch," and the event got its name because six North Texas child-focused nonprofits must make a sales pitch about their missions. A panel of judges divides up available money among the groups, with the best presentations receiving the largest percentages. Tuesday's finalists, culled from dozens of submissions, were Bryan's House, Dallas CASA, Jubilee Park and Community Center, Rainbow Days, Rise Adaptive Sports, and Texas Scottish Rite Hospital for Children. All received at some funds, and no one took home less than $5,000.
During the event, the Smiths had an on-stage discussion with emcee Corby Davidson. The Hardline co-host asked them a little about football and a lot about charities. The subject of Emmitt's fashion sense came up, too, with Pat labeling his formerly subpar selections as "BP" ("Before Pat") and Emmitt designating them "BM" ("Before Money"). Mostly, the audience found out about how the couple uses both celebrity status and their laid-back but focused personalities to direct attention and funds toward endeavors they feel improve children's lives.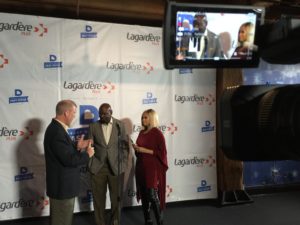 Disclosure: The Fast Pitch event paid me for creative and production work related to the event