New Main Brewing Company's tap house is spacious and homey. I fought the urge to slink away to New Main's Conversation Room for a game of Mario Kart, realizing that my time would be better spent chatting up New Main's founder David Clark.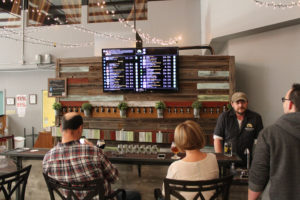 The brewery houses a bar area, office spaces, and a large enclosed room in the center of the building. Clark, who was joined by his wife Amanda, said he envisions his brewery hosting events, private parties, cook-offs, and homebrewing competitions, among other possibilities. The office spaces on the second floor will probably be rented out as podcast studio space and workspace, he said.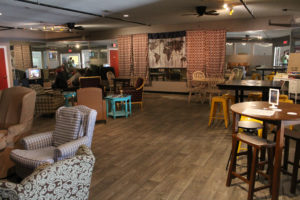 On tap that day were around 20 brews. (Disclaimer: New Main doesn't have it's own beers on tap yet.) I tried a pilsner and IPA from nearby Division Brewing. Clark said the soft opening, sans original brews, allows him to generate a revenue stream that further invests in the brewery. In five to six months, New Main will begin cranking out four core beers (pale ale, IPA, porter, and stout) that will be spiced, fruited, and barrel- or wood-aged. The avid homebrewer said he is intrigued by the possibility of aging an IPA with Mesquite wood. By the end of the year, Clark said his brewery's five-barrel system will be up and running.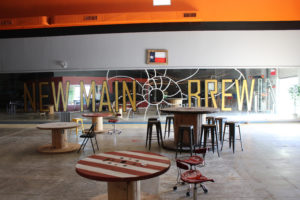 "All the construction time has allowed us to develop relations with people in the community," he said. "This is a community space. It's about the beer, but it's about creating memories first and foremost."

Don't forget to follow On Tap in Fort Worth's Facebook page.
On Tap this Week:
New Main Brewing's Grand Opening. February 24.
From New Main: We are proud to open our doors and invite you to the Grand Opening of New Main Brewing Company in Pantego, Texas. Food available for purchase from LUCK, bounce houses for the kiddos, and 20 taps of the finest craft beverages from breweries and coffee roasters across Texas. PINT Services will be on site live-printing t-shirts with an exclusive New Main Brewing Grand Opening design!
Fort Worth Weekly's Third Annual Celebrity Chili Cook-Off. March 4. Last year, 18 of the city's most well-known chefs fought it out in the only cooking competition that matters in Texas: a chili cook-off. This year, Fort Worth Weekly's 3rd Annual Celebrity Chef Chili Cook-Off returns bigger, better, and spicier.

There will be live music all day long, prizes, swag, cooking demos, drinks, and of course, everyone who buys a ticket will have a chance to sample and vote for their favorite and crown that chef: The Best Chili Cook in Fort Worth.

A $5 donation from every ticket sold will benefit Cook Children's. Purchase tickets here.