"I love that this place is only blocks from my home," a cheery young woman sitting next to me said. "I'm usually not a big fan of stouts, but this is my second."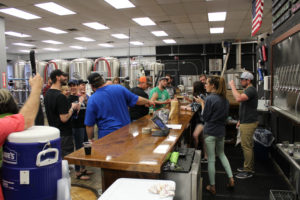 Dozens of locals were getting their final pours at Turning Point Beer last Saturday as part of the brewery's long-anticipated grand opening. North Texas' newest and "hoppiest" brewery boasted eight beers on tap that late afternoon, including six IPAs and two stouts. I hoisted Some Pulp (pale ale) and Ebony & Ebony (imperial stout). Some Pulp had a medium-heavy mouthfeel with a true-to-style hazy orange hue and mild bitterness. Ebony & Ebony was lovely, dark, and deep with roasty coffee notes galore. Both brews tended toward the dry end of the sweet spectrum.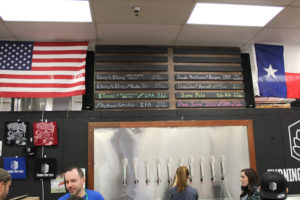 Turning Point's founding partners Joshua Davis, JP Goytia, Alex Knight, and James Peery are betting that the New England IPA (NEIPA) is here to stay. The idea behind the unfiltered approach to brewing IPAs is to showcase the citrusy profile of Humulus lupulus without the results devolving into a bitterness pissing contest. If highly ranked IPAs are any indication, it may be a safe bet. Heady Topper, King Julius, and Very Hazy (all NEIPAs) regularly top the list of most popular IPAs.
Located in Bedford just south of Airport Freeway near Brown Trail, Turning Point aims to undo suburban stereotypes. The brewery space is roomy, and there weren't any long lines as far as I could see. Several long picnic tables made for welcome communal seating. Starting this week, you can visit the brewery and take a growler, or two, to go Tuesday through Thursday 4-9pm, Friday 4-10pm, Saturday 12-10pm, and Sunday 12-6pm.
To learn more about the folks behind the brewery, check out my last article on Turning Point.
Don't forget to follow On Tap in Fort Worth's Facebook page.
On Tap this Week:
Martin House Brewing Company 5 Year Anniversary Party

From Martin House: Join us Saturday, March 24th from 12-5pm for our 5 year Anniversary! We'll have 40+ beers on tap, including eight unreleased barrel-aged brews, live music, food trucks, and a whole lot ridiculousness. We'll have 500 custom 5 year nine ounce tulips available online only for $20. Buy your tickets now and skip the line. You will get eight 8 ounce pours of beer. If you buy your $20 ticket at the door, you'll receive a MH pint glass and eight half pours (eight ounces). Each attendee will get eight 8 ounce pours of beer (or four 16 ounce pours of our year round brews). Visit the event page here.