After a few weeks of back and forth messaging on Facebook, I recently met the four partners (Joshua Davis, JP Goytia, Alex Knight, and James Peery) behind an upcoming brewpub called Turning Point Beer. As we chatted over drinks at Ron's Corner Tavern in Bedford, the first thing that struck me was how the young men had collectively accumulated more than 14 years in the brewing industry. The long hours at FullClip Distributors, Community Beer Company, and Martin House Brewing Company have taught them the ins and outs of making, packaging, and selling craft suds.
Last December, the friends publicly announced their venture via a Facebook page and Kickstarter campaign. The Turning Point business plan is two-fold. First, they plan to operate out of a smallish space in the Mid-Cities, utilizing a five-barrel brewing system and 10-barrel fermenter with the goal of churning out 30 to 40 unique beers a year. When that space is outgrown, they plan to find a larger building nearby that will house a 15-barrel brewhouse, bottle shop, and restaurant to serve brick-fired pizza and other noshes.
The avid homebrewers aren't beholden to any one style of brew, but Turning Point Beer will build its reputation on an underrepresented genre: East Coast IPAs and pale ales. I had the pleasure of sampling these delicious beers as Knight and Peery (Turning Point's brewers) described their recipes.
We sampled a pale ale called Some Pulp and an IPA named Extra Pulp. The monikers play off the citrusy profiles of the East Coast-fashioned brews.
"East Coast style beers are juicy in the body and citrusy in the nose and flavor," Peery said. "You taste hops and feel the malt. That's what the East Coast style is about, nailing that mouthfeel and body."
Like elsewhere around the United States, beers styles are evolving. In researching East Coast beers, the Turning Point crew scoured online brewing forums, studied recipes, and dissected some of the more popular examples like The Alchemist's Heady Topper and Lawson's Sip of Sunshine. Peery said he and his crew plan to continually offer new beers with more popular styles making periodic returns. The idea is to keep the experience fresh for consumers and fun for brewers.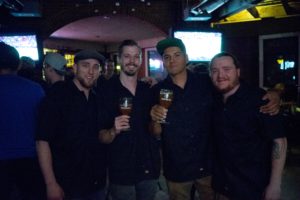 The Turning Point team knows North Texas' craft beer market is no longer in its infancy. The current number of independent breweries in the area stands somewhere between 40 and 50. And that number is steadily rising. Noting "saturated" markets like San Diego and Portland, Goytia said those cities can support dozens and even hundreds of breweries because many are neighborhood brewpubs. Opening a large, production brewery isn't part of the Turning Point plan. Another benefit will be location. The Mid-Cities are underrepresented in terms of breweries and brewpubs.
The Mid-Cities "is where a lot of people live," Peery said. "They go to downtown Dallas and Fort Worth to work, but they may not want to go back there just to have a drink. We want to be local. We want to be that place people can stop by on their way home from work."
Over the next few months, the four friends plan to continue pouring at craft beer events and spreading the Turning Point vision. The brewery name was inspired by a man considered the godfather of the modern craft beer movement, master brewer Charlie Papazian. In his writings, Papazian said opening a brewery requires more than a basic knowledge of beer-making. There has to be a purpose.
By putting unique spins on underrepresented beers in North Texas and creating a market for neighborhood brewpubs, the four aspiring brewery owners hope to mark a turning point for craft beer in their neck of North Texas.
Don't forget to follow On Tap in Fort Worth's Facebook page.
On Tap this Week:
Turning Point Beer
Come out to Fort Worth Taps and Caps this Friday to sample beer by Turning Point Beer. The event starts at 6pm.