For Sandra DiPretore, it's become an all-too-often experience — walking into a craft beer brewery only to have the bartender recommend this pinkish brew or that shandy made with lemonade. You know, those "girly" drinks. She typically tells the beer slinger that double IPAs and imperial stouts are more her style in those situations, but it's a misunderstanding that she wishes wasn't so prevalent in the craft beer world.
A self-described beer geek, DiPretore knows her craft suds. She aims to open a brewery in Joshua next year. In the meantime, she's balancing work and raising three kids. Her busy schedule doesn't allow for a lot of free time, but when she heard of the national nonprofit Girls Pint Out, she knew that is exactly what she was missing.
"A lot of time, women get so caught up in running kids here and there, taking care of the house, and working," she said. "We play all those roles, but we forget to do something for ourselves. Sometimes, I just don't feel comfortable walking into a brewery by myself. Girls Pint Out is a safe place to come together and talk about our day without being in an uncomfortable environment. Women have this unique ability to find just one thing in common and become instant friends."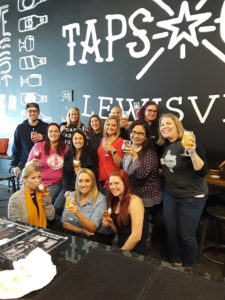 DiPretore recently launched Dallas-Fort Worth Girls Pint Out. This Saturday (1-4pm), Lone Star Taps and Caps is hosting the North Texas chapter's launch party. The ladies-only event is a prelude to what will be a monthly Thirsty Thursday mingling event held every third Thursday at rotating breweries and brewpubs in Tarrant County and a more formal educational meeting that will alternate monthly between Dallas and Fort Worth. The idea is to create a social network where female craft beer lovers can socialize or delve into beer brewing.
Saturday's event will benefit Project 2713, a nonprofit that supports adoptions that may not qualify for government aid. "By helping to alleviate the financial burden of adoption," the charity says, "we can enable orphaned children to remain with loving family members."
You can catch your first Thirsty Thursday experience at The Collective Brewing Project April 19.
Don't forget to follow On Tap in Fort Worth's Facebook page.
On Tap this Week:
Beer, Cheese, and Violin at Rabbit Hole Brewing. April 20.
Cheese, violin music, and beer pairings merge at this ticketed Rabbit Hole Brewing event that features violinist Zuriel Merek. Event page here.
Doomsberry Release at The Collective Brewing Project. April 20.
The Near Southside sour beer mavins are releasing the first of three beers as part of its new Wood series. That brew, Doom Berry, will soon be "unleashed upon the world," according to Collective's taproom manager Dave Riddile. An equal blend of Wood Folk and Raspberry PGS was refermented on a helluva lot of Montmorency Cherries to produce a tart- and cherry-forward sour with a perfect acidity level. The ale will be "unleashed" at 6pm. Bottles are $15 a piece. Crowler and Bottle Club members have early access Wednesday, April 18.