Ruth Correa had planned on taking it easy during Spring Break, maybe hanging out with her husband and studying a little.
That was before the second-year law student at the Fort Worth-based Texas A&M Law School learned that about 80 African men reportedly had endured racially motivated abuses – verbal, physical, and sexual – at the government-funded West Texas Detention Facility (WTDF) in Sierra Blanca in Hudspeth County. 
Correa's professor, Fatma Marouf, who heads the law school's Immigrant Rights clinic, had been alerted to the detainees' plight by a lawyer in another state. After being told about the alleged abuses by a client housed at WTDF, the lawyer sent out an email seeking help. The client was among the few detainees able to afford legal representation.
If Marouf's name seems familiar, it may be because she and her same-sex spouse, Bryn Esplin, were featured in a Fort Worth Weekly cover story in March. The couple sued the federal government and the U.S. Conference of Catholic Bishops after Catholic Charities of Fort Worth allegedly denied Esplin and Marouf the right to foster a refugee child because of their sexual orientation. That lawsuit is still pending.
After hearing about the WTDF detainees, Correa, a clinic participant and the daughter of Mexican immigrants, scrapped her Spring Break plans and drove 400 miles to the Coastal Bend Detention Facility, where the men had been transferred, near Corpus Christi. She met up with Marouf, fellow students Isabelle Hutchinson and Lindsey Wilkerson, and other legal advocacy representatives to interview as many of the men as time and limited budgets allowed. Correa paid for her own gas, but clinic funds provided a hotel room.
"I thought that maybe I could help," the 31-year-old told me.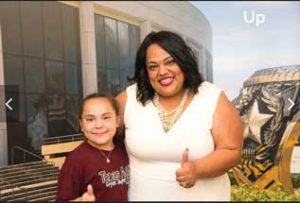 The abuses allegedly occurred between Feb. 23 and March 2. Of the 80 men, who range in age from their 20s to their 50s, 68 are from Somalia, a predominantly Muslim country that has been engulfed in civil war for 20 years and is seeing a rise in ISIS and Al Shabab, another fundamentalist jihadist group. The men reported having been pepper-sprayed without cause, shackled for prolonged periods, taunted with racial slurs, forced to live in unsafe and unsanitary conditions, denied medical or mental healthcare, and placed in solitary confinement against government policy for reasons that allegedly include requesting socks and underwear. 
At Coastal Bend, Correa interviewed four of the men, at times walking across a "mini-hallway" in the visitation area, she said, to seek guidance from Marouf. Students with the University of Texas School of Law's Immigration Clinic also conducted interviews, under the supervision of their clinical professor, Elissa Steglich. There also were representatives from the Refugee and Immigrant Center for Education and Legal Services (RAICES), a civil justice nonprofit that offers free or low-cost legal services and has offices in Fort Worth, Dallas, Austin, San Antonio, and Corpus Christi. Jonathan Ryan, the organization's San Antonio-based executive director, said its work on behalf of the WTDF detainees was pro bono.
The interviews, which involved 30 men, took place March 13 and 14. The teams' research into the men's cases, which included interviews with family members, found that many had came to this country as children and had lived here for decades. Most have wives who are American citizens and children. Until they were arrested, they had jobs. Some had applied for asylum, but their requests were denied. Others arrived more recently with visas or without status. Some of the men were arrested by U.S. Immigration and Customs Enforcement (ICE), a federal law enforcement agency under the jurisdiction of Homeland Security, years after they had committed relatively minor offenses. All were taken into custody by ICE after receiving final orders of removal.
By March 22, the legal teams had compiled a 21-page report. " 'I was treated like an animal' – Abuses Against African Detainees at the West Texas Detention Facility" includes detailed accounts of the alleged incidents, as well as recommendations for LaSalle Corrections, a private prison company under which the WTDF operates through a federal contract. LaSalle's corrections officers committed the abuses, the report states, but ICE agents may have been present when some of the mistreatment occurred.
The advocacy groups filed complaints with the U.S. Attorney's office, the Department of Homeland Security's Office of Civil Rights and Civil Liberties, the Office of the Inspector General (OIG), and local law enforcement agencies, alerting them that the actions described by the detainees indicate that federal crimes occurred, including Conspiracy Against Rights, Deprivation of Rights Under Color of Law, Hate Crimes Acts, and possible federal civil violations. The described acts also went against ICE's own detention standards and fundamental human rights norms, the legal experts pointed out.
Just hours after the complaints were filed, Marouf heard back from the U.S. Attorney's office. She said officials there also alerted the FBI in El Paso and the Department of Justice Civil Rights Division.
"They're taking it very seriously," she said.
Within three days, the OIG had the men transferred to the El Paso Processing Center, where they were interviewed by investigators. Investigators also interviewed WTDF staff, Marouf said. What happened next, though, left RAICES' Ryan wondering whether government higher-ups were more interested in thwarting justice rather than seeking it. On March 29, a week after the complaints were filed and four days after the OIG-ordered transfers, the majority of the men were quietly deported to Somalia, despite the legal teams advocating for stays for the detainees to be able to continue assisting in the probe.
"The investigators were only able to conduct brief interviews" with the men, Ryan said. He suspects that "the fix was in" from the beginning, and, if so, that meant that one arm of the government deliberately hindered another government arm's investigation.
The investigation presumably is still ongoing, though ICE Acting Director Thomas Homan announced last week that he will retire in June. There is no indication that his stepping down is related to the ongoing investigation. A spokeswoman for Homan told The Hill that his retirement is for "family and personal considerations" and that the decision was made some time ago.
Marouf said the teams of lawyers have heard nothing from the WTDF or its umbrella organization, LaSalle, regarding the accusations. I received no response from them either, but ICE Public Affairs Officer Leticia Zamarripa emailed me stating that ICE and Enforcement and Removal Operations (ERO) take any allegations of misconduct or unsafe conditions "very seriously."
Zamarripa wrote that ICE maintains a "zero tolerance policy for any kind of abusive or inappropriate behavior" by staff, that allegations are independently reviewed by ICE's Office of Professional Responsibility, and that the government agency "provides several levels of oversight in order to ensure that detainees in ICE custody reside in safe, secure, and humane conditions."
In her email, she also said that ICE had not been made aware of any mistreatment claims prior to the complaints filed by the legal advocacy groups.
Marouf received a letter from William P. Joyce, ICE's El Paso-based acting field office director. The letter is dated March 28, six days after the complaints were filed.
"Please be advised that we are [and have been] well aware of the complaints that you filed, having received copies from numerous other entities within the federal government," the letter states. "As you know or should know, we worked in conjunction with the Department of Homeland Security, Office of the Inspector General to provide access to the named detainees within minutes after their arrival at the El Paso International Airport on March 26, 2018."
After referencing Marouf's request that deportations be stayed "as a prosecutorial discretion and in the interest of justice," he goes on to say, "As you know, stays of removal [either affirmatively or by operation of law] were granted to some of these individuals. Insofar as the remainder, there are no legal impediments to their removal, and I am not presently disposed to stay their removal."
Before the sun rose the next day, all but seven of the men – many of whom, Ryan noted, had been languishing in detention for months – were no longer on American soil.
*****
Deportations have risen significantly since President Donald Trump was inaugurated in January 2017 following a campaign in which he promised hardline immigration policies to reduce crime and risks of terrorist attacks. NBC reported last December that deportation arrests after Trump took office were 40 percent higher than the same period a year earlier. Trump critics say the Republican administration's policy is overly harsh, tearing apart families, negatively impacting the workforce, and ruining the lives of those who pose little threat.
Marouf told me that immigration courts are now backlogged to such an extent that hearings are being scheduled as far ahead as 2020. 
Last week, Texas Attorney General Ken Paxton's office announced that the state would lead a seven-state coalition in suing the federal government to end Deferred Action for Childhood Arrivals (DACA), an Obama-era immigration initiative that protects hundreds of thousands of immigrants nationwide from deportation. Other states participating in the lawsuit are Alabama, Arkansas, Louisiana, Nebraska, South Carolina, and West Virginia. A press release from Paxton's office said the lawsuit does not ask the federal government to remove any current "dreamers," a term often used to refer to those covered by the program, and also doesn't want the Trump administration to rescind any DACA permits. Hundreds of thousands of people nationwide, including more than 120,000 people in Texas, could be impacted by the lawsuit.
Marouf, a renowned law expert in the areas of immigration, refugee, and international human rights, said the administration-directed crackdowns have sparked widespread fear. The students in Marouf's clinic spend a semester in her twice-weekly class, plus at least seven additional hours per week working under her supervision on actual immigration-related cases. With Marouf at their side, they even represent clients in court. During the spring semester, five students were enrolled in the clinic.
Of the seven WTDF detainees who received stays, five are Somalis. Three of the five –– Abdullahi Jama, Iman Ali, and Mohamed Ismail –– are being represented by Marouf and her students. Although the spring semester has ended, the law students' fight to keep the men in this country has not.
"The cases don't end because our class is over," said Luis Suarez, who will soon be "3-L," short for "third-year law student." "We're still working, because this is people's lives."
On April 25, the Texas A&M law clinic scored a victory for Jama, who at that point was in Minnesota after having been transferred to yet another detention facility. A motion filed on his behalf succeeded in convincing a judge in the Blooming Immigration Court in Fort Snelling to reopen his deportation case. Marouf, who was unable to travel there, represented Jama by phone.
Tuesday, May 1, brought another success, this one on behalf of Ali, who had initially been granted only a 30-day stay. At the time the Fort Worth Weekly went to press, the 36-year-old was housed at the Geo Group ICE Detention Center in Aurora, Colorado. Marouf said a judge in Colorado granted him an indefinite stay, giving her and her students time to make a case that he should be allowed to remain in the country.
Ali has continued to endure hardships while in government custody. Marouf said that the day before Jama's court hearing, Ali phoned her from the Colorado detention center and said he had suffered a minor stroke. He said it took guards five days to act on his repeated requests to be taken to a hospital. Ali's wife, Tiffany Billingsley, told me he began complaining to her that his face and mouth felt "twisted" while he was still housed at the El Paso facility before being transferred back to his state of residence.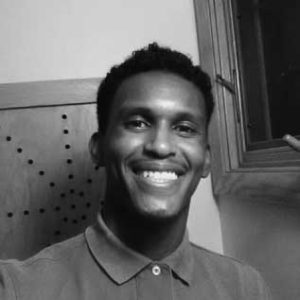 Marouf said the doctor diagnosed Ali with Multiple Sclerosis and Bell's palsy, "which has caused him facial paralysis." She said Ali wonders whether the paralysis may have been worsened by a pinched nerve after the warden at the WTDF allegedly slammed his head against a wall. Marouf said the doctor at the Colorado hospital wanted him to be hospitalized, but Geo guards "said they were understaffed and took him back to the detention center." 
Billingsley said her husband came to the United States with his parents as a child and had assumed he had become an American citizen through naturalization, but that was not the case. (Marouf said Ali did not derive citizenship from his parents because he was over the age of 18 when they naturalized.) Ali's father's retirement from the U.S. Postal Service and Ali's own work as an electrician for a variety of high-profile construction projects in Colorado were not enough to safeguard him against deportation back to Somalia. He was arrested on Valentine's Day after receiving final orders of removal, Billingsley said, leaving their two sons, ages 11 and 12, traumatized.
Billingsley, a citizen of this country, said she is struggling to support the family in her husband's absence. She has a job as a contractor for the state helping people with disabilities find jobs, but the work is only part-time.
"We've been going to food banks and just have a hard time financially," she told me.
Billingsley said her husband told her about abuses he both witnessed and endured at the WTDF. She said Ali told her that one man received 18 stitches after being struck in the head by a detention officer and that another man who requested a deck of cards was instead given a drum and told to play his "African music." Ali also told his wife that he was forced to go without food and that the cruel treatment he received "just for being black" made him feel "less than human."
Another client of the Texas A&M clinic, Ismail, reported having been called "monkey" while at the Sierra Blanca facility, a claim also made by two other detainees. Some of the men interviewed in March by the advocacy teams said that the warden participated, both verbally and physically, in some of the abuse.
Billingsley is sickened by the reports of racially charged abuses but not necessarily surprised.
"The sad thing is, Donald Trump making America great again –– he's not," she told me. "He's taking it back to the Jim Crow era and making it extremely prejudiced and separate."
Though the laws were created in the 19th century after Reconstruction by white Democratic-dominated state legislatures, they remained on the books until 1965.
"Donald Trump is shameful," Billingsley continued, "and I think because he's allowed to sit there without being corrected, he is allowing the people that follow his regime to express and expose themselves as bigots and racists that have been hidden for years. It ain't right."
Marouf and Ryan believe the deported men are in very real danger in Somalia.
"Let's be very clear about this: These men were sent to their deaths," Ryan said. "There's no candy-coating the reality of being deported to one of the most dangerous countries in the world."
Ryan said that the plane carrying the detainees landed in Mogadishu, Somalia's capital, where the men initially stuck together and "enclaved themselves" in a motel.
"They quickly came to realize that they had concentrated themselves in one location to the extent of becoming easily recognizable," he said. "All of these people are facing threats and potential prosecution and murder in Somalia, not only for the reasons they were forced to have fled 10, 15, 20 years ago or more but now for the reason of being quickly identifiable as Western men –– American men, essentially –– which adds another threat of persecution and extortion and crime, so recognizing that they essentially were all concentrated in one place, and not trustful of anyone around them [after] having heard the news that people from the Somali government were coming, they were told, to 'help' them, they all became very fearful and quickly dispersed."
As a result, the advocacy groups have lost contact with some of the men.
"We know that they have been in touch with their family members," Ryan said, "but they are right now in the throes of picking their lives back up again and figuring out what to do next."
*****
When panic began spreading in the wake of Trump's original, sweeping travel ban, issued by way of Executive Order just eight days after his inauguration and targeting countries that are primarily Muslim, Marouf's clinic and other organizations began offering Know Your Rights workshops in Fort Worth and other cities, drawing hundreds of attendees. The workshops educate immigrant communities about their rights when interacting with law enforcement.
"There is a general fear in the community, and everybody is wondering, 'What do we need to do?' and 'Are we next?' " the law professor said. "You can tell people are really scared."
Marouf, who was co-director of the Immigration Clinic at the University of Nevada School of Law before taking the A&M job and moving to Fort Worth in July 2016, said that many people facing deportation are not a high risk for criminal behavior.
"Under the Obama administration, there were people with old orders of deportation who didn't necessarily have a criminal record or people who hadn't been ordered deported but were here without status for a long time, and those people weren't really at risk because they didn't get in trouble with the law," she said. "But now what we're seeing is all sorts of people being picked up and taken away, even without [having committed] a crime, regardless of how long they've been here or what their family ties are to the U.S., so it's really [as if] everyone is at risk now, and there's not a lot of discretion in who [ICE] goes after. We've seen our students get picked up by ICE. We've seen prominent people get picked up by ICE, people who don't really pose a risk at all."
Marouf said that the current visa system is a hindrance to lawful immigration.
"We don't have visas available for people who are not highly skilled, and yet we have jobs that they do here," she said. "There's a real mismatch between economically what we need and want people to do and what kinds of visas we offer. It's not like they can get in some line to become citizens. For many of them, there is no way to legally enter the country or to legalize their status once they're here. Some of the wait times, for example, for people from Mexico to come by family members is upwards of 20 years, and so for some people, that's just not practical. And then if you don't have close family here, there's just no work-related visa that you can come on. There are only very small numbers of seasonal work visas and things like that."
Once people are here, Marouf said, they don't want to return to Mexico, even for medical care, "because they're afraid they won't be able to get back in."
Correa said that one of the clients she has been working with in the clinic is a mother who is trying to arrange guardianship for her children so that, if she gets swept up by ICE, her children will be picked up from school and cared for in her absence.
"Hundreds of people go through the system, and because it's not a criminal proceeding, they don't even know what's going on," the law student said. "They are at the mercy sometimes of what they hear at the jail. We allow them to go through the immigration system with dignity, and then if they are being deported, we try to have them connect to their home country and devise a safety plan [for when] they arrive."
Correa said that while the clinic work has been educational, erratic dictates from the White House have posed challenges to her self-confidence.
"The hardest thing about this administration is the unpredictability," she said. "It's the not knowing. When I advise a client, I'm very careful to say that, as of today, this is the legal advice that stands. But with the current administration, it has produced a level of anxiety within me and, I think, within the clients that I have worked with because it feels that with any turn of the corner, things can change. There is an underlying volatility, and you just don't know what's going to happen. I may have done a good job, but then, the next day in a tweet [it may all be undone]. It's a level of unpredictability that I just don't think was there before."
*****
One of the topics that Marouf addresses with clinic students is "secondary trauma" – emotional duress that is sometimes suffered by those who try to help others who have endured anguish-inducing experiences.
"Social workers, psychologists, psychiatrists, et cetera, can commonly experience secondary trauma and so can lawyers who work with traumatized populations," she said. "We teach our law students about it so that if they start experiencing any of the symptoms, now or later in their careers, they'll have a better understanding of what's happening."
For Caitlin Revanna, a clinic student who will be a "3-L" in the fall, the cruel treatment detailed by the men at the WTDF was shocking. Revanna is married to Kashi, an immigrant from India who has a green card and works for Verizon. The two met when she was a student at UNT, where he was working as a data analyst. 
"It really opens your eyes," she said of working with the WTDF detainees. "This is really happening to people in a developed country."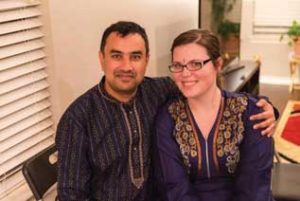 Texas A&M Law School's Luz Herrera said that immigration law will continue to be a focus at the institution. As associate dean for education, Herrera supervises the school's 11 clinics, which focus on different areas of law. While it was difficult for students in the Immigrant Rights clinic to hear the African men's stories, she said, "It gave them an understanding of what they may be able to do with law as a weapon to protect individuals' human rights."
Marouf said that she and her students took on 25 cases during the spring semester. The clinic, she said, has helped people "from all over the world," including Central America and the Middle East. So many requests come in that Marouf has no choice but to turn some away.
"Probably every week, we get calls for cases that we have to say no to," she said. "Once we have a certain number of cases for that semester, I just have to say no to everyone else who calls, and that's hard, because I do try to refer them, but I know there are only a few organizations that give people legal immigration help and there's a good chance they won't find somebody."
Although clinic work can be emotionally difficult, some students report feeling a sense of fulfillment.
"It's kind of like you give people a chance when it seems like they're in a hopeless situation," Revanna said. "You're fighting for justice."
For Correa, her work in the Immigrant Rights clinic proved pivotal. Though she had previously resisted her mother's dream that she become an immigration attorney, she has now decided to embrace it. Her change of heart came after working one-on-one with those whose lives stand to be devastated by deportation, including children currently attending Fort Worth schools.
"You see them looking at you," she said, "and you know that you're their only hope."