Yes, we know you voted in 2016, and then had to do it again in 2017, and then again in March in Texas' primary elections. You're going to have to do it again in November. You're probably so tired of voting, you could just sit one or two out, right? Hell, why should you care who winds up in the seats of governance? Does it really matter that Donald Trump is president rather than Hillary Clinton? (Lose 1,954 points if you answered no to that question.) And, hey, so a few people sat out a couple of elections? All they got was Louie Gohmert in the House since 2005. That's Louie Gohmert, the guy who throws paper all over the People's Chamber to let us know he's mad as hell and won't take it anymore and who says he doesn't want gays in space and who thinks Mueller should be fired. Yikes! See what happens when you sit one out?
The primary runoff is on Tue, May 22, an election that will determine the candidates for the general election in November in 34 local, statewide, and national races. Early voting in the primary runoff races throughout Texas began on Monday and will run through Fri, May 18. The general election is Tue, Nov 6.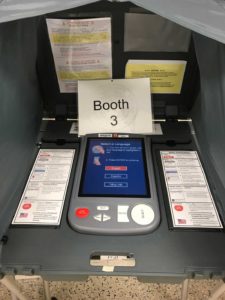 Vital to all Texans is the runoff for the Democratic candidate for governor. Republican incumbent Greg Abbott will face either Lupe Valdez or Andrew White. Valdez, Dallas County's former sheriff, is the favorite. White, a Houston businessman and the son of the late former Texas governor Mark White, has the endorsement of the Dallas Morning News going for him.
There are 17 runoff elections for seats in the U.S. House of Representatives in Texas. Near enough for us is the race for District 3, which includes Plano and much of Collin County, where the Democratic runoff between Laurie Burch and Sam Johnson will decide who runs against Van Taylor — currently serving in the Texas State Senate — for the seat held since 1991 by Sam Johnson (no relation), who decided not to seek re-election at age 87.
District 6, which includes Arlington and parts of Fort Worth, has both a Democratic and a Republican runoff for the seat held since 1985 by Joe Barton, who decided not to seek re-election after unseemly photos of him went viral. The Republican runoff pits J.K. "Jake" Ellzey, a former fighter pilot, against Ron Wright, the former tax assessor-collector for Tarrant County. The Democratic runoff has Ruby Faye Woolridge, a minister, counselor, and educator, facing Jana Lynne Sanchez, a former political fundraiser and journalist. 
Another nearby runoff is between Julie Oliver and Chris Perri, both vying to challenge incumbent Roger Williams for the seat of the 25th District, which includes much of Central Texas, plus portions of Tarrant, Johnson, Hill, Lampasas, Somervell, and several other counties. Oliver is a progressive lawyer who works in healthcare and hates Ted Cruz (points for common sense), while Perri is a defense attorney who probably also hates Cruz, though that's not on his resume. 
The last nearby national seat runoff has Colin Allred and Lillian Salerno trying to turn District 32 (Dallas) blue. They are running for a shot at incumbent Pete Sessions, who has held the seat since 2002. Allred is an attorney and former linebacker for the Tennessee Titans, while Salerno is a lawyer who worked as the deputy undersecretary of Rural Development during the Obama administration.
The Texas House of Representatives has 14 runoff elections coming up. Closest to us is District 64, which includes Denton and Corinth counties. Democratic candidates Andrew Morris and Mat Pruneda are facing off for the right to challenge incumbent Lynn Stucky. Morris, who was born in England and became a citizen in 2015, is a champion debater and a progressive. Pruneda is a financial analyst and father of two who calls himself an everyday guy who wants to take the legislature from special interests and put it back in the hands of ordinary concerned citizens. 
UPDATE: This version has been corrected to identify properly the 25th District.