Westbend, Clearfork, Waterside. Who can keep up with which new chain restaurant is moving into what new glitzy, homogenous shopping center. It's like they're all merging into one big catchall. For example, did you know that two tony out-of-town taco joints have opened over the past few months? Let's see if you can match the name, corporate vision statement, and shopping center:
A.) Mesero  
B.) Bartaco

 

C.) Fresh, upscale street food with a coastal vibe
D.) Mexican spirit, American life
E.) Westbend
F.) The Shops at Clearfork

 
(Answer key: A, D, and F; B, C, and E.)
I kid, of course (sort of). The two places could not be more different (-ish). I mean, they both offer an appetizer of salsas, but the version at Mesero (4955 Gage Av, 817-402-0744) is a trio, featuring an addictive, mouthwatering habenero sauce. But the starter at Bartaco (1701 River Run, Ste 183, 817-663-8226) is composed of a duo of spicy-sweet salsas (green and red) and a straightforward, creamy, lime-kissed, fresh-tasting guacamole ($11). See? Totally different. 
In all seriousness, the vibes at the two places are legitimately disparate. The week-old Bartaco, part of a chain based in Tennessee –– that's right, Mexican food from Tennessee –– is awash in white- and blue-painted wooden slats on the walls with enough wicker hanging from the ceiling to send Nicolas Cage into a panic. If Kennebunkport has a Mexican food scene, all of the restaurants might look like this. 
Bartaco's ordering system is like a cross between a sushi joint and a Pancho's. You fill out a card with what you want and then affix it to a pole-thing on your table. After that, service is mostly DIY. The flatware, napkins, condiments, and everything else you could ever want are all preset. Servers even bring a water carafe for you to refill your own glass. 
For lunch, you have your choice of three tacos and a side ($10). The standouts on my recent visit were the crunchy fish taco, with a slaw-like cabbage base, and the juicy carnitas –– though everything was tasty. Pro tip: Try Bartaco's gazpacho for your side. Bits of bread bobbed in a chunky tomato broth and soaked up the juices. The cold soup was refreshing, filling, and tangy. The rest of Bartaco's menu is lush with rice bowls, more choices for taco filling, and a huge kids' menu.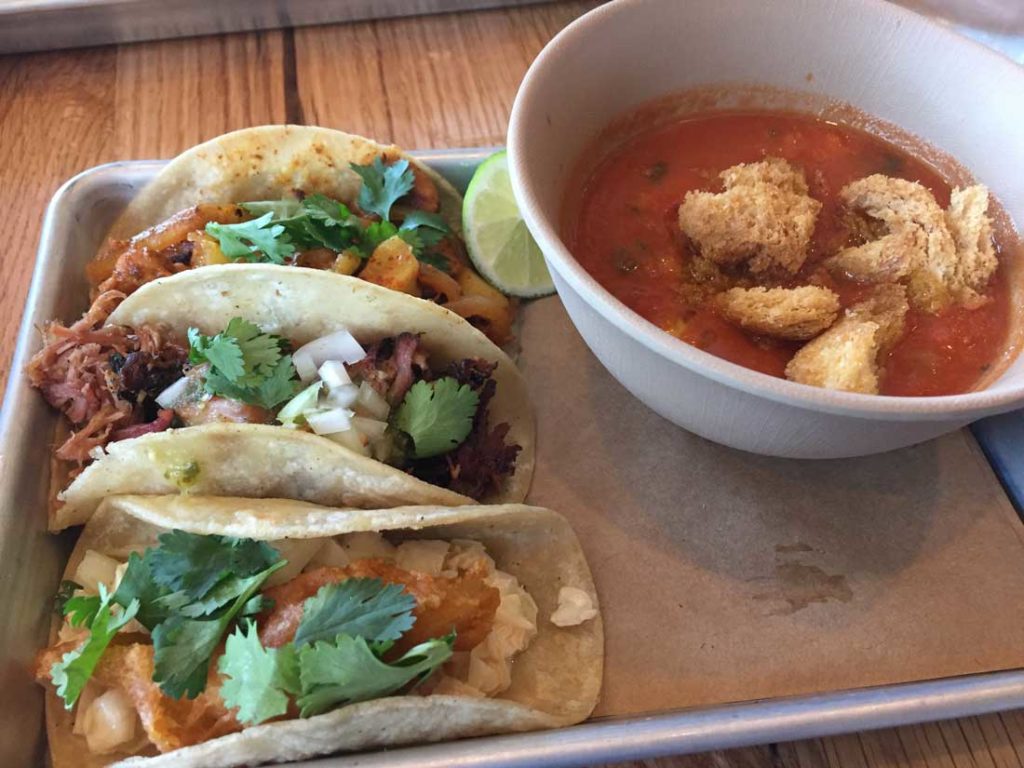 Dallas-based Mesero was a little more straightforward, if upscale, rendering of a Tex-Mex restaurant. The atmosphere is way more modern, the service traditional, and the menu on the fancy side of familiar. The dining room looks as though it could double as a dance club –– though I don't want to know what the Clearfork party scene looks like. 
The Tejanos enchiladas ($11.95) might be the best enchiladas this side of the Original Mexican Eats Cafe. Cheese oozed at the touch of a fork, and when the oil from the queso and the chili con carne combined, it was Tex-Mex nirvana. If you really just have to spend $20-plus on an entrée, the halibut ($24.95) was perfectly grilled and accompanied by buttery fingerling potatoes. 
Maybe this city (the center of it, anyway) is becoming one big luxury strip mall. But at least we'll have some good –– and different –– choices for Mexican food.