Jeremy Joel has made a name for himself as a type of cultural ambassador for the Near Southside. His murals, strewn throughout the neighborhood, have made stops like Avoca Coffee Roasters, Spiral Diner & Bakery, Shipping and Receiving Bar, and Brik Venue visually iconic. As a founding member of the collective Bobby on Drums — and, most recently, as the curator of SAM Gallery — Joel has fostered an inclusive environment for local artists to "think fucking bananas" and to viably operate outside of the oftentimes over-intellectualized and commercialized art establishment.
In his frenetic debut solo exhibition, Joel attempts to occupy Fort Works Art with his particular brand of outsider street-art energy and largely succeeds. A Beatbox Caviar boasts 32 paintings that are amalgams of color, abstract shapes, and cartoon-like figures, all rendered in some combination of house paint, spray paint, markers, and pen — materials that give a nod to his self-taught background.
At first glance, the show can seem a little directionless. And seeing Joel's exuberant work contained in so many discrete, framed settings exacerbates this effect. But on closer inspection, all of the mischievous iconography and style of his streetwork is retained. Many of the pieces feature surreal disembodied heads on solid color backgrounds ("All Lips No Face," "Capricorn," "Nahhh").
Joel's flair for mark-making lends an intimacy and vibrancy to these otherwise simple compositions. In "1982 Flush," a vibrant, horned red face hovers against an innocuous, flat white rectangle. There's a small corner cut out, or perhaps missing, where the bumpy, roughhewn panel meets the frame. Dancing across the face are rudimentary lines, loops, etchings, and stylized text. Layers of forms, symbols, text, and materials abound –– sheets of paint piled on top of one another, nail studs from found panels shining through, cryptic slogans like "Yes Future" smeared across the canvas, and erratic globs of latex dripping onto frames.
While most of the paintings hint at hidden meanings, a handful of works spotlight Joel's casual genius for darkly comedic narratives stemming from his nomadic, poignant, and colorful background, especially "Bus Stop Gossip," set on East Lancaster Avenue, or the illustrative "Larry Parks."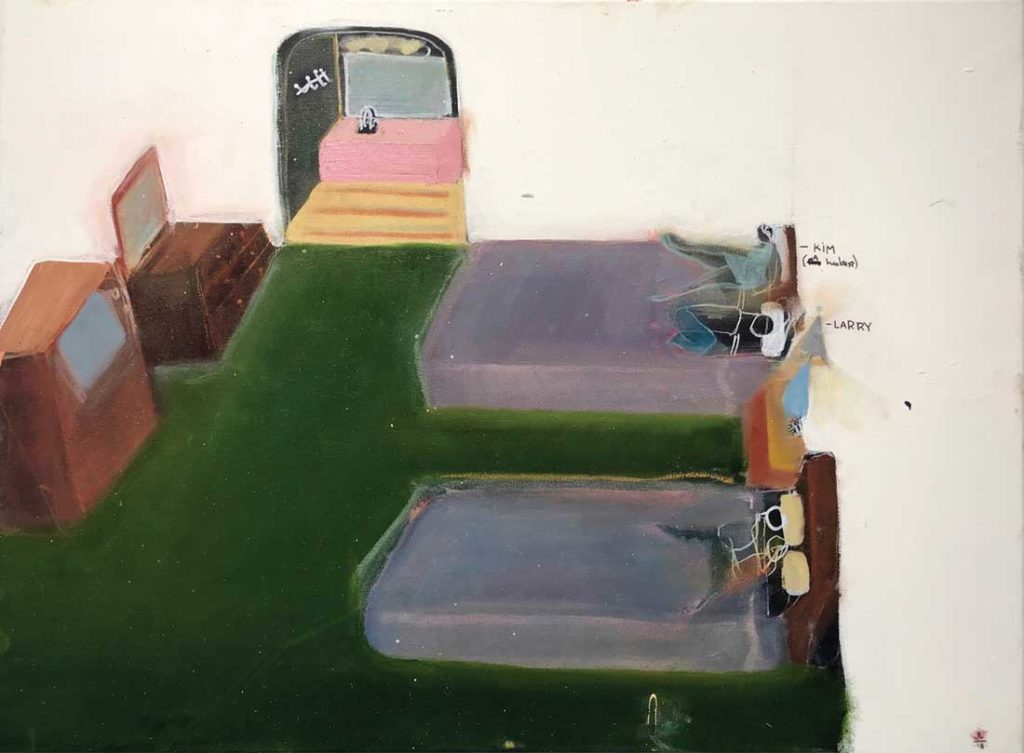 "This painting," Joel told me, "is in remembrance of an old friend, Larry Parks, who unfortunately didn't survive a 30-year battle with addiction. My [former] girlfriend and I befriended Larry and decided to chip in on a cheap room at the Great Western on South Riverside and East Lancaster. My ex let one of the local hookers spend the night and assured her she could share a bed with Larry, who hated the idea and slept fully clothed on top of the covers with a frown. I laughed so hard at him, and there was a point in time where that was my life."
The show features a few other touching, charming personal references, like the two paintings his two young children contributed or the chaotic and euphoric "Mind of Elgin," an overwhelming visual collage of abstract shapes, figures, pop-culture references, and text in vibrant color that Joel calls "a self-portrait."
"It's an ever-growing and mutating mass of particles, atoms, electricity, water, and learned behaviors who hopes to one day operate like the hard-working, forgiving, loving, and humble character and mind of my good friend Elgin," Joel said.
One thing that's particularly striking about Joel as an artist is that, unlike many painters, he doesn't work from visual references, meaning he's not painting or drawing from photographs or still lifes — he's drawing from sheer wit and imagination. Like other examples of so-called "outsider art," the construction isn't always perfect, but A Beatbox Caviar shows that it doesn't need to be.
A Beatbox Caviar

Thru Jun 30 at Fort Works Art, 2100 Montgomery St. Free. 817-759-9475.