As I glanced at a calendar this morning, I realized I've been writing this column for two years. When I took on this assignment, it sounded fun to write about bars and booze, and it is, for the most part. But constantly chasing new adventures is tough sometimes, especially when most of my friends are like Norm from Cheers instead of the late Anthony Bourdain. Despite this, I still hustle out the door each week, genuflecting before the gods of gimlets to help make the trip worth penning. 
Last week was no exception, as I steered my tired body toward The Boardroom Whisky and Cigar Lounge on the Near Southside. Luckily, the aforementioned gods appeared to be taking my requests this trip.
Complete with a massive flat screen, the beautiful patio surrounding the rear entrance of the bar was impossible to miss if you park in their lot on Allen Ave. With the thermometer pegging close to 100 degrees outside, there wasn't a chance of me smoking al fresco, but the outdoor environs were worth noting for when the sun goes down. 
Most cigar lounges feel like a record should scratch when a woman walks inside. Pleasantly, that was not my experience when I opened the back door and entered. Instead of giving off the "Who's this broad invading my secret stogie lair?" vibe, the men posted up at the rail gave cheerful hellos and went right back to their Kobe versus Jordan argument. As if I had joined a party at a new person's home, owner B.P. Battles came around the bar and immediately stuck his hand out to welcome my group and me.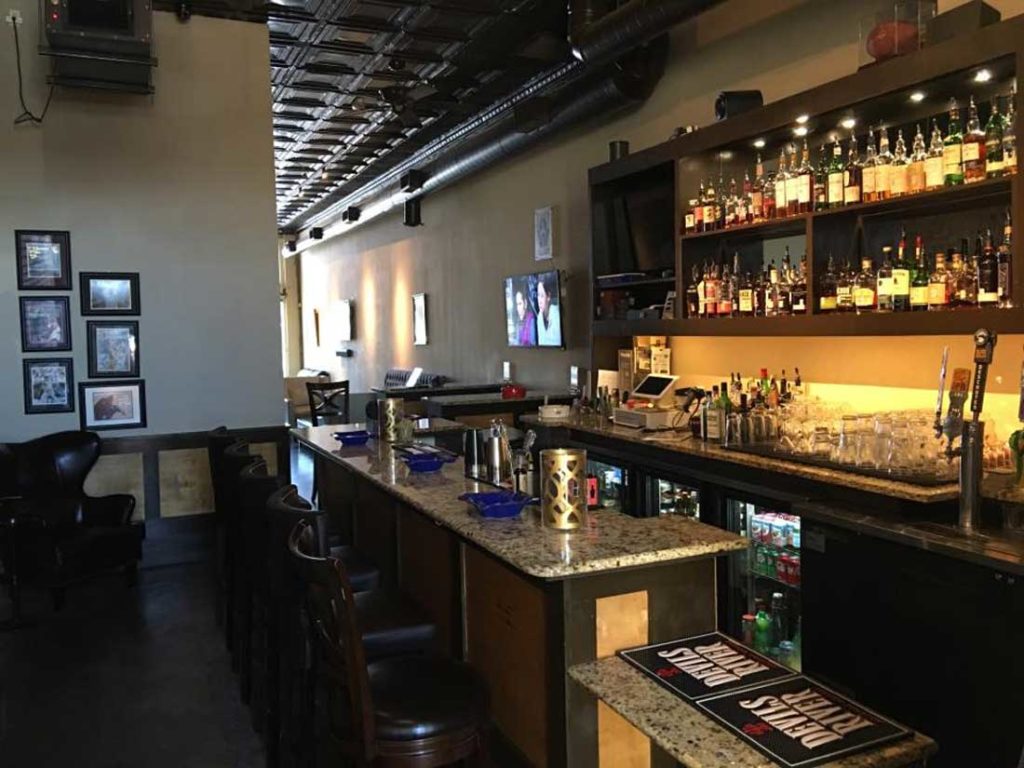 The layout of the bar is shotgun style, with a walk-in humidor dividing the room. My crew posted up on the leather couches and club chairs in the quieter front lounge, and Battles set me up with a cigar from a different brand than I would normally try. He also whipped up expert Old Fashioneds and Side Cars for my guests, plus a Balvenie Doublewood single malt scotch for me. As a good host does, he wandered back to check up on a drink refresh or a relight and to ensure we were having a good time – though he was never intrusive. The drinks are pricey, but the service and attention to detail offset the cost.
Also fitting the theme of being at a swanky house party, The Boardroom has a monthly event called the Red Meat Supper Club. On the last Thursday of every month, Chadra Mezza & Grill's kitchen whips up a full steak dinner and serves it to you in the bar, accompanied by a cigar and whiskey pairing.
At the end of the evening, I felt comfortable asking Battles why the logo says "Est. 2012" when the bar opened in May 2016. I'm paraphrasing his answer, but essentially he started working on having his own cigar lounge in 2012, and the journey had many disappointments. He said seeing that date on the sign reminds him of the hard work and grind it took to realize his dream.
We had never met before, but he treated me as both a new friend and honored guest. I left reminded why it's a privilege to talk with people who have built a business they are proud of in the Fort Worth community and why writing this column remains a damn good gig. 
The Boardroom Whisky and Cigar Lounge 

1708 8th Av, FW. 817-945-2975.