Five years ago, Lewisville was one of the first North Texas 'burbs to open a craft beer brewery. Early on, the space gained fame for Dawn of the Dank (Triple IPA) and Donut Dunker (hazelnut porter). The open-air brewery was also hot as hell during the summer.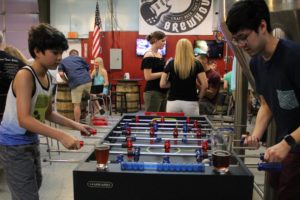 On a recent visit to my hometown, I found the space pleasantly air-conditioned, cleaner, and with a decidedly homey pub feel. The Billy and Mike Show performed classic rock tunes as my cousin and I snagged $5 pints. Live music is part of a recent rebranding. Old Town Brewhouse is putting nostalgia on tap, and I was digging it. Dawn of the Dank has made way for an equally resiny Double Vision IPA. There was also a conspicuously named Praline Hazelnut Java Blues on draught that might have passed for Donut Dunker back in the day.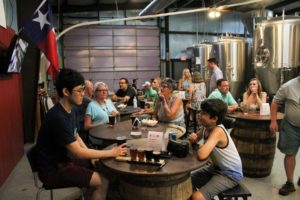 We mixed and mingled with the locals for two hours before calling it a night. With $1 sodas, free popcorn, and endless rounds of foosball, my 10-year-old son was also happy with the changes.
Don't forget to follow On Tap in Fort Worth's Facebook page.
On Tap this Week:
Friday the 13th Booze and Boos Tour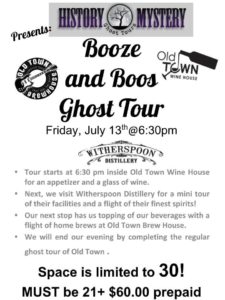 From Old Town Brewhouse: Friday, July 13th, join us for a walking tour of Old Town featuring the fine spirits of all kinds! 6:30-9:30pm. Optional drinks at J2 Steakhouse (not included in the ticket price). Join us as we weave our way through the past and celebrate ALL the spirits in Old Town! Event page here.
Beers and Barbecue: A Pop-up Dinner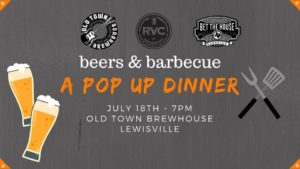 From Old Town Brewhouse: Not much compares to beers and barbecue, especially to us Texans. We're excited to host this fun dinner with Bet the House BBQ and Old Town Brewhouse.

Bet the House BBQ in Denton just celebrated the four-year anniversary of their barbecue restaurant, and we couldn't be happier for them. Co-owner/pitmasters Shawn Eagle and Cody Smithers are two of the nicest guys and their barbecue is pretty dang good too! Fun fact: RVC Promotions attended Smoked Dallas a few years back and our favorite thing that day was a brisket & coleslaw egg roll from Bet the House. I kid you not. They've had me at hello ever since.

Located in the heart of Old Town Lewisville, Old Town Brewhouse is your favorite laid-back brewery that is family- and pet-friendly. All of their beers are named after the Classic 70s rock songs you know and love.

It's sure to be a fun summer evening. Join us! Event page here.