It's time to shake things up with my beer column. Don't worry, I'll continue covering brewery openings while highlighting upcoming beer-related events. But every now and then, I plan to drag a local personality out to grab a beer with me and see where it goes. It'll be a fun way to plug a local pub or brewery while getting unique perspectives from local musicians, artists, and small business owners. If this sounds like a low-brow take on "Comedians in Cars Getting Coffee," you're not far off.
I gave Vodeo bassist and t-shirt designer/printer Jacob Pullig an hour notice to meet me at Martin House Brewing Company's taproom. The air-conditioned bar occupies the north end of the Riverside brewery, and is a great way to snag a Martin House beer outside of their popular taproom tours. The taproom had a tantilizing rack of discounted merch near the front. Seating options include picnic tables, wooden cocktail tables, and a large wraparound couch. Light snacks and non-alcoholic options are offered too.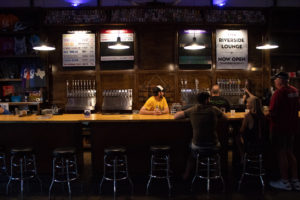 I wanted Pullig's take on four new beers: Parker County Peach, Cherry Limeade, Magnolia Malt Liquor, and S'Mores. The camping-inspired latter choice was put on tap just a few hours before we arrived, the bartender told me. Pullig lives nearby and regularly frequents Martin House's taproom tours.
"That jalapeño beer (Salsa Verde) they made was interesting," he said. "It looks like they are having a fun time making beer. They've got a couple that have stuck around. Salty Lady, I'll drink it if it's hot outside."

We tried S'Mores first. Pullig said it tasted "very charred, like charring a s'more over a campfire."
He wasn't a big fan but I dug it. The ale had a light body and was fairly bitter. Some sweetness might round out the s'mores profile better, I thought. Up next was Parker County Peach. This beer famously sold out quickly last summer. Martin House appears to have stocked more this year. My friend's first comment was that it was wine-like, probably referring to a sweet rosé.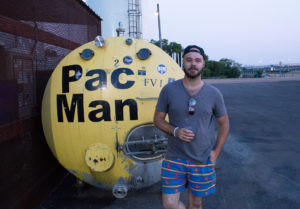 Pullig's final verdict: "I still have that s'mores taste in my mouth. I don't think [Parker County Peach] is too light or fruity. It's alright for a summer beer."
Along the way, he asked what the alcohol content was. The stronger the better when it comes to ABV, he said. The Magnolia Malt Liquor brought up fond memories for Pullig.
"Mickeys, I grew up on that," he said. "I used to drink King Cobra because no one else would drink it. I knew they'd leave mine alone. Fourties are funny. You go to a place that's BYOB with a fourty in a paper sack. That is fucking hilarious."
We weren't enamored by Martin House's Malt Liquor, although it is a funny concept. The Cherry Limeade was the night's winner by far. Slightly tart with the right hint of cherry, the ale brought back fond childhood memories of ordering cherry limeades at Braums.
"This is a lot better than that malt liquor," Pullig said before returning to his go-to Martin House beer, Daybreak.
Don't forget to follow On Tap in Fort Worth's Facebook page.
On Tap this Week:
Martin House Taproom
The taproom is open Thursdays (6-10pm), Fridays (4-10pm), Saturdays (2-10pm), and Sundays (12-10pm).