In the middle of a labyrinthine industrial area of warehouses and giant office buildings, River Bend Café & Catering (7251 Stoneway Dr N, Ste 400, 817-595-7470) chose what seems like an out-of-the-way location. Its corner of a small shopping center looks like the quintessential cookie-cutter sprawl mall plopped down in the middle of nothing, but if you look around at the surrounding manufacturing companies, distributors, freight services, and other blue-collar-type businesses, you can start to see the logic in the year-old eatery's decision. Tons of people work in the area, and they all need to eat.
Still, to outsiders, the swath of real estate that straddles the border of Fort Worth and Richland Hills looks more amenable to greasy spoons or a few fast-food joints instead of a scratch kitchen churning out high-end bistro fare. Then again, that's kind of what gives River Bend its "wow" factor, because what is a place like this doing in an area like that? (This is probably as far as the IG crowd will read before taking to their keyboards and accusing me of being elitist. And, for the record, I am. So save those keystrokes for something much more frivolous.)
To be fair, I haven't explored the ports of call surrounding Highway 121's Handley-Ederville exit. I feel pretty comfortable pronouncing River Bend the best restaurant in the area. It's easily the only foodie destination. 
The spot for breakfast, lunch, brunch, and dinner is under new management that just took over a month ago. I don't know what was coming out of the kitchen before last month. Now it's a lot of fancy-ish burgers, panini, haute brunch dishes, and entrees you might expect to see at Zagat-rated restaurants.
The one room is wide open, with about 20 tables filling the space and floor-to-ceiling windows allowing for a flood of natural light. The walls are decked out in screen-printed photos of river scenes and vaguely Texas imagery. There's a walk-up counter where you order, and then the super-friendly, attentive staff brings you food. 
My guest and I started with the twin soup of the day offerings ($8) of lobster bisque and Country Lentil. The former was rich and creamy with buttery notes of lobster stock and pureed lobster meat, while the latter was a hearty mélange of lentils, corn, onion, and chicken stock –– one bowl with some bread could easily make for a filling lunch. 
My entree of coq au vin ($9), braised in red wine instead of the more prevalent version of white, featured two chicken legs slathered in the thick, intensely flavorful sauce and roasted onions, all sitting atop a small bed of spinach and broccoli. Though relatively simple to prepare, the dish was a good illustration of the kitchen's ambition and culinary chops. My guest's mushroom-Swiss burger ($10) on a brioche bun also flashed signs of a high kitchen IQ: The roasted tomatoes and crispy onions were an unexpected though welcome touch. The accompanying fries were appropriately crispy and fresh tasting. 
You can't visit River Bend and not sample something out of the pastry case. My chocolate mousse cake with chocolate truffles ($4.50) was decadent, moist, and just the right amount of sweet.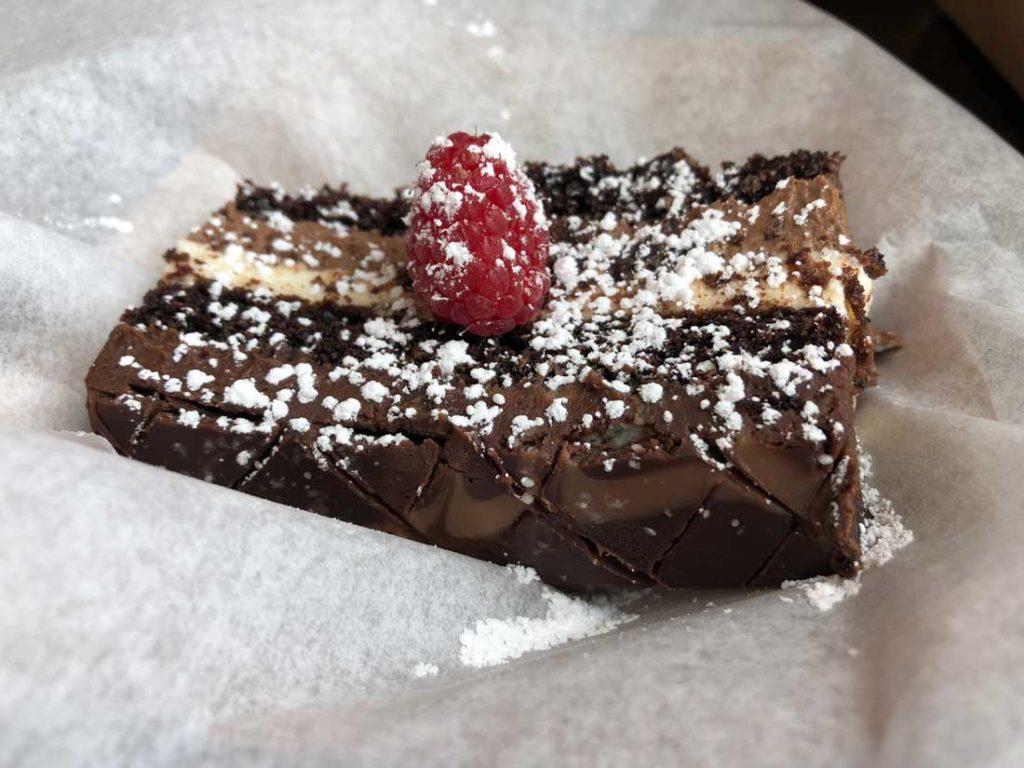 I have only one complaint about my lunchtime experience, but it's a big one. All of the dishes are served in brown paper boxes, the utensils and drink cups are plastic, and the soup cups are Styrofoam. Tender though it was, my chicken was difficult to reach and cut. I felt like I was at a picnic or a food truck park instead of having a nice dining experience. That one seemingly small detail turned what should have been an elegant lunch into something far more pedestrian. Or maybe the new managers are just trying to fit into their surroundings.