After much anticipation across North Texas, last weekend marked the launch of the sports-themed entertainment destination Texas Live! in Arlington. To ensure everyone in the tri-county area was appropriately pumped for this $250 million joint venture with your Texas Rangers, developers the Cordish Companies and the City of Arlington even included a wholly unnecessary exclamation point at the end of the name.
Perhaps the sprawling complex earned the hyperbolic moniker, given the massive scale of the enterprise. Spanning 200,000 square feet of what is now dubbed the Arlington Entertainment District, Texas Live! contains within multiple bars, live music venues, restaurants, retail shops, and, opening next year, a new Loews Hotel.
The onsite 5,000-person capacity venue, the Arlington Backyard, was built to pull in popular musical acts, but the centerpiece of the operation is the Live! Arena, a two-story enclosure where patrons can sit in neon-lit horseshoe-shaped booths drinking, eating, and gawking at a 100-foot LED screen.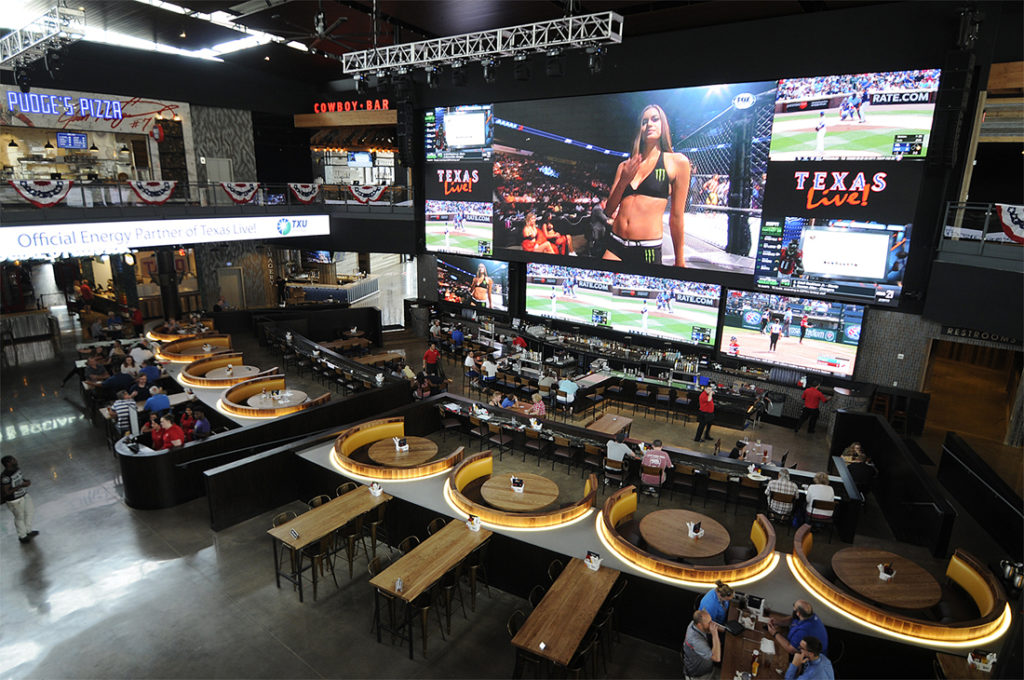 Surrounding the arena section on both levels are most of the food, drink, and retail options, including Guy Fieri's Taco Joint, Miller Tavern & Beer Garden, Sports & Social Arlington, Lockhart Smokehouse, Troy's (as in "Aikman") restaurant, Pudge's (as in "Rodriquez") Pizza, Balcones' Whiskey Room, and PBR Texas. The overall effect appears as if the Parks Mall hooked up with a Las Vegas casino, and their love child turned out to be an extravagant food court. 
At first, it's easy to go slack-jawed by the surface of the Texas Live! experience. At some point, the awe wears off, and the whole place starts to feel more like Epcot Center's version of Dallas and Fort Worth instead of reality. To wit, the dual-mechanical-bull-bar PBR Texas inexplicably employs women in thong underwear and chaps gyrating on the edges of the dance floor, which is more Coyote Ugly or Rick's Cabaret than Billy Bob's or the Stockyards Rodeo. 
If Texas Live! succeeds, it does so by helping tourists capture a taste of a stereotypic land that exists only on TV and in Nashville bro-country songs. Instead of highlighting North Texas businesses, most of the food and drink joints hail from other parts of the state or seem like focus-group-conjured "concepts" that use celebrities and/or national brands as a draw. The only thing missing from a traveler's Lone Star State fever dream is the HGTV Fixer Upper couple hawking t-shirts inside a replica of Waco's Magnolia Farms silos.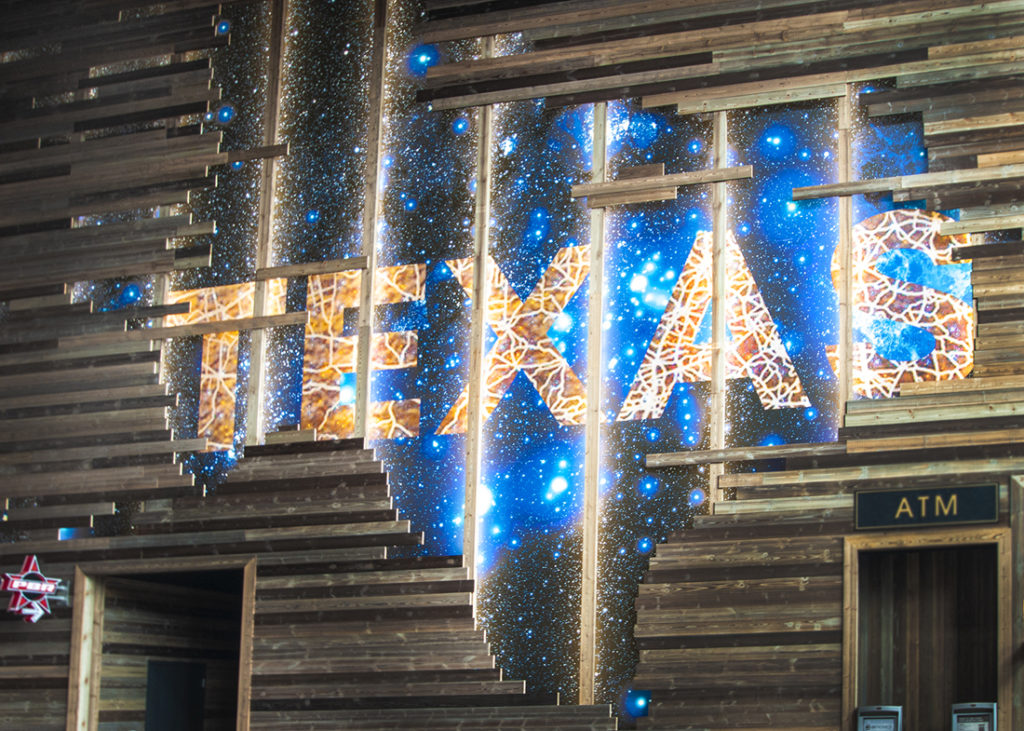 The developer's choice to put all these golden eggs into one basket is somewhat understandable, given that attendance for professional athletics is dwindling and therefore proves unreliable as a business draw. Fans everywhere expect bigger, bolder, more over-the-top reasons to get off the couch beyond just a single live sporting event. This is doubly true for choosing where to spend vacation time and dollars.
Just know this before you go: If you are driving to Texas Live!, be prepared to shell out substantial money for parking on event days. All patrons pay a "facilities fee" tacked onto each tab, and prices for drinks are as bloated as they are inside an actual stadium. Most disappointing of all, this project never included a functional public transportation option to more easily move locals to and from the Arlington Entertainment District. Shuttles run only to the nearby hotels, so prepare to drop $75 on Lyft rides if you live in Fort Worth.
In all this glam, the collaborative ownership of Texas Live! seems to have ignored the millions of people right outside their own backyard, but perhaps the gamble to trap transfixed tourists will make up the shortfall. 
Texas Live! 

1650 E Randol Mill Rd, Arlington. 817-852-6688.