Some crackpot recently tossed a Molotov cocktail into the Sears shoe department at Hulen Mall. Thankfully, no one was hurt, but it seemed unsurprising considering the blight of indoor shopping centers these days. Nothing makes me crave a cocktail of the non-Molotov variety like dodging aggressive knockoff hand lotion hawkers before finally reaching the stained-carpet JCPenney on the other side. Knowing about that recent incident certainly leaves me a little off-kilter when headed to Clearfork, the new, "fancier" shopping center of a different kind just down the road from Hulen Mall.
If some rotary club is giving away a trophy for the most quintessential suburban bar and restaurant, the new Chicago-based Doc B's Fresh Kitchen has it on lockdown. When I walked in, I instantly flashed back to the days of cramming into mall-adjacent Windy City joints for a dose of liquid courage before spending scorching amounts of dough on clothes I didn't really need.
On the day of my visit, the lunch crowd was lively. The patio doubles the size of the restaurant, and the main room features a circular bar surrounded by booths to accommodate patrons looking to get to liquor quicker (rhyme not intended). 
I gave my name to the pleasant hostess, but it never reached an actual list. Around 25 minutes later, after seating everyone coming in after my guest and me into the half-empty dining room, I made eye contact with her. The light bulb of recognition appeared to go off, and we were finally shown to our seats.
The drink menu at Doc B's offers standard beer and wine, including a few Texas winemakers. The house specialty cocktails are more a Midwestern affair. The Beetlejuice is served over crushed ice and features Chicago's CH Gin, beet juice, mint, and lemon. The Dangler employs Michigan's Traverse City Whiskey, with carrot juice and maple flavors, served on the rocks.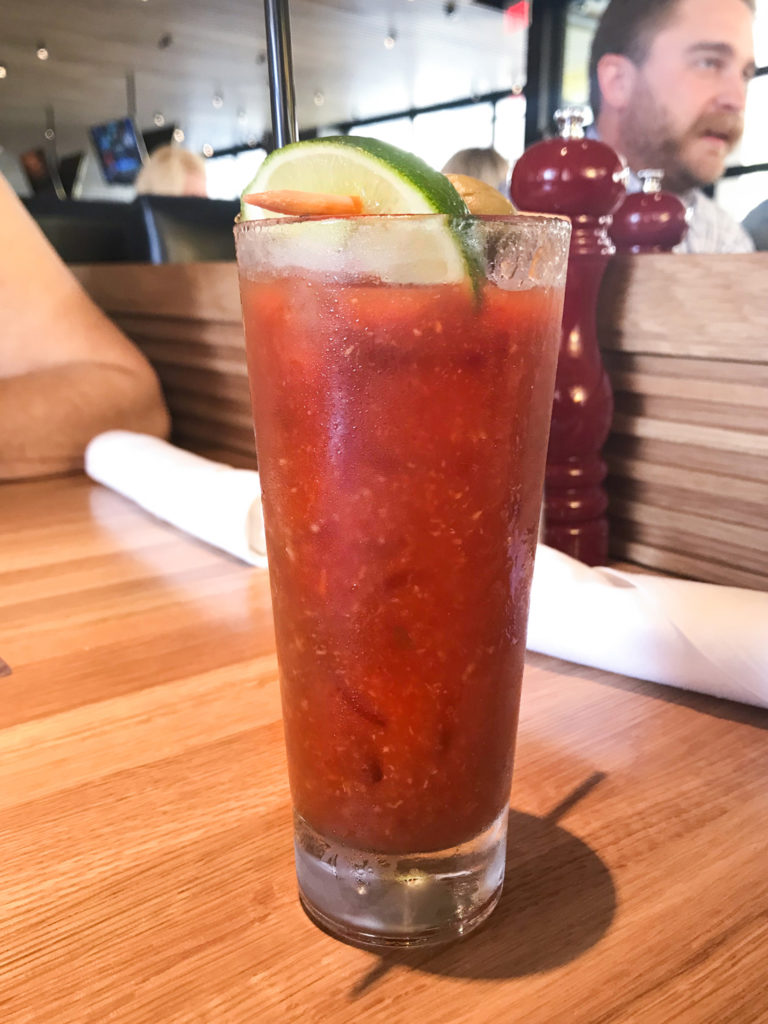 I was craving a Bloody Mary that day, a choice that would ultimately discombobulate our already rattled server. When the drink arrived, it was both sweet and hot, with a nice zest and complex flavor that clearly wasn't derived from a standard out-of-the-bottle mix. But when I asked what was in the glass, our server replied, "I don't know. I personally don't drink" and then awkwardly stared at me. After a moment of confusion over his answer, I gently prodded him: "OK. Can you maybe ask the bartender what they put into it?" Light bulb No. 2 went off, and he scurried away for a long while before coming back with a handwritten note that listed V8, Worcestershire sauce, cocktail sauce, house ketchup, horseradish, apple cider vinegar, sambal chile paste, lemon, and salt. I'm not sure that's accurate, but I was afraid to press my luck.
The service somehow deteriorated even further over lunch, and I was never asked if I would like another drink. Our food arrived out of order, and some items didn't come at all. But I'm a sucker for a good piece of red meat, and the West Coast steak sandwich was excellent. With some additional staff training, maybe the out-of-sorts service will improve. Maybe. 
Truly, Clearfork is more a sprinkling of luxury stores in between places to eat and imbibe right now, but make no mistake. This is still a mall, albeit one where you can get day-drunk at Doc B's before dropping $7,000 on a couch at Mitchell Gold + Bob Williams.
Luckily, the only cocktails being hurled at this mall are of the pinky-out alcoholic variety.
Doc B's Fresh Kitchen 

5253 Marathon Av, FW. 682-231-8820.