Mercifully, the Cowboys preseason is finally over. Let us give thanks for the welcome relief of no longer having to endure players –– who are, as of today, exploring new careers as life insurance salesmen or Home Depot clerks – attempting some woefully exiguous approximation of professional football. The preseason is always bad, of course, but somehow this year we seem to have been carried along with a battering ram bursting through the iron gates of an even lower circle of hell than previously explored. 
Over the last 10 quarters of exhibition, four lonely field goals have accounted for all the offense that the second and third stringers could muster. As if that meager offensive prowess weren't painful enough to watch, the backups (and their backups) managed to turn the ball over 10 times in that span as well. It was uuuuuuuugly. By the third quarter of last week's finale against the Houston Texans, I found myself channeling the Hound as he lay broken and bleeding at the foot of a mountain, a moon-white bone jutting from his thigh, tearfully pleading with Arya Stark to end his suffering. 
Wise football fans never put much stock in preseason performance because it's rarely an indicator of regular season success. Let's not forget that the last time the Cowboys went 0-4 in fake football time, they went 12-4 when it counted, won the division, and were a catch-not-a-catch away from the NFC Championship game. (No, I never will stop talking about it.) 
That's not to say I'm suggesting that the 2018 version of the Cowboys repeat that feat. I'm also not implying that they for sure won't. Success in the National Football League is difficult to predict. There are so many variables to account for; injuries, suspensions (for the Cowboys anyway), the unexpected rising and falling of other teams relative to their own expectations. Ignoring all of that, you can normally head into a season with some sense of what should happen, but for the first time in well over a decade, I genuinely have no clue what to expect.
It's possible (though perhaps unlikely) that Jerry Jones could be handed a Lombardi trophy from his arch-nemesis, commissioner Roger Goodell, in February, or it is just as possible (and perhaps more likely) that the Cowboys are picking in the top five of the 2019 draft and selecting quarterback Dak Prescott's replacement. There are just too many questions about this team that we won't know the answers to until Brett Maher  (wait, who?) kicks off in Carolina on Sunday. 
Chief among these questions is who will occupy the vacuum left by the departure (willful of otherwise) of some of the Cowboys' greatest all-time players at their respective positions? Just a year removed from the sting of Tony Romo being put out to pasture (in a cush gig as a dry-humored oracle perpetually predicting the next play from inside the broadcast booth), this past offseason saw again my favorite remaining player in silver and blue walk out of the Star in Frisco forever. And it happened twice. 
Dez Bryant, the controversial sideline firebrand and franchise touchdown record holder, was cut in April, an apparent condemnation of his locker room manner (as highlighted by the last season of Amazon's All or Nothing) and his famously poor route-running ability, only to then have the Cowboys' all-time reception leader, Jason Witten, follow him out the door two weeks later. It was shocking to learn that although he appeared to have plenty of football left in him, Witten would take a cue from his old BFF Romo and retire to pursue his own marquee broadcasting gig by replacing living, breathing, Frank Caliendo impression fodder Jon Gruden on Monday Night Football.
Then on Saturday, we saw the jaw-unhinging release of the club's greatest (and NFL history's second most accurate) kicker, Dan Bailey. In four short months, the amount of Cowboys fans that have suddenly found that their favorite jersey now belongs to a former player could populate a mid-sized Eastern European country. 
Replacing those departed's onfield production, which accounted for 37 percent of Prescott's completions and 39 percent of the team's point total from a year ago between the three of them, won't be easy. Bailey, at least for right now, will be replaced by the aforementioned Maher, a 28-year-old rookie who has spent the last five years bouncing around the Canadian Football League. He turned heads last week with a booming 57 yarder that could have easily been good from 65 in Houston, but the first time he misses in a real game, fans will be calling for his head in revenge for their beloved Lieutenant Dan.
Then there's Prescott. After arguably the greatest rookie quarterback season in history, his sophomore campaign saw him slide back to what might be expected of a fourth-round afterthought QB. Granted, he was without his star running back, Ezekiel Elliott, for six games and was running for his life with perennial All-Pro left tackle Tyron Smith out several games due to injury. Dak will have some help this year with the return of both of them, but who he's throwing the ball to (or, more importantly, who he's no longer throwing to) could impede his return to rookie form as he chases a big money contract at year's end.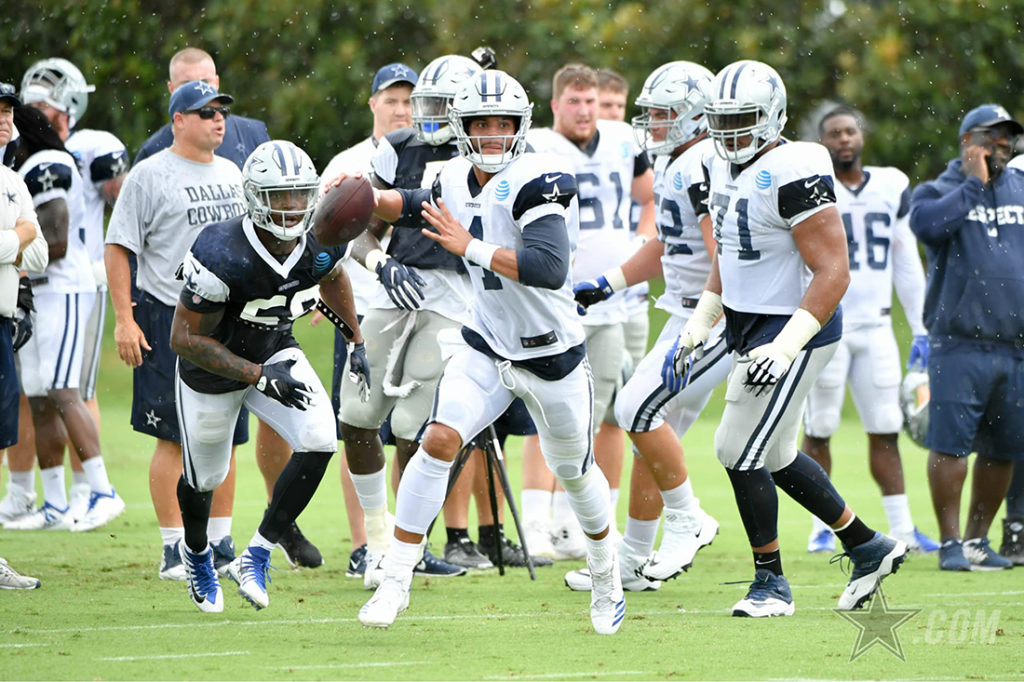 The wide receiver corps will now likely be led by the poor man's Julian Edelman, Cole Beasley, with one-season wonder and oft-injured Allen Hurns and body catcher extraordinaire Terrence Williams punching it out for the No. 2 slot. That is until talented rookie Michael Gallup (oh, the horror of the next four-plus years of horse puns) takes them over. Then we have the addition of failed first-round pick Tavon Austin and his intriguing skill set to keep opposing defenses guessing with the possibilities of formations this historically unimaginative offensive coaching staff has never utilized.
To try to take the place of one of the league's all-time best in Witten, the Cowboys, similarly to what they're planning with the receivers, seem to be set on tight end by committee. Problem is, between the four tight ends on the roster, there are exactly seven career catches, all by Geoff Swaim. None appear all that capable of blocking, though Swaim is the best in that regard as well, but the boneheaded basketball convert Rico Gathers, who managed to still make the team despite a marijuana arrest on the eve of cut day, has shown flashes that he could be a challenging mismatch for defenders in the red zone. 
The loss of offensive production with the cuts of Bailey and Bryant and Witten's retirement might be overshadowed only by what they've lost in the form of leadership. Witten and Bailey were both team captains, and, for good or ill, Bryant was the beating heart of the team's passion, constantly inspiring his teammates, through either pep or smack talk, both in games and in practice. 
Sadly, the monolithian roles left empty by these three – who will no doubt one day have their names immortalized beside other franchise greats in AT&T Stadium's Ring of Honor – are not the only important shoes to be filled. Arguably the game's best center, Travis Frederick has been diagnosed with an autoimmune disorder and has no timetable to return to football, thrusting career backup and noted team jokester Joe Looney into hiking the ball to Prescott for the foreseeable future.
Kris Richard, the new defensive backs coach and the smart money play to be the team's next head coach (oh please, oh please, oh please, *praying hands emoji*) has shaken up the secondary. The move of Byron Jones from safety to cornerback has – barring the forever dwindling possibility of a trade for Seahawks safety Earl Thomas (oh please, oh please, oh please, *praying hands emoji*) – left unproven second-year safety Xavier Woods as the starter in vital position as the last line of defense. The questions on defense continue with the middle of the defensive line. Defensive tackle Maliek Collins has yet to return from a broken foot suffered in mini camp (his second in three years), and athletically freakish headcase David Irving is suspended for the first four games of the season for substance abuse for the second year in a row. 
It's not all doom and gloom, however. There are rays of sunshine breaking through the gray clouds looming above the staydjum. Although unproven, this young team has plenty of talent, and the arrow is pointing up, especially on the defensive side of the ball. The cornerback position seems to have been significantly upgraded with potential lockdown artist Chidobe Awuzie opposite Jones, allowing Anthony Brown and Jourdan Lewis to rotate in the slot. Though the middle of the line is suspect, the defensive end position looks scary good. Playing under the franchise tag, 2017 defensive player of the year contender DeMarcus Lawrence has a new partner on the other side: a (currently) clean and bulked up Randy Gregory returning from a year-long suspension due to repeated failed drug tests. He's impressed in training camp and seems poised to make up for all the lost time. Behind them on the field, linebacker Jaylen Smith appears close to his Notre Dame playing level next to a (currently healthy) Sean Lee. The defense may just end up being responsible for any success this team has.
The theme of this offseason has appeared to be that the club is moving on. Moving on from decorated players and moving on from (almost) the entire coaching staff. Somehow in the overhaul, head coach Jason Garrett and coordinators Scott Linehan and Rod Marinelli escaped the axe. It will be up to them to make up the deficiencies on the roster. In a league with teams so evenly matched in personnel, coaching can be what separates them, and I have my serious doubts about all three of these coaches in this capacity. None of them has demonstrated any reason to believe they can be the difference in a winning and losing season. 
One word can adequately sum up Jason Garrett: mediocrity. And as we finally head into the regular season, the tealeaves seem to spell that exact word. Perhaps the best that a cynical fan like myself can hope is that the gutting of the team and the coaching staff will play itself out in a bizarre enactment of the famous Muhammad Ali boxing phrase, "Kill the body, and the head will die." Missing the playoffs again would surely mean the end of Jason Garrett. And while I would never wish failure upon my hometown team, seeing Garrett-bot finally decommissioned would certainly lessen the pain (oh please, oh please, oh please, *praying hands emoji*)