City Councilmember
Readers' choice: Ann Zadeh
Critic's choice: Ann Zadeh
District 9 encompasses important territory, including downtown, the Near Southside, and the West 7th Street corridor. Representing this district means big pressure and bigger spotlights. Former District 9 reps include Kenneth Barr (who became mayor) and Wendy Davis (who became a Texas senator and candidate for governor). Zadeh handles the pressure well. She is all over town, attending community meetings and hearings, facing the crowds, listening, responding, and sticking to her convictions even on occasions when she is confronted by angry constituents. We like that she earned her bachelor's degree in environmental studies, has worked as a city planner, and has pushed for improving transportation, transit, and walkability in the city.
Podcast
Readers' choice: The Jerry Jonestown Massacre
Critic's choice: Double D's Podcast.
Equal parts comedic, informative, gossipy, raunchy, weirdly nostalgic, and often sadly relatable, Double D's, a.k.a. Divorced & Dating, features two single women and one single dude reflecting on the occasional highs and usually cringeworthy lows of being a divorced adult floating with the other flotsam and jetsam in the Sea of Singles. 
Journalist
Critic's choice: Deanna Boyd, Fort Worth Star-Telegram
All the layoffs, buyouts, and terminations –– hundreds of people in recent years –– have ripped the guts out of Tarrant County's major daily newspaper. Corporate bean-counters have decimated the writing and editing staff, vastly diluting the paper's ability to cover local news. If it bleeds, it leads, as they say in the biz, so the paper has maintained an aggressive coverage of cops and courts, even as most of the other beats go stale. The police writer with the most experience and institutional knowledge is Deanna Boyd, who has covered the beat since the 1990s. Last year, she created the Out of the Cold podcast that goes deep on unsolved murder cases.
Sportscaster/Sportswriter
Readers' choice: Dale Hansen, WFAA/Channel 8
Critic's choice: Dale Hansen
It's an "s" and a shame that of all the sportstalkers in North Texas –– and there are at least 20,000 –– only one has the cojones to waltz into the bloody crossroads where sports and politics meet and speak his mind. That he just so happens to be one of the most visible sportstalkers in the region makes Dale Hansen's willingness to get all political even more amazeballs. In an era when mainstream media outlets must cave to pressure from the right to be as centrist as possible, Dale comes out guns blazin' for equality and, now, true patriotism. His viral video of defending kneeling NFLers won't end the argument, but maybe it will wise up his peers to stop being such equivocating cowards.
Teacher
Readers' choice: Halie Poe, Ridglea Hills Elementary
Radio Personality
Readers' choice: Gordon Keith, KTCK/96.7-FM, The Ticket
Critic's choice: Dave Emmert, KKXT/91.7-FM
Dave (no last name) is what Dave Emmert goes by during his five-hour daily stint from 2 to 7pm on the best radio station in North Texas. Dave spins quality tunes that run from deep-cut Hendrix and The Staple Singers to brand-new local artists you won't hear anywhere else. He keeps himself out of the mix as much as possible, giving just the pertinent info on the sets he plays: band name, song name, year produced, and occasional tidbits about what other bands the band members played with. Top-flight music, top-flight DJ.
Coolest Local Celebrity (Male)
Readers' choice: Tony Green
Critic's choice: Jamie Lovegrove
The tatted and chiseled midfielder for the Fort Worth Vaqueros is a scoring phenomenon and crowd favorite. He's strong-jawed, animated, edgy (sometimes he wears a mohawk), and talented – he won the 2018 National Premier Soccer League (NPSL) Goal of the Year for a kick he made in June against FC Brownsville at Farrington Field. Throw in a British accent – he's a U.K. native – and, well, what's not to love?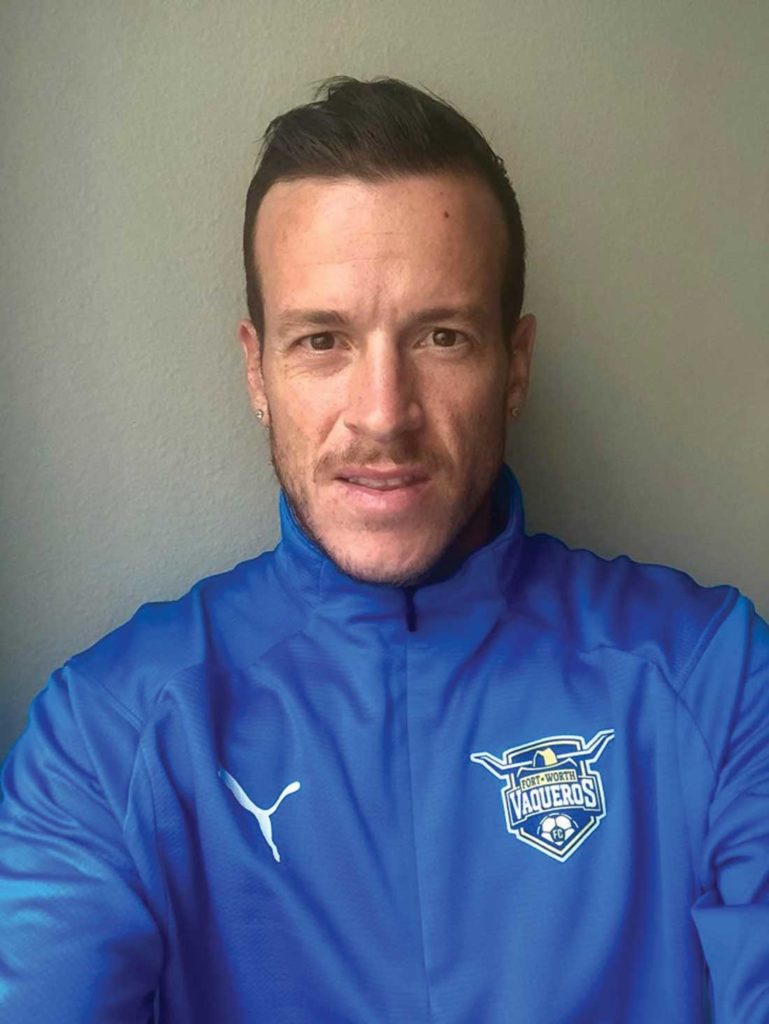 Coolest Local Celebrity (Female)
Readers' choice: Susie Ramone
Local Political Development
Critic's choice: The opening of two stores devoted to selling high-quality CBD oils
CBD, cannabidiol, is a component of marijuana that does not get you high. As a medicine, it is pretty astounding, reducing pain and inflammation as well as seizures in people with epilepsy. It also helps contain or eliminate certain cancers. Most of that is anecdotal, of course, but some of it has already tested out in double-blind studies. This year, two stores opened up in Fort Worth, American Shaman and Rawsome, and they are not being bothered by the authorities, allowing people with a host of physical issues to get relief without going onto the black market to buy marijuana.
Nonprofit Organization
Readers' choice: Sunshine Spaces, 12650 N Beach St, Ste 8, 979-324-9567
Critic's choice: The Parenting Center, 2928 W 5th St, 817-332-6348
Tarrant County regularly tops the list of Texas counties suffering from record levels of child abuse. The Parenting Center has worked to lower those incidences of abuse and neglect by providing counseling, parenting classes, and other services to locals since 1975. The center serves 14,000 to 18,000 individuals each year. Through this social service-minded nonprofit, clients can access a confidential parenting hotline (817-332-6399) or sign up for free marriage conflict resolution services. 
Place to Adopt a Pet
Critic's choice: Humane Society of North Texas, 1840 E Lancaster Av, 817-332-4768
Before you drop a huge chunk of change on a purebred pet from a breeder or some nefarious, sketchy puppy mill, drop by one of the Humane Society's locations and see what dogs and cats are patiently waiting to come to their new forever homes. These lovable mutts and kitties will cuddle up on your lap just as easily as their pedigreed peers, and there aren't words adequate to describe the feeling you'll get when you see the look on that furry face when he sees his new backyard and family.
Place to Meet Locals 
Readers' choice: Sundance Square
Critic's choice: Arts Goggle
The Near Southside's signature event draws thousands of people who peruse hundreds of local vendors and dozens of restaurants, bands, and artists, all of whom set up shop in the middle of West Magnolia Avenue. You won't see the MAGA crowd or the West 7th bros here, but you will meet the hardworking creative types that make this city Funkytown. 
Athlete (Almost Worth His/Her Salary)
Readers' choice: Dak Prescott, Dallas Cowboys
Critic's choice: Liz Cambage, Dallas Wings 
The 6'8" center led the WNBA in points per game and finished second in rebounding. Doing this for a playoff team that went into a tailspin late in the season would be impressive enough. Unfortunately, she's being paid so little that she's considering leaving America because WNBA players don't even make as much as NBA referees, and even the lowest-paid NBA player makes more than any single women's team here. If Cambage does bolt for the richer paychecks in China, Europe, or her native Australia, the Wings will be screwed and the WNBA will look terrible.
College Athlete
Readers' choice: Shawn Robinson, TCU football
Critic's choice: Mindy Miles, TCU women's rifle
You might not be aware of this super straight-shooter without following TCU's most decorated sports team. Miles was a junior World Cup finalist in both of competitive rifle's events (air rifle and smallbore) and Texas State Junior Olympic air rifle champion before arriving on campus her freshman year. The Weatherford native became the face and spirit of a team that is always competing to be the best in the nation. She made first-team all-American her junior and senior years, earned the best score in air rifle at the NCAA championships last year, and won third place in smallbore. Miles also received the 2016 NCAA sportsmanship award for self-reporting a misfire during the championship match.
Tailgating Spot
Readers' choice: Amon G. Carter Stadium, 2850 Stadium Dr
Critic's choice: The University Pub, 3019 S University Dr, 817-345-7633
While not traditional tailgating (as it's not in a parking lot and there are no actual tailgates involved), this is better: no baking in the sun, carrying coolers, or paying for overpriced parking spots that get used only seven times per year. The University Pub is itself a TCU tradition and one of the greatest places to prepare to attend or watch a game. The bar is essentially on-campus and is frequented by alumni before, during, and after home games. The beer is reasonably priced, and the proprietors adjust their hours to account for kickoff time or whatever Frog sporting event you'd like to get lubricated for. There won't be any cornhole, but there is a purple-felted pool table and toilets that actually flush.
Sporting Event Bargain
Readers' choice: Fort Worth Vaqueros
Critic's choice: Texas Rangers, Globe Life Park, 1000 Ballpark Way, Arl, 972-726-4377
The Texas Rangers are not very good this year. The upside is that you can watch them play on the cheap. There are even dollar nights: Parking, tickets, and hot dogs are all one buck. Numerous other promotions are running now to try and put butts in the seats, as football ushers sports fans out of summer and the interest in baseball wanes. Take advantage of seeing our major league team compete on the diamond. They will have only one more season at Globe Life before the new retractable-roof-stadium is complete and ticket prices climb.
Sporting Event for Family
Readers' choice: Texas Rangers, Globe Life Park, 1000 Ballpark Way, Arl, 972-726-4377
Critic's choice: TCU tennis, Bayard H. Friedman Tennis Center, 3609 Bellaire Dr N, 817-257-7960
TCU tennis has been a force over the last several years. The racquet-Frogs have gone deep into the NCAA team-tennis playoffs and produced several great champions. They have also won awards for home attendance, because head coach David Roditi knows how to promote. Parking and admission are always free for home matches. The pro shop sets out pop-up nets and has equipment available for kids to play with. There is room for children to run around if they're not interested in the matches. Best of all, there is usually free food provided to attendees. These team matches start in the spring, the weather is usually fantastic, and one can't help but feel upper-crust after watching a tennis match.
Sporting Event for Singles
Readers' choice: TCU football
Critic's choice: TCU baseball, Lupton Stadium, 3700 W Berry St
Lupton Baseball Stadium during TCU baseball season is a hidden gem of the singles scene. Where football in Texas tends to get the glory, the game is generally far too fast-paced to really socialize outside your immediate seatmates. Baseball is simply a slower, more thoughtful sport, and it tends to attract more fans flying solo to games than the gridiron does. While the Texas Rangers games are melt-into-your-seat hot and expensive, TCU baseball season sits squarely in the sweet spot of spring, and tickets can be found for a song. Fans of Horned Frog baseball do tailgate before big games, which is another opportunity to roll with your squad and take in a little "eye" batting practice before the ump calls, "Play ball!"
Facebook Group
Critic's choice: The Kitchen: Fort Worth
Moderated by some of this city's best chefs, The Kitchen is a private but inclusive group where you'll find recipes, articles, suggestions, relevant discussions, and some A-plus food porn. There's also the occasional job posting if you're looking for a service industry gig. 
Quote
Critic's choice: Attorney Randy Johnston
Those battlin' Billy Bobbers have been clashing in a state district court for the past year as the fractured ownership group wrestles for control of the world's largest honkytonk. The dispute has pitted a son against a father and old friends against one another. Concho Minick, Steve Murrin, and son Philip Murrin sued Concho's biological father, Billy Minick, and stepmother, Pam Minick, along with Brad Hickman, son of the late Stockyards benefactor Holt Hickman. During a court date earlier this year, the defendants complained that the plaintiffs were purposely dragging out the court process to burden their nemeses with more legal fees. Plaintiffs attorney Randy Johnston characterized the complaints about legal fees as overwrought. "It's a whole lot like my grandma's meringue," he said. "You whip it into a froth, and it looks bigger than it is."
Use of Taxpayer Money
Critic's choice: City contract with Clean Slate
A new Presbyterian Night Shelter program is giving full-time work to individuals experiencing homelessness by providing janitorial services for local businesses and day jobs that clean Fort Worth's streets. The program's contract with the city recently received a large boost ($450,000, up from $49,000 the previous year) that will allow three additional five-person litter crews to be hired. Around 80 percent of the employees who stay in the program more than six months move out of the shelter and into area apartments. The program is a win-win for the city, the night shelter, and the men and women who are given a clean slate and a new lease on life. 
Neighborhood Group
Critic's choice: United Fort Worth
United Fort Worth is a grassroots alliance of people who are fighting discriminatory immigration policies (read: Trump's immigration policies). They are young men and women, many of them Dreamers, who have banded together to produce a strong voice alerting the public to the dangers of the current policies of tearing apart families, making people fearful of authorities, of making people so fearful of deportation that they no longer feel safe leaving their homes to go shopping or drop their kids off at school.
Watchdog
Critic's choice: United Fort Worth 
The anti-discrimination coalition United Fort Worth has a message for Tarrant County Sheriff Bill Waybourn: Get ICE out of town. Early last year, the grassroots group formed in response to the passage of SB 4, the controversial state bill that encourages peace officers to inquire into the immigration status of an individual they lawfully detain. With that bill tied up in lawsuits, United Fort Worth has turned its attention to Waybourn and his department's agreement with ICE to allow ICE agents to train local sheriffs to perform duties normally performed by ICE, including the use of temporary holds on suspected criminals. Waybourn maintains that his officers do not target non-violent residents, regardless of their immigration status. Volunteers with United Fort Worth don't agree. Now, they want Waybourn to show them his papers. 
Best-Kept Secret
Critic's choice: Neon Noir, 463 S Jennings Av, 682-841-1420
Don a high-tech head visor and step into fantastical worlds at Neon Noir. The $25-per-hour sessions come with guided instructions for the VR uninitiated. Multiple rooms allow for team play, and there are special rates for repeat customers. Virtual reality technology has made leaps in recent years, meaning unplugging from this second life might come as a bummer. While you're waiting for your kiddo to finish blasting orcs back to the bowels of Middle Earth, you can take advantage of Neon Noir's BYOB policy. 
Whistleblower
Critic's choice: Sam Sayed
Oh, Varsity Tavern seems to be doing just fine. After posting a non-apology apology following the story that we broke (not the Star-T) about the sports bar/nightclub's discriminatory entrance policies, Varsity lay low a little. It was summertime, after all. The TCU/college kids upon whom Varsity makes its bank were far afield. Now that school's back in session, Varsity is raking in the big bucks as if its bouncers didn't deny entrance to a black man wearing Jordans while letting a white man in the same exact shoes waltz right in a little while later. Kudos to Sam Sayed for taking to social media and blasting the bar's skewed, liable-to-be-manipulated policy.
Rock Star
Critic's choice: Kris Luther
This multitalented beardo is in 4,072 bands, laying down bass for such acts as the Matt Tedder Trio, The Hendersons, and Shadows of Jets. The fact that other, more, uh, venerable musos in town, like Big Mike Richardson and Lee Allen, all swear by him tells you all you need to know about the level of respect Luther commands. The fact that he's a super nice fella seals the deal. 
Move
Critic's choice: Amigo International Guitar Show leaves Arlington for Fort Worth
Guitarlington, the annual guitar show at the Arlington Convention Center, had become an institution after more than 30 years. Then, boom! Earlier this year, the city of Arlington announced it would revamp its convention center into an eSports arena. The old warhorse guitar show faced the prospect of playing a Hendrix-style version of "Taps" for itself. Instead, the organizers became reinvigorated, changed the name to Amigo International Guitar Show, and moved to Will Rogers Memorial Center. The first show in the new digs is slated for Sat-Sun, Oct 6-7.
Sleight of Hand
Critic's choice: Fort Worth and Tarrant Regional Water District
We would all be well advised to not play poker with Fort Worth officials and Tarrant Regional Water District personnel. That bunch is slicker than a snake in a bucket of snot. A May 5 election for a bond referendum described the work as "flood control." But approval meant the bond money would go toward the Trinity River Vision plan, now referred to as Panther Island, which is an economic development plan in an area that hasn't flooded since the 1940s. Oh, well. What's a little semantics worth? Um, how does $250 million of our taxpayer dollars sound?
Billboard
Critic's choice: "Trump: That Boy Don't Act Right."
Retired postal worker and Fort Worth resident Gale McCray has been carrying his simple, hand-crafted sign all over town –– and nationwide –– acknowledging his unhappiness with the president. "I get every kind of reaction," he told us while displaying his sign near Hulen Street and Bellaire Drive earlier this year. The one-finger salutes and angry hollers only encourage McCray.
Revenge
Critic's choice: Karen Lucchesi writes Innocent Woman
After being framed for a crime she says she didn't commit, Karen Lucchesi – daughter of former Texas Rangers manager Frank Lucchesi – figured a jury would exonerate her once she testified. Instead, she said, a conniving federal agent, a lazy judge, and a bad defense attorney resulted in her conviction and a six-year prison sentence beginning in 2004. The sentence was vacated by the U.S. Supreme Court three years later, although Lucchesi served most of her term before being released. This year, she skewered the feds, judge, attorney, prosecutor, and prison officials in a ball-busting tell-all book.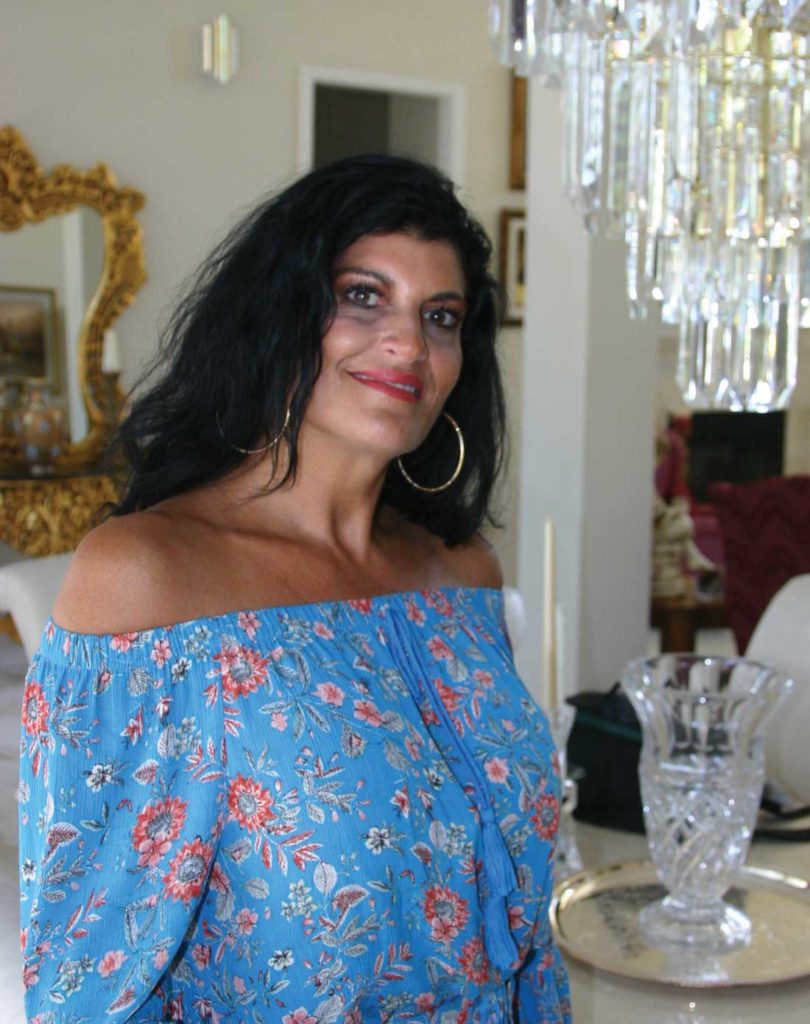 Public Revolt
Critic's choice: Annexation anarchy
In 2017, officials in cities such as Azle and Weatherford tried to annex property before a state law took effect on Dec 1 that would require cities to hold a vote before annexing unincorporated property. Angry residents who want to live near cities but not in them began complaining, meeting, signing petitions, and stomping their collective feet. One bunch, the grassroots group Stop Zion Hill Annexation, forced Weatherford to change its plans.