Taco
Readers' choice: Taco Heads, 1812 Montgomery St, 817-615-9899
Critic's Top 5: At Juanito's (4150 Hemphill St, 817-924-3636), the adobada taco is stuffed with tender hunks of smoky red-chile-sauce-smothered beef. If Taco Tuesday is your thing, check out the pastor bad boys at Los Tacos H's (2108 E Rosedale St, 817-420-6877). For only a buck each, you'll feast on tacos stuffed with sweet trompo-roasted pork, charred at the edges and sweetened with pineapple. Order too many, question your choices, and wade confidently into your next taco dispute, armed with fingers glazed in delicious red grease. For a night out, you could do far worse than a few rounds of beer backed with chimichurri-marinated fish tacos or garlic-cilantro shrimp tacos at Taco Heads (1812 Montgomery St, 817-615-9899). Tacos la Banqueta Puro DF (2621 Hemphill St, 817-923-8846) offers taco meats in a variety of formats, from gorditas to tortas and deep-fried quesadillas. But it's in the taco format that the kitchen's suadero –– tender slices of grilled beef, lightly spiced –– stands out the best. Simply garnished with cilantro and onion, and topped with outstanding sweet-hot red salsa, this taco may just talk you into over-consuming on it alone. If meat sweats aren't your thing, head to Tina's Cocina (961 W Magnolia Av, 817-367-9807) for the poblano, mushroom, egg, and cheese taco, all swaddled in a fluffy flour tortilla. The vegetables brighten up this breakfast taco, which, paired with Tina's surprisingly good coffee, really should round out any Sunday morning hangover cure. 
Vegetarian Selection
Readers' choice: Spiral Diner1314 W Magnolia Ave, 817-332-8834
Waitstaffer
Readers' choice: Scott Berkman, Ellerbe Fine Foods, 1501 W Magnolia Av, 817-926-3663
Critic's choice: Brittany Eustis, Fixe Southern House, 5282 Marathon Av, 682-707-3965
In a restaurant known for its elevated take on Southern classics, one would expect a little down-home hospitality as well, and Brittany Eustis delivers that by the handful. This North Texas native returned from a jaunt on the West Coast and joined the team at Fixe Southern House when they first opened their doors. Eustis takes this menu seriously, and she tackles detailed questions with a level of knowledge often reserved for only the kitchen staff. Give her a few details about your taste preferences and expect a spot-on recommendation for both food and drink in return. But it is the unbridled enthusiasm and cheerfulness with which she tackles her job at Fixe that make the often bored and aloof attitudes of many a veteran server seem disappointing by comparison.
Chef
Readers' choice: Kevin Martinez, Tokyo Cafe, 5121 Pershing Av, 817-737-8568
Critic's choice: Denise Shavandy, Cafe Modern, the Modern Art Museum of Fort Worth, 3200 Darnell St, 817-840-2157
Adjectives like "seasonal," "locally sourced," and "farm-raised" have, at many restaurants in town, become the markers of a hip Dallas-based chain that just might be trying too hard. On Shavandy's menus, the adjectives have meaning –– she sources as much as possible from within 50 miles of the restaurant, buying from farmers' markets and local producers. Her menus, which are completely rewritten seasonally, are inventive and exciting. Shavandy explores flavors and techniques from around the world, presenting her dishes simply and artfully. She's constantly learning as well, bringing local and international guest chefs into her kitchen to explore new dishes as well as featuring young up-and-coming chefs at wine dinners. If the mark of a great chef is his or her contribution to a food scene, Shavandy's collaborations and individual offerings set her squarely among this town's giants.
Mexican Breakfast
Critic's choice: La Tortilandia, 1112 W Berry St, 817-922-0205
We love a good old-fashioned egg and bacon plate with biscuits as much as the next alt-weekly, but after a night on the town, few things are better than the huge steaming bowl of deep red posole topped with cabbage and radish at Tortilandia. Its breakfast menu is, well, extensive and includes without contest the best chilaquiles in town. Bathed in a deeply charred, fiery sauce, the chilaquiles en salsa morita will repair even the truly deep hangover. Can't decide between the two sure-fire cures? We've been known to order both.
Chinese
Readers' choice: Cannon Chinese Kitchen, 304 W Cannon St, 817-238-3726
Critic's choice: First Chinese BBQ, 5310 E Belknap St, Ste H, Haltom City, 817-834-1888
Go with a group of people you like, because the menu at First Chinese is deep and broad, offering all manner of soups, noodles, seafood, and vegetables, ranging from the familiar to the esoteric. Of course, the crispy, mahogany-skinned roasted meats stand out, including some of the best duck this side of Hong Kong. But don't miss the wonton noodle soup with your choice of meats floating lazily in fragrant light-yellow broth –– it's simple, but you won't want to share.
Thai
Readers' choice: Sweet Basil Thai Cuisine, 977 Melbourne Rd, Hurst, 817-268-2899
Critic's choice: Thai Pakse, 4045 E Belknap St, Ste 6, Haltom City, 817-862-7420
Yes, it's actually a Lao restaurant, and if you haven't heard of it, that's because Pakse devotees are a secretive bunch. The combination of friendly, guiding service and gloriously fresh, vibrant dishes make this relative newcomer to the Haltom scene the tops. Boat noodles, loaded with meltingly tender beef in a rich broth flavored with cinnamon and galangal, feature heavily in our rotation here, but it's worth ordering some of the vegetable-laden noodle dishes as well. 
Pop-up Restaurant
Readers' choice: Lost in the Sauce
Critic's choice: Hao & Dixya
The newly rebranded partnership between chefs Hao Tran and Dixya Bhattarai continues to be one of the fastest-selling pop-up tickets in town. Focusing on inventive dumpling-centric events, interactive cooking classes, and hands-on dinner parties, this duo has made a huge splash in the non-brick-and-mortar cooking world. Their events are freewheeling, joyous, community-centered affairs, and their food, even without a restaurant home behind it, is some of the best in town.
Sushi
Readers' choice: Blue Sushi Sake Grill, 3131 W 7th St, 817-332-2583
Critic's choice: Shinjuku Station, 711 W Magnolia Av, 817-923-2695
Head Sushi Chef Nick Carmell consistently serves some of the most creatively arranged fish and rice in town. The rice is perfectly cooked and seasoned, and Carmell sources a range of seafood unparalleled in other sushi joints. On any given weekend, sushi and sashimi specials may include Portuguese anchovies seasoned with ponzu, cured Japanese mackerel, or sublimely fresh, briny uni. For lunch, try the chirashi don, a flower-arrangement of sashimi and vegetables over seasoned rice. 
Sandwich
Readers' choice: Weinbergers Deli, 601 S Main St, Ste 100, Grapevine, 817-416-5577
Critic's choice: The Hot Mess, 203 Café, 215 Commerce St, Ste 203, 817-782-9004
Chef Jason Klein says he named this sandwich for an ex-girlfriend, but the name fits the sandwich just fine. It's hot, and it's a mess. House-made pecan-smoked brisket is crisped on a flattop grill before being piled onto toasted sourdough and topped with perfectly spicy green-chile queso. Do as we do and raid the salad bar for pickles, onions, and giardiniera and enjoy a sandwich that, while far from elegant, will change your perception of what lunch can be.
Coffee House
Readers' choice: Sons of Liberty Coffee, 250 W Lancaster Av, Ste 120, 817-330-6865
Critic's choice: Sons of Liberty
What do you want with your coffee? Cream? Sugar? How about an artisanal pastry? Comfy couches and plentiful table space? An abundance of outlets for your devices? Sons of Liberty has all of these, plus signature teas and gourmet pulls, all served in a spacious, modern, minimalist-chic setting. 
Breakfast
Readers' choice: Ol' South Pancake House, 1509 S University Dr, 817-336-0311.
Critic's choice: Local Foods Kitchen, 4548 Hartwood Dr, 817-238-3464
Here are the three words you need to know about Local Foods Kitchen: smoked brisket hash. That dish is seriously incredible, though the rest of LFK's breakfast menu makes the first meal of the day one to remember. Locally sourced ingredients make ol' standbys like omelets and blueberry pancakes stand out, but there's also breakfast burritos, street tacos (the eggs queso fresco tacos are cheesy, creamy heaven), and a tomato-avocado-bacon-lettuce-egg sandwich on toasted sourdough with mayo and sriracha to wow your palate. 
Mex-Mex
Readers' choice: Benito's, 1450 W Magnolia Av, 817-332-8633 (bargain); Meso Maya Comida Y Copas, 604 Main St, Ste 100, 469-348-0127 (gourmet)
Critic's choice: Meso Maya, 3050 S Hulen St, 682-316-8266
The Tanglewood location of the Dallas-based upscale Mexican bistro offers filling, spicy dishes that pay tribute to the states of Mexico, sauced with aromatic adobo and fresh herbs, served in a comfortable, exotic atmosphere that makes each meal feel like you are enjoying a nice night out south of the border. If you've never had cochinita pibil, Meso Maya's is a stellar introduction.
Tex-Mex (Upscale)
Readers' choice: Meso Maya Comida y Copas, 604 Main St, Ste 100, 469-348-0127
Critic's choice: Magdalena's Supper Club, 502 Grand Av, 817-740-8085
Though you can't just show up and peruse a menu at Magdalena's Supper Club –– you have to buy tickets well in advance to its scheduled dinners –– Chef Juan Rodriguez and his wife Paige's inventive cuisine represents a world-class spin on traditional abuela-inspired flavors and dishes. Though the bill of fare leans heavily to south of the border, the tamales and brisket satisfy, nay, exceed, Lone Star sensibilities. The four-course meals are stunning displays of Mexican fine dining that will leave you longing for your next visit.
Vietnamese
Readers' choice: Malai Kitchen, 5289 Monahans Av, 682-707-3959
Critic's choice: Lieu's Vietnamese, 5315 Jacksboro Hwy, 817-237-0372
Before atmosphere, before the boba tea, before the spring rolls, before bun bi thit nuong cha gio, every Vietnamese restaurant lives and dies by its pho. And at Lieu's, the pho is fantastic, filling you up with a broth that's the right balance of sweet and savory. Each bowl's flavor is steered with tasty cuts of meat –– if you're a beef fan, try the pho No. 6, 10, or 11. Lieu's also wins with its wide selection of other Vietnamese favorites, from seafood noodle plates to delectable stews and roasted quails.
Latin/Caribbean
Readers' choice: Gloria's Latin Cuisine, 2600 W 7th St, Ste 175, 817-332-8800
Critic's choice: Jamaica Gates, 1020 W Arkansas Ln, Arl, 817-796-2600
Jamaica Gates' menu offers diners a bounty of dishes beyond the usual jerk chicken plates, serving up spicy, piquant Caribbean staples like oxtails, curries, and goat soup in a balmy, friendly atmosphere bursting with irie vibes.
Chicken-fried Steak
Readers' choice: Benbrook Café, 4902 US-377, 817-244-1372
Critic's choice: Horseshoe Hill Cafe, 204 W Exchange Av, 817-882-6405
Chef Grady Spears' cowboy-courtin' eatery's chicken-fried steaks will lasso your taste buds with their salty tenderness, nestled inside a buttery, perfectly fried batter. Horseshoe Hill elevates the greasy-spoon standby to fine-dining quality.
Pizza (Bargain)
Readers' choice: Hysen's Nizza Pizza, 401 University Dr, 817-877-3900
Critic's choice: Campisi's, 6150 Camp Bowie Blvd, 817-916-4561
Campisi's thin-crust pies are usually our perennial favorites because the prices are reasonable and the kitchen doesn't skimp on the toppings, all of which pair deliciously with the venerable Dallas-based chain's signature sauce. You don't stay in business for more than 80 years without legitimate recipes, and Campisi's quality –– especially for the price –– is consistent year after year.
Fried Chicken
Readers' choice: Gus's World Famous Fried Chicken, 1067 W Magnolia Av, 817-927-4693
Critic's choice: Fixe Southern House, 5282 Marathon Av, 682-707-3965
Just because it's a centerpiece of American comfort food doesn't mean you can't make fried chicken, um, soar. Fixe Southern House's recipe calls for lightly crispy skin and incredibly juicy, perfectly brined boneless breast, and the dish flies high above the rest.
Wings
Readers' choice: Buffalo Bros, 3015 S University Dr, 817-921-1590
Critic's choice: KEEKS Eggrolls and Wings, 8405 N Harwood Rd, NRH, 817-849-2882
We don't know what lost island full of prehistoric creatures KEEKS gets their chicken from, but those birds must be huge, because these are some of the biggest flappers we've ever seen. They're also some of the tastiest –– crispy, savory, and salty –– and they're served in an adequate array of sauces: sweet chile sauce, sambal hot sauce, and sriracha, with your choice of ranch or blue cheese.
Ribs
Critic's choice: Panther City BBQ, 201 E Hattie St, 817-300-3743
Though Panther City BBQ is mobile, you can normally find it parked on the patio of Republic Street Bar with a line stretching into the bar's parking lot. While all its 'cue is fantastic, the stuff you'll really want to write your Paw Paw about are the ribs –– both the Duroc pork ribs and prime-beef short ribs are fall-off-the-bone, melt-in-your mouth meat-candy. Get there early, because once they sell out, you're out of luck until next time.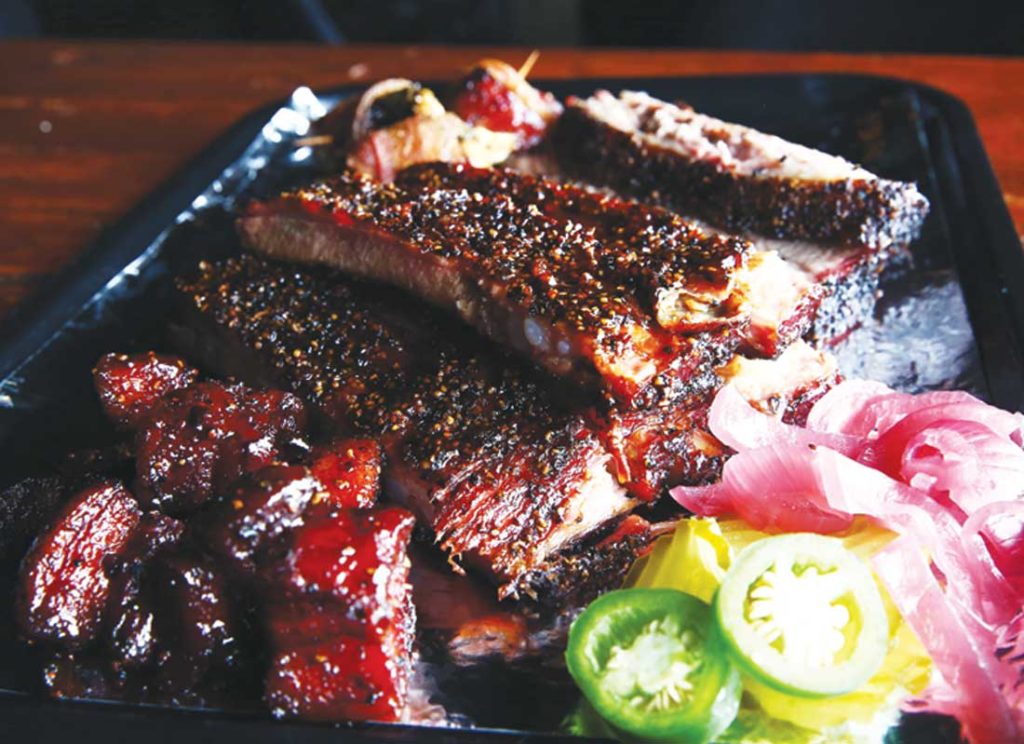 Food Truck
Readers' choice: Salsa Limón
Critic's choice: Gorgonzilla, 682-307-8670
Grilled cheese is just the canvas on which chef/owner Keith Grober whips up his culinary masterpieces. From the humble $4 Gizmo (cheddar, provolone) to the monstrous $11 Gilla (cheddar, provolone, marinated steak, homemade mac 'n' cheese, onions), Gorgonzilla is here to satisfy your constant cravings for gooey greatness. Add-ons include American, goat, and pepperjack cheeses, bacon, jalapenos, turkey, mac 'n cheese, and ham.
Spicy Dish
Critic's choice: Suicide Wings, Buffalo Bros, 3015 S University Dr, 817-386-9601
Hot enough to make your eyes water and nose run but still pretty darn tasty, Buffalo Bros' Suicide Wings are recommended primarily for wing enthusiasts, but a couple bites won't hurt you novices. Just be sure to have a cold, frosty adult beverage handy.
Carb-Loading
Critic's choice: Luigi's Italian Restaurant, 4610 Western-Center Blvd, Ste 108, 817-893-5884
The pizza is fantastic. Gooey, zesty, and just the right amount of doughy, it's one of the best in town. Though you could just order a large pie and roll home perfectly carbed-out, Luigi's also excels at traditional Italian pasta dishes, perfect for the night before a 5K or half-marathon. One of our faves is the linguini tuttomare (in either garlic-butter sauce or a spicy red), a heaping plate of pasta weighted down with mussels, shrimp, scallops, and baby clams. Luigi's stromboli are also outstanding, packed as they can be with your choice of pepperoni, sausage, Canadian bacon, hamburger, mushrooms, bell peppers, olives, and mozzarella cheese.
Buffet
Readers' choice: Terra Mediterranean, 2973 Crockett St, 817-744-7485
Critic's choice: Byblos Mediterranean Lebanese Restaurant and Hookah Lounge, 1406 N Main St, 817-625-9667
Served 11am-3pm Mon-Fri and 6-9pm Thursdays, Byblos' buffet is simply bursting with fresh flavors and filling morsels that won't bust your belt buckle. Theoretically, though, you could stuff your face with a dozen gyros –– the tray of lamb/beef meat is replenished constantly. You could also make a meal out of the sides alone: hummus, baba ganouj, olives, moussaka (eggplant topped with tomatoes), dolmades, falafel, fattoush, tabouli, and so much more. There are also several trays of delectable desserts. The best part? Byblos' buffet isn't going to put a major dent in your wallet.
Fast Food
Critic's choice: Lettuce Cook, 5101 White Settlement Rd, 817-989-2665
Located in the burgeoning River District, Lettuce Cook (or Lettuce Cook Gourmet-on-the-Go, if you're feeling literary) dishes up fast-casual takeout that's as tasty as it is affordable. Don't pass on the Clucking Good chicken sandwich with a slice of melted mozzarella cheese, a mouthwatering fig jam, and some chopped tomato and served on a delightfully chewy bolillo roll. 
Menudo
Critic's choice: Ibarra's Tortilleria, 1109 NW 25th St, 817-625-6391
Whether you wake up bright-eyed and hungry or muy crudo, Ibarra's menudo is what you want for a spicy, tangy, eye-opening bowl of breakfast stew.
Ramen
Critic's choice: Hanabi Ramen, 3204 Camp Bowie Blvd, 817-420-6703
Hanabi's bowls of creamy noodle soup are served in a variety of savory flavors, from spicy to earthy, each one filling and authentically Japanese. The selection on the menu is impressive, and the intimate, low-lit atmosphere sets the mood for a great meal. 
Burger
Readers' choice: Kincaid's Hamburgers, 4901 Camp Bowie Blvd, 817-732-2881 (bargain); Rodeo Goat, 2836 Bledsoe St, 817-877-4628 (gourmet)
Critic's Top 5: Fuego Burger (4400 Benbrook Hwy, 682-250-5600) will make your eyes water with joy at the sight of its towering, juicy creations that arrive slathered in spicy mayo and green chiles (and a host of other tasty toppings). The Heimburger at Heim BBQ (1109 W Magnolia Av, 817-882-6970) is a double brisket-burger masterpiece draped with melty cheese and jam made with the perennial barbecue champ's famous bacon burnt-ends. The Bleu Cow at M&O Station Grill (200 Carroll St, 817-882-8020) is loaded down with bacon chunks and blue cheese crumbles built into the patties, packing a piquant punch and memorable mouthfeel into every bite. Rodeo Goat (2836 Bledsoe St, 817-877-4628) has built a reputation for its inventive iterations on America's favorite ground beef handheld –– its ever-changing burger battles pit new, amped-up creations against one another every week. The exotic meat choices at Twisted Root (310 E Abram St, Ste 100, Arl, 817-201-9669) –– buffalo and wagyu on the reg; elk, lamb, ostrich, rabbit, camel, duck, or boar as available –– give its menu a wild, unique spin. 
French
Critic's choice: Paris 7th, 3324 W 7th St, 817-489-5300
Saint-Emilion has been waving the French flag in town for three decades and counting. While the 7th Street standout's original, venerable old building is getting a much-needed facelift, owner Bernard Tronche moved right into the nearby space that Le Cep vacated. Renamed Paris 7th, Tronche's restaurant provides the classic French fare we've come to adore over the last 33 years, from the soupe à l'oignon les Halles to the duck pâté to the wood-roasted duck and steak au poivre. Save room for the classic apple tarte tatin or soufflé du jour, or do as the French do and end your meal with the four-cheese plate. 
Vegetarian
Critic's choice: Samson's Market Bistro, 4307 Camp Bowie Blvd, 214-966-4847
We love our soul food in the Fort, and it doesn't get more soulful than the stuff from the Horn of Africa: the eastern part of the country that's called the "cradle of civilization." Samson Yosef's Ethiopian home-cooking does include meat entrees (lamb, beef, and chicken), but the vegetarian dishes are really the star of the show. Veggie lovers can chose between the berbere-spiked miser wat (a stew-like combo of lentils); shiro wat (ground chickpeas in the same sauce), which has the texture of super-chunky hummus; or the miser alecha, steamed chopped collard greens, deliciously heavy on the garlic seasoning. And there's the amazing alchemy in the sauce of the tikil gomen: sautéed cabbage, potatoes, and carrots stewed in a vibrantly yellow, mild turmeric-and-garlic sauce.
Pasta
Critic's choice: Piattello, 5924 Convair Rd, Ste 412, 817-349-0484
It's not exactly news, but over the last two years, chfe/owner Marcus Paslay and his talented cadre of sous chefs have continued to raise the pasta bar in Fort Worth. There's a little something for everyone at Piattello. Sure, you could order one of the more familiar dishes, like spaghetti, dainty cappelletti, cute curly fusilli, and linguine with a delicate saffron sauce. But the menu also includes pastas that the average Texan has likely never heard of, like the thick, oddly shaped, hand-rolled strozzapreti and the bucatini –– oversized spaghetti with a hole through the middle that cradles more of the chile-and-basil tomato sauce. Everything served from the open kitchen is scratch-made.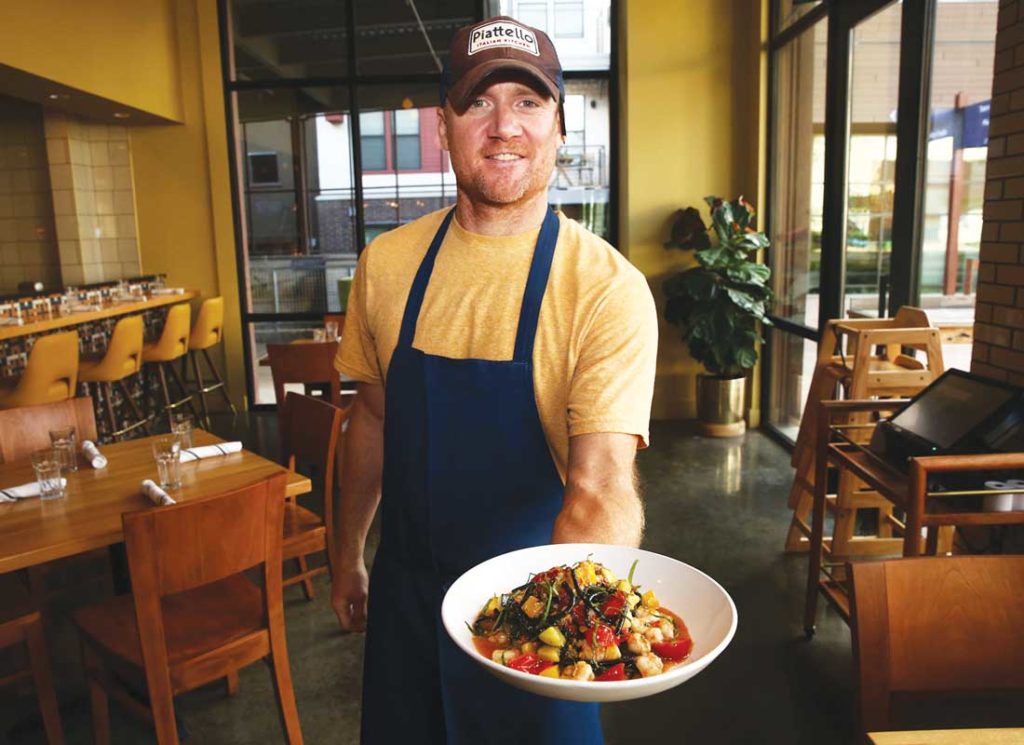 Gourmet Pizza
Readers' choice: Cane Rosso, 815 W Magnolia Av, 817-922-9222
Critic's choice: Fireside Pies, 2949 Crockett St, 817-769-3590
Fireside Pies has managed to thrive in the chaotic West 7th development environment, perhaps because the kitchen does pizza better than most places in town. Fireside offers a dozen charmingly exotic pies, along with the occasional mystery pie. Sure, there's the relentlessly hipster baby kale (in a white sauce with fontina and parm cheeses and sage), but even if you hate kale, you have to like baby kale smothered in garlicky cream sauce, right? Whether it's Hatch chiles, Parker County peaches, or house-made cold cuts, the toppings on these pies are anything but ordinary. The gluten-free crust at Fireside is arguably better than anything commercially available.
Gluten Free
Critic's choice: HG Sply Co, 1621 River Run, Ste 176, 682-730-6070
A multitude of restaurants offer a few gluten-free or gluten-friendly menu items –– at this point. What separates HG Sply Co from the rest of the GF-wannabe pack is that anything on the menu can be prepared gluten free (or dairy free, if you're into that). Granted, many of the items are already grain-free (if there's no grain, there's usually no gluten), but the gluten-free versions of the kitchen's sandwiches, entrees, sides, and desserts are still delicious.
Steak
Readers' choice: Del Frisco's Double Eagle Steakhouse, 812 Main St, 817-877-3999
Critic's Top 5: In Cowtown, steak is king. Steak is so important at B&B Butchers & Restaurant (5212 Marathon Av, 817-737-5212) that the beef listings take up a third of the dinner menu. Chateaubriand and beef Wellington are available, along with wagyu beef options imported from Japan and here in Texas. Since 2001, Chef Jon Bonnell's Fine Texas Cuisine (4259 Bryant Irvin Rd, 817-738-5489) has resolutely offered a local farm-to-table approach to the menu. The steak you eat tonight came from an Ennis ranch where they raise wagyu beef, and it was dry-aged in Bonnell's kitchen for more than a month. Although the interior looks like the '70s copped a squat and stayed, Cattlemen's Steak House consistently produces an excellent plate of steak from porterhouse to ribeye and sirloin. Del Frisco's Double Eagle Steakhouse (812 Main St, 817-877-3999) has propped up its corner of downtown for more than two decades, and the 18 steak choices include fairly inexpensive medallions, filet mignon, dry-aged prime, and a few exorbitant wagyu offerings. The kitchen at Lucile's Stateside Bistro has been turning out steaks that are simply excellent and underrated for a quarter of a century. You won't find 20 kinds of wagyu beef here, just simple preparations of reasonably sized steaks from the kitchen's hickory wood grill. The weekend serving of prime rib is accompanied by, among other sides, Yorkshire pudding –– rolls basted in beef fat so they're crispy on the outside and tender within.
Appetizers
Critic's choice: Bird Cafe, 155 E 4th St, 817-332-2473 
Most of Bird Cafe's menu consists of appetizers. Sure, there's a "for those who won't share" section on the bill of fare, but much of the offerings are shareable plates, so you can enjoy a patchwork tapas party of good eats. There are sublimely unique dishes, like bone marrow roasted until the fatty goodness puddles in the center of the bones and coats the grilled brioche –– and your whole mouth. Other must-tries include the surf (raw East Coast oysters with herb butter or Prince Edward Island mussels prepared two ways), and turf (Texas beef tartare or wagyu beef cheeks). For you traditionalists, there are also plainly Texas appetizers on the menu, such as deviled eggs and the elevated smoked pimento cheese dip.
Al Fresco Dining
Readers' choice: Joe T. Garcia's, 2201 N Commerce St, 817-626-4356
Critic's choice: Press Cafe, 4801 Edwards Ranch Rd, Ste 105, 817-570-6002
Press Cafe's outdoor patio is extremely pleasant, dog- and kid-friendly, with a nice amount of shade. There's the added bonus of bar service out on the patio area, so you don't have to stand in line inside. When you add the seating on the pretty rooftop, there's actually more drinking and dining space outside than in the restaurant. The fire pits are lovely and well-placed –– just because you don't want to sit by a fire now doesn't mean you won't want that luxury in December. 
Presentation
Critic's choice: Magdalena's, 502 Grand Av, 817-740-8085
Chef Juan Rodriguez is a true artist. His medium is food, and his masterpieces include a tiny grass-green cup of appetizer crab agua fresca garnished with popcorn shoots, a bite-sized citrus- and thyme-kissed halibut crowned with nopalito salad, and a gloriously rotund double-XL-sized pan of paella –– both traditional seafood and meat lover's (with chicken, chorizo, elk sausage, and braised rabbit), all garnished with a grove's worth of lemons and a field of fresh veggies. The prep work for one of his supper club events must take days, or perhaps he has an army of kitchen elves backing him up.
View
Critic's choice: Branch & Bird, 604 Taylor St, 682-785-8888
The eatery at the top of the Frost Tower sits at the Sky lobby level. From the ground, an elevator whisks you up 12 floors into a sleek lounge that houses a dozen tables indoors and perhaps a dozen more on the deck. The outdoor seating, which wraps the building to the west and north, provides a stunning picture of the skyline and sunset. Reservations are a good idea if you want a primo Perch (and some Friday nights, if you want to sit out there as opposed to the indoor seating, although you can sort of enjoy the skyline from the inside, too). 
Field of One
Critic's choice: Delucca Gaucho Pizza & Wine, 2001 W Southlake Blvd, Ste 103, Southlake, 682-477-4040
Sure, you can find all-you-can-eat pizza joints all over North Texas, but this is truly artisan, wood-fired, and delivered to your table round after round with the flair of a Brazilian steakhouse. Upscale and over-the-top, Delucca dishes out 20 varieties of gourmet pies: soppressata with candied bacon, chicken tikka masala, truffle and cheese, and more. Appetizers of antipasto and lobster bisque set the mood for a momentous meal, and decadent dessert pizzas cap it off. Wash it all down with a caipirinha for a unique dining experience at the crossroads of Brazil and Italy.
Atmosphere
Critic's choice: Bartaco, 1701 River Run, Ste 183, 817-663-8226
With a sun-splashed coastal vibe, WestBend's newest eatery transports guests to a far-away beach that's dotted with taco stands and seaside cocktail bars. Bartaco's breezy décor and outdoor patio set the stage for a story of escape, and the food is the star of the show. This Trinity River hotspot is chilled-out for lunch, buzzy for dinner, and straight-up lit on weekend nights. With super-fresh libations and killer street-style tacos, it's the current go-to destination for a mini-vacation any day of the week.
Boozy Brunch
Critic's choice: Mash'd, 2948 Crockett St, 817-882-6723
Punch brunch in the face with $5 moonshine Bloody Marys at Mash'd, a West 7th hangout that puts a wild-eyed twist on breakfast classics. Pigs in a blanket? For sissies. Try Bulls in a Blanket, two cheese-wrapped hot dogs snuggled with bacon inside house-made crepes. The Unholy One is a fried chicken Franken-sandwich with cheese on caramel-moonshine French toast. Go ahead and ask for extra jalapeño syrup when you order. Indulge in cheddar chorizo egg lasagna or chocolate brownie pancakes. With moonshine flights and four flavors of $2 mimosas ($10.99 carafes), this brunch might be the best (and only) decision you make all day.
Brunch
Readers' choice: Blue Mesa Southwest Grill, 612 Carroll St, 817-332-6372
Critic's choice: Press Cafe, 4801 Edwards Ranch Rd, Ste 105, 817-570-6002
Brunch is all about kicking back with friends with a slow roll into a lazy day, and Press Cafe's prime location beside the Trinity River is the perfect place to do just that. Snag a table on the patio and nosh on banana walnut waffles with thick-sliced bacon or a chorizo breakfast burrito. Feeling lunchy? Indulge in a juicy burger or the trailhead chicken salad, a finely tuned and harmonious amalgam of avocado, bacon, pine nuts, and blue cheese on spring greens. Watch the action at the trailhead and get inspired to go for a walk yourself along the peaceful riverbank.
Dessert
Readers' choice: Sweet Sammies, 825 Currie St, 817-332-0022
Critic's choice: Pacific Table, 1600 S University Dr, Ste 601, 817-887-9995
If your idea of an ice cream sandwich is one part Blue Bell and one part Dairy Queen, prepare for a revelation: Pacific Table's homemade peanut butter ice cream sandwiches. Velveteen ice cream oozes between a vise-grip of dark chocolate cookies, all drowning in a pool of hot chocolate syrup and dolloped with whipped cream. Half-orders of just one sandwich are available for the faint of heart. The coconut cream pie and yuzu lemon meringue are just as fabulous. 
Sugar Rush/Donuts
Readers' choice: FunkyTown Donuts, 1000 8th Av, Ste 101, 817-862-9750
Critic's choice: FunkyTown Donuts & Drafts, 132 E 4th St, 817-862-7337
Just when you thought donuts couldn't get any better, FunkyTown's new location in Sundance Square dishes out its inventive pastries with local draft beers –– a surprisingly delicious combination. Stuff your face with an ever-rotating cast of creative and colorful hole cakes like sopapilla, peanut butter and jelly, and maple-candied bacon. Kanye-out with a glass of bubbly or go hipster chic with a cold-brew coffee. Gluten-free and vegan donuts will be available soon on Sundays and Wednesdays.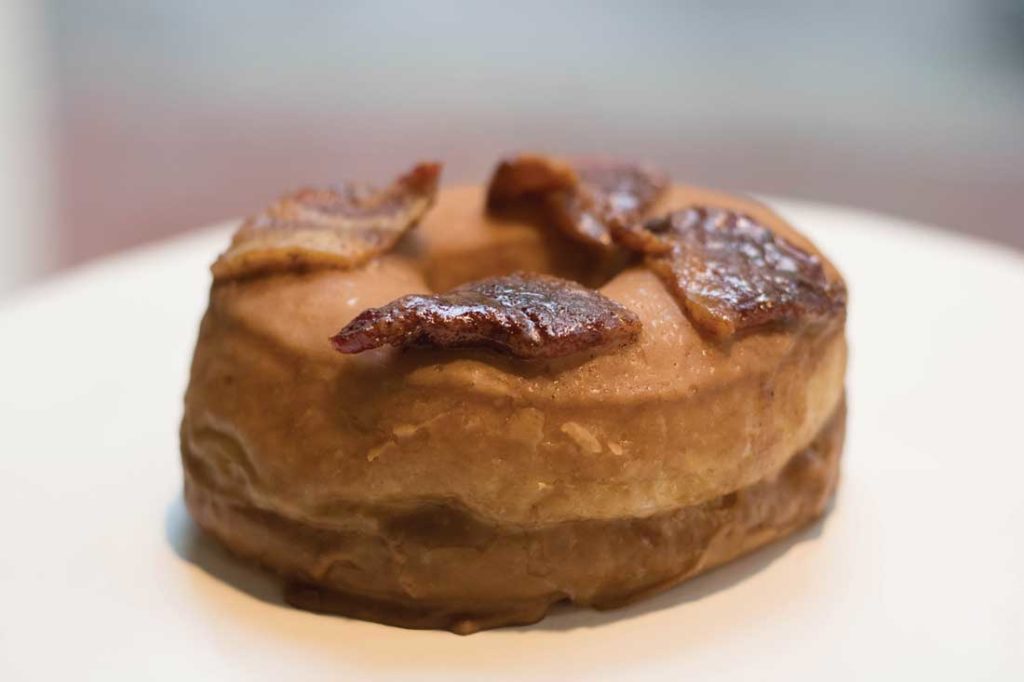 Fries
Critic's choice: Poke Stop, 8605 N Beach St, 817-741-9611
Every flavor of Poke Stop's kimchi fries comes out to play and delivers a palate-smacking bowl of ka-pow! Kimchi gets the royal stir-fry treatment with onion, garlic, and butter before landing on top of a steaming mountain of fries. Ribbons of spicy mayo and cheese swirl around the mound, and a dusting of Japanese chile peppers (togarashi) adds the final zing. The interplay between the tangy kimchi and the creamy sauces takes the salty potatoes to the next level of French-fry love.
Meat/Seafood Market 
Readers' choice: Central Market, 4651 W Fwy, 817-989-4700
Critic's choice: Burgundy's Local, 3326 W 7th St, 817-878-2722
Jon and Wendy Taggart were producing grass-fed and grain-free beef long before it was trendy –– before skinny jeans, artisanal pickles, and LaCroix. In 1999, the couple converted the 13-head herd on their Grandview ranch to 100 percent grass-fed with no hormones or antibiotics. Today, you can buy their grass-fed beef and lamb on West 7th, along with pasture-raised chicken and pork from Texas producers. You'll also find farm-raised rabbit, raw milk cheeses, and beef bone broth. 
Middle Eastern
Readers' choice: Terra Mediterranean, 2973 Crockett St, 817-744-7485
Critic's choice: Istanbul Grill, 401 Throckmorton St, 817-885-7326
With a white-tablecloth vibe and oodles of natural light, this Sundance Square bistro offers a sophisticated taste of Middle Eastern cuisine. The décor is right out of the Grand Bazaar in Istanbul, from the multi-globe lanterns to the intricate plates on the wall. Dabble in foreign flavors with the mixed appetizer platter, a sample of dips and mezes like smoky eggplant baba ganoush and ezme salad with pomegranate molasses. Istanbul's cheese-stuffed, fried phyllo cigarettes should never be banned, and the kitchen's hand-cut lamb could win over the most ardent beef-loving cowboy.
Nontraditional Burger
Critic's choice: Rodeo Goat, 2836 Bledsoe St, 817-877-4628
Grab a seat on a barstool or at a booth in the animal pen and enjoy your God-given right to a hearty burger. This boisterous restaurant is packed early and often. There's no shortage of post-modern burgers on the menu, but the Sugar Burger hits the sweet spot. Candied bacon, caramelized onions, and grilled peaches battle in your mouth for flavor supremacy, jostling with zesty arugula and jalapeño jam. It goes down like a spoonful of magic with Rodeo Goat's house-ground beef patty and an ice-cold beer.
Kids' Dining 
Readers' choice: Breadwinners, 1612 S University Dr, 817-984-8710
Critic's choice: Central Market, 4651 W Fwy, 817-989-4700
Chef-prepared meals for Mom and Dad and gelatos and healthy finger foods for the kiddos are all within reach here. The patio stage features live music Fridays and Saturdays during select months, and the fenced-in playground will keep your little ones entertained long enough to finish off that glass of rosé or pint of ale at a leisurely clip. 
Deli 
Readers' choice: Carshon's Delicatessen, 3133 Cleburne Rd, 817-923-1907
Critic's choice: Carshon's Delicatessen
Whether dining in or taking out, Carshon's sandwiches come with generous portions of corned beef, hot pastrami, salami, and other deli delectables. Locals clamor to this locale daily, ordering sammies by pet names like the "Rachel" (corned beef, turkey, melted Swiss, slaw) or the "Rebecca" (pastrami, cream cheese, smoked turkey). The full-service deli's charming, low-key ambiance sets the stage for popular sides, hotdogs, and desserts as well. The locals have spoken. After 90 years of steady business, Carshon's Deli might outlive us all.
Pan-Asian
Critic's choice: Kona Grill, 3028 Crockett St, 817-210-4216
Kona's fare is all over the Asian map. Dishes like the salmon wasabi sashimi, crispy Korean chicken sandwich, and chicken satay offer an ambitious survey of Eastern cuisine, blending both traditional and fusion techniques. The seemingly endless Asian items, from miso and pad Thai to poke and fusion bowls, are as broad as they are immaculately prepared and presented. 
Burrito
Critic's choice: Bad Azz Burritos, 1200 S Blue Mound Rd, 817-847-5511
This Saginaw-based Tex-Mex restaurant churns out the biggest, most bad-azz burritos in the 817. They stuff the humble Mexican delight into 3- to 11-pound wrapped creations like the Game Changer (brisket, cheddar cheese, guacamole, Bad Azz sauce) and Chili Verde (beans, eggs, pork, potatoes). Finishing one of these mega-wraps would be a feat in lesser Tex-Mex joints. Here, it simply means you've finally joined the burrito big leagues.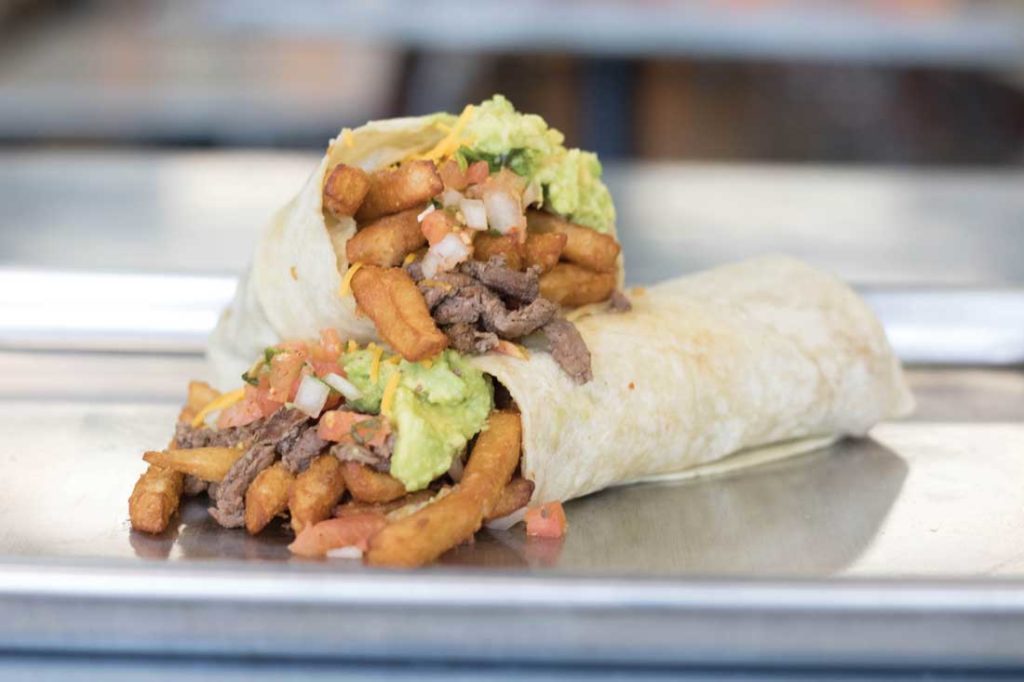 Pig Out 
Critic's choice: Fred's Texas Cafe, various locations
Because YOLO. Trendy burger joints are content to peddle smaller, more refined takes on burgers. Fred's just wants to make sure you don't leave hungry. Gargantuan piles of beef taco meat and cheese nachos and hefty onion rings might spoil your appetite, but if you can make it through those first belt-busting obstacles (and the accompanying meat sweats), the Big Fred and Badlands BBQ Burger are just a few of your second course rewards. 
Potato 
Critic's choice: Cousin's Bar-B-Q, various locations
The Brisket Baker at Cousin's is no mere side order. The football-sized meatstrocity comes piled with Cousin's famed chopped or sliced brisket, both patiently smoked by mild hardwoods. The succulent mound of 'cue is gussied up with melted cheddar, sour cream, fresh scallions, and bits of bacon, all loaded onto a buckling spud. The sweet and tangy barbecue sauce comes as a highly recommended side to complete the belly-bloating (and damn delicious) experience.
Salad 
Critic's choice: Snappy Salads, 6115 Camp Bowie Blvd, Ste 120, 817-560-7627 
No longer a veggie afterthought, local businesses are finally giving salads the attention they deserve. Snappy Salads' most popular leafy creation, Grilled Avocado, blends red-leaf lettuce, black beans, and roasted corn. The veggies are tossed in a tangy chipotle-lime vinaigrette then crowned with grilled avocado slices. Cotija cheese and a light drizzle of Mexican crema top off this hearty Tex-Mex dish.
Online Culinary Maven/Personality
Critic's choice: Cook, Eat, Drank, Repeat
Scotty Scott (@cookdrankeat) takes his 14,000 Instagram followers on a weekly culinary journey through delectable photographs of his home-cooked creations and short online cooking lessons. His dish choices are anything but cliché. Roasted hatch chile with pesto pasta salad and fried smelt with pickled jalapeño tartar sauce, purple radish, black lumpfish roe, and lemon zest were two recent posts. Scott moonlights as a private chef on weekends, serving up his favorite recipes through Fort Worth pop-up dinners.
Tex-Mex (Bargain)
Critic's choice: Los Jimadores Tex-Mex Tequila Factory, 4335 River Oaks Blvd, 817-625-0999
Don't let the fact that the building was once a Bonanza Steakhouse fool you. Los Jimadores in River Oaks has morphed into a damn delightful Tex-Mex restaurant and bar. Between the complimentary chips, red salsa, and rich bean dip, you could theoretically skip lunch or dinner altogether, but that would be a missed opportunity. Simple classics like chicken fajitas may be double the price across town, but they are more flavorful here, with plump, juicy bites of poultry and crisp grilled vegetables. Don't sleep on the pitch perfect tacos al pastor, either. With lunch specials and a very economical happy hour, your drinking and dining dollar stretches further than your waistband probably will. Dress accordingly. 
Grits
Critic's choice: Fixe Southern House, 5282 Marathon Av, 682-707-3965
At Fixe Southern House, Chef James Robert draws from his Louisiana roots to elevate Southern classics like fried chicken, blackened red snapper, and light-as-air biscuits. But when it comes to grits, Fixe serves three styles hearty enough to eat as a solo dinner entrée. The Herbivore employs Anson Mills Antebellum grits topped with garlicky kale, egg, romesco, and a salsa verde. Texas quail crowns the Carnivore grits, served also with pickled pears, pecan granola, and a barbecue consommé. But it's the Pescavore, featuring shrimp resting on a creamy bed of grits with freeze-dried corn, butter, and bottarga (Italian salted fish roe), that will satisfy any craving for both upscale coastal cuisine and down-home Southern cooking. 
Decadent Dish
Critic's choice: B&B Butchers & Restaurant 5212 Marathon Av, 817-737-5212
Houston import B&B Butchers & Restaurant in the toney Shops at Clearfork has already walked the fine line between accessible good food and extravagant fine dining. But clocking in at a scotching $120, what could be more representative of Texans' obsession with red meat than a wagyu steak sandwich? B&B's trims a 6-ounce portion of Japanese A5 wagyu meat into a square, dredges it in flour, egg, and panko bread crumbs, and then flash fries it for 60 seconds. After the oil renders the marbled fat that gives wagyu its enviable texture, the cut is popped onto crustless white bread and kissed with a dash of a katsu sauce. Sure, it will set you back a pretty penny, but maybe it's worth the bragging rights over burning up your Amex over a single sandwich. 
Caterer
Readers' choice: Breadwinners, 1612 S University Dr, 817-984-8710
Critic's choice: JayCee Hospitality, 817-966-5713
Chef Jen Williams' culinary path may include working alongside a James Beard award-winner in the fine dining scene of Chicago and cooking for people like President Obama, but it's her hometown of Fort Worth where she sharpens her knives today. After serving as opening sous chef at Piattello Italian Kitchen and the executive chef of two great but gone eateries, Sera and Magnolia Cheese Co., Williams felt the call to strike out on her own. When she isn't developing customized catering menus for private clients, she orchestrates guerrilla-style kitchens with eclectic seasonal menus at local public pop-up venues such as The Collective Brewing Project and Acre Distilling.
Red Salsa
Critic's choice: Happy Tomato Fresh Foods, 817-841-9266
Whether you're hosting a party or watching football on Sunday, it's not always ideal to swing by your local favorite restaurant and wait for them to pour out a gallon of their red salsa into a Styrofoam cup. That is where Fort Worth resident Lauren Keefe takes over the heavy lifting for you. Happy Tomato salsa is made with all fresh ingredients and no preservatives or any other unnecessary chemicals commonly found in the standard jarred brands. To fit your sweet spot of heat, Happy Tomato offers Mild, Medium, and the scorching Diablo varieties. The bright flavors have become a favorite at Central Market, Whole Foods, Natural Grocers, and Roy Pope since the brand first hit the refrigerated section.
Green Salsa
Critic's choice: Taco Time Mexican Grill, 12555 FM 730 S, Azle, 817-270-5430
Taco Time Mexican Grill has five locations in the Azle, Boyd, Springtown area, but the one we hit most often is located inside a Kwik Stop on Azle's southern outskirts. The salsa verde is always flavorful and spicy, with just the right amount of jalapeños (lots), garlic (little), and tomatillo (even less). After being made fresh, the sauce is refrigerated and then given to diners in squirt bottles. A little taste of that green goodness makes every dish on the menu taste that much better.
Home Cooking 
Readers' choice: Dixie House Café, 5401 S Hulen St, 817-361-8500
Critic's choice: Addy's Café, 6038 Lake Worth Blvd, Lake Worth, 817-862-7912
What looks like a small, nondescript joint alongside Jacksboro Highway –– actually a converted Taco Bell building –– is home to some of the most bodacious home cooking around at reasonable prices. Yes, they serve tasty hamburgers fresh off the grill (the mushroom burger with grilled onions is deliciously decadent), but it's the rest of the menu that keeps us returning. Roasted potatoes and fresh veggies accompany meals, sometimes floating in arrabiata sauce. Pasta courses are a specialty. You can still find goulash here. And the kitchen's plump chicken-fried steak is perfectly sized, crusted, and seasoned, and it's smothered in fresh cream gravy. 
Tamales
Readers' choice: Esperanza's Restaurant & Bakery, 2122 N Main St, 817-626-5770
Critic's choice: Mariposa's Latin Kitchen, 5724 Locke Av, 817-570-9555
Picture in your mind a standard tamale. Now, envision it bigger. Bigger. Even bigger. And that's what a Mariposa's Tamale Grande looks like –– three times the size of your average tamale and twice as flavorful, particularly when smothered in Mariposa's distinctively fresh and zesty salsa. 
Farmers' Market
Critic's choice: Farmers' Market, 5507 E Belknap St, Haltom City, 817-838-8526
The Parker County peach season is winding down, and we've spent the past few months haunting area farmers' markets in search of the best batches. And what a pleasant surprise it was to discover that this decades-old, family-owned open-air marketplace was offering some of the best examples we found this season. Why the surprise? Well, many farmers' markets emanate an aura of exclusivity by opening one day a week only, usually Saturday, for a few hours in the morning. This Haltom City store stays open all day, six days a week, while peddling some of the freshest, tastiest, juiciest, locally grown produce around. The market is far from snooty, however, also offering a wide array of fruits and veggies grown out of state. Recently, we savored a delivery of homegrown tomatoes from Tennessee. Our friendly taste buds don't discriminate against non-Texas growers.
Best-Kept Secret
Critic's choice: Las Pericas, 915 E Northside Dr, 817-332-5997
This hole in the wall flies below the radar but is no secret to the workers in the surrounding warehouse district. The employees can be seen smacking their lips while crossing Northside Drive during lunch hours to fill up on this authentic Mexican fare. The stand-alone building that once housed a mediocre chicken-fried steak joint and catered to tenants at an adjacent hotel was transformed about a dozen years ago and has slowly, quietly, discreetly become one of the North Side's best culinary gems. 
Late-Night Dining
Critic's choice: Twilite Lounge, 212 Lipscomb St, 817-720-5483
The new-ish, stylish Dallas import to the Near Southside serves its authentic po' boys until 2am daily. The massive Cajun-inspired sammy bursts with lettuce, tomato, pickles, mayonnaise, and plump, perfectly grilled and blackened shrimp, all crammed into a sturdy roll of French bread. There may not be a better version of the po' boy in town –– there certainly isn't a superior option at bar-thirty. 
Taqueria
Critic's choice: Mariachi Tacos, 301 S Sylvania Av, 682-760-9606
It may be new, but Mariachi Tacos' chef Angel Fuentes and owner Ashley Miller know their way around a taco. Fuentes worked at such well-respected local eateries as Embargo, Bird Cafe, and, most recently, Local Taco H's. The quality of his food belies the convenience store setting. All of the meats are prepared with a chef's attention to detail and burst with nuanced flavor. Fuentes' menu also offers a few unexpected flourishes, such as grilled cheese sandwiches, burgers and fries, and plenty of vegetarian/vegan options.
Brisket
Critic's choice: Billy's Oak Acres, 7709 Camp Bowie West, 817-731-2278
Critical darling Billy Woodrich's namesake restaurant may have moved, but his pit is still the envy of the local barbecue world. Though Billy's excels at preparing every imaginable cow and pig part, you'd be remiss not to try the kitchen's smoky, moist, fatty brisket in between a bun with onions, pickles, and the house sauce. It's a destination spot for lovers of real Texas 'cue. 
Indian
Readers' choice: Maharaja, 6308 Hulen Bend Blvd, 817-263-7156
Critic's choice: Mughlai Fine Indian Cuisine, 3311 E State Hwy 114, Southlake, 817-251-0663
Set in a toney suburb, Mughlai's sophisticated subcontinental cuisine would stand out in any city. The ample buffet is available seven days a week, and the regular menu offers upscale versions of classic Indian dishes as well as the kitchen's own inventive creations. Chicken, goat, and lamb feature prominently on the menu, along with some seafood dishes and, of course, plenty of vegetables. Everything is fresh-tasting and colorful, and the service and atmosphere are top-notch. 
Cajun
Readers' choice: Tributary Cafe, 2813 Race St, 817-744-8255
Critic's choice: Tributary Cafe
Forget Cajun. This Race Street gem could be the best restaurant of any style in this city. The kitchen delivers authentic Cajun classics elevated by the quality of the ingredients and Chef Cindy Crowder-Wheeler's rich, developed flavors, such as the seafood gumbo, whose roux is cooked just short of total darkness and infused with celery and onions and its shrimp, oysters, crab, and okra served plump and fresh without being over-saturated by the broth. 
Soup
Critic's choice: Cafe Modern, the Modern Art Museum of Fort Worth, 3200 Darnell St, 817-840-2157
We should rename the Cultural District the Only Area Where You Can Get a Decent Cup of Soup that Isn't Ramen or Pho. It's got a nice ring, right? Between Peter Kreidler's offerings at The Buffet Restaurant at the Kimbell and Denise Shavandy's rotating selections at Cafe Modern, the museums are elevating d'soup to d'art. If we had to choose one over the other, and that's a tough call, we'd nod sheepishly to Cafe Modern's bolder, more seasonal flavors. 
Seafood
Readers' choice: Eddie V's Prime Seafood, 3100 W 7th St, 817-336-8000
Critic's choice: Waters: Jon Bonnell's Coastal Cuisine, 301 Main St, 817-984-1110
The move to Sundance Square didn't change Chef Jon Bonnell's commitment to quality, locally sourced seafood served fresh and presented beautifully. Waters is one of scandalously few kitchens that serves up more than just one or two raw shellfish varieties. For a real treat, try the Dirty Dozen, a flight of premium oysters from around the country –– it's decadence on a half-shell. 
Chili
Critic's choice: Chili Parlor at White Elephant Saloon, 106 E Exchange Av, 817-624-8273
Tim Love's chili mecca might be small (it's set in what used to be a storage closet), but its flavors of the Texas red are mighty. Choose between Love's signature beef and stewed green pork and add on additions such as freshly grated cheddar cheese, cilantro, and crème fraîche. Each bowl is served with crackers and housemade cornbread. There isn't a better version or a better setting for the official snack of Texas. 
New Restaurant 
Readers' choice: Malai Kitchen, 5289 Monahans Av, 682-707-3959
Critic's choice: B&B Butchers & Restaurant, 5212 Marathon Av, 817-737-5212
Yes, it's a chain (though a small one –– the local outpost is the Houston-based eatery's second locale). Yes, it's set in the cookie-cutter, anodyne luxury of The Shops at Clearfork. And, yes, the kitchen serves a gimmicky 80-gazillion dollar burger made with unicorn meat or something. But we have to (as the kids say) give props where props are due. B&B Butchers offers a little something for everyone: inexpensive sandwiches, perfectly marbled aged steaks, a kitchen as precise as a Swiss-made watch, and a swanky bar area with delicious cocktails on tap. It may not be local, strictly speaking, but every facet of B&B's operation is near perfect. 
Restaurant
Readers' choice: Tributary Cafe, 2813 Race St, 817-744-8255
Critic's choice: Cannon Chinese Kitchen, 904 W Cannon St, 817-238-3726
It's not the fanciest restaurant, although the gorgeously hued serving ware and colorful wallpaper signal an experience that caters to all of the diner's senses, not just smell and taste. Co-owners Jarry and Mary Ho (who also own Shinjuku Station and Tokyo Cafe) offer a simple menu that blends recognizable Chinese staples with Chinese-inspired dishes that show off interesting combinations of ingredients. Purists will find the wonton soup, dumplings and steamed buns, Kung Pao or orange chicken, and beef chow way more inventive than joints with astrology placemats. The real food-literate will enjoy the kitchen's fun takes on classic dishes as well, including diced maple tofu, Taiwanese fried chicken, Chinese sausage, leek-fried rice, and duck-fried rice. Friendly staff, pretty environment, impeccable presentation, and food that's not smothered in MSG-laden orange or brown sauce or held under a heat lamp for hours? We call that the best.
Soul Food
Critic's choice: Taste-N-See Chicken and Waffles, 2880 W Berry St, 682-841-1870
Co-owners DeMarcus Davis and Anita Wilcox made the jump from the southwest part of town to the Berry Street location that recently housed Cafe Brazil, and their soul food standout is already the best dining option in the area. Taste-N-See's kitchen is well known for two things: It doesn't skimp on portions, and it knows how to make huge, moist, flavorful chicken. When you go, it's mandatory that you try one of the chicken-and-waffle combos. They're as good as anything you'll find at better-known eateries and at a fraction of the price.
Lunch Bargain
Critic's choice: Paul's Donuts Subs & Gyros, 124 Hemphill St, 817-926-5500
If you're trying to please everybody and still maintain your cool, you'd open this place. The donuts are good, but you come here for the gyros. At a scant $5.40 after tax, you probably still won't be able to finish what's on your plate. More in the mood for a Greek salad? Turkey sub? Everything here is good. It's definitely no-frills but well worth a visit.
Italian
Readers' choice: Nonna Tata, 1400 W Magnolia Av, 817-332-0250
Critic's choice: Piattello Italian Kitchen, 5924 Convair Dr, 817-349-0484
We gave them this award last year and would have liked to give it to someone else this year, but no worthy challengers rose up to take the crown from this Waterside eatery. The decadent strozzapreti cacio e pepe and the wood-fired pizzas are more than enough. (When is the porchetta coming back on the menu?) The bar earns Piattello bonus points for its cello flight of limoncello, arancello, and limecello.
Quesadillas
Critic's choice: Papaya Mexican Grill, 100 W Pioneer Pkwy, Arl, 682-283-3073
Oh, yeah. This is the place. Quesadillas aren't about eating healthy. They're about loading up your tongue with decadent cheese, with either a piquant pico de gallo to offset it and/or a sour cream dip to go whole hog. Whether you order steak, chicken, or (our choice) shrimp as a filler, this acclaimed Arlington spot's cheesy treats will satisfy your primal urge for meat and cheese.
Bakery
Readers' choice: Swiss Pastry Shop, 3936 W Vickery Blvd, 817-732-5661
Critic's choice: 85°C Bakery Cafe, 628 Harrold St, 817-882-8585
The concept of Asian baked goods is foreign to many Westerners, so here's to this chain founded by a Taiwanese businessman for introducing us to breads with mango, mung bean, and the earthy-chocolaty flavor of red bean paste. And if you're craving just a good old-fashioned Black Forest cake, this place off West 7th Street will be happy to oblige. 
Kolaches
Readers' choice: Pearl Snap Kolaches, 4006 White Settlement Rd, 817-233-8899
Mac 'n' Cheese
Critic's choice: Heim BBQ, 1109 W Magnolia Av, 817-882-6970
It's easy to overlook amid the bacon-burnt ends, the brisket, and everything else this place does well, but the green chile cheesy mac here is top-drawer as well –– a spicy antidote to all the bacon and truffle versions of this dish that other places have. Oh, and you don't have to wait for Hatch chile season to get it, either.
Frozen Treat
Readers' choice: Melt, 1201 W Magnolia Av, Ste 115, 817-886-8365
Critic's choice: Amorino, 5274 Monahans Av, 682-312-9115
When you go for ice cream, you want to be spoiled. What's better for that than cooking up waffles and crepes to go with your gelato at this pricey-but-worth-it parlor? This chain's flavors are made with imported pistachios, organic mandarin oranges, and Madagascar vanilla –– and don't miss out on the explosions of taste you get from the shop's gelato-filled macarons. 
Sausage
Readers' choice: The Sausage Shoppe, 3515 Sycamore School Rd, 817-921-9960
Critic's choice: David's Barbecue, 2224 W Park Row Dr, Pantego, 817-261-9998
Let other barbecue joints give you sausage coins. This venerable Pantego eatery showers you with great honking chunks of tubular meats big enough to choke you if you swallow them whole. Though why would you do that, given the pleasing snap in the casings of these perfectly seasoned morsels? If you're having a sausage party and don't fear the meat sweats, here's your hangout.
Barbecue
Readers' choice: Heim BBQ, 1109 W Magnolia Av, 817-882-6970
Critic's choice: Hurtado BBQ, pop-up locations, 682-401-7888
Let the purists fume at this business' introducing Mexican flavors into their sacred barbecue. We'll just be over here savoring Brandon Hurtado's tender and flavorful brisket nestled in a flour tortilla, or maybe we'll enjoy a jalapeño cheddar sausage all by its lonesome. The new establishment has no brick-and-mortar building, so you'll have to follow it around to appearances at local drafthouses and breweries or throw a large party so you can have them cater.
Wine List
Readers' choice: Malai Kitchen, 5289 Monahans Av, 682-707-3959
Critic's choice: Winslow's Wine Cafe, 4101 Camp Bowie Blvd, 817-546-0483
Hmm, what do we mean by "best wine list"? Is it something that gives you a little bit of everything? A focused document that offers a clear idea what the sommelier likes? Or is it a doorstop that takes hours to read but is sure to have something for everyone at your table? We'll go with this Camp Bowie institution that has somehow never won this award before, offering a seasonally rotating lineup of surefire hits like Argentinian malbec and novelties like white pinot noir.
Hot Dogs
Readers' choice: Weinbergers Deli, 601 S Main St, Ste 100, Grapevine, 817-416-5577
Place to Buy Fruits and Veggies
Readers' choice: Central Market, 4651 W Fwy, 817-989-4700