Cheap Buzz
Critic's Top 5: Along with property taxes in Fort Worth, it seems like our booze tabs have been increasing exponentially. There's never been a better time to make those drinking dollars stretch, so here are our Top 5 places for a cheap buzz. While every other joint in town seems to have margaritas for a million bucks, Los Jimadores Tex-Mex Tequila Factory (4335 River Oaks Blvd, River Oaks, 817-625-0999) puts out top-shelf drinks for a closer-to-well price. Happy hour is 11am-7pm Mon-Fri, so there's plenty of time to taste test more than one drink without going broke. The antithesis of the toney steakhouses on the southern side of downtown, Malone's Pub (1303 Calhoun St, 817-332-5330) is just the spot to snag enough drinks to wet your whistle and not murder your wallet. Belly up to the bar for the same single-malt scotch as the neighbors' but sold at a fraction of the price. MASS (1002 S Main St) may be a live music venue, but it's also a place with screaming deals on drinks before the shows begin. Take advantage of soundcheck time and score quality brews and shots of the hard stuff for a price that won't make you want to shout at the devil when you see the tab later. Over at the Tin Panther (937 Woodward St, 817-720-6868) the drinks are always reasonable and the pours generous, leaving enough dough left over to tack on a shot of Jameson and get the party started right. You don't have to be a TCU student to take advantage of booze specials at The University Pub (3019 S University Dr, 817-345-7633), even if you can't hold your liquor like a college kid anymore. The specials rotate frequently, including some heavy hangover makers like Long Island Ice Teas and beers-and-a-shot's. 
Overall Drinking Establishment
Critic's choice: Shipping & Receiving, 201 S Calhoun St, 817-887-8313
Sure, Shipping & Receiving attracts a lot of famous fans, but the bar comes by the affection of both celebrities and regular folks honestly. On a normal night, you're likely to see singles tossing back cold beers, neighbors catching up on the gossip, dogs lazing about the floor, couples on first dates, and maybe even a nationally recognized recording artist taking a break from the adjacent studio. The charm of a place like Shipping & Receiving is how unaffected the experience remains in the face of a changing community. It's a rather difficult feat to be both a small pub and a place capable of scaling up to events for hundreds of people, but somehow S&R accomplishes this regularly without losing sight of the important part: being a spot for us to simply relax and have a damn good drink.
Happy Hour
Readers' choice: Rio Mambo, 6125 SW Loop 820, Ste 820, 817-423-3124
Critic's choice: Taverna, 450 Throckmorton St, 817-885-7502
With half-price booze and appetizers, all in a swanky yet unpretentious setting that attracts tourists and locals alike, the happy hour at this downtown Italian institution is the best, whether it's for a first date, a 1,000th date, or an after-work powwow. And if you get some of the lawyers from the nearby courthouse sauced enough, you'll stumble into some free legal advice. Recommended apps: the scrumptious, melt-in-your-mouth carciofini gratinati (baked artichoke hearts with garlic, parsley, cream, fontina cheese, and breadcrumbs served with garlic bread) and the simple yet effective bruschetta.
Bartender
Readers' choice: Kalin Cooper, Shot: 30 at The Whiskey Garden, 2800 Bledsoe St, 682-312-7708
Critic's choice: Jason Pollard, The Usual, 1408 W Magnolia Av, 817-810-0114
Chances are if you have pulled up an oh-so-sleek white leather stool to the rail at The Usual, you've already met head bartender Jason Pollard. The bar's style of pre-Prohibition craft cocktails requires an attention to detail and precision that few drink slingers around town have the patience to execute properly. To Pollard, the type of pour is an artform. He is thankfully based in our fine city, but he also takes his talents for the tipple over to philanthropic bartending competitions like the Ultimate Cocktail Experience in Dallas. Though he works in the side of the beverage industry that often attracts snobbishness, you don't have to worry about getting an upturned nose or a lecture when asking for a recommendation from this affable drink specialist.
Mixologist
Readers' choice: Jason Pollard, The Usual, 1408 W Magnolia Av, 817-810-0114
Critic's choice: Austin Fields, Off the Record, 715 W Magnolia Av
Cocktail craftsmith Austin Fields recently set up shop at Off the Record after a long stint at Proper. The gin and whiskey maven shakes and mixes her smooth adult beverages with hustle and just the right splash of pizzazz. Her gin Lavender Collins is heavenly — fizzy, sweet, and floral. Fun fact: Fields is a sculptor of no small repute who had a recent show at WestBend and will have another at Fort Works Art later this fall. Whether blowing or shaking, Fields is in her element around glass.
Cocktail Lounge
Readers' choice: The Usual, 1408 W Magnolia Av, 817-810-0114
Critic's choice: 4 Kahunas Tiki Lounge, 506 E Division St, Arl, 682-276-6097
With freshly squeezed juices and syrups made in-house, this newish Arlington retreat knows how to transport the customer to the faraway shores of the South Pacific. Not only is the décor appropriate, but the drinks are straight out of the jet set age. The Zombie is a beautiful mélange of assorted rums topped with grated nutmeg, while the Headhunter blends dark rum, assorted liqueurs, cinnamon, and a banana. Don Draper never had it so good.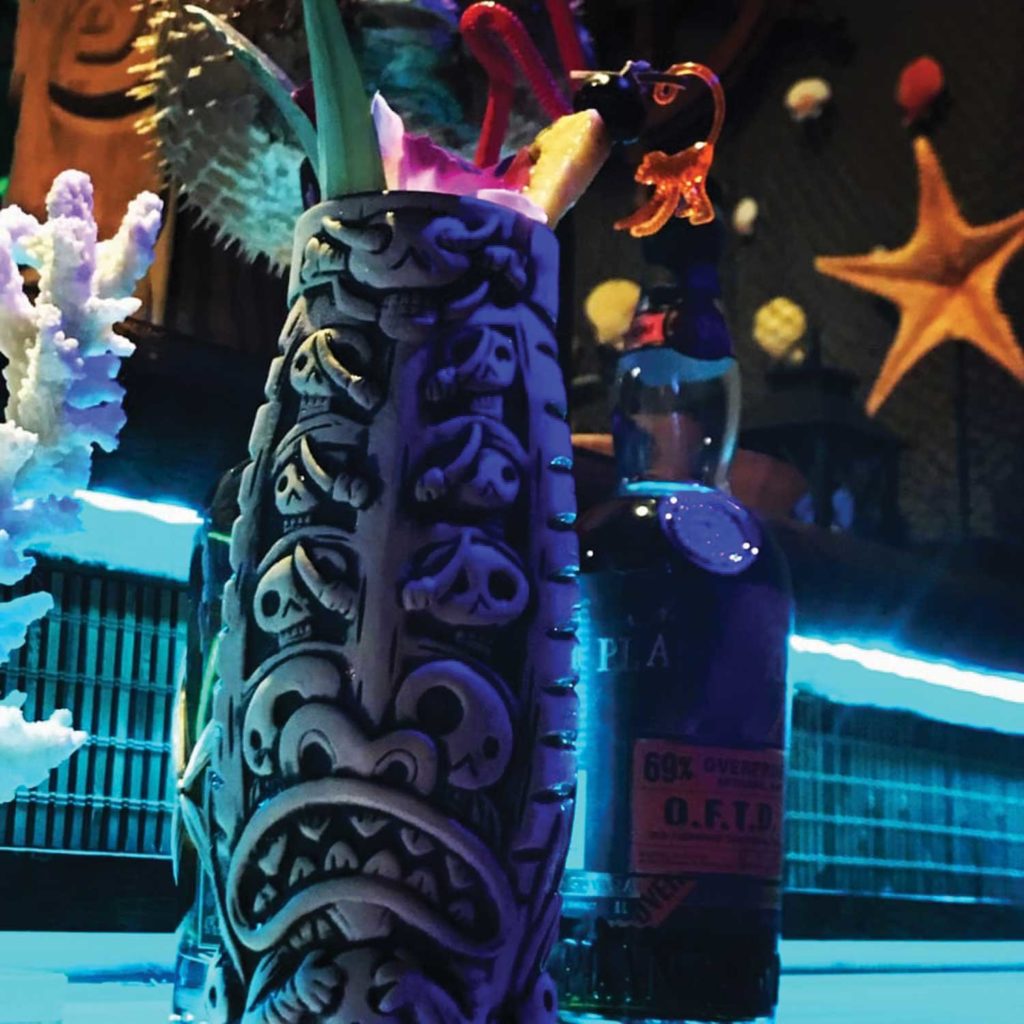 Pub
Readers' choice: Conlon's Pub, 2528 White Settlement Rd, 817-698-9777
Critic's choice: The University Pub, 3019 University Dr, 817-345-7633
The Pub, as it is more popularly known, may have updated its look with fancy things like windows and modern, flat-panel TVs, but beside those two new sources of light gleams the charm that's made the Pub TCU's unofficial HQ for over 30 years: cheap drinks, good times, and the kind of town-and-gown camaraderie that only happens over pitchers of domestic drafts. Old timers needn't worry –– the Polaroids on the wall and the pool table are still in the back, right where you left them when you were in college.
Craft Cocktail
Readers' choice: The Usual, 1408 W Magnolia Av, 817-810-0114
Critic's choice: Thompson's Bookstore, 900 Houston St, 817-882-8003
There's something both decadent and deliciously nerdy about tipping back the knockout cocktail Grapes of Wrath in a space that once held first-edition copies of the literary classic with the same name. Thompson's Bookstore is one part craft cocktail mecca and one part a step back in time to when this sector of downtown Fort Worth was the red light district. The menu is as long and wordy as a Faulkner novel, but the drinks passed across the bar represent both the historical effects of prohibition and how daring Thompson's bartenders can be while riffing on old standbys. If you need to hide out from an ex, instead of the law, there are secret passageways, an underground bar accessed by password, and plenty of nooks and crannies in which to furtively imbibe.
Craft Beer
Critic's choice: Rahr & Sons' Paleta de Mango
Rahr & Sons' Dadgum IPA snagged the best beer win last year, and the veteran brewery has done it again. The cerveza de sesión began as a collaboration between Rahr and Casa Cervecera Morenos brewery in Mexico. The magic ingredient is the tajín chile, which gives the light beer the perfect tinge of heat. Add in the pleasant but not overwhelming sweetness of mango, and it's easy to see how the 14-year-old brewery still sets the bar for local beer.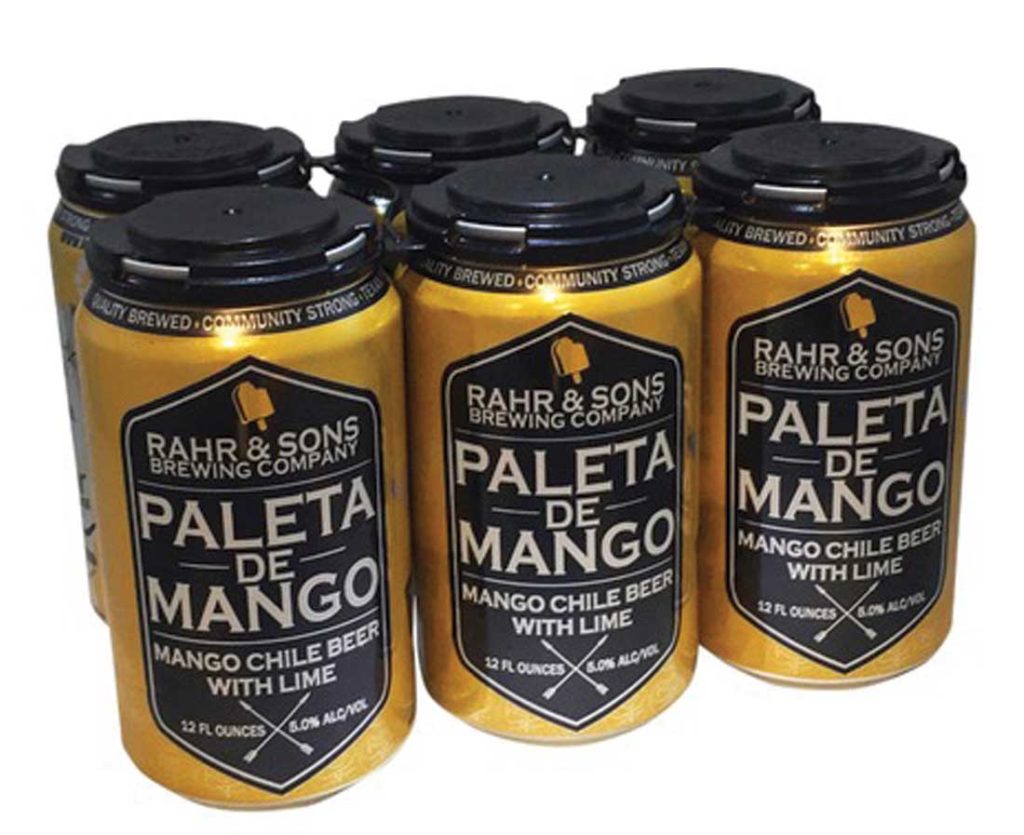 Bar Bar
Readers' choice: The Chat Room Pub, 1263 W Magnolia Av, 817-922-8319
Critic's choice: Ozzie Rabbit Lodge, 6463 E Lancaster Av, 817-446-9010
Located somewhere within the demilitarized zone that buffers the border between the Fort and that mecca of publicly funded stadiums, this rustic homage to Lee Harvey Oswald (whose final resting place sits just a few blocks down the road) is proof that not all of Cowtown's best drink joints reside west of I-35. Twelve years ago, Cave's Lounge co-owner Tommy Osbakken resurrected the spot once inhabited by the legendary Tattoo Bar, transforming the once seedy stomping grounds of Pantera's metal-frenzied entourage into a comfortable, vibey, grownup bar: great tunes on the juke, friendly barkeeps, a roomy, smoke-friendly patio, and, perhaps best of all, an atmosphere largely free of the suffocating cloud of pheromones that tends to hang over the meat markets frequented by the under-30 crowd.
Biker Bar
Critic's choice: The 2500 Club, 2500 E Belknap St, 817-834-8963
Bikes, broads, and booze is what they advertise, and bikes, broads, and booze is what they deliver. No, you can't go to the 2500 Club and get a brass-knuckle sandwich, and, no, Marlon Brando is not gonna tell you to move on out, but it's still a bar that caters to bikers and serves decent food and offers barbecue challenges and all that stuff that people with $30,000 Harleys dig. 
Brewery
Readers' choice: Rahr & Sons Brewing Company, 701 Galveston Av, 817-810-9266
Critic's choice: The Collective Brewing Project, 112 St. Louis Av, 817-708-2914
The Collective Brewing Project has always punched above its weight. The Near Southside brewpub knocked it out of the ring early on by releasing Petite Golden Sour, an unapologetically tart wild ale. While the core lineup has evolved, cofounder/brewer Ryan Deyo has ensured that his brewery remains synonymous with bold sours, food-inspired ales (ramen and cherry limeade were two recent releases), and fun. 
Distillery
Readers' choice: Firestone & Robertson Distilling Co., 4250 Mitchell Blvd, 817-840-9140
Critic's choice: Acre Distilling Co., 1309 Calhoun St, 817-632-7722
Located in the downtown district once known as Hell's Half Acre, Acre Distilling honors that rough and tumble time by crafting bourbons and whiskeys that carry names like Longhair Jim bourbon and Hell's Half Acre gin. True to their Lone Star roots, Acre Distilling exclusively brews and distills using Texas grains. The distillery offers a posh bar where you can order mixed drinks, cheese boards, flatbread pizzas, and cappuccinos. This area, once known for gunslingers, still knows how to sling a well-crafted cocktail.
Taproom Tour
Critic's choice: Wild Acre Brewing Company, 1734 E El Paso St, 817-882-9453
A great taproom tour experience combines ambiance, ample seating, superlative beers, and top-notch customer service. Wild Acre's outdoor patio is sprawling. Outdoor spaces are common at all of Fort Worth's breweries and brewpubs, but Wild Acre provides dozens of shaded wooden picnic tables along with carefully groomed walkways. Ample indoor and outdoor pouring stations mean you'll spend less time in line and more time clinking pints with friends.
Sports Bar
Readers' choice: No Frills Grill & Sports Bar, 1550 Eastchase Pkwy, Ste 1200, 817-274-5433
Critic's choice: Upper 90, 961 W Magnolia Av, 817-882-6614
Spots exclusively for sports appear to be going the way of breastaurants. Or vice-versa. Are breastaurants the new sports bars? This is heady territory here, fodder for much deeper conversations that this meager space will allow. Located as we are in neither Las Vegas nor Atlantic City, where the concept of "sports bar" is something else entirely, we still have a few holdovers. The best among them, in our humble opinion, is Upper 90. Specializing in opening early on weekends for soccer games, the Near Southside watering hole is also a primo spot for catching the latest Rangers fiasco or Cowboys disappointment. TVs abound, and there's even an adjacent smoking section for you health nuts.
Gentleman's Club
Readers' choice: Bucks Cabaret, 2345 Meacham Blvd, 817-740-0026
Critic's choice: Rick's Cabaret, 7101 Calmont Av, 817-732-0000
This Westside mainstay is our favorite for adult entertainment, as the dancers are as athletic as they are attractive, and watching them perform jaw-dropping moves on the pole is as exciting as it is titillating. If you enjoy being easily parted from a stack of bills, Rick's is the place to be.
Margarita
Readers' choice: Joe T. Garcia's, 2201 N Commerce St, 817-626-4356
Critic's choice: Taco Heads, 1218 Montgomery St, 817-615-9899
The best margaritas use freshly squeezed juices and good tequila and are equal parts strong and sweet –– never cloying or masquerading as a dressed-up shot. No one mixes the most popular cocktail in Texas better than the staff at Taco Heads, whose version is perfectly balanced, fresh-tasting, and reasonably priced for the quality. 
Martini
Readers' choice: Lucile's Stateside Bistro, 4700 Camp Bowie Blvd, 817-738-4761
Critic's choice: The Usual, 1408 W Magnolia Av, 817-810-0114
The staff at Fort Worth's first craft cocktail purveyor is capable of mixing complex, flavorful, and stunning drinks with 87 ingredients, including smoke, herbs, and unicorn tears. They also know how to back off and let the taste of the liquor shine, which is the case for the stylish Near Southside bar's version of the gin martini. It may seem like a waste of talent, like driving a Corvette and never getting out of second gear, but sometimes the elegant simplicity of a martini is all you want, and few stir with more care than the mixologists at The Usual. 
Wine Bar
Readers' choice: Winslow's Wine Cafe, 4101 Camp Bowie Blvd, 817-546-6843
Critic's choice: Crú Wine Bar, 5188 Marathon Av, 817-737-9463
The entire wall stacked with bottles is a sign that this place is serious about their grape juice. Yet this Texas-based chain (expanding to other states soon) refuses to take itself too seriously as it offers up about 20 themed flights that let you get the feel of a region or a grape varietal. The new location in The Shops at Clearfork welcomes in newcomers as well as seasoned drinkers, with knowledgeable staff advising you on what to pick off that wall.
Bar Décor
Critic's choice: Twilite Lounge, 212 Lipscomb St, 817-720-5483
New local bar décor seems to be ripped directly from pages 345-348 of the IKEA catalog or filled with junk repurposed from a defunct TGI Fridays. Twilite has a wholly different esthetic, one that comes straight out of an Anne Rice novel about vampires running amok in the Crescent City. The jukebox is stocked with Delta blues and brass bands, '60s soul, and a hint of jazz. Every inside surface of this converted warehouse is bedecked with the rich and velvety textures of the Deep South at the turn of the last century. For some privacy, slip away to canoodle on couches and divans under low lamp light while sipping on Sazeracs and Dark n' Stormy cocktails. Twilite's décor succeeds in transporting the drinker from modern day Fort Worth to New Orleans, for just a spell.
Bar Games
Readers' choice: Barcadia Bar & Grill, 816 Matisse Dr, 817-348-8606
Critic's choice: JJ Dakota's, 9112 Camp Bowie West, 817-244-9000
This dive bar with nearly a dozen full-sized pool tables, foosball, electronic and standard dartboards, and inexpensive beers and liquors is definitely the place your mom warned you not to hang around in if you wanted to amount to anything. Other than a pool shark, of course. But you knew better. This is simply the place to go if you want a couple of beers and don't want to wait in line for cues. It's big and sometimes rowdy but always fun. The bartenders are great, too.
Beer Selection
Critic's choice: Flying Saucer Draught Emporium, 111 E 3rd St, 817-336-7470
In the race to offer evermore tapspace, Flying Saucer set the bar 22 years ago by offering hundreds of beers on draught and in bottles. More recently, the pub/restaurant revamped its beer menu to help guide curious newcomers by highlighting brews that stand out from the crowd. Ales and lagers are rated as "excellent" or "transcendent" by Flying Saucer's discerning beer mavens. And for adventurous hopheads, there is a "Ghost Gauntlet" blind tasting flight.
Party Patio
Readers' choice: Joe T. Garcia's, 2201 N Commerce St, 817-626-4356
Critic's choice: America Gardens, 2833 Morton Street, 817-439-9660
Ice-cold beer, sprawling patios, outdoor games, and live music are just a few of the reasons America Gardens is the champion of party patios. The large space pulls off a convincing outdoor feel with live oaks scattered among innumerable seating options, and the patio games (ping-pong, giant Jenga, foosball, lawn bowling) are built to adult-sized scale.
Rooftop Patio
Critic's choice: Branch & Bird, 640 Taylor St, 682-785-8888
Branch & Bird opened earlier in 2018 on the Sky Lobby Level of the brand-new Frost Tower. Originally the bar and restaurant was dubbed Perch, a fitting name for the bird's-eye view of downtown Fort Worth from the 12th floor terrace. Outdoor seats at happy hour afford an often gasp-worthy Texas sunset as the backdrop. Sure, Branch & Bird's cocktail, beer, and wine lists are small and fairly pinkies out, but with this setting, even a Miller High Life would feel like the Champagne of Beers –– if they served such things. As downtown becomes more densely packed with new construction, the view over time from the Frost Tower will change, so keep looking while this is still the prettiest patio in town. 
Bar Bathroom
Readers' choice: The University Pub, 3019 University Dr, 817-345-7633
Critic's choice: Off the Record, 715 W Magnolia Av
Yes, we are aware that the mirrors above the sinks are kind of high if you're a short person, but OTR's unisex bathrooms are spacious, clean, and, most importantly, their doors lock, so you can actually have a little privacy when you're climbing in and out of those rompers or whatever it is you're doing in bar bathrooms that's taking so damn long.
Country Music Bar
Critic's choice: Billy Bob's Texas, 2520 Rodeo Plaza, 817-624-7117
We've shown much affection to this iconic haunt over the years and tend to showcase other spots for this annual award. However, the club's owners have split into factions and become embroiled in a nasty court battle. We figure the club could use a big hug. Not that we're throwing Billy Bob's a bone. The so-called world's largest honkytonk boasts history (Merle Haggard once bought a round for the house), authenticity (club namesake Billy Bob Barnett once managed George Jones), shtick (the Grauman's Chinese Theater-like celebrity handprints allow you to put your hand right where Willie's was), great location (Stockyards), and mechanical bulls. Heck, they have live bulls. Makes for a right night of drinking and two-stepping.
Open-Mic Night (Music)
Critic's choice: MASS, 1002 S Main St
There's a distinction between songwriter's workshops and open-mics, and MASS's Monday night is definitely of the latter. Host Joshua Ryan Jones makes room on the big stage for a wide swath of skill levels and schticks, so whether you've written your first three songs ever, you're a comedian trying to shore up a tight five, or some kind of clown who's added a third tennis ball to his juggling rotation, Monday nights at MASS are there for you to fumble your way to future stardom.
Open-Mic Night (Comedy)
Critic's choice: Arlington Improv, 309 Curtis Mathes Way, Ste 147, Arl, 817-635-5555
Open-mic night here is at 6pm every Tuesday –– and it's combined with happy hour. Cheap drinks. Cheap laughs. Good times! The club is situated in the Arlington Highlands shopping center with easy access and parking aplenty. Restaurants and bars are thick in the area for pre-show drinking or post-show grubbing. Once inside the Improv, you'll find a comfortable, intimate setting with great sight lines. Open-mic, by its very nature, means some comics will be new to the game. The talent level can be unpredictable. But the quality is better than most, and, sometimes, nothing is funnier than watching a new, nervous comic self-destruct at happy hour.
Karaoke Night
Readers' choice: Yupp's Karaoke Bar, 4111 Wedgeway Dr, 817-346-2449
Critic's choice: HopFusion Ale Works, 200 E Broadway Av, 682-841-1721
HopFusion Ale Works' staff would say anyone's welcome onstage for Wednesday Karaoke nights. But be warned. There's some serious vocal talent at these impromptu singing sessions. The brewery features a well-lit stage and speakers. And if you bomb your moment in the spotlight, a pint of Feisty Blonde makes for a great consolation prize. 
Concert of the Last 12 Months
Readers' choice: Fortress Festival
Critic's choice: Fortress Festival
Heading into its second year, Fortress Festival was determined to overcome the growing pains experienced in its inaugural run. And they did just that, upping the ambitious two-day event's execution and assembling bigger national acts and a diverse crop of local artists to continue the fest's run at becoming an annual can't-miss experience. Headlined by God's favorite customer, the arresting Father John Misty, the sophomore outing featured an eye-popping lineup, including Aussie lit-rocker Courtney Barnett, booty-moving electronic outfit Chromeo, and timeless hip-hop icons De La Soul and RZA, who shared the stage with notable homegrowns like cow-punkers the Vandoliers, the heart tugging soul of the Andy Pickett Band, infectious indie-rockers Henry the Archer, and Fort Worth hip-hop treasure Juma Spears. Can't wait to see what crop-topped and flip-flopped springtime concertgoers will be treated to next year.
Loud Band
Critic's choice: Duell
The only thing better than an arbitrary second "l" in a kick-ass rock 'n' roll band's name is an arbitrary third guitar player. Backed by a wall of Dimed-out half-stacks, Duell will leave your skull clean of your face with their blistering, trashy riff-rock. Frontman Belvedere Lee's swirling chorus-laden vocals worm their way into your subconscious as your chest takes a pounding from the quintet's thundering rhythm section and your eardrums shrivel in fear from the onslaught of three guitars led by Michael Doty's scorched-earth shredding.
Trivia Night
Critic's choice: The Ginger Man, 3716 Camp Bowie Blvd, 817-886-2327
There is a new trivia king in Fort Worth, and he's playing on Thursday nights at 7:30 at The Ginger Man in Fort Worth. He is Blair Matthews, formerly a recruiter for IT healthcare professionals who got fed up with the corporate world and decided to take on trivia. And take it on, he does, including at the Plano Ginger Man on Mondays and at Southlake's Ginger Man on Wednesdays. And he's rocking, packing houses that have never been packed and getting requests from other establishments that could have him working seven days a week. His categories run the gamut, his style is upbeat and quick, he's sharp, and he's funny. Whether you're a seasoned player or a newbie, Matthews will have you having fun in no time.
Dressed Band
Critic's choice: Royal Sons
They're grungy and tatted up (mostly), they wear their hair long (kinda), and they like to party (uniformly), but –– as sweet baby Jesus is our witness –– the guys in Royal Sons smell good. The nerve. You have to wonder, what does it say about the local rock scene when the self-respecting hard rockers to beat can't even have the common courtesy to avoid soap and water for a few days? For the sake of the groupies, guys, wear the same vintage pearl-snap twice in two days. We wouldn't want anyone to mistake us for Dallas.
Club DJ
Critic's choice: Jason Faries
Besides making chill beats as the drummer for Neon Indian, Jason Faries is also a reputable DJ. The dude is all about the vibe, and while he leans hard into disco, house, funk, and lo-fi, he's keen on reading the mood of a room, keeping the party up until the bartenders send the crowd home.
BYOB Venue
Critic's choice: The Hive, 2740 St. Louis Av
One great thing about being a DIY spot: The events are more like a house party than they are a bar, meaning that it's up to you (or your friends who let you mooch off them) to bring your own booze. And when The Hive hosts a show or an after-party or whatever other off-the-radar gathering it has going on, its policy lets revelers of legal drinking age brown-bag it, cooler it, or cargo-short it.
DIY Venue
Critic's choice: The Hive, 2740 St. Louis Av
Following in the footsteps of the legendary Where House, The Hive offers a similarly wheels-off, anything-goes DIY vibe, providing a spot for local bands to thrash, skaters to shred, and witches to gather –– plus whatever other kind of event you want to put on. 
Hotel Bar
Critic's choice: Texan Station, Gaylord Texan, 1501 Gaylord Tr, Grapevine, 817-778-1000
It doesn't get much more casual than this hotel bar that could compete in our Sports Bar category. Let other hotel bars give you fine wine and whiskey to sip on daintily. This one will show you the big game that's going on that day on a 52-inch screen and serve you all manner of craft beers and some great chili and nachos while you take in the action.
Seat for People Watching
Critic's choice: Bird Cafe, 155 E 4th St, 817-332-2473
Like it or not, Fort Worth really draws in the tourists these days. For primo people watching and/or judging, snag a seat on the patio of Sundance Square's Bird Cafe and observe suburban families and visitors from overseas gawk at how gosh darn cute downtown Cowtown has become. Obviously, a good bar is key to checking out silly humans, and the beer, wine, and cocktail options at this reboot of the former Flying Saucer space are on point. To complement your cocktail, kids and intoxicated adults make good use of the ground-level fountains in full view of the outdoor seating. Post up with an Aviation Variation cocktail and wait for the first visitor to score an unplanned water jet shot to the keister. Trust us, it's the best free entertainment in town. 
Dance Club
Readers' choice: Studio Eighty, 500 Taylor St, 817-332-4833
Critic's choice: Studio Eighty
When you think about it, it's really not fair, because while every other club in town is raging out to that dreadful oontz-oontz-oontz, Studio Eighty can get away with playing only the greatest dance tunes of all time. Uh, that would be '80s music. (If there's anything groovier than Quincy Jones-era Michael Jackson, we haven't heard it.)
Gay Bar
Readers' choice: Urban Cowboy 2620 E Lancaster Ave, 682-707-5663
Place to:
Get Sidetracked
Critic's choice: JunkerVal's Antiques, Vintage Junk & Jewelry, 3458 Bluebonnet Circle, 817-266-6403
The store's name describes the inventory to some degree, but there is really no telling what you might find among the myriad old things that somehow find their way to the showroom floor. Walking canes with secret compartments for booze, paintings by local artists, Beatles collectibles, fossils, puppets, oddball ashtrays –– you're liable to stumble onto anything and fall in love instantly. That explains why we left there once with a miniature skeleton.
Have a Conversation
Critic's choice: La Zona, 1264 W Magnolia Av, 817-489-5055
Overzealous DJs and crowded bars can choke out a good conversation. If screaming into the ear of a friend or date isn't your idea of a good time, try the sprawling patio at La Zona. Small and large outdoor tables are spread several feet apart and offer an unobstructed view of scenic West Magnolia Avenue. And nothing fuels a good convo like a glass of red or white wine from La Zona's bar. As the ancient Romans used to say: in vino veritas. "In wine lies truth." And lively chats.
Meet Someone of the Opposite Sex
Critic's choice: Off the Record, 721 W Magnolia Av
Maybe it's the toney décor, or maybe it's the top-notch mixed drinks, but evenings at Off the Record attract dressed-up singles by the droves. The posh bar offers ample barside and table seating along with standing room areas to mingle. Mulling over Off the Record's vinyls affords an easy excuse to chat up nearby unattached guys and dolls. Just brush up on your eclectic music trivia beforehand.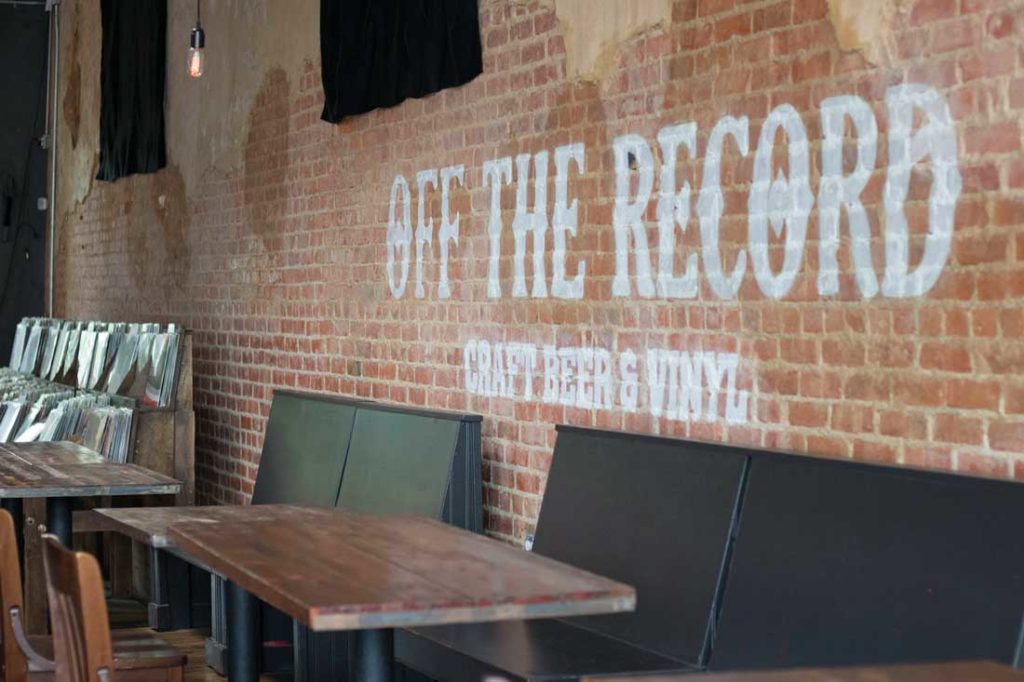 Break Up
Critic's choice: The Usual, 1408 W Magnolia Av, 817-810-0114
Besides the high-end drinks and friendly, knowledgeable staff, the other great thing about The Usual is that you can slide into one of the dimly lit, secluded booths that line the walls, and nobody will bother you, which makes the Near Southside cocktail bar a suitable place to meet your significant other after one of you sends the text that says, "We need to talk."
Take a First Date (to Impress)
Readers' choice: Malai Kitchen, 5289 Monahans Av, 682-707-3959
Critic's choice: Grand Cru Wine Bar & Boutique, 1257 W Magnolia Av, 817-923-1717
You could go the dinner and movie route, but all that says about you is that 1.) you're basic af and 2.) you have nothing to talk about. Why not treat your date to the swanky, inviting environs of Grand Cru? The menu offers a vast selection of reasonably priced vino, the setting is intimate and cool but unpretentious, you can actually chat and get to know your date, and you can appear classy while getting hammered. You might as well go ahead and start picking out wedding china. 
Take a First Date (to Go Crazy)
Readers' choice: The Whiskey Garden, 2800 Bledsoe St, 682-312-7708
Critic's choice: Trophy Ranch, 2800 Bledsoe St, Ste 100, 817-882-6966
Trophy Ranch has all the stuff most other West 7th bars offer: large crowds, loud music, throbbing bass, craft beer, pretty good bar food, bros and the women who date them, and people who down shots like there's a world record on the line. But there's also arcade-style basketball, and, most importantly, a mechanical bull. If you and your Tinder adventure are getting turnt either by design or by accident, climbing aboard that monster and getting bucked is pretty much a requirement.
Drink with Locals
Readers' choice: The Chat Room Pub, 1263 W Magnolia Av, 817-922-8319
Critic's choice: People's Republic, 3717 McCart Av, 817-420-9224
Located on McCart just south of Berry and next to an old Sinclair gas station, this family-owned and -operated bar sits ready to serve all walks of life, from blue-collar workers just off a shift at one of the nearby industrial parks to TCU faculty and everyone in between. With an atmosphere that promotes casual conversation, it's not unusual to find clientele making new Fort Worth connections and gossiping with erstwhile strangers about work, family, politics and sports. Owner/bartender Igor will shake your hand upon entry and remember your name after one visit, and often you can find his parents manning the food truck that's parked outside, which serves the most badass charcuterie plate that ever came out of a motorized vehicle. The drinks are strong and cheap, and there's always a sporting event on the TV. Even tennis. If you want to get away from the established Fort Worth hot spots and have a drink and an intimate conversation with some true Fort Worthians, People's Republic is your establishment.
Drink with Friendly Folks
Critic's choice: The Tin Panther, 937 Woodward St, 817-720-6868
If you're looking to drink with real easygoing types, the Tin Panther is chock full of them. The watering hole and live music venue is even tucked away in such a location that hanging out there feels like being part of a secret drinking club. Tin Panther co-owner Tyler Stevens was a veteran bartender in the local scene before she struck out on her own, creating a space that feels like someone's really bitchin' rec room. Along with Stevens came a few bartenders from now-defunct popular venues, and their dedicated local happy-hour crowd and friends soon followed. There's plenty of comfy seating for bigger groups and a spacious patio hidden almost entirely from sight –– the perfect escape from the tourist-dense bars of downtown Fort Worth and West 7th. Both Tin Panther staff and patrons are firmly of the friendly sort, so be prepared for the help and the regulars to chat you up while tossing back cold ones. 
Day Drink
Readers' choice: Yucatan Taco Stand, 909 W Magnolia Av, Ste 10, 817-924-8646
Critic's choice: Lola's Trailer Park, 2735 W 5h St, 817-759-9100
Come on, now. Even if you work the nightshift, you don't need to be cracking open a cold brew any earlier than around noon. Show some self-restraint, will ya? That's why, especially on weekends, the Trailer Park is a wonderland of good times and good peeps. Located right behind the esteemed rock venue Lola's Saloon, the Trailer Park offers comfy picnic benches, some cornhole, a dog-friendly vibe, occasionally live music, and an overall groovy setting to while away an afternoon to the tune of some cold, frosty beverages and interesting convos.
Drink Alone
Critic's choice: Malone's Pub, 1303 Calhoun St, 817-332-5330
When you're in one of those introspective, "minor 7th" moods where you're not necessarily bummed but just want to find the bottom of a rocks glass without a lot of people getting in your grill, the long bar and low lighting at Malone's will easily oblige. The bartenders are attentive without bugging you, and while the locals are easygoing and friendly, they'll leave you to your thoughts if that's what you're there to do.
Have an Eye-Opener
Critic's choice: Upper 90, 961 W Magnolia Av, 817-882-6614
Few are the dives that open early for us boozehounds. As the non-blue-collar sort, we prefer Upper 90, especially when soccer's in season –– sometimes they open while the rest of the Near Southside is just going to bed. Intimate, clean, and chock full of TVs, U90 is ready for you when you're ready to start the day properly: with an em-effin draaank.
Have a Nightcap
Critic's choice: Proper, 409 W Magnolia Av, 817-984-1133
We've all been there. It's a weeknight, and you've eaten dinner, been social, and soaked up the psychic clamor from the day's hustle, and the evening's beat, but before you head home, you want to ruminate about the day and marinate with one more drink in a mellow atmosphere conducive to that kind of quiet inner commentary. With its low-key, grownups-bar vibe and classic cocktails, Proper is the spot for one last round.
Nurse a Hangover
Critic's choice: Fort Brewery & Pizza, 1001 W Magnolia Av, 817-923-8000
The place formerly known as Chimera Brewing hasn't changed much, which is a major plus. The pizzas are still delectable and the selection of craft beers as off-the-wall and delish as ever. Opening around lunchtime on weekends, Fort Brewery makes for the perfect place to recover. It's mostly quiet, dimly lit, and loaded with pizza and beer options. With its high ceilings, it's also a great spot for being able to whine and moan without being overheard.
Shoot Pool
Critic's choice: The Chat Room Pub, 1263 W Magnolia Av, 817-922-8319 
Despite Smoke-Free Fort Worth's best efforts to close down our fair city's bars (sarcasm!), the Chat and other once-smoky outposts continue slinging adult beverages to hordes of thirsty customers. The centerpiece here is the billiards table. On most evenings, the clink of flying striped and solid orbs fills the space along with tunes from the internet juke. "Tell me, is it the crack of the pool balls? / Neon buzzin'? / Telephone is ringin', it's your second cousin." The heart of Saturday night still lives at the Chat.