If you wanted to know what the Rail Club was all about, the mural on the wall behind the bar pretty much said it all, the way a battle flag or the device painted on a warrior's shield are designed to inspire courage in its bearers and fear in those who would oppose them. The mural was as unapologetically Texan as it was intimidating, depicting the club's name in bold blue capital letters over a scarlet five-pointed star overlaying a blue outline of Texas, the star's top crested by the neck and V-shaped headstock of a Dean guitar, an axe made into a heavy metal icon by Pantera's late, great guitarist, "Dimebag" Darrell Abbott, the patron saint of Texas metal shredders. Crows' wings and a pair flaming human skulls flanked the Dean's neck on either side, and beneath them, the guitar and star were covered by the empty eye sockets and wide horns of a cow skull painted in to look like the Lone Star flag. If it had one subtle detail, it was a small yellow star in the crook of the Red One's two arms, to mark Fort Worth in its location on the Texas map. The mural was outsized and bold and as loud, busy, and ballsy as the guitar solos that ripped across the club's stage all week long. It was the backdrop to an era of wild-ass headbanging, mosh pits, and ear-scorching good times.
But that was then. Now the mural is covered in scribbles of white spray paint, as well as a declaration of rage: "Fuck Kevin Dunlap."
Dunlap is one of the club's co-owners, at odds with his former business partners, Chris Polone and Brian Scheid, who both bought into the Rail after its previous owners sold their stakes. The Rail's recent closing has been chaotic, with Dunlap against Polone and Scheid, battling it out in the social media sphere. In a Facebook update posted on September 23, Polone explained the mural's defacement as a way of preserving the club's legacy, as anyone taking over the space would be forced to paint over the artwork rather than appropriate it for their own use. But the call-out of Dunlap (as well as a cringe-worthy spray-painted penis and the phrase "dick sucker" linked by an arrow pointed at Dunlap's name) shows just how ugly things are getting. The fight is now poised to go from Facebook to the courtroom.
*****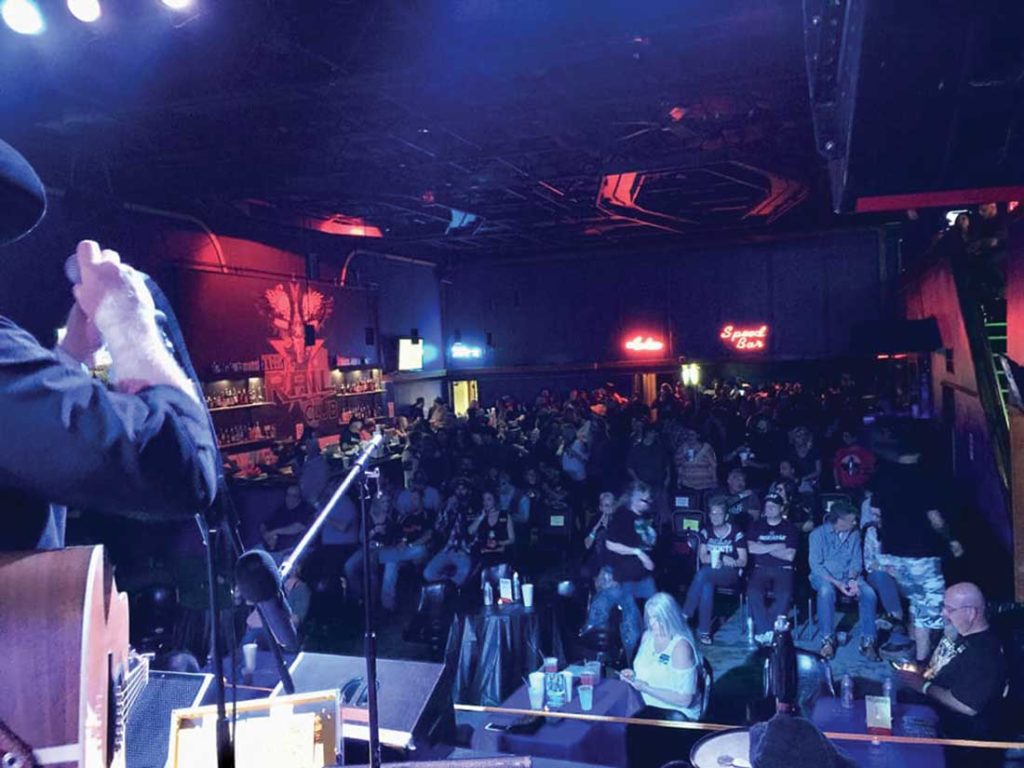 A centerpiece in Fort Worth's metal scene, the Rail attracted metalheads from Tarrant County and beyond for shows by local heshers and their counterparts from all over the world. Battlecross, Bongzilla, Cattle Decapitation, Dark Funeral, and Unearth are just some of the marquee acts that have graced the Rail stage over the years. I caught a few shows there since the place opened in 2010, including Sweden's Monolord and Trailer Park Boys stars Mr. Lahey (R.I.P.) and Randy, so if you were an international metal band or functional alcoholics working as comedians, the Rail was the place to play.
Those shows were a couple of years ago, and other than to see Superjoint Ritual (when funny Superjoint frontman Phil Anselmo inexcusably referred to Fort Worth as Dallas), I hadn't been back, but by all accounts and lots of social media hubbub, the club was doing fine, as loud and rowdy as ever –– the calendar was packed with heavy hitters like Lita Ford in October, DRI in November, and Black Dahlia Murder in December –– so on September 13, when Polone posted on Facebook that the Rail was shutting its doors for good, I was pretty surprised. And judging by the Facebook reaction, so were the Rail's many fans, particularly because Polone blamed Dunlap for the Rail's demise, alleging that Dunlap had "embezzled 10s of thousands of dollars from the rail club." And over the next few days, Polone posted a video in which, holding back tears, he addressed some of the questions: 
We are getting hit from every single angle as far as people wanting to know what's going on –– the authorities, the lawyers … news outlets –– so I'm gonna make this real brief. I'm gonna make this real quick, real easy. Obviously, yesterday, we were dealt a devastating blow. We found out about it a week ago, but we were just too late. We were just too late. I've been advised by my attorney to shut the hell up and be vague on that, and I'm gonna take that advice, so we can make sure to bring this man to justice. Obviously, it's an extremely heated moment in life right now. We just watched our dreams die right in front of our face, and there's nothing we can do about it at all. I had to tell my entire staff that I'm not their boss anymore. People who have worked there for eight years, and that's their home. … That's pretty tough. … We have had hundreds of people reach out, and it's mind-blowing. I knew what it meant to me, and I knew what it meant to my staff and my partner. But I never knew what it meant to everybody else until yesterday. And I think that's what kinda hurts the most here. What it represented. It's important that we remember what the Rail Club represented. That it was a home for all the misfits. It's amazing. This staff, they just came from all walks of life, all demographics, but we had one thing in common. We were all the black sheep in the families. Even our patrons, the local bands, the customers that came in, we all had that in common, which created that home. And I would kill just to hang out with everybody in the office again. But it's not done yet. It's not done yet. I've heard people say it. It's actually true –– the Rail Club is four walls. That was my biggest fear yesterday, that I lost my family, but I was overwhelmingly shocked that that's not the case. We're gonna assure you that we are gonna rebuild it. We've reached out, made several things happen, a lot of things are in the works –– since we're in a current lawsuit right now, I can't go into too much detail –– but I would like you guys to know that we are actively making something happen in a good way.
Polone goes on to reference a Gofundme page, created by an unnamed fan on September 13. In the page's description, the purpose of the campaign is to "restore The Rail Club to all its glory."
"Very nice people made that for us," Palone continues in the video. "They gave us access to it. It is legit. We're not asking for money. This wound is too fresh right now. Obviously, we have some stuff we need to work out, figure out, and that's what we're in the process of doing. Before we make a decision, obviously, we don't want to just jump into another building and say, 'We're open. Let's do this.' We want to make sure justice is served first. But with that being said, we do appreciate the donations, and, trust me, my primary concern right now is the staff that lost their jobs. That money is gonna sit there until we figure what we're gonna do with it. And if we end up not doing anything at all … this captain is going down with this ship. … We're gonna do something, but we'll refund it to you. But that kinda sucks. I get to go back to work. I get to go back to my day job. Brian gets to go back to his day job. And [the Rail's closing] doesn't determine whether we eat or not. And that hurts, because it determines whether our staff did. I wanna make sure you guys know that I appreciate all the support we got yesterday and all the support we continue to get. Just know the Rail Club doesn't die until I take my last breath. If I'm slow to get back to you guys, I'm sorry. I've got a lot going on."
*****
Polone and Scheid had bought into the club essentially out of their love for live music in general and heavy metal in particular. Though Polone's main gig is as a hazmat specialist and Scheid is a VP at Wells Fargo, Polone had been the Ridglea Theater's in-house promoter prior to buying into the Rail Club, a position that put him in direct competition with Dunlap when Dunlap had owned the Rail along with three other partners. Polone told me that before he became a partner in the Rail, he had bought into Dunlap's shows at the Rail for thousands of dollars, sort of like a short-term investment partner. "And I hardly made a penny," Polone said.
Besides the Rail, Dunlap is also the owner of Whiskey Business (on Locke Avenue, in the space formerly occupied by The Mule) and a food trailer, West Side BBQ. But according to Polone, Dunlap's bread and butter is concert promotions, putting on shows in Fort Worth at the Rail, in Dallas at the Curtain Club, and in San Antonio and Houston. Though he was an owner of the Rail, his income as a promoter depended on the attendance at his shows, Polone said. Polone believed that when a show would tank, the club would also be in the hole, even though the money was supposed to come out of Dunlap's end. "We noticed a trend," Polone said. "Any time he would lose money, so would the Rail. … If a show won, he took money from it. If a show lost, he took it from us." 
The way Polone tells it, Dunlap was basically "robbing Peter to pay Paul." Polone and Scheid suspected Dunlap was skimming money from the business, but they couldn't figure out how he was doing it until they found his email open on the office computer one day. They dug around in it, discovering multiple PayPal transactions that Polone and Scheid believed looked shady. "There were promoters paying room fees that went right into [Dunlap's] pocket," Polone said. "A lot of bands and artists would buy onto shows. That money is supposed to go to the club."
Polone also believes that if ticket sales didn't cover a band's guarantee and the room fee Dunlap owed to the club (for the sound engineer and door staff) and if Dunlap couldn't cover the expenses himself, Dunlap would take money out of the bar's registers. He would pay the room rental fee back to Polone and Scheid, Polone alleges, but if he took it out of the bar, he was essentially paying what he owed to the club with the club's own money.
Dunlap strongly disputes Polone's claim, saying that most of the time, if he had to take money from the till to pay a band or the room fee, it was just because he was waiting for the online ticket sales from Prekindle to be deposited, after which he would repay what he owed. When I mentioned that to Polone in a subsequent conversation, he said that he believes that Prekindle doesn't actually work that way, describing the service as something like a bank account, from which its users can withdraw whatever has been deposited at any time. 
Dunlap, Palone said, "has his own Prekindle account. You can call them for advance money. … Stuff that goes into Prekindle, you can have it when you want it. [Dunlap] is a vet at this. He's a pro. He knows how [Prekindle] works."
Dunlap told me that nearly all of the PayPal transactions that Polone alleges are money he supposedly stole from the Rail are easily explained and related to his own personal expenses. "All but two went to the Rail Club account," Dunlap told me. "The ones in the gray area have a logical explanation. A lot of the PayPal transactions are personal –– I sell Pokémon cards on eBay, for example."
When I mentioned Dunlap's explanation for the PayPal transactions to Polone, Polone replied that he knew the difference between the ones that were personal and the ones that were pertinent to the business of the Rail Club. "I know what's included," Polone said. "I didn't count things like his medical bills or whatever."
Polone said he has a list of all the questionable transactions and their totals but didn't divulge the amount, per the advice of his lawyer.
*****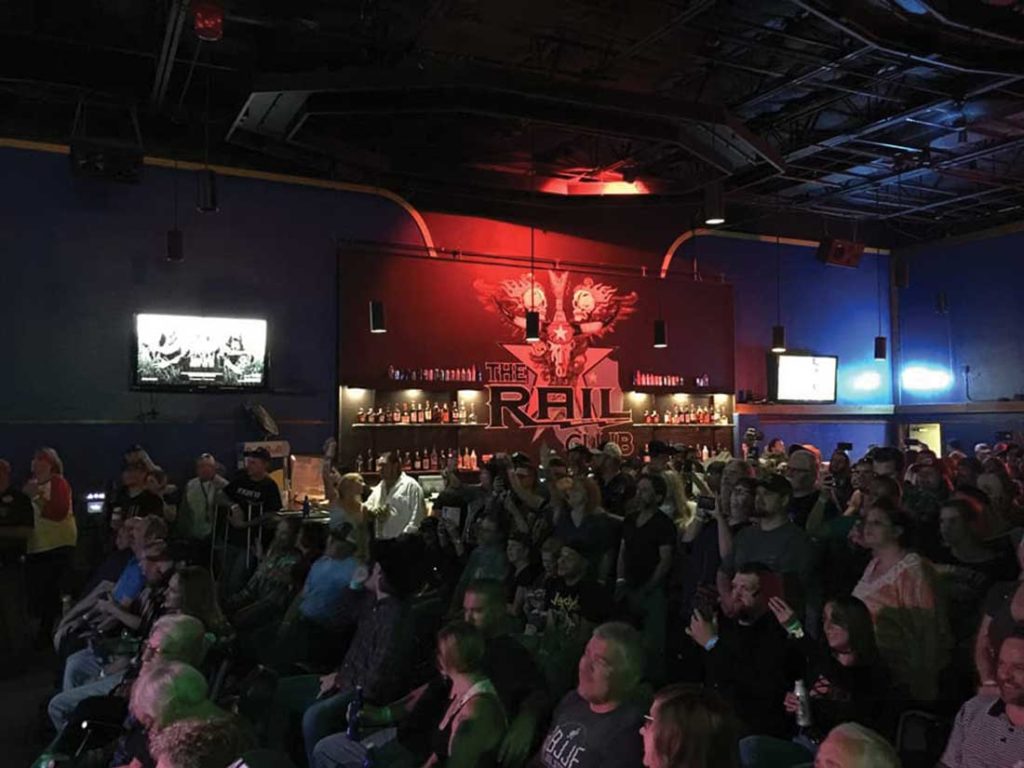 So all that was bad enough, but then there was the matter of Polone and Scheid getting shut out of the building, which put the final nail in the coffin. Basically, the guys fell behind on rent and taxes. Not surprisingly, Polone and Dunlap differ on how the club got into that mess and when they knew about it.
"We thought we were 13 days behind," Polone said. "We didn't know. We tried to pay it, but the landlord wouldn't take it. It was such a fast turnaround." 
Polone isn't sure why, but he thinks the landlord has other plans for the building already.
But Dunlap tells the story a lot differently, implying that Polone and Scheid knew about what was going on with the club's debts. "The Rail Club had been struggling with high overhead," Dunlap said. "We were two months behind on rent, taxes, and other bills. I approached the other partners. They were more aware of it than I was." 
Dunlap attributes the who-knew-what discrepancies to sloppy business and miscommunication. "We don't take the best of notes," he said. "It's just been so long that I don't know."
Dunlap said that he had been notified that the business owed money back in August: "A few weeks ago, the landlord emailed us that we were two months behind on rent and that we had until August 31st to pay." 
He said that he took about $3,000 out of his saving and $1,400 out of the Rail Club account to pay rent. Polone was surprised to hear that Dunlap had said that, because he and Scheid had both contributed money to what they owed. Dunlap said he was under the impression that Scheid had been bargaining with the landlord.
Whatever the truth is, piecing it together will be left to the lawyers and the courts.
"Long story short, money was missing, and we are opening an investigation criminally and civilly," Polone said.
And late on Sunday night, Polone posted this to Facebook: 
"These last couple of weeks have been beyond emotional. Watching each other cry, uncovering more and more evidence of embezzlement, the loss of a home. Words cannot begin to describe how all of us feel. … 
"We were given access to the building to remove our belongings. Our staff, Brian, and myself spent the last two days moving as well as painfully reminiscing over all of the memories made at the club with our staff. Are we upset? Do we feel cheated? Hell, yes, we do, and when we have our day in court regarding our allegations of embezzlement, you will see why we are so hellbent on bringing this man to justice. I am not going to deny that we were behind on bills. I am not upset with the landlord for terminating our lease. I am not going to say that Brian Scheid and I are all-knowing perfect business owners. But I will say the amount of money that we have proof of being stolen was more than enough to keep us in business for a long time. … And you will see. … I personally have cut my cost of living in half to ensure that I have the finances available to continue this fight until the end because I have a responsibility to all of those that lost our home out of personal greed and deception."
Polone goes on to imply that Dunlap offered to settle out of court. I tried to reach Dunlap for confirmation but did not hear back from him.
"Now it has come to my attention that some people are outraged by the cover-ups of our iconic mural, and, honestly, you should be," Polone continues. "But it wasn't done out of disrespect of our club. It wasn't done to destroy or kill what was built. It was done to protect our flag and everything the mural represented. It was done to make sure that the new [tenants], whoever they might be don't try to continue off of what old ownership, bands, and what the Rail family built. Buster [O'Keefe, who originally bought and remodeled the Rail from a strip club into a venue] gave life to the dream, and, unfortunately, the death of the Rail Club fell on our shoulders. The way we look at it is if someone is going to remove our mural, it's going to be by our own hands and not by anyone that doesn't have any skin in what used to be our home. We did not vandalize anything. We just made damn sure that it would have to be painted over. We were given permission to remove our flag from the wall. And that is what we did. 
"The first thing that will be rebuilt once we move into our new property is our flag. It will be completely identical in not only appearance but also what it represents. It has already been said by many. It is not the property that defined us. … It was the people inside the building that made the Rail Club, the Rail Club. … 
"We held the decision of the mural removal to a vote. It was a unanimous vote. But as one of the captains of the ship, I take full responsibility of the removal. Please quit sending death threats to our staff. Please send them to me. If you're going to come after somebody, come after me. But, for the love of God, quit going after our Rail family. Come after me.
"I hope in the next few weeks all of your questions are answered, and I pray to God for a chance to bring life back to the only true thing that any of us ever believed in. Rock on."
The flag that Polone mentions is the mural, but I think it's also a metaphor, the mark of memories –– the psychic stamp, if you want –– with which they, their staff, and the club's regulars and fans imbued the building. Polone clearly cares for the well-being of his staff, who are now all out of jobs, as well as the place of belonging that he was able to help build for them all. While Polone and Scheid seem to have a paper trail outlining Dunlap's alleged crimes, their own less-than-thorough attention to the Rail's books may also have played a role in the club's unfortunate end. Yet hope for the Rail's rebirth also lives on. To paraphrase a certain bandana'd hair metal frontman, Polone's vague Facebook hints about a "new property" will give the Rail's fans somethin' to believe in, that maybe their beloved mural may appear on another back-bar wall amid the shrieking wail of arpeggiated solos and the galloping thunder of bass and drums. l