With Smoked BBQ Fest reaching the 817 this Saturday, I decided to clink pints with Fort Worth's local barbecue celebrity, Travis Heim, to talk about smokeables (no, not that kind), beer, and the ups and downs of small business ownership.
Seated outside Heim Barbecue on West Magnolia Avenue, Travis prefaced our chat by saying he isn't "terribly deep" into craft beer trends before displaying an impressive knowledge of local beer. His beer of choice that late afternoon was a Texas Blonde from Wild Acre Brewing Company.
"I like their stuff," he said, referring to Wild Acre. "I'll drink whatever is in front of me too. Fort Worth, especially over last five years, has developed some awesome beers. Collective Brewing, they always have a lot of funky sours. I love their Petite Golden Sour."
Barbecue and beer go great together, according to common sense. When pressed for beer-pairing advice, the pitmaster described his favorite accoutrement for brisket or ribs — chocolate-y, coffee-kissed stouts.
Heim didn't stumble into the barbecue business. He's well read on the history of Texas barbecue. While traditional Texas 'cue is loosely defined by its use of beef and the light employment of sauces, our state has distinct regions that have been influenced by regional cultures and native woods. The Lonestar State owes much to the early German and Czech meat markets that smoked meats a century or more ago, primarily as a way of preserving it, Heim said.
It's not widely advertised, but Heim Barbecue only sources meat from farms that commit to hormone- and antibiotic-free meat products that are certified humane. That last part is particularly important to the co-owners, who regularly visit the farms that service their Fort Worth restaurant.
So, why care about the conditions these animals lived in?
"That's a great question," he replied. "Without getting too hippy/liberal about it, at the end of the day, these are animals. A lot of times, that gets lost in everything we do. It's important that these animals have a good life."
Humane, he added, means these animals lived a cage-free life and that they were processed with practices that minimized undue stress and trauma. If all goes to plan, next month, Heim Barbecue will have its second incarnation via the River District, a new development northwest of downtown. The 7,500-square-foot locale will have 24 beer taps, a covered patio, music stage, and garden area, Heim said.
The renaissance of craft cocktail bars, breweries, restaurants, and other small businesses that Fort Worth is awash in can only continue if locals continue to support locally owned businesses while advocating for affordable rent space. Store owners along West Magnolia Avenue might be trendsetters for the moment, he said, but they could easily be priced out in the coming years.
"We were lucky and blessed in many ways," he said. "In Fort Worth, people support people who are doing things the right way and trying something new. You see that, not just in food, but in other areas. We were a little different. I was working my ass off everyday. People supported that and liked our food. I would love to see more people like us succeed."
Smoked Fort Worth BBQ Fest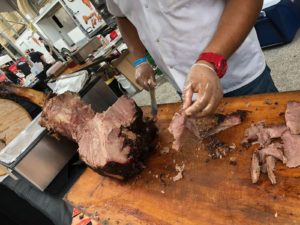 This Saturday (2-6pm) in the Stockyards National Historic District, you can sample barbecue from 18 of the most celebrated barbecue joints in Texas. Live music from The Vandoliers, Brandon Steadman Band, and others, along with family-friendly activities (Trailer Park Olympics, armadillo races, mechanical bull) round out the smokin' good time. Purchase tickets here.
Don't forget to follow On Tap in Fort Worth's Facebook page.