It took 45 seconds into the game on Monday night for AT&T Stadium to fill with a deep and rumbling din. It might have been easy to mistake the crowd for booing, but "Cooooooooop!" was the low chorus lifting out of the open roof and into the fall air. Amari Cooper, Dallas' new and very costly receiver, had just made his first reception as a Cowboy, an 11-yard catch and run for a first down. Almost instantly, a fan favorite (if for no other reason than for offering fans the ability to chant "Cooooooop") was born. Cooper would further endear himself to fans later in the first quarter with a shifty redirection on a crossing route for a four-yard touchdown.
After the bye week and the controversial Cooper trade — Dallas sent the Raiders and their franchise arsonist Jon Gruden a first round pick in exchange for the up-and-down wideout — the hometown crowd was eager to see what impact a quality "number one" receiver would have in the Cowboys' notoriously sputtering offense. Sadly, the glimmer of hope brought by Cooper's flashes was quickly dimmed, as the Cowboys again proved that quality player talent is no match for the coaching staff's ability to completely neutralize it.
Still bull-headedly riding the unimaginative and wholly predictable playcalling train, head coach Jason "Clappy McClapsalot" Garrett and coordinator Scott "Only Screens on Third and Long" Linehan led the Braveheart-esque charge into extraordinary mediocrity again as Dallas fell to 3-5 on the year, embarrassed by a score of 28-14 at the hands of the lowly Tennessee Titans, one of the league's few teams with arguably an even worse offense than the Cowboys.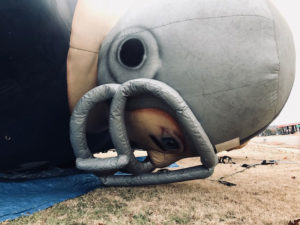 At this point, I don't even know what to say. All Cowboys media analysis, including this column (that is, if this bi-weekly hyperbolic word salad qualifies as such), has become as predictable as Linehan calling a draw play on first and 10. Talking about this team is a constant recycle, rework, and reword of the same premise: "The Dallas Cowboys are a decently talented team with all the potential to compete for division titles and perhaps even the occasional playoff win, but they are being held back by a stubborn and defiant coaching staff hobbled by an antiquated and thoroughly ineffective philosophy" or some rapidly dwindling, previously unused variation thereof. Copy/paste/send to print, week after week. 
The ineptitude of Clapbot 3000 and his pitiful gang of defeasible automatons has become such a repetitive and redundant trope that it's bordering on being as cliché as using Groundhog Day as a metaphor for redundancy. I'm on the verge of burning my laptop, renouncing technology, and moving into a "tiny house" hidden in the verdant dogwoods of the Smoky Mountains to avoid having to reiterate it. It simply does no good. Even the cathartic release of expressing frustration with it has diminished over time to the point that it barely registers as a welcome dip on my sphygmomanometer anymore.
So, in lieu of pummeling the expired equine, let us look toward a brighter future, a glorious utopian vision of a day free of the tyranny of a deranged egomaniac hell-bent on clinging to an archaic and outmoded history whose backward thinking emboldened by unchecked narcissism is a robust impediment to progress and the achievement of our better ambitions. No, I'm not talking about January 20, 2021. I'm referring to the Monday following the last game of the season. Cynically called "Black Monday," it's the day that sees the most head coach firings in the NFL of any day of the year. This year, it happens to fall on New Year's Eve. What a lovely, poetic coincidence to be able to synchronize the flip of the calendar with the close of the Jason Garrett era. A clean break, with all the hope and naïveté we carry with our new diets, exercise regimens, and aspired reduction in alcohol consumption into the new year. 
Of course, I can't guarantee a Garrett firing at season's close, but if the occasional opportunity to chant "Cooooooop!" at a great play or two isn't enough to turn this ship around (it's not) and the Cowboys fail again to make the playoffs (they will), then I believe even Jerry Jones will run out of slack on the interminable leash he has around Garrett's neck. The addition of Cooper — and the lack of a first round pick with which to draft a quarterback next year — points to Jerry remaining all-in on Dak Prescott being under center, and the signal-caller's rookie campaign has shown that he can win in this league if put in a position by his coaches to do so. However, Jones, as a 76-year-old, can certainly see his dawn fading, and he'd like to win just one more Super Bowl before the sun sets a final time for him, if for nothing more than a deathbed "I told you so" directed at his legion of detractors. So he'll have to turn to someone else to help save his legacy. (I'm keeping all my fingers crossed for the smarmy, icy-eyed guy in the headset down in the Big Easy). If I'm wrong and we have Garrett clapping on the sideline to endure next season, I have a lighter handy. What sort of accelerant do you think would work best on a MacBook?