Noted pop-up chef and dumpling impresario Hao Tran and I are on a few of the same Facebook groups, and my attention perks when she posts something, especially when it's a restaurant recommendation. 
Recently, she made a post in The Kitchen: Fort Worth group suggesting Hongthong Kitchen (2830 N Beach St, Haltom City, 817-834-4318), which, to my occidental eyes, looked a bit like a good name for a strip club. My inner 12-year-old may have been disappointed, but mature-ish adult me was thrilled to learn that the tiny strip-mall eatery and market is serving a very different kind of Thai food than most Americans know. You won't find the elaborate, rich dishes of central Thailand, flooded with coconut milk. There's something refreshingly plainspoken and resourceful about Hongthong's menu of soups, noodles, and house specialties. 
The same folks own (or are somehow related to) Boun Bistro (511 N Beach St, Ste 180, 682-674-1197), which is also one of the better destinations for Thai/Lao grub, though a way more modern take than Hongthong's traditional Northern Thai fare. 
The first thing I noticed inside the ramshackle storefront is the abundance of pre-packaged food (like whole tilapia), chips (including squid chips), sodas and other canned beverages, bottles of different sauces and spices, and a buffet table stocked with various meats that I later realized were just for takeout. The place does a bustling to-go business, though there were only two other tables occupied on my recent visit.
The ambiance is every bit the mom-and-pop strip-mall vibe. A Thai-language karate musical movie blared from the sole TV hanging in the corner, and a few painted scenes of meditation hung behind the counter where you pay. As my eye was drawn to the bizarre movie during some sword-fighting scenes, my guest couldn't stop staring at a half-wall covered in uneven brick wallpaper. Unopened boxes and half-empty palates of ingredients lined the narrow hallway that led to the bathroom. 
After seating ourselves and navigating a bit of a language barrier with our polite server (who doubled as a butcher when someone ordered meat), my guest and I started with the fried meatballs ($8), juicy, non-battered pellets of flavor-packed pork with the consistency of sausage, accompanied by a red, semi-sweet (and superfluous) dipping sauce.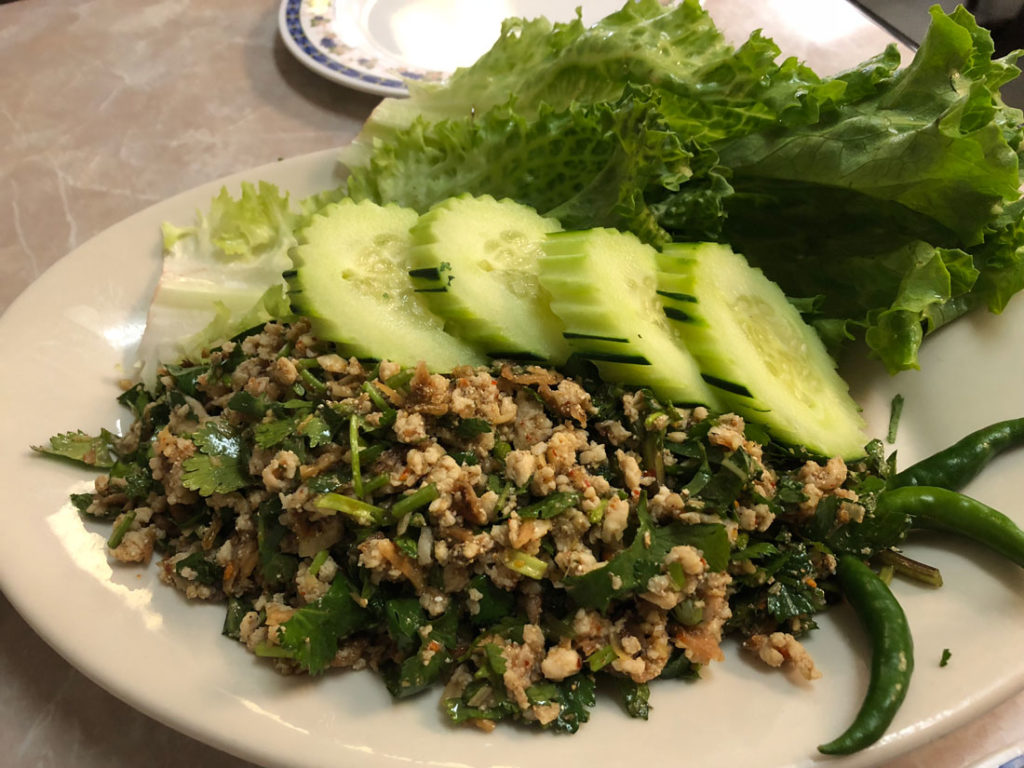 The larb chicken ($10), my guest and I agreed, won the day. The minced salad of tender ground white-meat chicken had some serious zip, thanks to chopped cilantro and mint, red onion slivers, and dried Thai red chiles, with a toasty note from pulverized roasted rice. The ample portion was accompanied by cooling cucumber slices and romaine lettuce leaves for wrapping the meat. 
The pho, everyone's official it dish at the moment, was tempting. Instead, on our server's recommendation, we opted for the sukiyaki ($7.95 for a large), a soup more closely associated with Japanese cuisine than Southeast Asian, according to me. In all soups, but especially those of the one-pot Asian variety, the broth is key. This soup's egg yolk-infused beige-brown broth of mirin, sugar, and soy radiated umami. The rest of the elixir –– Chinese cabbage, onions, pureed peanut sauce, cilantro, limejuice, and thin, tender slabs of beef –– was excellent in support of the standout base. 
If you're not following Tran and her newish culinary partnership Hao & Dixya, you're missing out on some hidden gems around this town.