Two years ago, Javier Rodriguez had a hunch that custom tee-shirts with the words "Fort Worth" scrunched into an outline of Texas (and other 817-themed apparel) would be a thing. He ordered 100 tees, announced the products to his 15,000 Instagram followers, and waited.  
Anyone following Fort Worth Locals knows how that story ended. Rodriguez now runs a brick-and-mortar store on West Magnolia Avenue that sells custom hats, shirts, cups, and other merchandise. The products are made locally and celebrate Fort Worth culture. His online presence includes a blog, podcast, Facebook, and Instagram account. When Rodriguez plugs a new business, locals show up in droves. The cultural influencer and small business owner started his company shortly after graduating from UNT with a degree in media arts.
I caught up with Rodriguez at his boutique shop. He laughed at what he called his "typical millennial story." His degree equipped him with photography and social media acumen but little working experience. After several businesses turned his job application down, Rodriguez struck out on his own.
"I decided to start a blog about Fort Worth," he said. "I wanted to showcase all the great things that were happening here."
He photographed and wrote about Salsa Limon and other businesses before finding the courage to chat up business owners directly. Joey Turner, co-founder of Brewed, and Kari Crowe of Melt Ice Creams were early supporters of his venture.
The experience gave Rodriguez his first two media-related jobs, first for the City of Arlington then for the City of Fort Worth. Rodriguez found most of his success on Instagram. His account how boasts more than 40,000 followers. The most popular posts, he said, cover "coffee, food, and things to do."
In 2017, Crowe helped Rodriguez find his current location. In the age of online buying, the young entrepreneur learned that customers still enjoy seeing products in person. Those Fort Worth tee-shirts are still big sellers. Fortunately for Rodriguez and his wife, Angelica Canizales, Fort Worth continues to embrace authentic, local experiences. This year, Rodriguez plans to refocus his efforts on blogging — his first love and the medium that launched Fort Worth Locals.
As promised, here's the winner of Fort Worth Locals' #fw2019coffeecontest in collaboration with the Fort Worth Weekly.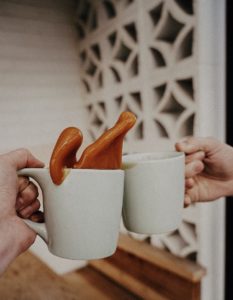 You can follow FWLocals on Instagram @fwlocals
Don't forget to follow On Tap in Fort Worth's Facebook page.
On Tap this Week:
I Got Five On It: An Art Tooth Fundraiser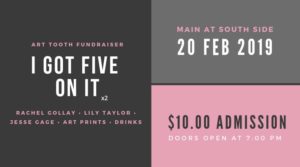 From Art Tooth: Art Tooth is excited for the year ahead and we have lots of big plans for exhibitions, workshops, and events to support artists in Fort Worth and connect patrons to the amazing creative community in our city.
To help begin our fundraising efforts we are excited to announce our first event of the year at Main at South Side. Featuring solo performances by Rachel Gollay, Lily Taylor, and Jesse Gage! Bring cash to enter to win raffle prizes or buy Art Tooth swag and rare prints from Hillary Dohoney, Chip Tompkins, Melissa Mohammadi, & Bobby on Drums (Jay Wilkinson & Jeremy Joel).
We would love to see all of our friends and family to help make this year the best year yet for Fort Worth and it's artist community! Visit the event page here.