Grady Spencer is in a pretty good spot. While his life probably isn't totally free of anxieties, the Lubbock-bred country-leaning singer-songwriter seems to be on the up-and-up – in love with his family and a music career that's heading steadily skyward. He just inked a booking deal with Red 11, a major entity in the realm of country music, and he's a couple of days away from releasing a new album. It's fitting that his new record is called Celebrate.
Spencer left Lubbock for Fort Worth eight years ago, after he spent a couple years plying the open-mics and bars of his hometown. Spencer's early gigging days colored his music in a Red Dirt hue. As he's grown as a musician and a writer, his sound has broadened its palette. His voice reminds you of My Morning Jacket's Jim James, but there's still more twang in his songs than psychedelic pop. Spencer's sound is country, but there's more to him than that. Though Red 11's booking roster is heavy on Red Dirt artists, and Grady Spencer & The Work often find themselves playing in that scene, they are outsiders of sorts.
"I don't think we fit in with 90 percent of the people we get put on bills with, but I'm glad to be in that scene," Spencer said. "I guess we're more alt-country. There are Texas Country guys who rock more than we do, but we're more about good grooves and guitar tones. I'm hoping we can rub off on other artists associated with that Red Dirt label, but I think that [Red Dirt] scene thinks of me like, 'This dude looks weird.' "
Looking weird is a relative term, and Spencer's glasses, mustache, and denim-centric ensembles appear pretty normal to me –– if anything, he looks like Mac Demarco headed to a nice restaurant. His band – bassist Johnny Hatcher, lead guitarist Tyler Martin, and drummer Drake Sager – showed up in the usual indie-rock assortment of tattoos, beards, and jeanery. Spencer looks and speaks like an affable, regular dude, and that what-you-see-is-what-you-get aesthetic extends to the songs on Celebrate.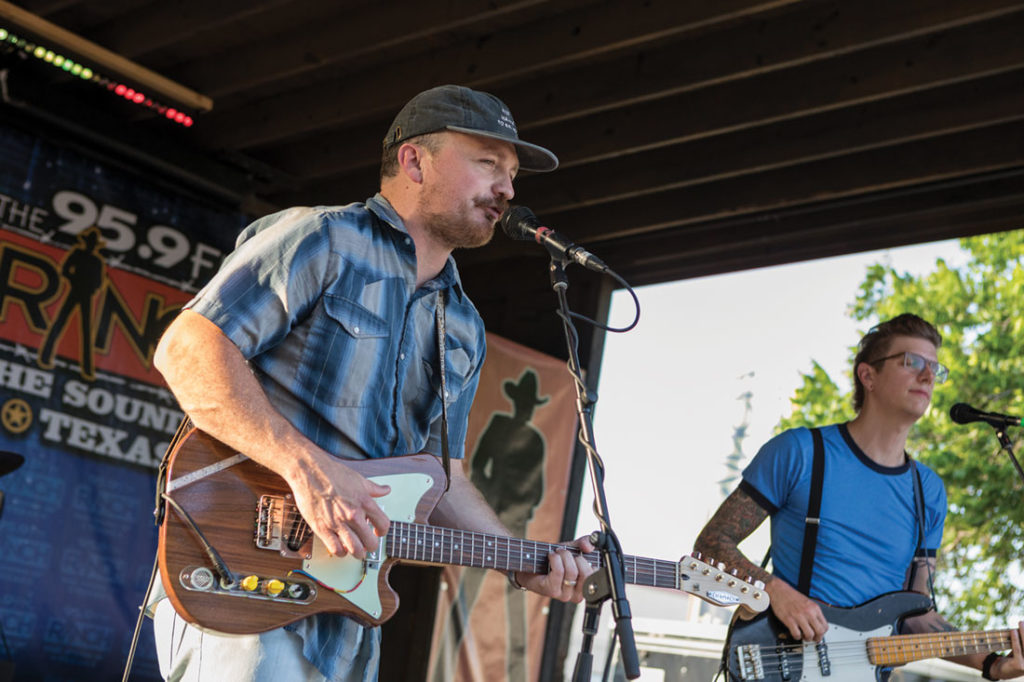 Recorded last September over eight days at Niles City Sound, Spencer and his band tracked his new material with the studio's co-owners, the house production team of Josh Block and Austin Jenkins, after which Block mixed the album and Jordan Richardson (Son of Stan, Ben Harper & The Relentless 7) mastered it at Electric Barryland in Justin. As a body of work, Celebrate is a marker of sorts, catching a songwriter with an ear for guitar tones and melody at a time in his life when he's present to the pleasures of day-to-day living.
"Lyrically speaking, I'm in my mid-30s, with a wife and two kids," Spencer said. "A lot of the lyrics have to do with family, and I also get into budgeting and all those other things that happen to you in your mid-30s. It's super-autobiographical."
I asked him if he was comfortable thinking of it as literal dad-rock, and he agreed wholeheartedly.
It is telling, however, that the album's cover depicts a candle burning at both ends. While the music is rooted in inherent joy and love for his wife and children, there's still a sense that the domesticated life is a lot of effort. Having a family, he said, "definitely changes your perspective on things, but it's good material for songwriting. I was writing a lot of love songs and sad drunk songs, going out a lot more, but now in my time spent alone, I have other people to think of. You have to put these little humans ahead of your own wants."
Yet Spencer, who makes a living in construction when he's not playing guitar and singing, does want to make music his main gig. Red 11 has filled his schedule, but his shows are still mostly in the Thursday-through-Saturday realm. He aspires to reach a crowd outside Texas and even beyond the purview of Texas Music. 
"If we could skate the line between country and indie, that would be great," he said. "Tickle the outskirts of genres like the Old 97s. Get us to places like Denver and the East Coast, where it isn't just stereotypical honkytonks."
Wherever he lands, Grady Spencer will mark the occasion with a celebration, then pick up his guitar and write some more songs. 
Grady Spencer & The Work album release show 

8pm Fri w/Frankie Leonie and Cody Culberson at Shipping & Receiving Bar, 201 S Calhoun St, FW. $15. 817-887-9313.