"It wasn't on purpose," said Cut Throat Finches' frontman Sean Russell about the creation of In Event of Moon Disaster, the just-released ambitious concept album inspired by a speech written for but never delivered by President Richard Nixon in the event that the astronauts from Apollo 11 never returned home.
"I never thought about doing a concept album," Russell continued. "It really just became one because I felt like the speech was so inspiring that, as we wrote, we thought we should make maybe three songs, then five, and now it is going to be seven."
The seven-track long-player, recorded with Taylor Tatsch (Polydogs, Jetta in the Ghost Tree) at his Audio Styles studio in Dripping Springs, was released last week. The vinyl version, which will be released on Dallas label Hand Drawn Records, drops on Friday. 
On the album's final track, Danny Balis, a producer of the popular sports talk show The Hardline on The Ticket, reads the speech that was written by famed linguist, author, and journalist William Safire.
"The first time I read it, I felt like there was just a heaviness about it," Russell said. "If it would have been his speech as a result of a failure of Apollo 11, I think it would be looked at as being on par with the Gettysburg Address or something. It [would have been] just something that elevates us to something bigger and better than ourselves."
There is something inherently political about an album centered on a speech concerning one of the greatest moments in the last 50 years of American history.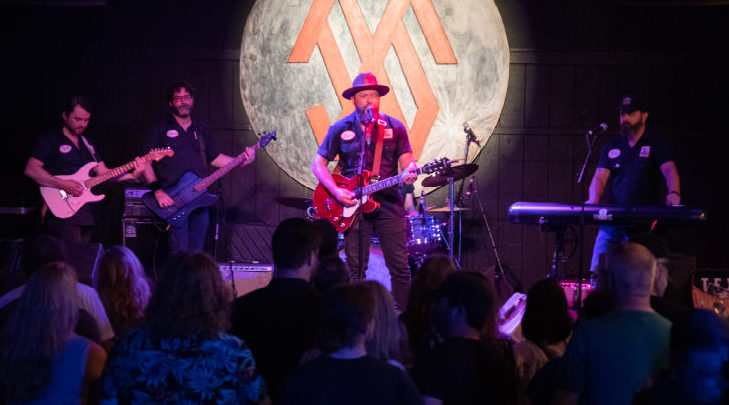 "The 1960s were no less tumultuous" than today, Russell said, "and yet with the right leadership, the Apollo 11 mission showed that even in the midst of that incredible controversy, the greatest minds in this country and abroad were able to come together for this common goal and accomplish something that was unfathomable to any human being at that time.
"I think Americans need something to fight for," Russell continued, "and it can be something that's bigger and better than ourselves instead of just endless wars."
Turning to the album itself, Russell points to the first track on the B-side of the vinyl version. "Other Space," he said, is a moment in which the album's literal story takes on a metaphorical search for something that can lift modern America out of the political gutter.
"The idea was about rising above all of our problems that are so damaging on Earth to us as individuals and celebrating the feeling that you've risen above," Russell said. "But in reality, it is about literally being in outer space, so it's this flip-flop of literal versus metaphorical."
The song is unlike anything you've ever heard from Cut Throat Finches in the past, drawing more from '70s British prog-rock than the Americana style for which the band has come to be known. In fact, the album's entire second side shares that quality –– something that Russell said is one of the benefits of making a concept album rather than just another collection of songs.
"The concept album gave us a lot of latitude," he said. "It confines you to think in this one particular way because everything is for this one idea, but it gives you the latitude to explore something greater –– almost like creating a soundtrack for a movie. It is incredibly freeing."
Ultimately, what Russell hopes fans new and old will take from the album is the same kind of inspiration he felt when he began to dig deeper into the space program of the '60s and felt the real hope to achieve something greater than what we see.
"I think the generation in the '60s that was looking at the space program, they saw all the problems, but they had a hope of something in the future," he said. "I think we don't have that today, but I hope that people will see that if they have the right leaders that can cast that vision, there are still great things that we can be and accomplish together."