Ashim's Hibachi Grill, 424 Taylor St, FW. 214-283-9122. 12-11pm Sun, 12-10pm Mon-Thu, 12pm-3am Fri-Sat. All major credit cards accepted. 
It's hard to open a restaurant downtown on Taylor Street. The area's not quite in Sundance Square, parking can be a nightmare, and the perpetual construction often spells doom for small, family-owned start-ups. Ashim's Hibachi Grill is one such venue, and the good news for the fast-casual Japanese restaurant is that the place already boasts a fairly devoted following, judging by the crowd on a random Thursday at dinner.
The menu seems impossibly vast (as sushi-and-stuff menus usually are), so you'll be invited to settle in at a low-benched table or on a colorful stool around the hibachi grill while you study the bill of fare. Order at the counter, and dishes arrive as they're ready –– part of the fun of a sushi restaurant is plate-sharing, so that's not exactly a problem.
Deep-fried agedashi tofu was a great bet for a starter. The creamy-soft tofu retained its consistency despite being dredged through flour and fried to a delicious crisp. The texture was reminiscent of a fresh donut. The dried fish flakes atop the appetizer added a sea-kissed punch, and the soy sauce for dipping lent a depth of savory flavor to the mild tofu.
The Pi Tower appetizer was actually enough food for an entrée, especially if you're among a table of sharers. The app was described as layers of crab meat, spicy salmon, avocado, and rice. The reality: A generous mound of mixed crab and salmon that was almost indefinable was separated by a layer of unforgivably hard, unripe avocado and a pile of rice at the base. The house special sauce (a pink,  mayo-y concoction with sriracha or another red spice condiment) was a touch overwhelming on top of the already spicy salmon. The tower quickly tumbled because it was impossible for us to nab a bite of everything at once.
Fortunately, the tempura shrimp roll made an appearance just as we gave up on the leaning tower. The combo of still-warm tempura shrimp, real crab, crunchy cucumber, and appropriately ripe avocado arrived presented with thick, sweet eel sauce on top. The taste and texture were almost perfect, but the loosely rolled rice bundle fell apart easily and turned the sushi into a knife-and-fork experience.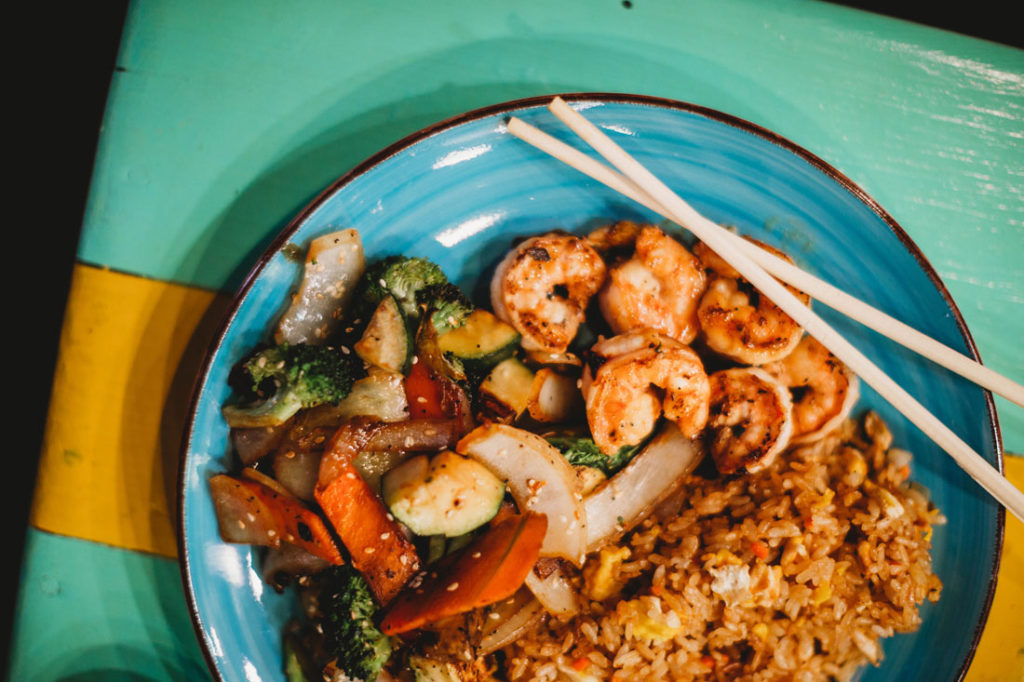 From the hibachi grill, the rib-eye was a peppery, caramel-y treat. A generous amount of meat, onions, zucchini, mushrooms, and thinly sliced carrots had been grilled to perfection, leaving the outside of the meat slightly crispy while the inside was tender and medium pink. Upgrade to fried rice for a bonus: The smoky rice with veggies and a generous amount of egg also retained some of the caramel flavor from the high-heat grill. Sitting by the hibachi would offer my table of three dinner and a show, but the stools were just a little too low for comfort over an extended meal.
The Sundance Square specialty roll was an impressive-looking spool of tempura shrimp, perfectly al dente asparagus, and more crab, topped by fresh salmon, tuna, red snapper, and yellow tail. Again, the assertive spicy house sauce dulled some of the taste of the delicate fish, especially the mild yellow tail. Eight huge pieces ensured that nobody would remain hungry three hours later. The specialty rolls and hibachi entrees are served with your choice of soup. The clear soup was a perfectly seasoned chicken broth that made for a delightful amuse-bouche. The miso soup's salty, deep flavor proved a bit intense for a starter.
In the relatively spare restaurant territory west of Sundance Square, Ashim's is a nice daytime walk from many of the downtown businesses. The restaurant is open until 3 a.m. on weekends, which is a lovely community service for those stumbling up from the handful of bars two or three blocks away. Because agedashi tofu and sushi rice at 2 a.m. will cure drunk texting, wine flu, and other ailments.
Ashim's Hibachi Grill

Pi Tower $12.95

Agedashi tofu $7.95

Sundance Square roll $16.95

Tempura shrimp roll $6.95

Hibachi rib-eye $21.95