A few weeks ago, I watched this, all-women, Brooklyn-based, reverb-rock quintet totally captivate a half-full Gas Monkey Bar & Grill with their up-tempo take on '60s girl-group songs and Laurel Canyon psychedelia. Habibi booked a one-off show up at GMBG after playing Levitation Fest in Austin, cramming in  to a minivan and zipping up I-35 to make the gig. I spoke with their touring guitar player – I think her name was Amalia, but this was a while ago, and between my memory of then and now spreads an extensive, long-lived weather pattern of marijuana clouds. I asked her about the hassles encountered by female musicians. Her tales were about as grimly annoying as I expected, but she did agree with my presumption that this moment in time is actually pretty good for women to be in bands. Turns out that audiences don't really care who plays music as long as it's enjoyable, and thus the band ecosystem is slightly less dude-oriented.
A day later, I was not surprised to learn of an opinion that the Fort Worth Weekly's mostly male-staffed music department fails to cover enough female artists. I cycled through my memory of the subjects of recent Weekly music stories – Ansley, Devi, then Devi-is-now-Yokyo, Signals and Alibis, Big Heaven, Hightower, Lorena Leigh, the Straits, Burnett, Ting Tang Tina – and mentally patted myself on the back for the Weekly covering more women in this scene than in previous years, reasoning that it's not as if we never cover women and, in fact, have written about quite a few.
Or only a few, because my perspective is that of a cis white hetero man, 41 years of age, increasingly woke in some regards, embarrassingly calcified in others. In the context of my myopia, we wrote about seven, maybe even 10 women this year! That's enough, right? 
It's not, and I don't really have much of an excuse, other than this: On behalf of the other dudes in the Weekly's music section, I just want to say we're trying to do better. If you think our vision is surrounded by a long, narrow tunnel, then please, make some suggestions. Or news, because covering music still requires a captivating, news-y story. A corollary to that solicitation: If you're a female musician working on a local level who is at the moment without any compelling news, pick up your guitar and make some! Then email associate editor Eric Griffey at eric@fwweekly.com about it.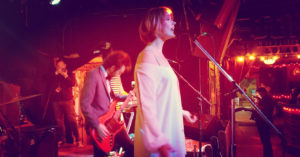 One woman who regularly makes music news (or, alternatively, new music) is singer/multi-instrumentalist Amanda Hand, whose main project, Big Heaven, dropped one of my favorite local releases in the spring, a six-song EP of dreamy, Bangles-esque guitar pop called Olivia. Hand went back to Cloudland Recording Studios in July and recorded a new single with Robby Rux on the board, Sam Dobbin on drums, Peter Marsh on bass, and Brock Miller on guitar. She'll be releasing it in digital and live-band form on Sat, Dec 7 at a Dreamy Life Happy Hour at MASS, and it's paired with a video, which will be released the day before.
Folky singer-songwriter Simone Nicole is also working on some new news. She'll be going into CRT studio in Arlington to record a new single in December with producer Tim Phelan (Phil Hamilton, Backseat Molly). Nicole anticipates a tentative release date in February. Then I bet she does an awesome tour of Western Europe.
Genini is the new electronic duo composed of keyboardist/vocalist Katie Robertson (Chucho, tons of other bands, her regular solo gigs) and multi-instrumentalist Jen Rux (The Fibs, Bitch Bricks, Year of the Bear). Per Rux's preferred aesthetic, the songs are made with an ancient drum machine, a Roland Rhythm 77, and recorded on vintage Tascam 4-Track. "Basically, we just make dinner together and then sit down and are like, 'You feel like jamming?' " Robertson recently told me. Their first gig was in April for Nathan Brown's Switched ON Main electronic music series at MASS, and since then, Genini have played Arts Goggle and the Witchy Bazaar at the Bearded Lady, with their next performance scheduled for Saturday at Doc's Records & Vintage.