In high school, I attended precisely three house parties. Though many have classified me as a social butterfly, I wasn't aloof enough to be cool, and I've never been one to rage. Give me a soft couch, chill tunes, and just a few close friends, and I'm golden.
So I had more than an inkling I'd like the newest bar on the Near Southside.
Low Key Tavern has a vibe that's all its own — one I'd partly attribute to its location within a stretch of no-man's-land between West Magnolia Avenue and downtown, the area that was once our city's burgeoning gayborhood. It even narrowly missed the buzz of South Main Street mere blocks away.
Bordered by Club Reflection, Pizza Bar None, and the empty lot that remains of the legendary Rainbow Lounge — likely haunted by ghosts of the queens of yore — the tavern isn't competing with much on South Jennings Avenue.
Over the last few years, the space has experienced an identity crisis of sorts. At one point, Beauty Shop occupied the vibrant lime-colored building with glitter floors. Then the boutique Last Word Bookstore briefly took up residence there. Most recently, bold black-and-yellow paint featuring pinballs and flippers signified the arcade bar Craftcade. The building's newest tenant is owned by the same people behind Bodega West 7th.
Eager to explore its current identity, my friend and I moseyed into Low Key Tavern on an oddly warm November afternoon. The doors hung wide open, inviting us in, and the place was empty save for two blokes in the throes of a lively conversation in a booth up front. The establishment has been open officially for only three weeks.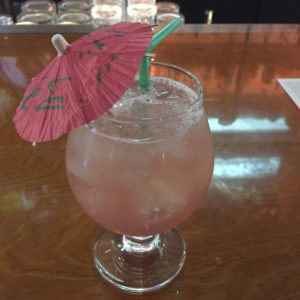 We meandered toward the taps, taking in the interior like we'd stepped into the Sistine Chapel, and placed our orders. Stifling my inner snob, I inquired about the "Maholo" Punch — what was probably intended to be "mahalo," Hawaiian for "thank you." The overly loquacious bartender replied, "It's fruity. I don't really like it." I prodded further. "It's like rum punch," he eked out. 
Despite his verbose description, I figured I'd like the concoction simply from its exotic name. My hunch was confirmed when my snifter appeared, garnished with a tropical umbrella. The punch was très tasty, and my only regret was accidentally slurping up a gob of syrup in my first swig.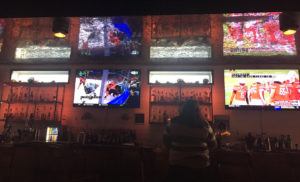 The tavern's decor boasted crisp white walls accented by forest green and exposed light bulbs galore, some dangling beneath wood boxes as shades. Identical tan loveseat booths lined one side, and sleek barstools at high-top tables dotted the other. This clean, industrial look was challenged by several large-screen TVs and a man cave, complete with a pool table and beer signs aplenty, that we later discovered tucked away in the back. 
The ceiling stood out most. Previously bare, the rafters are now adorned in light bird's-eye planks and draped in verdant velvet curtains billowing down one side. The drapery adds a classy feel. This is almost completely negated by the blazing red sign of three rabbit silhouettes humping one another behind the stage. That evening, unfortunately, no one jammed out amid the bunny business. 
For a time, my friend and I were the only people in the bar. As synthesized songs one might hear in a John Hughes movie played, the barman kindly waited on us like a server would. 
My companion next sipped a delicious Smokey Blood Orange Mule, crafted with mezcal, Solerno, and Aperol. Meanwhile, I tried the Spicy Pineapple Margarita. The hint of heat was more of a whisper, and I didn't get much pineapple flavor either. It wasn't a bad marg, but I much preferred my friend's cocktail.
Though I can't claim it definitively, Low Key Tavern might be the only bar in the 'hood that doesn't serve craft brews. The pub carries your typical domestics, Shiner Bock, "and Pabst Blue Ribbon, of course," the barkeep said with a smirk. 
Bucking the typical Near Southside, well, everything, the tavern even offers reasonable drink prices. Though the couches weren't particularly plush, the promise of a low-key atmosphere and aesthetic certainly delivered.
Low Key Tavern

615 S Jennings Av, FW. 682-703-1064.