Forget whatever Amazon is peddling this Christmas. Fort Worth is a trove of great gift options that are made and sold right here in the Fort. We've compiled suggestions for presents that run the gamut, from kitschy and cute to sentimental and thoughtful. These creative gifts might even elevate you from tolerable to downright lovable in the eyes of that special someone.
Mix it Up
'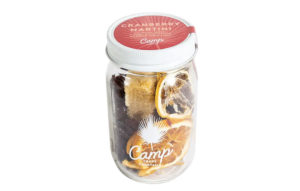 Tis the season for a well-crafted libation. Brown Bag Etc. (2702 S Hulen St, 817-735-9361) offers four home infusion kits: cranberry martini, sangria, hot toddy, and hibiscus ginger lemon. Each Camp Craft Cocktails jar is filled with dried spices and fruits that are just waiting to soak up the only missing ingredient — booze. Once the inebriants are tossed in, each $30 container needs to chill in the fridge for three days. While you're stocking up on infusion kits, you can knock out most of your holiday shopping by snagging glittery keychains ($12), classic aprons ($25), stainless steel straws ($8.50), and more. Visit Brownbagetc.com.
Big Dill Holiday Gifts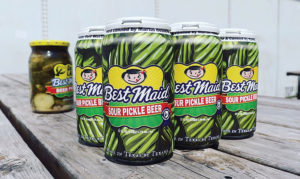 One of the most recognizable (and oldest) U.S. pickle brands calls Fort Worth home. Thanks in no small part to the recent collaboration with Martin House Brewing Company that birthed Best Maid Pickle Beer, Best Maid Pickles have enjoyed something of a pop-culture resurgence. You can stay ahead of that trend by ordering green or yellow "I Got Pickled" or "I'm Kind of a Big Dill" T-shirts ($15 each). Couple that effort by throwing in a sixer of Martin House Brewing's pickle beer (available at Tom Thumb, specialty stores, and select grocery stores), and that special someone will pucker up — for a big thank you kiss or due to the super-sour beer. Visit Best-maid-pickles.myshopify.com.
Be Bold, B. Everly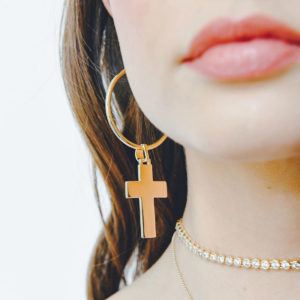 Some jewelry is worn for pizzazz or pop. B. Everly Jewelry's Stability Earrings ($79) have a more thoughtful meaning. The 14k gold-plated crosses are symbolically imbued with stability and resilience. The pieces are great statements for everyday wear or special occasions. B. Everly is a woman-owned business that works to make high fashion-inspired jewelry accessible and affordable for all Texans. Visit B-everly.com.
Fig-ures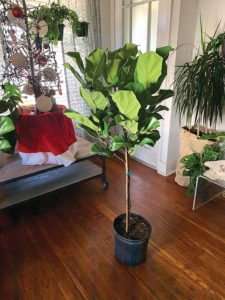 You've been thinking about a baby. Why not have one? The Baby Fiddle Leaf Fig Tree ($28) won't overcrowd your house. The one-and-a-half-foot tall tree comes in a 6-inch pot. If fig trees aren't your thing, the staff at S & V Plant Love (1616 S Henderson St, 214-334-8562 ) have plenty of leafy green options for you to take home. Visit them on Facebook @S & V Plant Love.
What's on Sale, Doc?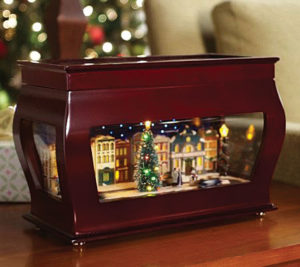 If your spiced egg nog doesn't impress them, your chime-tolling, animated music box will. The illuminated miniature town square is topped with several brass-coated bells that render 70 festive songs, including 35 Christmas carols. The popular centerpieces have sold out on QVC, where they retailed for $200. The folks at Dr. Deals Resale Mall (4715 E Lancaster Av, 817-709-7901) have two left in stock with prices below half the retail value.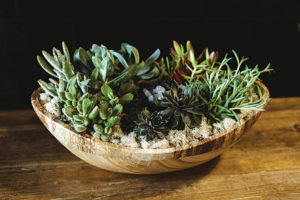 Red and, Well, Green
The Greenhouse 817 (411 S Main St, 817-688-1658) sells custom floral arrangements that come in unorthodox designs and nontraditional containers. If you're branching out for new ideas, the botanical design studio also has many fun gift ideas. Floral Libations ($20) features 41 fragrant botanical-forward cocktail recipes. Give your newly adopted plant an eye-catching home with the Stoneware Pot ($10), which comes in gray and blue. If you're still bouncing around gift ideas, the Variegated Rubber Tree ($45) is a medium-sized plant that is considered easy to care for. Visit Thegreenhouse817.com.
Classic Wear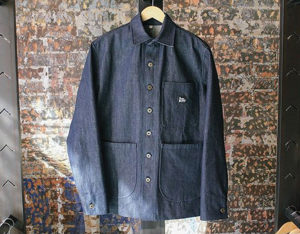 Morgan Mercantile (121 S Main St, 817-720-6160) recently announced its first cut-and-sew release. The Chore Jacket ($175) is made with old-fashioned selvedge denim, featuring dual-entry hand pockets, a single chest pocket, and an interior pocket. It's hard to out-hip Fort Worth's hipsters, but this classic workwear jacket will at least make for a cool conversation starter with the fashion cognoscenti. Visit Morganmercantile.com.
Razor Sharp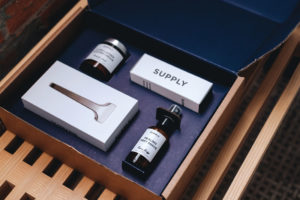 Still not sure what to buy for Dad? The Single Edge Starter Set by Supply (2914 Stanley Av, 817-367-9794) will remind your pop that manliness and refinement sometimes come in small boxes. The shaving kit includes a minimalist single-edge razor, lather, post-shave spray, shave brush, and a three-month supply of blades. Visit Supply.co.
Sweet-ish Gifts
The perfect gift for your child or immature friend, the SAGOSKATT robot ($4.99) from IKEA (1000 IKEA Pl, Grand Prairie), is soft and oh-so huggable. One of several stuffed creatures designed by children, the robot likes to "help at home, dance, and sing." SAGOSKATT probably also likes to do whatever you make him do.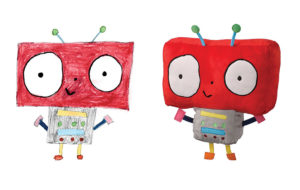 It's the kind of gift that John Stuart Mill would have liked: Multi-purposed, utilitarian, and, um, utilitarian, the RÅSKOG Utility Cart ($29.99) comes in one color. The black tray on wheels can hold pretty much anything you may need to cart around your house. Or you can leave it in the corner as an ad hoc shelf.
The UPPHETTA French press coffee maker ($7.99) offers the promise of a strong pot of java for a reasonable price. The press enjoys a 4.5-star rating. Pretty much everyone loves the product except Tjiam, who said it broke when he hit it with a mug: one star. Visit IKEA.com