Is anyone else noticing the eerily analogous trajectories of The Dive Burger Bar – until a couple of years ago known as The Dive Oyster Bar – and that tiny, ramshackle building's former tenant, Fuego Burger, which itself made a conceptual shift from Salsa Fuego? Talk about history repeating itself. What's the likelihood that one spot near the Weatherford Traffic Circle would house two eateries that started out specializing in one thing and then changed concepts to become a burger joint? I would have said pretty low until about two years ago, and I've been meaning to unpack this ever since. 
The story of Salsa Fuego and Fuego Burger has been written to death. For those who don't know or have forgotten, here's the short version: Salsa Fuego was a successful, kind-of-upscale-ish Mexican eatery set in the empty husk of a former fast-food joint. The place also served a helluva burger, and the owners eventually opened Fuego Burger in their original space and moved Salsa Fuego to the much larger locale next door. Both restaurants eventually shuttered –– for reasons I don't have space to get into –– and the burgery resurfaced in Rendon before moving back to a location near Benbrook (4400 Benbrook Hwy, Ste 108, 682-250-5600). All appears well in the Fuego world now. 
When The Dive Oyster Bar (3520 Alta Mere Dr, 817-560-3483) opened in 2015, the place was a revelation disguised as a generic fish-fry. Chef Josh Rangel, formerly of Waters Bonnell's Coastal Cuisine, created a menu that blended classic Gulf Coast and New Orleans dishes with Korean flavors to create a one-of-a-kind fusion. The kitchen made its own kimchi and ketchup and brined its own pickles. The hand-cut fries topped with kimchi and a fried egg were a personal favorite. Like all unique things in this culinary succubus we call a city, the good times didn't last long. 
In 2018, the oyster bar quietly closed for half a minute –– a moment still shrouded in mystery –– and in its place stood a burger bar, as if the restaurant gods had predetermined that that building will produce only meat between buns for eternity. Call it the curse of Charlie's Old Fashioned Hamburgers, the eatery that originally converted the one-time Taco Bueno (or was it a Dairy Queen?), and the first burger joint to occupy the Fuego/Dive building. 
The new iteration of The Dive still uses the same sign from its seafood-centric days, but the word "oyster" is scratched out and replaced by "burger." A message on the sign reads, "Skip the gym and stop in for a burger." You gotta love a restaurant with a sense of humor. 
The interior hasn't changed at all. The electric blue walls, perched parrots, colander light fixtures, and sea-related bric-a-brac all lend the feel of a coastal fry-up where everything edible is battered and dunked in hot oil. The service was casual, friendly, and efficient on my recent weekday lunch visit. Only about half of the seven or so tables were occupied that day.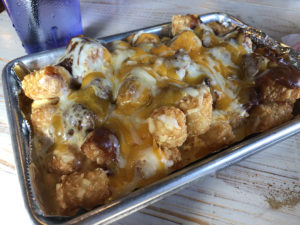 My guest and I started with half a dozen lemon pepper wings ($7.99), fried to a crisp – a touch overcooked – and served with what I'm guessing is housemade ranch dressing. The flavors were outstanding if understated. Just the opposite of that was the chili-cheese tots appetizer ($5.99), which was a picture of extravagant, gooey, delicious carb-loading.
If you call your restaurant a burger bar, the kitchen had better deliver a top-notch version. The drippily sophisticated Western Burger ($9.99) –– tangy barbecue sauce, cheddar cheese, crisp bacon, gleaming tomatoes, fresh-tasting romaine lettuce, pickles, and a juicy, satisfying patty of amply portioned ground beef, all stuffed between a bakery-fresh potato bun –– was the kind of burger that affirms the label. The salmon burger ($10.99), with the same setup, plus a lemon and mayo sauce, is a tasty alternative for the meat-weary. 
Forget the backstory and drama. Go eat the burger the restaurant gods demanded.