Garret Owen discovered the art of songwriting at the age of 21 but has been playing music since he was 14 years old. After opting out of his jazz studies as a commercial music major at South Plains College near Lubbock, the 35-year-old decided to embrace Americana. Owen said there are subjects in his music that can be expressed only through that genre.
Owen has just released his sophomore album, Quiet Lives, four years after his self-titled debut long-player. His new record has been a long time in the making.
"A bunch of us ended up in this place where we had releases planned out, say a year or two in advance, and had no idea that it would just happen to be a crazy situation," Owen said in response to COVID-19's effect on musicians.
With unfortunate venue closures, Owen said that everyone has much more free time to enjoy more recorded music in their daily lives.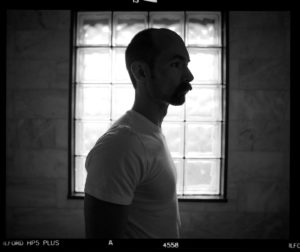 Along with his debut album, Owen's 2011 debut EP, Slightly Foreign, plus his 2017 EP Sad Eyed Son and the single "Rose Hill," have earned him more than 1,300 monthly listeners on the Spotify app and rising.
Owen is the son of church missionaries who lived in impoverished rural areas across the globe. Born in San Antonio and raised there until he was 2, Owen spent many more years traveling to Tanzania, Kenya, and the Serengeti. He moved back to Texas in the summer of 2004 after living in Louisiana until he was 13 and Ecuador until he was 19.
"Those experiences left me feeling pretty weathered by life at an early age," he said. "I'd seen a lot of poverty when I could barely talk and walk that a lot of white folks don't get to see. Most white 3-year-olds aren't walking around poverty-stricken parts of East Africa."
Owen said he tends to embrace an almost stream-of-consciousness mindset with his songs, which don't significantly express his younger years while living abroad.
"I was thinking a lot about how the lyrics sound when you sing it," he said. "I'm not trying to make the listener necessarily feel my thoughts, but it's never my goal to force something upon the listener. It's more about pulling tricks musically so they feel something."
Owen's soft-spoken presence is natural and heartfelt. He carries a poetic flow in his storytelling, which granted him a spot in 2018 in the Telluride Troubadour Contest, where he won first place out of more than 480 submissions. His 2016 release brought in noticeable crowds and launched a three-week tour with Oklahoma's nationally known Parker Millsap, playing shows at Nashville's The Basement and other max-capacity bar/venues.
Producer Taylor Tatsch (Polydogs, Dead Vinyl, Cut Throat Finches) played a major part in Quiet Lives by not only producing but also playing a majority of the other instruments. Americana folk singer Jaimee Harris contributes backing vocals, and the Polydogs' Matt Tedder tears off some fiery solos. The album was mastered by Todd Pipes (Deep Blue Something). The amount of work that went into Quiet Lives took about two years, Owen said, but overall the production time came about over the last year and a half.
"I feel great about the album and how it sounds on vinyl, and I've had some sales and will be making another push on Bandcamp Friday," he said. "I love that it's finally done. Some of the songs were recorded about four years ago, but most of the songs are recent and mostly all written within the last year and a half, with some songs written over a decade ago … . I hope the album brings comfort to those struggling during the pandemic. Some people aren't that fortunate right now."
Quiet Lives tells a story of past mistakes, enduring heartache, frustration, and a lost love. On "No One to Save You," he sings in his high, sweet voice, "Parker and the boys play a hell of a show / A fine line rings in my head / I haven't slept since Denver, Colorado / The whites of my eyes have gone red / You're on the phone screaming, 'Why don't you miss me?' / 'You know I got a show tonight … Still, you want to start a fight / What if I don't want to fight?' "
You can catch Owen solo at The Kessler Theater in Dallas for a free outdoor event on Thursday, Oct. 1. He is also scheduled, for now, to play The Post at River East with backing band the Polydogs and Texas Gentlemen keyboardist Daniel Creamer on Saturday, Nov. 7.