As of this writing, there is one major Hollywood blockbuster scheduled to come out in theaters before the end of the year. It is Wonder Woman 1984, which is also out on HBO Max on Christmas, the same day it will be in theaters. That sequel, which features Kristen Wiig and Pedro Pascal in villainous roles, may be the only big-ticket item, but as we'll observe, there's plenty else worth seeing before the year is out.
This time of year is traditionally known as "awards season" in the trade, when studios put out Oscar contenders. The coronavirus pandemic has pushed many of those films into 2021, but not all of them. Ron Howard's Hillbilly Elegy has earned poisonous reviews with its Hollywoodized depiction of rural poverty, but Chloé Zhao's Nomadland offers a much less sentimental and more earthbound depiction of life on that economic edge, with Frances McDormand blending into a cast of mostly nonprofessional actors in this story set among the itinerants who travel the West and Midwest in RVs working odd jobs. Tom Hanks stars in News of the World, a drama set during the Civil War which is directed by Paul Greengrass, taking a break from his previous films that recreated recent historical events. Fresh from her Oscar win for acting, Regina King makes her directing debut with One Night in Miami, dramatizing a real-life 1964 meeting between Malcolm X, Cassius Clay, Jim Brown, and Sam Cooke. The film lit up the virtual Toronto Film Festival this past September.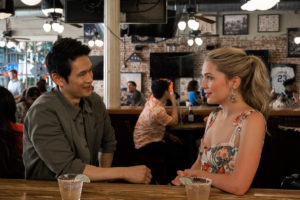 On a less exalted but no less entertaining plain (we hope), Emerald Fennell's Promising Young Woman is a delectable slice of evil with Carey Mulligan taking revenge on the parties responsible for the unpunished rape that forced her to drop out of medical school. Lee Isaac Chung's Minari stars Steven Yeun as a Korean man who moves to Arkansas in the 1980s to start a family farm. Marc Meyers' All My Life has Jessica Rothe taking on a somewhat more dramatic role than we're used to seeing her in as a woman who discovers that her fiancé (Harry Shum, Jr.) is gravely ill shortly after becoming engaged to him. Lawrence Michael Levine's Black Bear features a hellacious dramatic performance by Aubrey Plaza as an actress who unravels mentally on the set of a film or possibly as the filmmaker who conceives that actress as a character in her own film. There's also John Patrick Shanley's Irish romance Wild Mountain Thyme, whose trailer has drawn widespread internet mockery for the bad Irish accents on Emily Blunt and Christopher Walken.
On Netflix, David Fincher's Mank has Gary Oldman playing Herman J. Mankiewicz, the co-writer of the movie classic Citizen Kane. The most enthusiastic reviews have been for Ma Rainey's Black Bottom, adapted from August Wilson's play about a 1920s trumpeter (played by the late Chadwick Boseman in his last role) whose life turns tragic while he's waiting to record for a legendary blues singer. Beyond that, Jingle Jangle: A Christmas Journey is a musical about a toymaker who has lost his magic which features a highly entertaining turn by Keegan-Michael Key as the villain of the piece.
Not to be outdone, Hulu has already released Happiest Season as well as the thriller Run, which has drawn raves for paralyzed actress Kiera Allen as Sarah Paulson's wheelchair-bound daughter. Amazon is putting out I'm Your Woman in theaters the same day it's available on Amazon Prime, with Rachel Brosnahan as a 1970s mother who goes on the lam when a crime deal goes bad. The Irish movie Wolfwalkers is currently playing in Dallas, and, while it's a bit over-elaborate in story terms, it's certainly something to look at on a big screen.
If you're in a more documentary mood this season, Dear Santa tracks the U.S. Post Office's handling of letters to Santa Claus, Billie examines the legacy of jazz legend Billie Holiday, and Collective follows a group of Romanian journalists whose investigation of a nightclub fire wound up forcing resignations at their government's highest levels. With theater audiences so sparse right now that movie theaters may need a federal bailout to survive, there's a decent selection of fare even in these straitened times to get you out to the cineplex. Just stay safe when you do.
For more, visit FWWeekly.com.