Mariell Guzman has accomplished more in two years than many young artists could hope to achieve in 10. The 26-year-old has more commissions and projects than she can schedule, she said, and (for the first time in two years) she's cautious about which projects she accepts.
"I thought this wouldn't happen until I was in my 30s," the mixed-media artist said. "It can get very overwhelming. For the first year and a half, I would take anything. Putting work out there was more important than money" at first.
Many of Guzman's vibrant works are inspired by nature, she said. Forests, seas, and deserts have a way of adapting to changing environments, and the young artist sees a connection between those continual changes and her own life. The native from Michoacán, Mexico, moved to the United States with her family when she was 10. After graduating high school in Allen, Texas, Guzman earned a bachelor's degree in studio art from the University of Texas at Austin. The young artist graduated in 2018 and initially considered careers as an illustrator or art director.
Two years ago, Katie Murray, the artist and co-founder of Art Room, a nonprofit art space on the Near Southside, reached out to Guzman via Instagram and offered the college grad the opportunity to intern at M2G Ventures, the Foundry District-based commercial real estate company that has commissioned numerous large murals over the past few years. The internship effectively launched Guzman's current career.
"That was insane, to get a paid internship that soon," she said.
Guzman was tasked with painting the west wall of the Grand Berry Theater.
"They said, 'Here's this wall. You can paint as much as you want or sections,' " Guzman said. "I did the entire thing."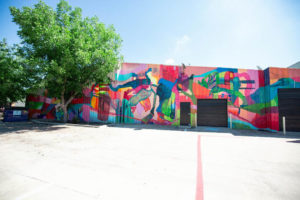 Beyond being a young artist who wanted to impress her new clients, Guzman said she wanted to step up her efforts when creating the Foundry District mural because of the male-dominated nature of the mural painting industry.
"I figured I'd like to do something big" that covered the entire wall, she said.
The final mural (painted with the help of Guzman's mother, who is also an accomplished painter) is an outburst of overlapping patterns and colors, like a two-dimensional collage. The work took one month to complete and evolved from an intuitive creative process, Guzman said.
The mural was made with spontaneous elements, she said. "It became this huge abstract ecosystem that was vibrant and dynamic. Since then, I have to be more meticulous. That mural taught me a lot, like how to develop a more structured creative process."
Guzman cites abstract impressionism and impressionism as the two movements that have most influenced her style. Nature and marine biology are also pervasive themes, she said.
In August, Guzman collaborated with another rising young artist, Juan Velazquez, to create the mural of slain Army specialist Vanessa Guillen (" Creating Hope," Aug. 2020). Velazquez had already created the "Fort Worth for Vanessa" mural the month prior, and, after Guzman offered to help with the second project, Velazquez quickly accepted the offer of help.
"We met the day" of the mural painting, Guzman recalled. "I was following the story of Vanessa. Everyone was emotional about it."
During a blazing hot August afternoon, Guzman painted vibrant flowers as the backdrop to Velazquez' portrait of Guillen. The fast-paced effort was planned and executed within one day, and Guzman was surprised how well the event went. More recently, Guzman was selected to paint a mural outside a Dallas 7-Eleven as part of the chain's new "evolution" concept that aims to target young customers.
This past fall and leading up to the Nov. 3 elections, Guzman was hired by Dickies to design a vinyl mural for the store's retail store on West Vickery Boulevard. The one-word message, framed by leaves of green, blue, pink, and red, was simple: "Vote!" Guzman said the staffers with the iconic clothing brand are planning to unveil a permanent mural, painted by Guzman, in March.
The past two years have been hectic, she said.
"I would do it all over again," she said. "I'm thankful I was busy. I've learned how important collaboration is — always supporting artists and supporting others. I've met artists who are successful but have huge egos. I feel we should all grow together and create beautiful things."
You can follow Guzman on Instagram @MariellGuzman