When Fort Worth leadership recently backpedaled on commitments to allow citizens to redraw the city's district lines (" City Officials Backpedaling on Promises?" Jan. 28), many reform-minded locals wondered if the proposed citizen review board — which would review police policies and possibly have disciplinary powers — was also at risk. In 2018, the Race and Culture Task Force, the volunteer group assigned to documenting systemic inequities in Fort Worth, recommended forming a citizen review board to address "systemic, structural, and institutional racism" at the city level.
Early last year, Fort Worth City Council took an important step toward police accountability by creating the Office of Police Oversight, which is headed by Kim Neal, herself a long-time police reform expert. Neal's office is tasked with exploring how to make the Race and Culture Task Force's call for a citizen review board a reality.
Neal laid out her plan during a city council work session in December.
The citizen review board "may not make everyone happy, but I think it is a positive step forward for community oversight of law enforcement," Neal said during her presentation that day.
Before describing the steps that would lead to the formation of the review board, Neal updated city councilmembers and the mayor on her department's ongoing work and research.
"We have hired a senior policy advisor," she said. "We are in the process of hiring a deputy police oversight monitor. We are moving forward with putting steps in place to ensure that community oversight is viable."
Neal said her office has been examining Fort Worth police policies and practices, reviewing citizen complaints, and speaking with Fort Worth residents and area stakeholders like the NAACP and League of United Latin American Citizens (LULAC).
Nearly 88% of poll respondents "believe community oversight will help a little, some, or a lot," Neal said, while less than half of Fort Worth police officers said independent oversight will improve policing and community relations.
"Our police department is not as much of a fan of community oversight as the community is," Neal continued. "I think the term 'oversight' is not a well-received term. If we continue the dialogue, hopefully the [feedback] from the police department will improve."
During community outreach programs held virtually throughout much of 2020, Neal's team noticed that many of the marginalized communities that were the most likely to report negative interactions with police were also some of the areas of town that were hardest to engage through online meetings. These communities "tend to express lack of equitable treatment by police," she said. "We need to build rapport in our marginalized communities."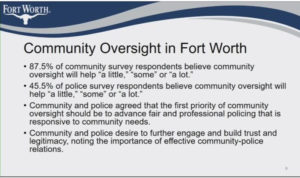 The first step toward forming a citizen review board will involve forming a "workgroup" that will take a "deep dive" into policing procedures and policies before providing final recommendations to city council and the mayor in February or March, Neal said in December.
In a recent email, Neal told us that the 12-member group, which she said consists of "diverse community and city staff members," is "still working on the recommendation."
The feedback from city councilmembers following Neal's December presentation highlights the one remaining barrier to meaningful police reforms: support from Fort Worth's city councilmembers and mayor, many of whom are up for reelection on May 1.
Councilmember Cary Moon queried Neal on the need for independent oversight of the police department.
"I feel like we already have a community oversight board," he said. "It's nine members of mayor and council who are elected. How would this model be different … compared to the historical success that we as a council have had?"
Neal responded that many in the community do not trust the police or the Fort Worth government as a whole and that a citizen review board would go a long way toward restoring that trust.
Councilmember Gyna Bivens said that Moon's comments had left her "almost hyperventilating."
"Let us not be mistaken into believing that we skipped all the way to the level of what some consider success," she said. "I would submit that without the use of bodycams, we wouldn't be forced to deal with the inequities that have taken place. Not until you have heard the voice of people who have been oppressed and treated unfairly do we get to give ourselves a passing grade in this city."
Councilmembers Ann Zadeh (who is running for mayor) and Kelly Allen Gray voiced support for Neal's outline of how a citizen review board would be created.
Brian Byrd (who is also running for mayor) said he will need to understand the "added value" of a review board before passing judgment.
"I think your office is already doing great community engagement," he said. "If we do a permanent committee, there will be a tremendous amount of work to shepherd that committee. I would encourage you all to focus on what is the added value and make that case for us."
The confluence of the pending release of the workgroup's recommendations on forming a citizen review board and the May 1 general election means that upcoming votes for eight city councilmembers and a new mayor — Mayor Betsy Price is not seeking reelection — are, in effect, a referendum on a citizen review board. Already, special interests are using strawman arguments over "police defunding" to muddy the waters on the ongoing process of forming a citizen review board when such a board represents a step toward police accountability that nearly nine in 10 Fort Worthians view as progress.